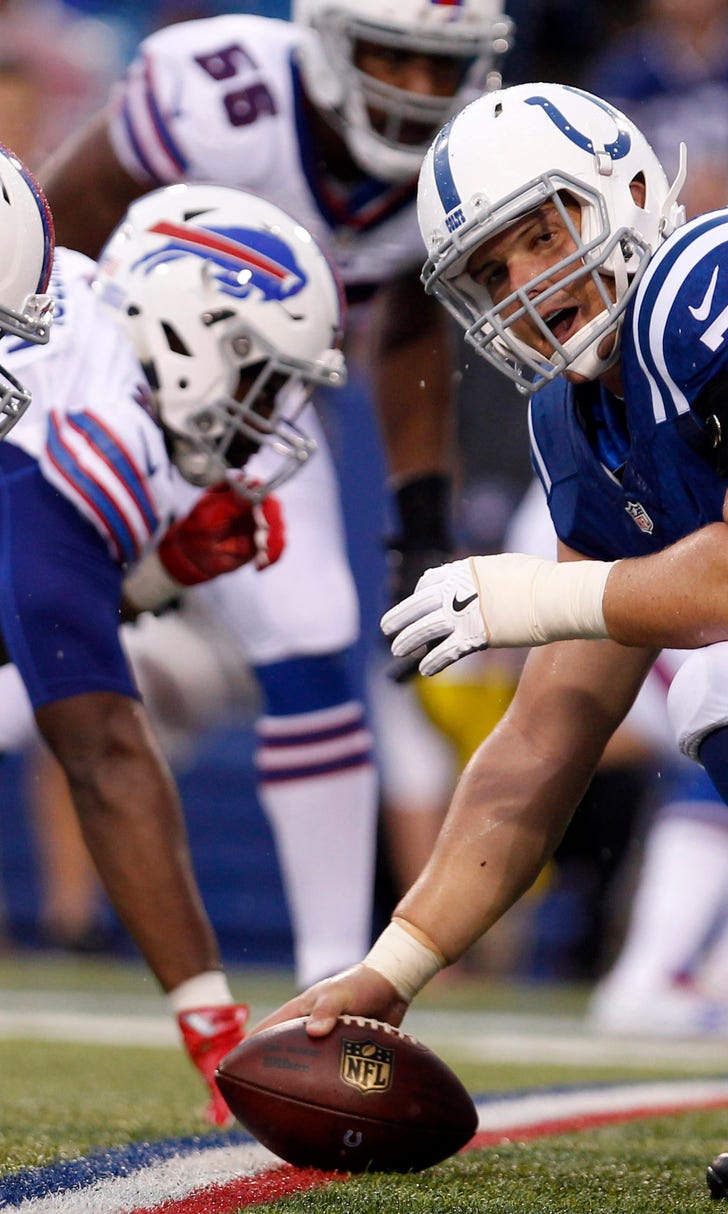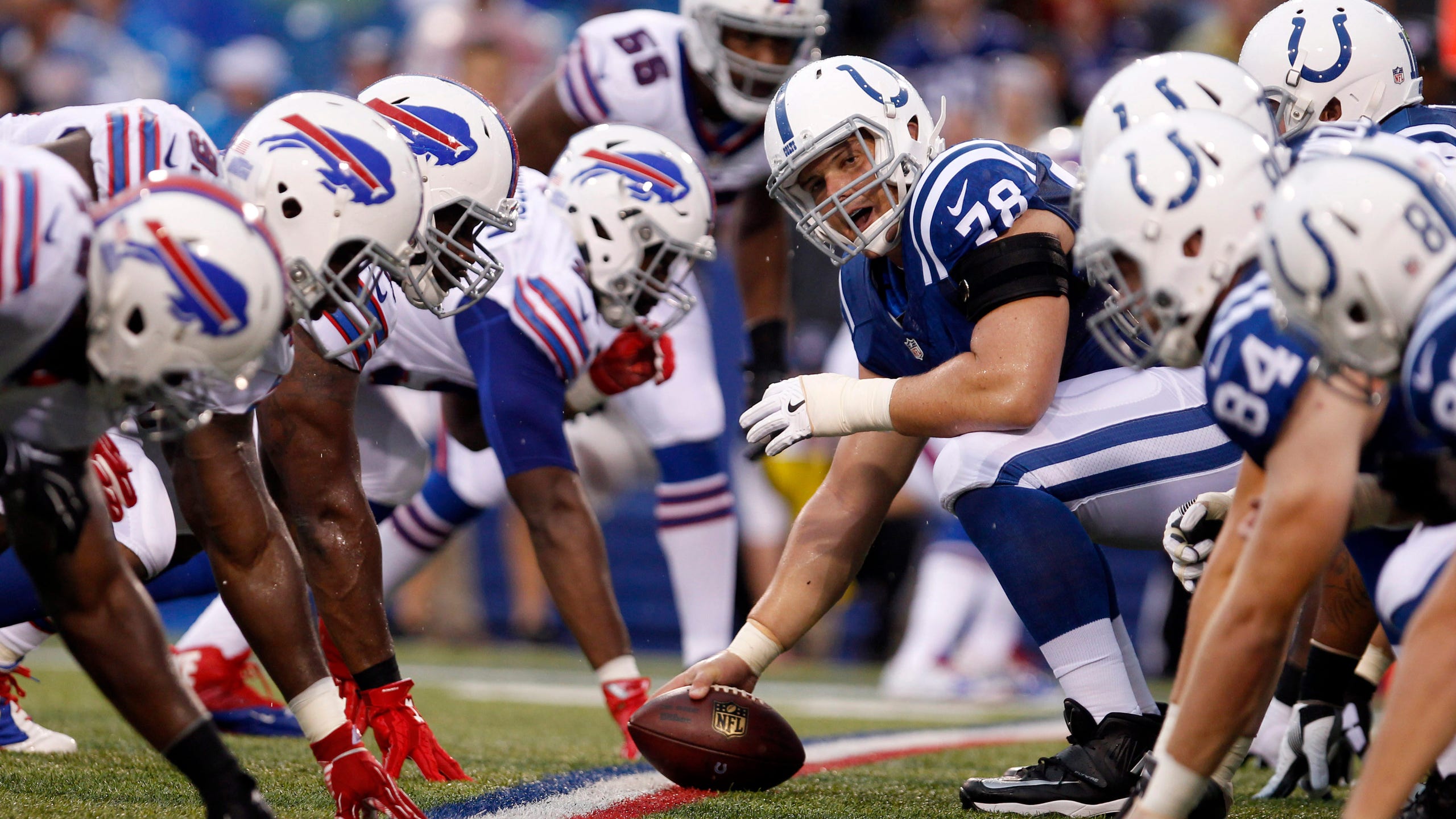 Colts still seeking answers on offensive line
BY foxsports • September 5, 2016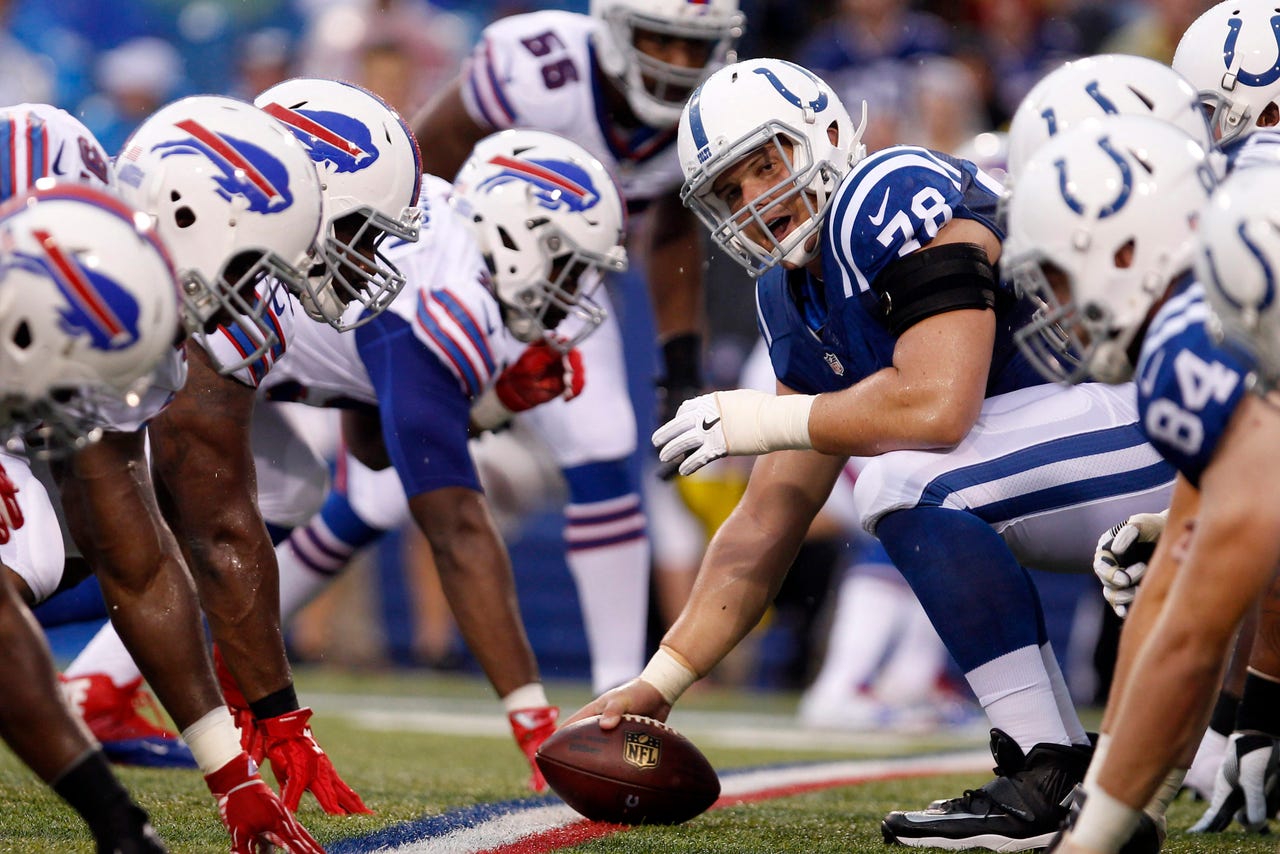 INDIANAPOLIS -- Indianapolis Colts general manager Ryan Grigson spent another offseason investing heavily in Andrew Luck's protection plan.
After four preseason games, it's unclear what the payoff will be.
The problems that ruined last season's big plans resurfaced during an exhibition loss to Philadelphia, when Luck was sacked three times and hit three more times in the first half. Fortunately for Indy, Luck avoided getting hurt.
But everyone in the organization knows that must change quickly if the Colts are going to make a playoff push in 2016.
"We've had some line issues. There's nothing that we can do about it," Pagano said after Thursday's preseason finale, referring to injuries. "We have to get healthy, and healthy in a hurry." 
There is hope. The Colts expect some growing pains because they've plugged in two new starters -- rookie center Ryan Kelly and right guard Denzelle Good, a second-year player.
Meanwhile, right tackle Joe Reitz (back) and left guard Jack Mewhort (knee) have been battling injuries. It's unclear whether either will be ready for Sunday's opener against Detroit, but both should be back before the end of September.
The concern is this: If the line doesn't improve soon, Luck could again pay a steep price.
Pagano, Grigson and team owner Jim Irsay all know that keeping Luck healthy and upright remains the team's top priority, especially after Luck signed a record-breaking six-year, $140 million contract in June. That's why they used four draft picks on linemen, including Kelly in the first round.
Throughout training camp, there were promising signs.
The results, however, haven't changed much. After averaging 3.6 yards per carry in 2015, they averaged 2.7 in the preseason. And after allowing 37 sacks last season, they gave up five in the first three preseason games.
While Pagano, Grigson and Irsay cringe with every hit Luck takes, the franchise quarterback doesn't seem to mind.
"I feel like I played a half of football," he said two days after the pounding he took against Philadelphia. "It feels good. I think it's almost important to get hit a little in the preseason for your body to get used to what it's like on a Monday after a game. I feel pretty good."
Here are some other things to watch this season: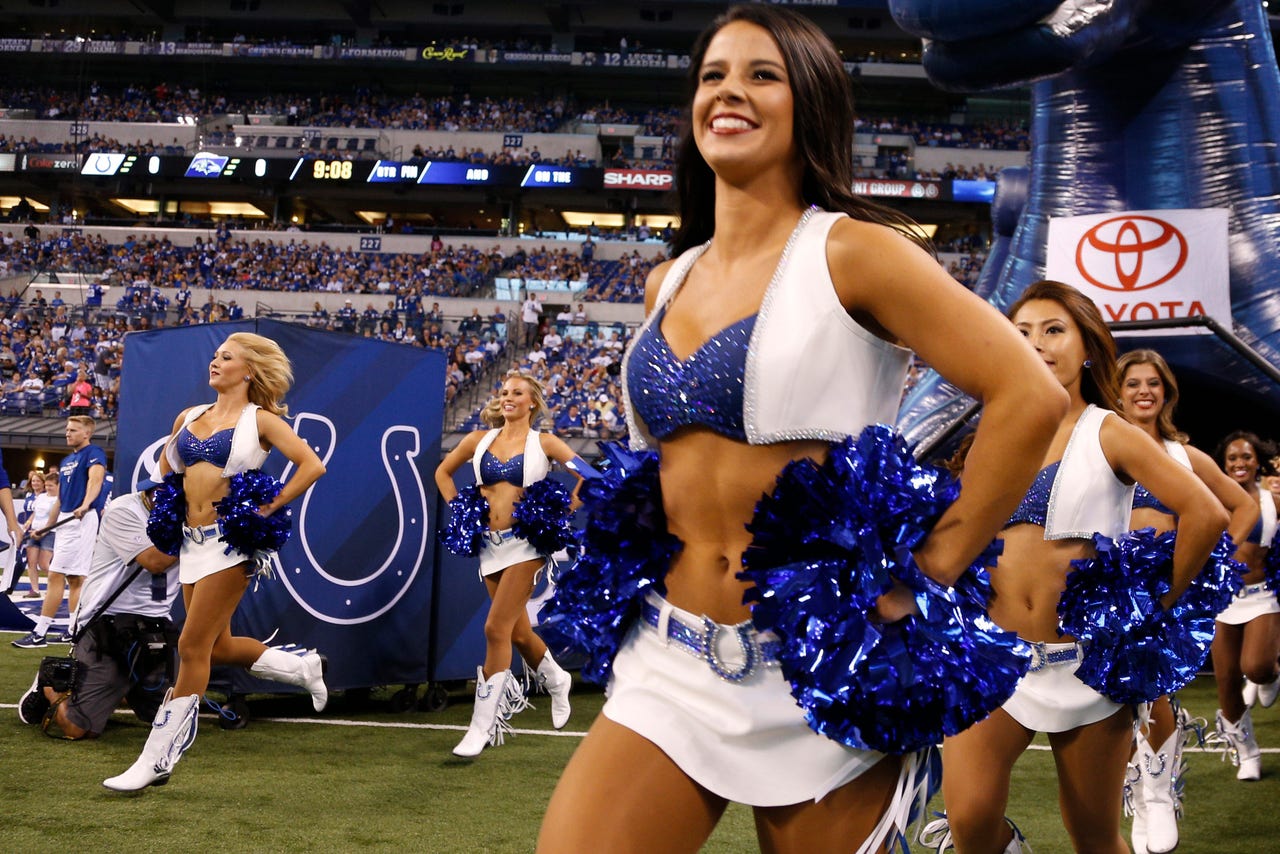 View from the sidelines: NFL cheerleaders 2016.
COPING WITH INJURIES: The Colts aren't just hurting on the offensive line. Indy's top five cornerbacks all missed Thursday's preseason finale at Cincinnati and lost another, Tevin Mitchell (hamstring), on Thursday. The spate of injuries forced the Colts to make some adjustments on their final roster, and Pagano still isn't sure who might play Sunday. Regardless, it's certainly not a good omen to be this banged up this early.
MANUFACTURED RUSH: New defensive coordinator Ted Monachino is looking for more consistency in the pass rush this season. Sure, at age 35, Robert Mathis remains one of the league's most feared sack artists. But Monachino needs other players to complement Mathis. The Colts didn't add any notable pass rushers in free agency, and the draft picks might not be ready to make a major impact just yet. So expect Monachino to be aggressive with blitzes and stunts.
STREAK BUSTER: Running back Frank Gore is still steamed that he finished last season with 967 yards. Perhaps the Colts should be more upset. Since 2008, Gore has topped the 1,000-yard mark six times -- a span in which Indy has produced zero 1,000-yard runners. Indy also starts this season trying to snap a 50-game streak without a 100-yard rusher -- the longest drought in the NFL in nearly two decades. The 33-year-old Gore hopes to defy the odds by ending both streaks this year.
ALLEN TOWN: Offensive coordinator Rob Chudzinski hasn't dropped many hints about the new offense. And while he stayed pretty vanilla in the preseason, the conventional wisdom is that the tight ends will play a more prominent role in 2016. That's great news for Dwayne Allen, who signed a four-year, $29.4 million contract in March. Allen has been slowed by injuries during his first four seasons and was overshadowed by Coby Fleener. With Fleener in New Orleans, Allen becomes the primary tight end -- and could have a breakout year.
FAST START: Since 2012, Pagano is 1-3 in Week 1 and has started 0-2 each of the past two seasons. Coupled with Indy's continually sluggish starts last season, Pagano changed things up at camp. He pushed them harder and faster, gave players fewer rest days and reiterated the need to start fast in September -- and each week. Will the new emphasis work? Stay tuned.
---
---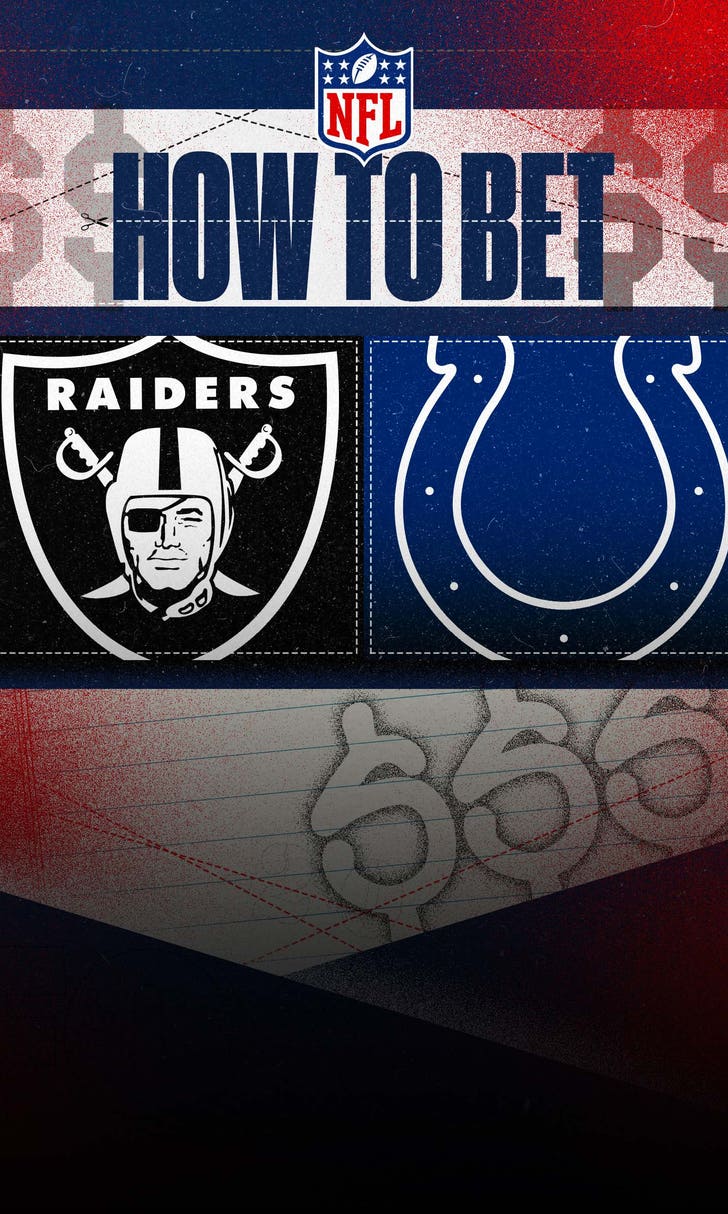 NFL odds: How to bet Raiders-Colts, point spread, more