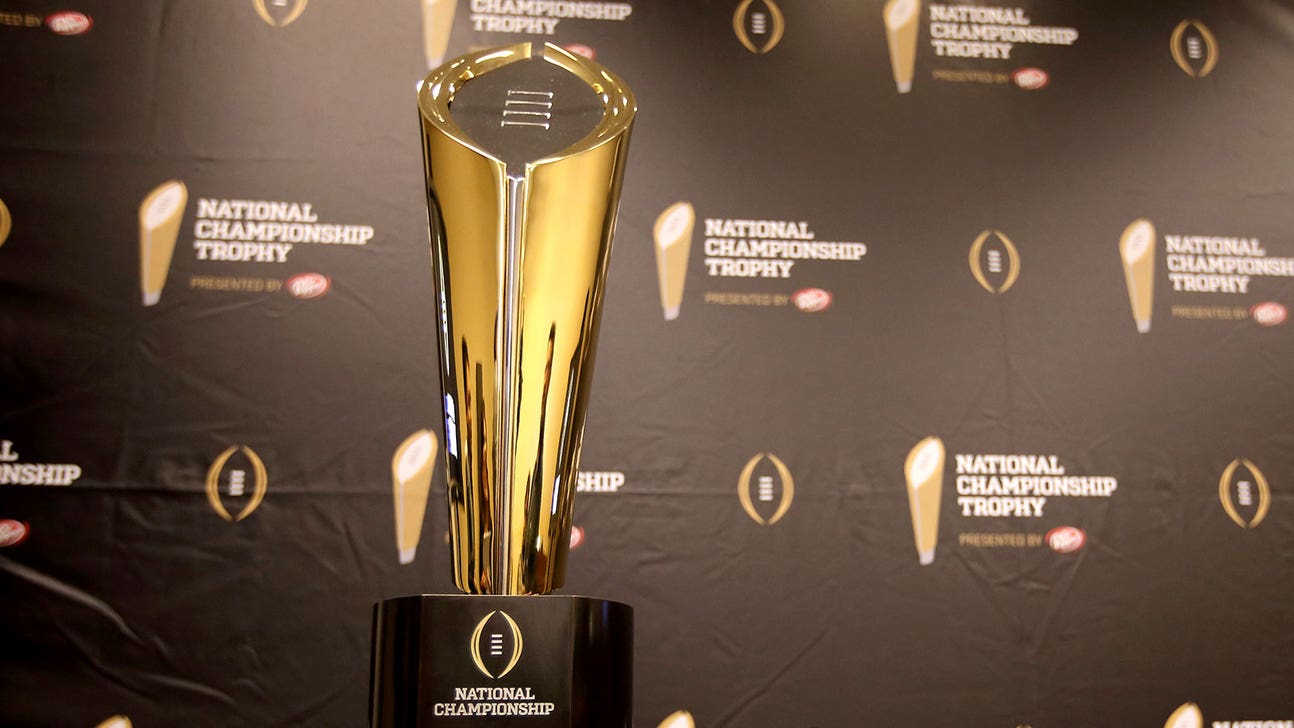 College Football Futures
Updated
Mar. 5, 2020 12:18 a.m. ET

College football crowns a national champion every year. Much like death and taxes the annual coronation is an absolute despite the controversy that leads up to the event. Over the years it's grown difficult to argue that the best team didn't win the title even if Mark Dantonio feels otherwise. During the BCS era we've witnessed a number of pre-season longshots work their way into the national title picture disproving (to a certain extent) the generally accepted notion that college football is dominated only by the heavyweights.
Now don't confuse the point here, I'm not talking about it being a fair fight for the Boise States of the world but rather using national championship futures to validate a real rags to riches story. Auburn's near miss last year can only be described as Cinderella-esque considering the Tigers opened at prices north of 250-1 in the offseason and were available at a price of 9,999-1 after losing to LSU in the middle of the season. Even Florida St started the year at 30-1 before proving their dominance en route to a perfect season paying handsome dividends for their supporters.
I spent the last few days walking (who am I kidding, driving) around town collecting college football futures from the largest books operating on the Las Vegas Strip. The differences in prices on certain teams are staggering, even among those considered prohibitive favorites with the inside track to the national semifinals. For instance a quick walk from Wynn to MGM can return bettors an extra $150 per $100 wager if you believe Florida St repeats as national champions. If betting favorites isn't "your thing" and you're the find a needle in a haystack gambler, try this on for size. Clay Travis' man crush Kliff Kingsbury's Red Raiders are available at an absurdly low 80-1 if you bet them at any MGM property whereas that same Texas Tech side could be found at 500-1 by making the trek to LVH Superbook. Of course when Tech finishes the season 7-5 both tickets will pay the same but that's not the point I'm trying to make here.
While all these odds are always subject to change, below is a complete list of college football futures on the Strip. The best price on each team is denoted by an asterisk, allowing you to spend that extra cab fare on a $37 cadillace margarita from Fat Tuesdays.
When it comes to finding a value pick, seasoned bettors know as much work goes into finding the optimal price as does X's/O's or schedule analysis. For those unfamiliar with how the future book works it's relatively straightforward. Every casino prices teams accordingly based on not only the money they've taken into their pools but also the clientele. The end goal for oddsmakers is to maximize revenues by carefully driving action towards certain schools while deterring you from betting others. The industry term for this is called "taking a position" and you see exactly that occurring on the aforementioned FSU. LVH has the Seminoles listed at 3 while MGM has them at 5 implying LVH is more than content to have bettors avoid playing FSU in their sportsbook. Think of the optimal market as a perfect supply and demand model: bets come in on one team forcing operators to raise the prices on others creating a scenario where it doesn't matter which team wins the national championship they'd turn a similar profit regardless. Unfortunately this doesn't happen nearly enough and various books elect to only shorten teams odds raising theoretical hold percentage as you see on the chart above. Theoretical hold is the percentage of every dollar wagered the book keeps (47% = .47 on the dollar). The lower a sportsbook's theoretical (or take), the better it is for the player. However, this doesn't mean a higher hold market can't offer the best prices on certain teams (see FSU). It pays to be as conscientious shopping for futures tickets as it does for that next new car you purchase. Do your homework, put some legwork into it, and you'll find yourself with Notre Dame at 75-1 rather than the cut-rate price of 12. Now the real challenge: finding the actual ticket you'll get to cash come January 12.
| | | | | | |
| --- | --- | --- | --- | --- | --- |
|   | Caesars | MGM | Wynn | Cantor | LVH |
| Florida St | 4 | *5 | 3.5 | 4 | 3 |
| Alabama | *6 | *6 | 3.5 | *6 | *6 |
| Oregon | 6 | *7 | 5 | 6 | 6 |
| Auburn | 9 | 7 | 12 | *17 | 10 |
| Oklahoma | 6 | 6 | 8 | 9 | *10 |
| UCLA | 10  | 15 | *20 | 12 | 10 |
| Ohio State | 8 | 6 | 7 | 8 | *12 |
| Georgia  | 13  | 18 | 20 | *27 | 15 |
| Baylor | *30 | *30 | 20 | 22 | 20 |
| LSU | 15 | 15 | 12 | *20 | *20 |
| South Carolina | 20 | 25 |   | *45 | 20 |
| Michigan St | 22 | 15 | 25 | 26 | *30 |
| Wisconsin | *35 | 25 | *35 | *35 | 30 |
| Ole Miss | 50 | 40 | *85 | 55 | 40 |
| Florida  | 25 | 18 | *60 | *60 | 50 |
| USC | 30 | 25 | 22 | 40 | *50 |
| Stanford | *60 | 25 | 24 | 30 | *60 |
| Clemson | *75 | 50 | *75 | 65 | *75 |
| North Carolina | 175 | 125 | *200 | 100 | 75 |
| Notre Dame | 25 | 12 | 28 | 50 | *75 |
| Washington | 65 | 50 | *125 | 100 | 75 |
| Arizona | 125 | *200 | 150 | 150 | 100 |
| Arizona St | 75 | 75 | *100 | 60 | *100 |
| Field | 80 | 50   |   | 50  | *100 |
| Iowa | 100 | 80 | *125 | 90 | 100 |
| Kansas St | 100 | 75 | *150 | 80 | 100 |
| Michigan | 40 | 22 | 75 | 75 | *100 |
| Mississippi St | *175 | *175 | 125 |   | 100 |
| Missouri | *100 | 30 | 85 | 60 | *100 |
| Nebraska | 40 | 30 | 50 | 80 | *100 |
| Texas | 28 | 22 | 50 | 60 | *100 |
| Texas A&M | 45 | 35 | 75 | 70 | *100 |
| Miami | 175 | 40 | 125 | 85 | *200 |
| Northwestern | *350 | 200 | 250 | 250 | 200 |
| Oklahoma St | *300 | 80 | 150 | 80 | 200 |
| TCU | 175 |   | 125 | 150 | *200 |
| Tennessee | *200 | 150 | 125 | 100 | *200 |
| VA Tech | *200 | 100 | 125 | 175 | *200 |
| BYU | *350 | 150 | 150 | 175 | 300 |
| Louisville | 100 | 60 | 200 | 100 | *300 |
| Boise St | 300 | 250 | 175 | *500 | *500 |
| Pittsburgh | *500 |   | 250 | 350 | *500 |
| Texas Tech | 150  | 80 | 100 | 150 | *500 |
| Utah St | *600 |   | 400 | 350 | 500 |
| Duke | 600 | 125 | 200 |   | *1000 |
| Georgia Tech | 600 | 250 | 250 | 400 | *1000 |
| Oregon St | 500 | 100 | 250 | 350 | *1000 |
| Utah | 600 |   |   | 500 | *1000 |
| Vanderbilt | 600 |   | 400 |   | *1000 |
| Washington St | 400 |   | 250 | 350 | *1000 |
| Arkansas |   |   | 250 | 150 |   |
| Boston College |   |   |   | 500 |   |
| California |   |   | 500 |   |   |
| Cincinnati |   | 300 | 250 | 200 |   |
| Colorado |   |   | 500 |   |   |
| Fresno St |   | 300 |   |   |   |
| Houston |   | 250 | 500 |   |   |
| Maryland |   |   | 400 |   |   |
| Minnesota |   | 100 |   |   |   |
| Northern Illinois |   | 300 |   |   |   |
| Rutgers |   |   | 500 |   |   |
| UCF |   | 40 |   |   |   |
| Virginia |   |   | 250 |   |   |
| West Virginia |   |   | 200 | 350 |   |
|   |   |   |   |   |   |
| Hold | 38.79% | 47.04% | 38.14% | 30.67% | 30.90% |
---