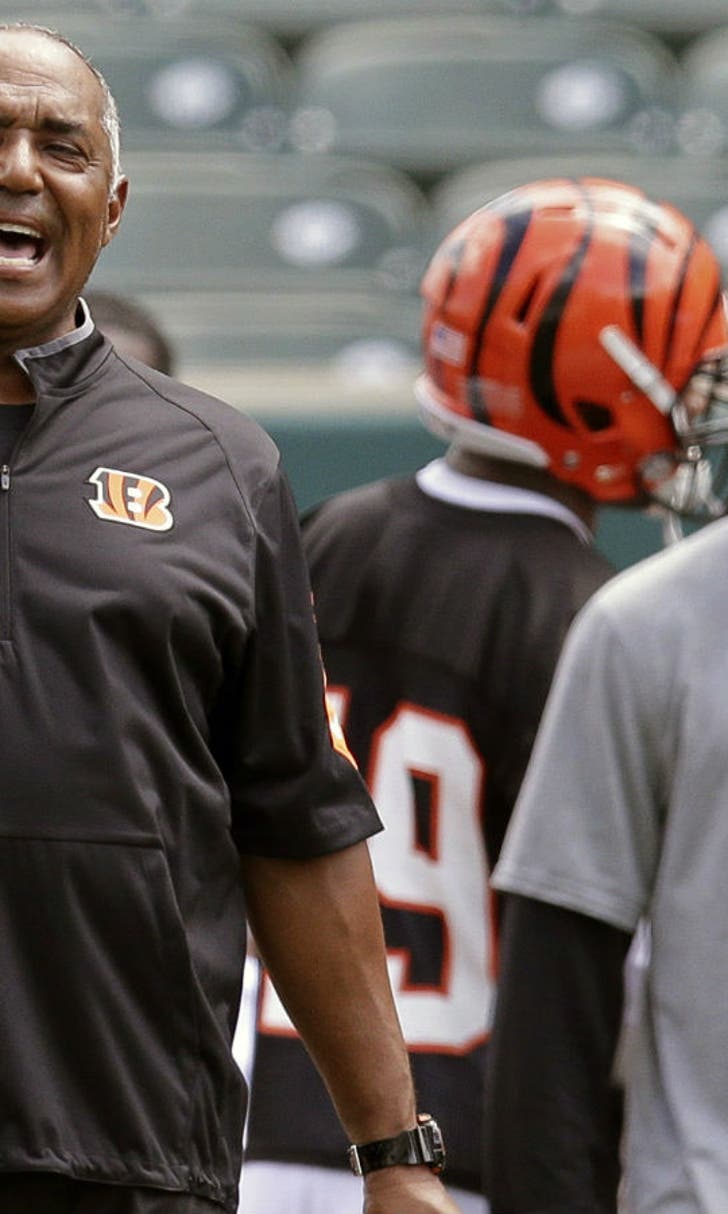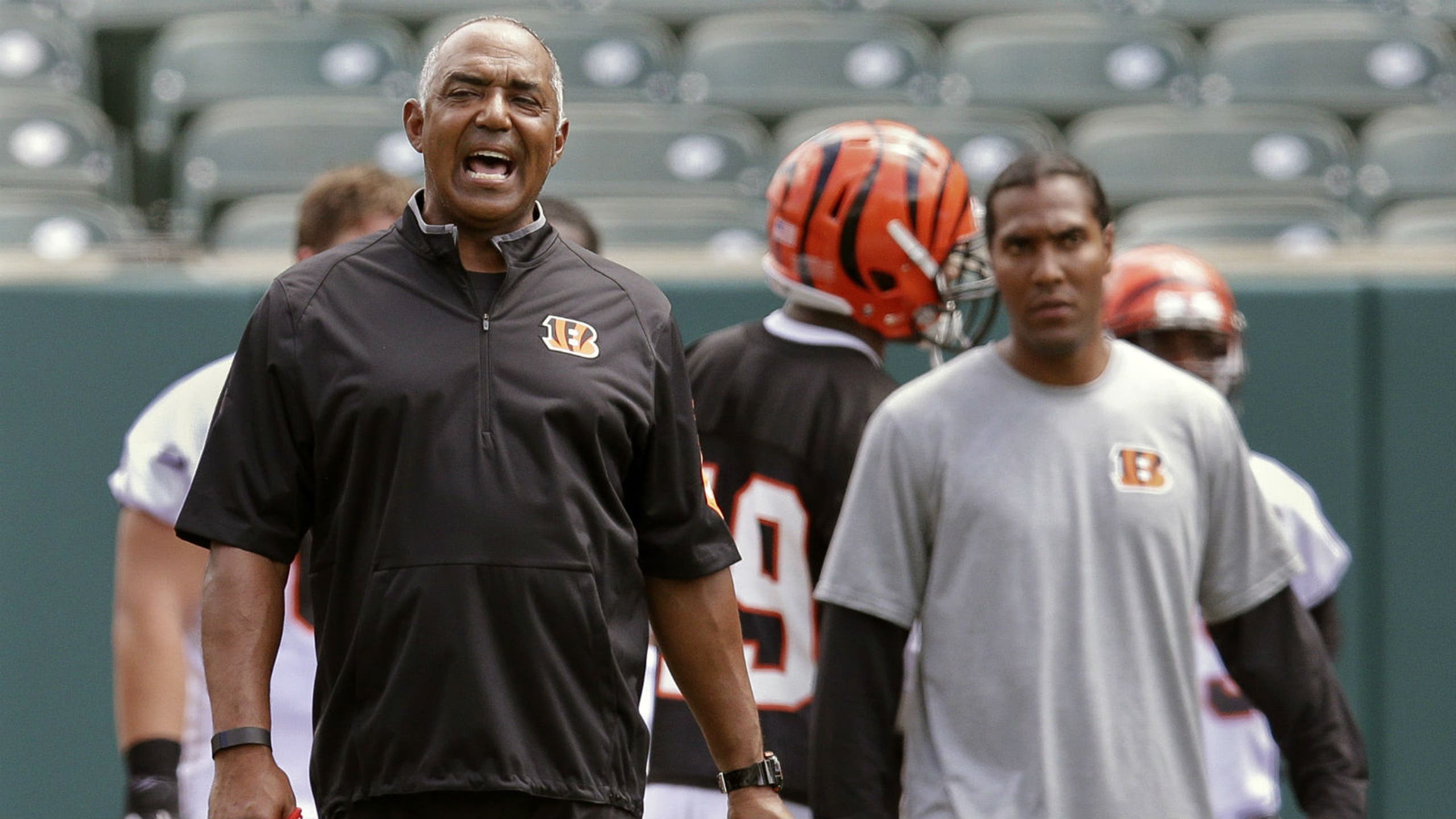 Coach Houshmandzadeh bringing experience to Bengals
BY foxsports • June 16, 2015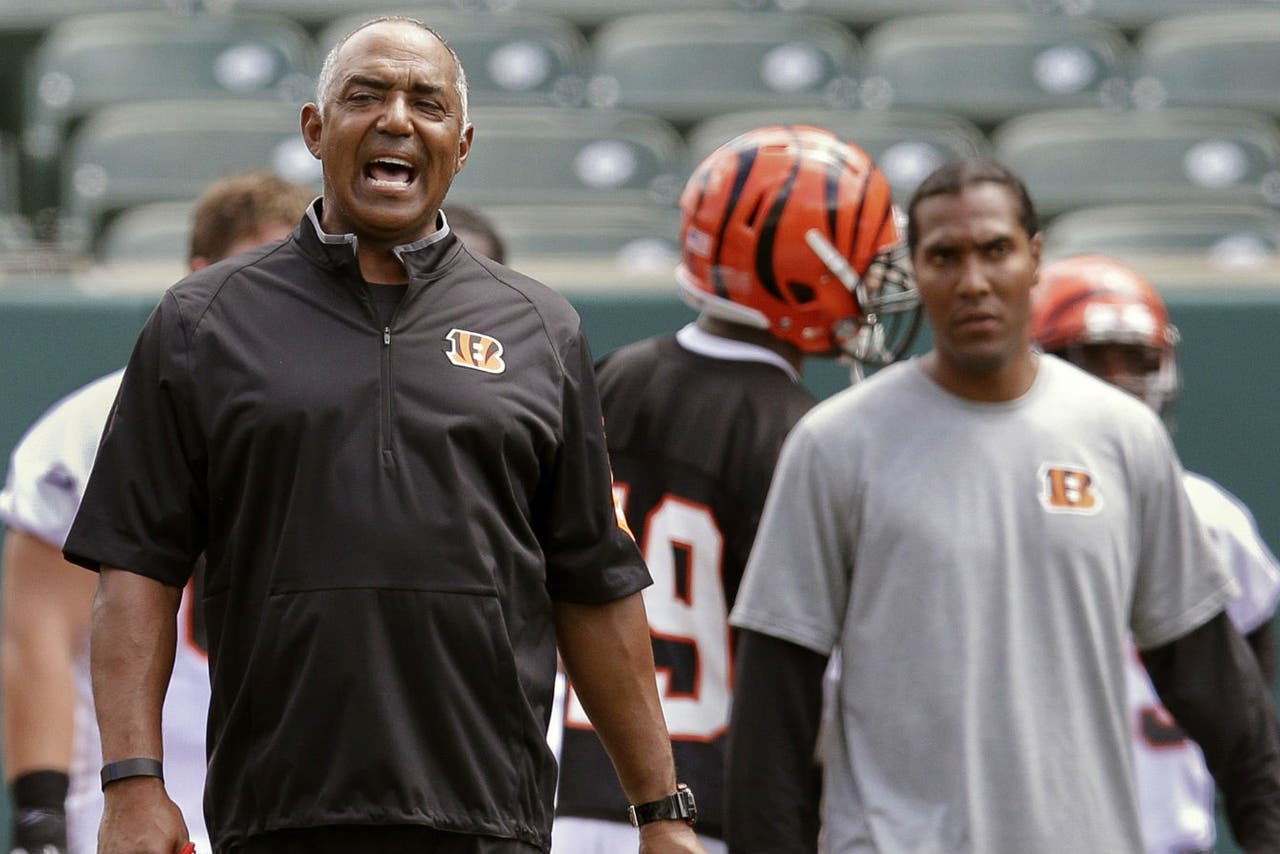 CINCINNATI -- There's not a doubt in T.J. Houshmandzadeh's mind that he could still be out running routes, catching passes and winning battles against NFL defensive backs. Not a single doubt.
"Oh, 100 percent I could. I could still get out there and do everything they do," said Houshmandzadeh.
The man who has caught more passes in a single season than any other receiver in Bengals history doesn't flinch when he says this. He doesn't smile or offer a nudge, nudge, wink, wink that would suggest he wasn't completely serious. Anyone who has spent any time around Houshmandzadeh knows he means what he says. It's part of the reason Houshmandzadeh turned being a seventh-round draft choice into an 11-year career that included 627 receptions, 44 of them for touchdowns, and more than 7,200 yards.
Houshmandzadeh is back with the Bengals this offseason for the first time since 2008 but it's not as a player. He's now Coach T.J., finishing up a two-week internship as part of the NFL's Bill Walsh Minority Fellowship Program this week as the Bengals hold their mandatory mini-camp. It's the same program that head coach Marvin Lewis was a part of before he got his first NFL job with the Steelers in 1992. Defensive line coach Jay Hayes and offensive assistant Brian Braswell are also alumni of the program.
This is something offensive coordinator Hue Jackson, who was Houshmandzadeh's position coach with the Bengals from 2004-06, wanted to happen last year. Houshmandzadeh thought Jackson was messing with him then. He thought the same thing when Jackson called him again late last year to apply for the program. Then Jackson told him to set up a flight to Cincinnati.
"That's when I knew he was serious," said Houshmandzadeh.
So here is Houshmandzadeh, 37, helping assist wide receivers coach James Urban with a group whose most accomplished members are just getting through their first contracts. It's a group that's similar to the one Houshmandzadeh joined in 2001, a group that had to learn and grow together without a strong veteran presence among it. Houshmandzadeh and Chad Johnson were rookies in 2001. Peter Warrick and Ron Dugans had been drafted the year prior. There was a lot of talent that was entrusted with a lot of responsibility.
A.J. Green has twice been named to the AP All-Pro team and he's never not had a 1,000-yard season in his four years but he and Marvin Jones and Mohamend Sanu, who were each drafted in 2012, a year after Green, have never had a guiding veteran amongst their group.
For a couple of weeks, Houshmandzadeh can be that veteran.
"Whatever we do, he has his two cents that he adds," said Jones. "Basically it's him showing his experience, telling us when 'I was in this position this is how I did it.' Just giving us that true veteran insight has been very helpful."
Jones was learning from Houshmandzadeh before he ever came to the Bengals. Former Bengals quarterback Akili Smith was a grad assistant at California when Jones was in college. Smith had access to plenty of NFL game tape. Houshmandzadeh was a favorite study subject for Jones.
"Looking at how he handles his business in terms of consistency with routes and sure hands, it popped out," said Jones. "You could tell that he was a guy that honed in on the details and did everything the same. That's what I base my game on. One of the aspects of my game is the little details, the consistency and the route-running."
Houshmandzadeh caught 112 passes with the Bengals in 2007. The only other Cincinnati receiver to reach 100 catches in a season is Carl Pickens (100 in 1996). Houshmandzadeh and Johnson had been college teammates at Oregon State. The Bengals noticed Houshmandzadeh when they were scouting Johnson.
Chad was always the flamboyant player, the one looking to have a good time after catching a touchdown, whether it be with a River Dance or a wedding proposal to a cheerleader on the sideline.
T.J. was the hard-nosed older brother. Not that he wasn't up for a good time, but Houshmandzadeh never forgot in what round he was drafted. He never let anyone else forget it either.
"This is how I equate it: we're stranded on an island and there's 10 of us, and then somebody drops a bowl of food," said Houshmandzadeh. "I'm going to eat. There's only one bowl of food. I promise you I'm getting some of that food.
"That was the mentality that I had. I kept that mentality the whole time, which I think I could've harnessed it a little better but I had the mentality I was here and I continued to fight. You should do that. I'm just super-, super-competitive. I might not be the best at something but I damn sure think I am. That's just me."
That's the attitude Jackson wants his receivers to have. It's the attitude he wants all of his offensive players to have. Houshmandzadeh can be a positive influence on the receivers for the time he is here.
"As a player I've felt that way about him; very confident in him as a player that way, that his maturity, his ability to help others in the room to get better was a great quality T.J. had," said Lewis, who knew first-hand how stubborn Houshmandzadeh could be as a player. "T.J. knew more than all the coaches anyway. Now you get to show it."
Lewis views the Walsh Fellowship program as a way for coaches who want to someday coach in the NFL to get a full indoctrination into the life. It's not for everybody. Houshmandzadeh is now coaching high school in Southern California, at Long Beach Poly. He's also coaching his daughter's softball team. Someday he might want to head down this path.
For right now, he's lending a veteran presence to a group who he says he had never met or spoken to before this internship began.
"They've been very receptive. They ask me questions. Once they asked me questions, now I'm free flowing and I give them my opinion on certain things that I think they need to work on, that they need to do because you can always get better regardless of how good you are," said Houshmandzadeh. "I'm telling them something it's because I've seen it done, I've done it, I can do, I can still do it, and so I think they're more receptive to that because I've done it."
---