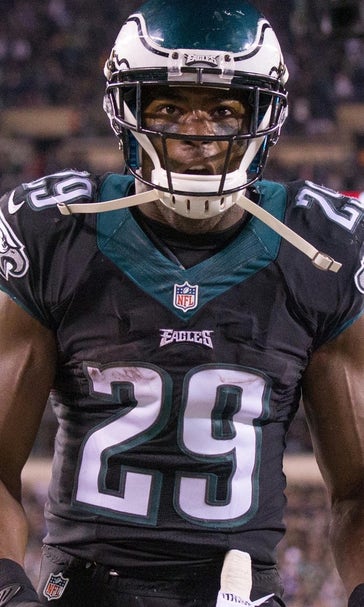 Chip Kelly Needs to Shoulder More Blame for an Inefficient Offense
October 27, 2015

The Philadelphia Eagles made the running back position a key focus by their offseason moves, but one thing is certain about in-season production: it's not Chip Kelly's fault, so don't ask him about it.  When asked why Ryan Mathews didn't get carries last night against the Panthers, Chip Kelly deflected blame to Running Backs Coach Deuce Staley.  Kelly also deflected blame to the "play calling," suggesting that Mathews just happened to be inserted into the game when pass plays were called.  Chip Kelly wants us to believe that his running back rotation is by chance and that number of carries per player is purely coincidental to whether a player happens to be on the field when he calls a run play.  But Kelly is a coach so into the minutiae he formulates total nutritional plans with precise protein shake blends, specific music mixes to be played during practice, podcasted team meetings for drafted players still in school and detailed sports science off-season conditioning programs.  And yet he is ambivalent when it comes to using his running backs?
In his post-game press conference, Kelly placed the blame solely on the players, reiterating the refrain that the loss was because of "the drops and the penalties." Kelly's words weren't just in regards to the loss last night either. Kelly said, "If we're going to be a successful football team, we have to clean up the drops and the penalties."  He didn't single anyone out, but he threw everyone under the bus. 
It's difficult to win road games in the NFL.  It's even more difficult when you are forced into 18 third down attempts.  And it's even more difficult yet when you convert only 39% of those attempts.  When that happens, you get results like the Eagles had Sunday night:  13 offensive drives, one touchdown.  Typically, there is only one way a team could be forced into so many third downs and convert them so infrequently:  inefficiency on first down.
A team who gains few yards on first down inevitably is faced with second and long followed by third down.  Last night the Eagles ran 32 plays on first down.  Almost half of their plays were run plays.  Out of pure coincidence (if you believe Chip Kelly), DeMarco Murray received 10 of the 14 designed handoffs, or 71 percent.  Carrying the bulk of the first down load, Murray gained a total of 24 yards on those 10 carries for a 2.4 yards per carry average.  On just two first down carries, Ryan Mathews gained almost the same total yardage (23 yards) as Murray.  His average yardage was nearly five times that of Murray.
This isn't something new for the Eagles.  So far this season, on first down run plays, Murray has 52 carries and is averaging 2.8 YPC, while Mathews has almost half the number of attempts, yet is averaging well over double the average, a staggering 7.2 YPC.  Yet week in and week out, the utilization of DeMarco Murray dwarfs that of Ryan Mathews, efficiency be damned.
On first and 15 from the Eagles 38-yard line with 6:55 remaining in the 2nd quarter, Ryan Mathews ran for a 22 yard gain.  Despite 20 more first down play calls in the remainder of the game, Ryan Mathews did not receive another carry.  Murray received 7 carries on these remaining first down plays and gained a total of 13 yards, or 1.86 YPC.  Apart from the couple of completions to Darren Sproles with seconds left, down by 11 points, Chip Kelly had Sam Bradford drop back 11 times.  He was sacked 3 times, scrambled once for 2 yards, threw incompletions 4 times and completed 3 passes for 4.67 yards per attempt.
Typically, a coach will not call so many first down run plays for a running back who is not successful on those plays, particularly when trailing.  On first down runs when trailing Sunday, for instance, Le'Veon Bell gained 8.9 YPC so he received 10 carries and Darren McFadden gained 4.6 YPC so he received 12 carries.  Yet Murray gained 2.4 YPC and still received 10 carries.  Meanwhile, no running back in the NFL averaged more yardage Sunday on first down carries when trailing than Ryan Mathews, yet he only had two carries.
Ryan Mathews is averaging 6.8 YPC this year on first down runs when trailing, the best mark in the league.  The Buccaneers energizing running back Doug Martin is second (6.7 YPC), and has 26 carries.  The Steelers running back stud Le'Veon Bell is close behind (6.6 YPC), and has 29 carries in this position.  Yet Ryan Mathews (6.8 YPC) has only 8 carries while DeMarco Murray (1.8 YPC) has 26 carries, over three times more carries.
In his first two years with the Eagles, they gained 6.2 yards on first down play calls, the best in the NFL.  They were 0.9 yards per play better than average on first down.  No team in the NFL was superior - not the Broncos, Patriots, Steelers, Packers, Saints or Cowboys.  That efficiency led the Eagles to multiple 10 win seasons, as their defense was subpar both years.  But in 2015, with the NFL's #3 rated defense in efficiency, the Eagles head into their bye week at 3-4 and in third place in the NFC East.  A critical reason for the failings is the first down efficiency, as they currently average only 5.1 yards per play, 0.4 yards per play worse than average, and 8th worst in the NFL.
Chip Kelly put on the General Manager hat this year, and was responsible for turning the focus to the running back and quarterback positions.  They traded incumbents LeSean McCoy and Nick Foles.  They signed DeMarco Murray, Ryan Mathews and received Sam Bradford via trade.  Murray was the 5 year, $42M big time acquisition.  Ryan Mathews was the 3 year, $11.5M afterthought.
If Chip Kelly the play caller wasn't the same person as Chip Kelly the General Manager, the play caller would be riding the burst, efficiency and effectiveness of Ryan Mathews more on early downs.  Statistics clearly show DeMarco Murray is best suited as a 3rd down and short yardage back in this offense.  In fact, on third down runs, Murray and Mathews each have 6 carries this year.  Murray has converted all 6 carries for first downs, and averaged 8.5 YPC on those runs (one of the best marks in the NFL) while Mathews has converted just 33 percent for first down and is averaging only 0.2 YPC.
It's not difficult to see which role for each player best suits this offense.  Chip Kelly now has two weeks to read this story, look at his metrics, and come to a similar conclusion.  It's far better he realize that, while disappointing, DeMarco Murray needs to be the most overpaid third down running back in the NFL, rather than allow the inefficiency continue as the losses pile up.  Because then both Chip Kelly the play caller and Chip Kelly the General Manager will be on the hot seat at the end of the year.  No one should believe the volume of carries for each running back is purely happenstance based on substitutions.  No coach, when making such elementary play calling busts with improper personnel on the field, should continue to throw players under the bus and blame losses on them.  While drops and penalties don't help, no team can win games when playing as inefficiently as the Eagles are playing on first down.  Fortunately, it appears to be a fairly easy correction, as long as egos don't get in the way.
---
---