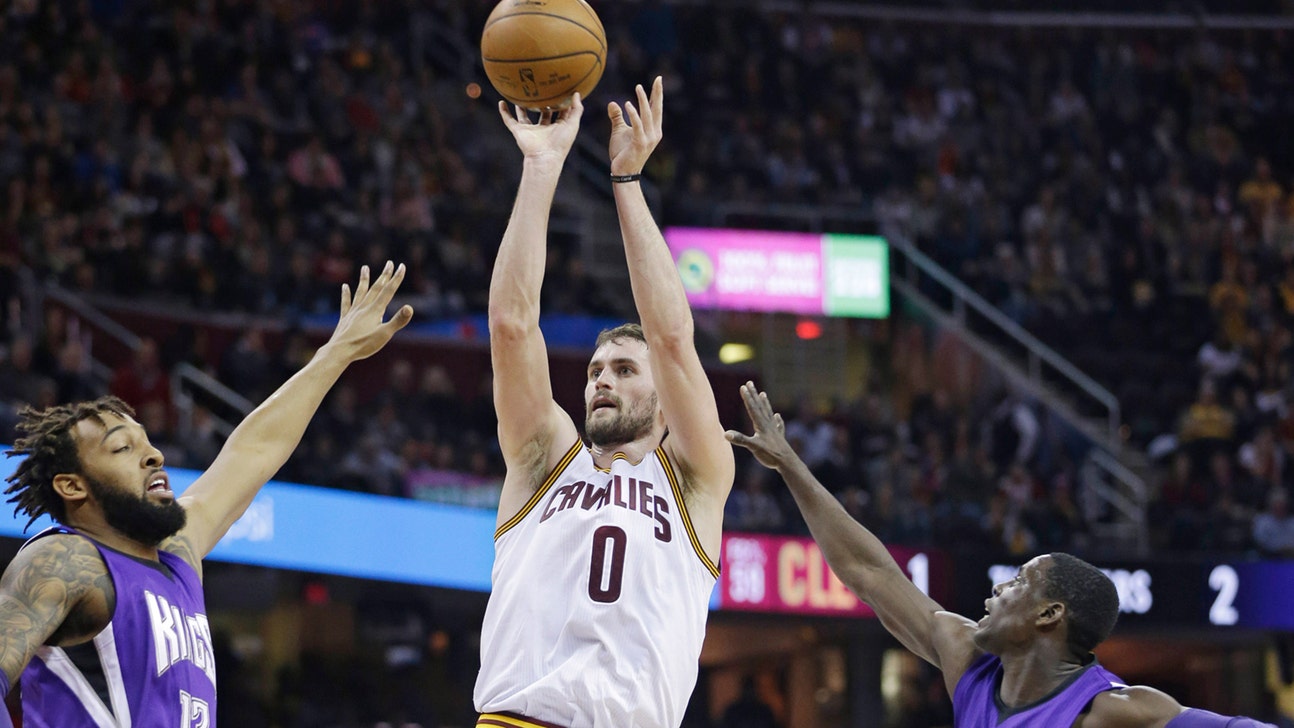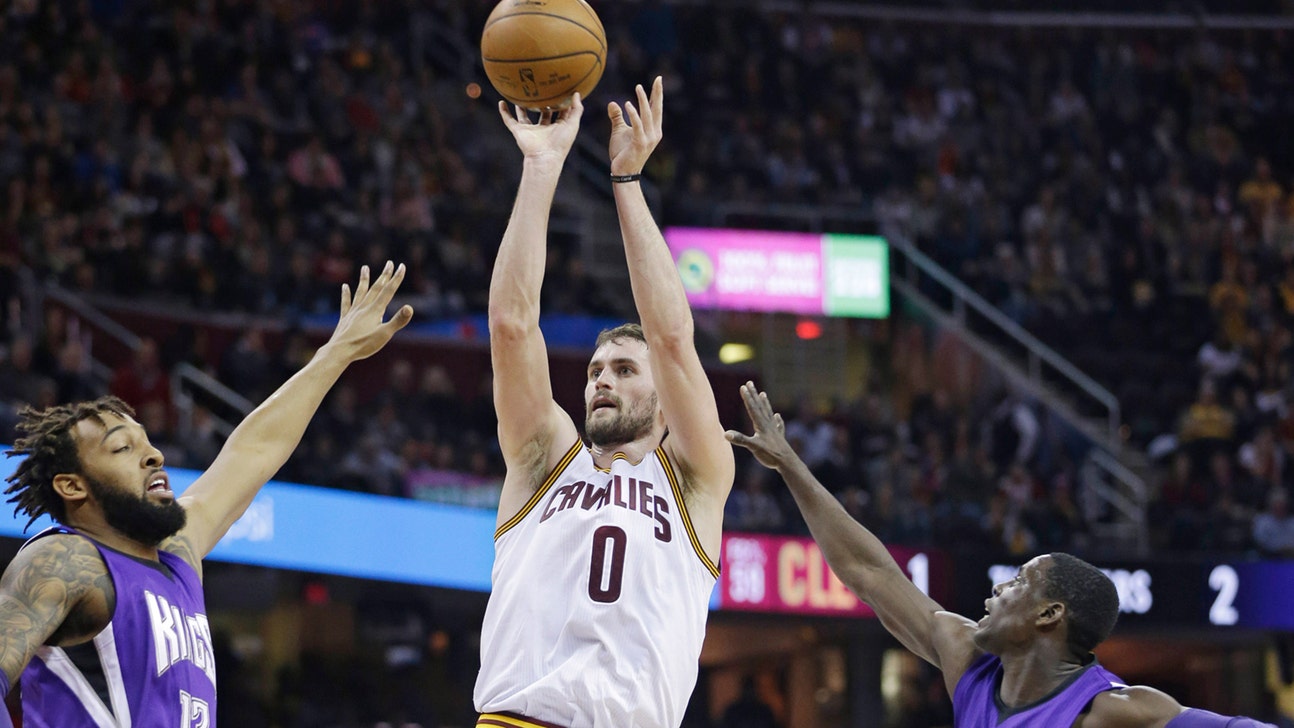 Cavs down the Kings, 101-90
Published
Jan. 30, 2015 10:20 p.m. ET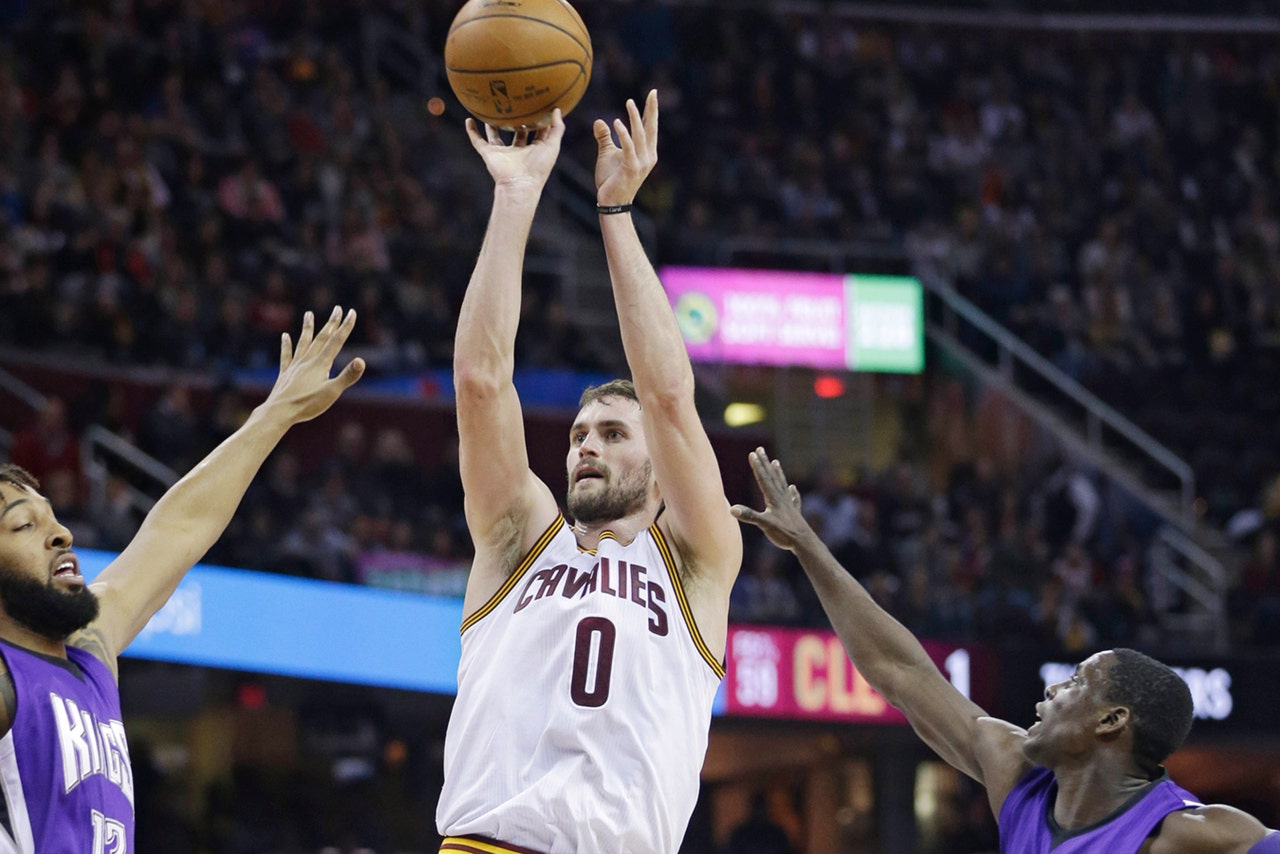 CLEVELAND (AP) -- Kevin Love and Kyrie Irving combined for 44 points, and LeBron James scored 19 in his return from a one-game absence, as the Cleveland Cavaliers stayed hot, beating the Sacramento Kings 101-90 on Friday night for their ninth straight win.
Love led Cleveland with 23 points, including 16 in the first quarter, while Irving, who scored an arena record 55 points Wednesday against Portland, added 21.
James returned after missing Wednesday's game with a sprained right wrist. He was 7 for 16 from the field in 33 minutes, but made five straight shots, including a 3-pointer and a dunk off a behind-the-back dribble, as Cleveland put the game away early in the fourth quarter.
A team trainer placed a brace on James' wrist in the third quarter, which he wore the remainder of the game.
DeMarcus Cousins, who was named to the Western Conference All-Star team Friday, scored 21 points and had 13 rebounds, but it wasn't enough to prevent Sacramento from losing its eighth straight.
Cleveland took the lead for midway through the first quarter and steadily built the margin, which remained in double figures most of the game.
James participated in Friday's shootaround and the team announced 45 minutes before the game he would play. He made his presence felt immediately when he stole a pass after the Kings won the opening tip and scored on a two-handed dunk.
James missed eight games with knee and back injuries earlier this month. Cleveland is 8-1 in games he's played since his return two weeks ago.
James didn't play when the Kings routed the Cavaliers 103-84 in Sacramento on Jan. 11. The Kings haven't won since and have the longest current losing streak in the NBA while the Cavaliers are one of the league's hottest teams.
Cleveland won eight straight from Nov. 24-Dec. 9. The nine-game streak is its longest since it won 13 in a row in 2010.
Love, who was 9 of 17 from the field and had 10 rebounds, will return to Minnesota on Saturday night for the first time since the Cavaliers acquired him from the Timberwolves last summer.
Cousins was named an All-Star replacement for Kobe Bryant, who is out for the season.
Rudy Gay added 20 points for the Kings.
TIP-INS
Kings: Cousins and Cavaliers G J.R. Smith were given double technicals in the second quarter. ... F Jason Thompson was also hit with a technical in the third. ... Sacramento's last road win was at Minnesota on Jan. 1.
Cavaliers: Love had a team trainer do some quick work on his back before the lineups were introduced. ... F Tristan Thompson wore an ice bag on his left shoulder while sitting on the bench, but entered the game in the first quarter.
UP NEXT
Kings: At Indiana on Saturday.
Cavaliers: At Minnesota on Saturday.
---