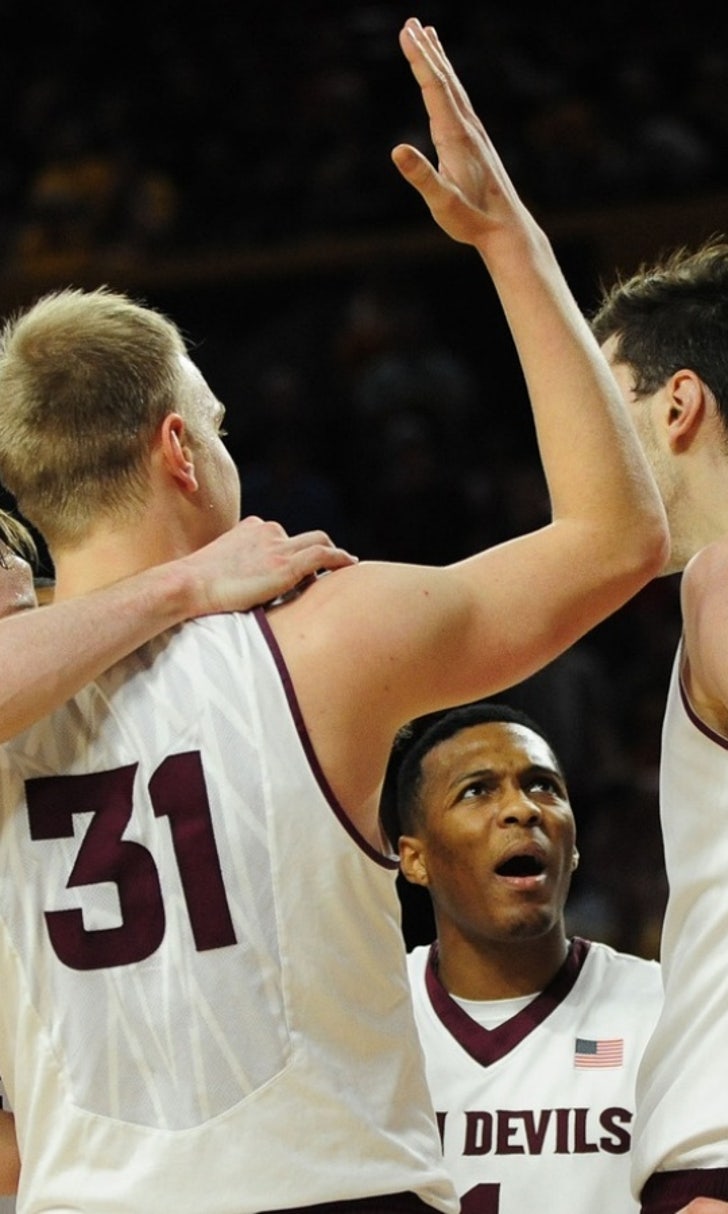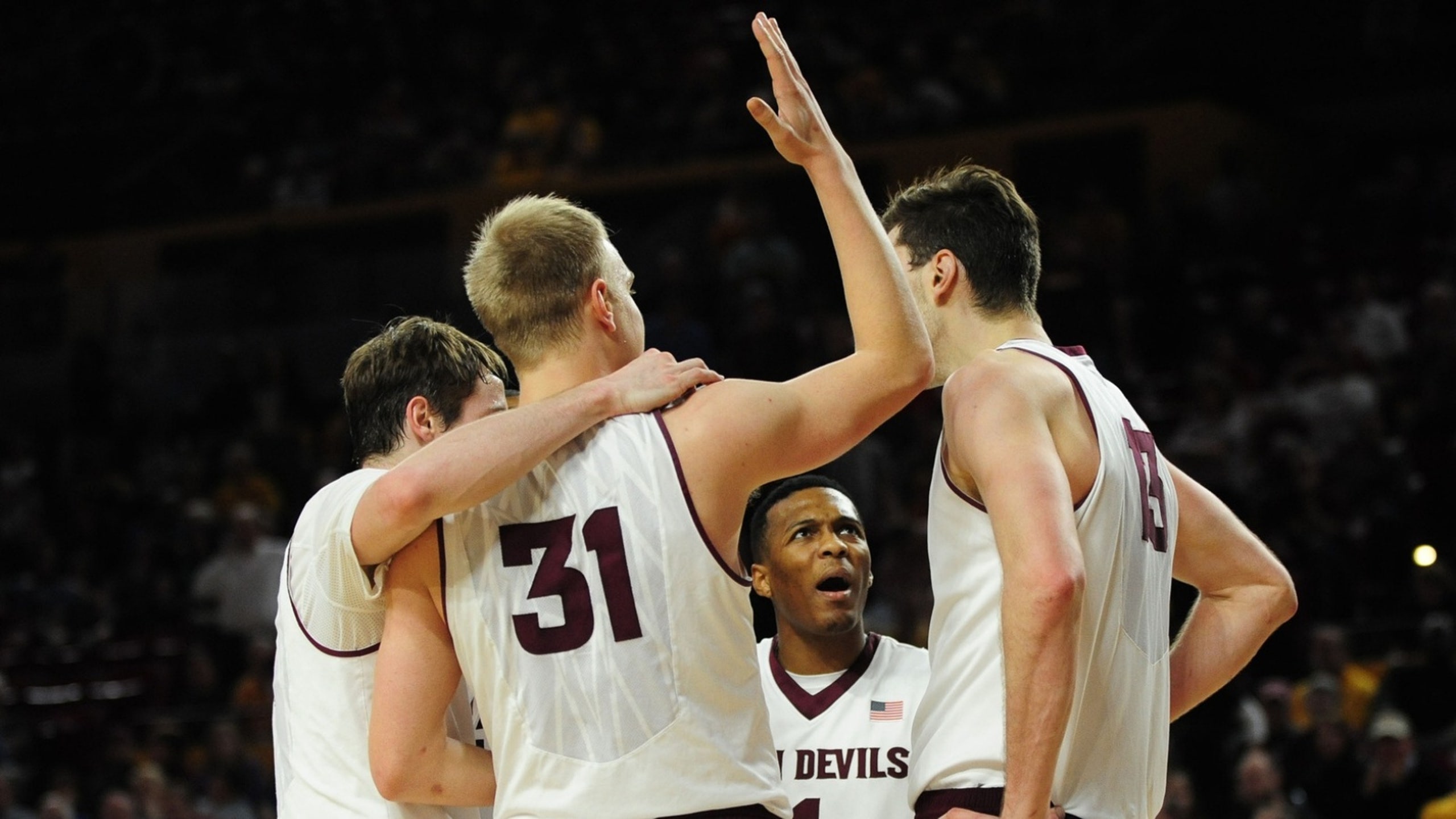 Carson takes control down the stretch to lead ASU past Utah
BY foxsports • January 24, 2014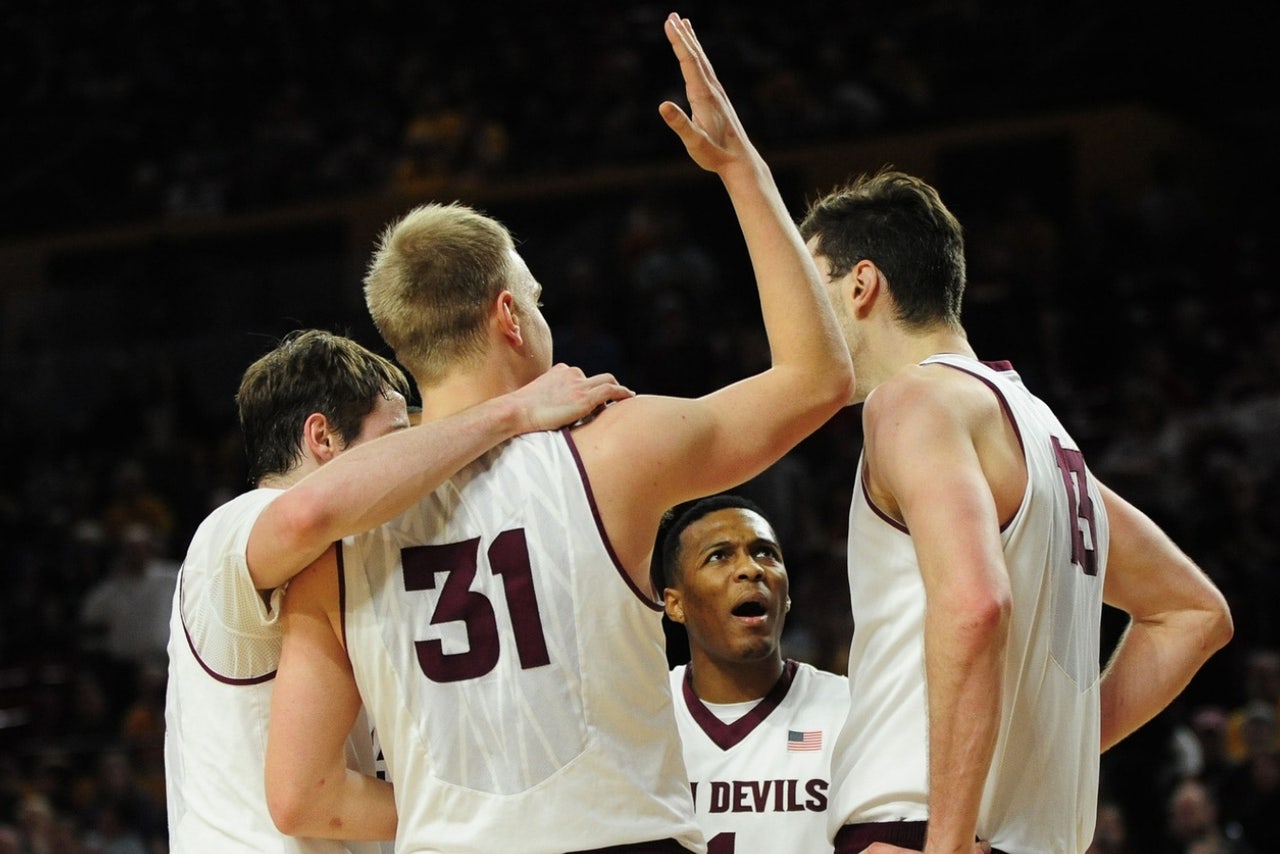 TEMPE, Ariz. -- Moved by Shaquille McKissic's uplifting story of perseverance the day before, Jahii Carson asked to speak to his ASU teammates after practice on Tuesday. His talk about togetherness was reinforced in Thursday's 79-75 victory over Utah.
"Shaq was telling his story of how he was living in his friend's car and was in jail and how he overcame a lot of that and was here," Carson said. "And he said, basically, if he can overcome that, we can overcome our losses and possibly win championships.
"I felt inspired by it. I texted coach (Herb Sendek), telling him about me being in a slump but that I was going to let all the distractions go and just be focused 100 percent on the team. Being one of the leaders, I felt I should let them know I am here 100 percent and I have their backs and hopefully they have mine."
All the Sun Devils backs were covered as they evened their conference record entering Saturday's game against Colorado.
Carson had a game-high 23 points and took control of the game down the stretch, kicking his self-diagnosed slump with drive and after drive to the basket as ASU (14-5, 3-3) maintained a slim lead in the final four minutes.
In a four-possession stretch Carson made two free throws, two driving layups around Brandon Taylor and a kick-out pass to Jonathan Gilling for a 3-pointer from the top of key to give the Sun Devils a 73-67 lead with 1:40 left. Jordan Bachynski made two free throws for a 75-67 lead, and Utah (14-5, 3-4) never had the ball with a chance to go ahead thereafter.
Winning can be a cure-all, but Carson also said he believed the team coalesced after hearing from McKissic and then him.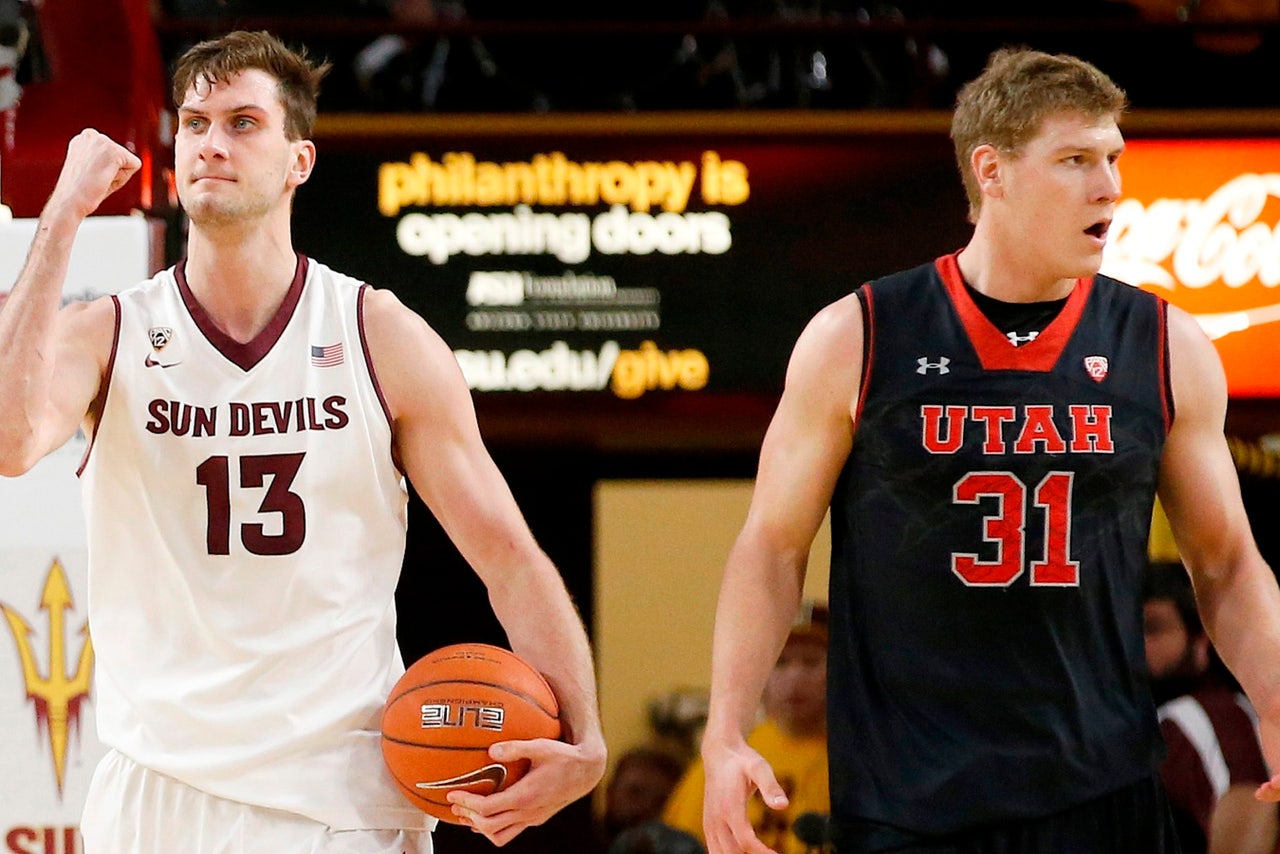 Jordan Bachynski and the Sun Devils held off Utah on Thurday. FULL STORY >>
"I felt we took a big step from those days," he said. "I felt like we weren't connected a lot of the times. I felt we had a lot of cliques on our team and I felt like with me and Shaq being through so much and having so much to say, we should express it to our team.
"They took it positively, and I think we are getting our connection back."
After 15- and 23-point losses to UCLA and No. 1 Arizona in their previous two games, the Sun Devils needed this one, and Carson returned to form at the right time. After going 26-for-74 from the field in the first five Pac-12 games, Carson was 10-of-22 from the floor, with eight rebounds, three assists and three turnovers. He looked much more like the All-Pac-12 player he was last season.
"I haven't been around many athletes who have the level of confidence that he does," Sendek said. "He's not one of these guys that if something goes south, his confidence dissipates. He just has supreme confidence in himself. That's what you have to have to make those kinds of plays, especially if the last shot doesn't come in."
Sendek started 6-foot-10 sophomore forward Eric Jacobsen alongside the 7-2 Bachynski, with 6-7 junior Jonathan Gilling coming off the bench for the first time this season. Jacobsen had four points, two assists and a rebound in 16 minutes, but his presence inside helped keep Utah's frontline occupied as ASU had a 34-26 rebounding advantage. The Utes had outrebounded 11 of their 17 opponents.
"Never was it more apparent than when we played at Tucson last week that our size and athleticism is a problem," Sendek said. "We've said every step of the way that our rebounding is a challenge and we have to be better at it, so we decided we would give our team a different look and be able play two ways. It required a little reengineering, because obviously we have a different look when Eric is at the power forward. I thought it worked well for us in stretches. We weren't able to do it all the time, but that wasn't our intention anyway."
Gilling was not affected. In fact, he played one of his best games, with 13 points, six assists, four rebounds and a steal in 31 minutes. He made all five of his field goal attempts, including three 3-pointers, and has three from the key off Carson's feed to make it 73-67 lead was the biggest shot of the game.
Reserve guard Bo Barnes also moved into a more prominent role Thursday, reprising his 13-point game against Arizona with nine points, three rebounds and two assists in 28 minutes. He has made 5-of-9 3-point attempts the last two games.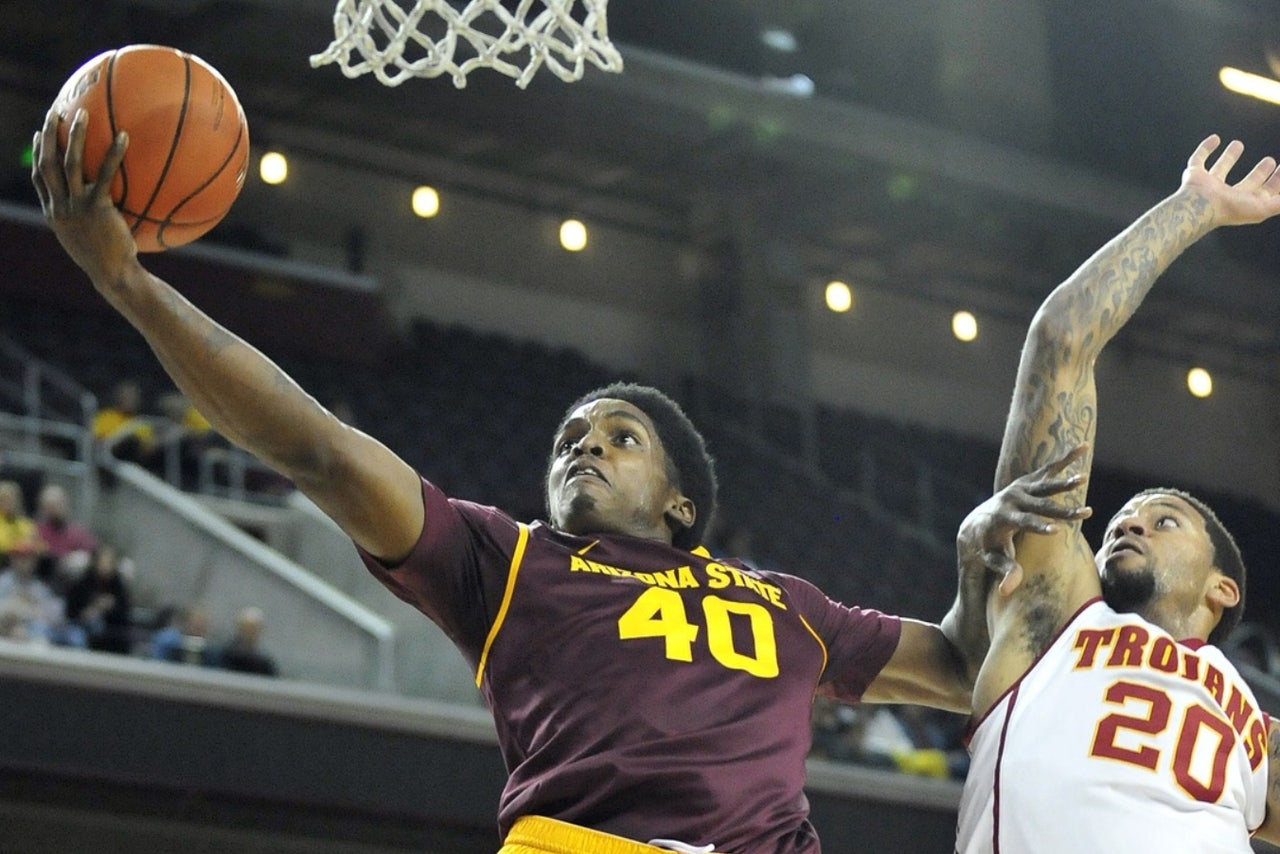 Shaquille McKissic finds happiness at the end of his long road to ASU. FULL STORY >>
"When he has had opportunities in the game, sometimes for a minute or two, the energy he has brought to our team has been fantastic, and contagious," Sendek said. "Little bit by little bit, his role continues to grow. We're very comfortable putting him in the game right now."
Utah switched a lot on defense to counter Carson's quickness, and it started the game with 6-foot-5 shooting guard Delon Wright covering the 5-11 Carson and 5-10 Taylor on the taller Jermaine Marshall. Nothing work; Carson had his way against both.
10 -- Number of Jordan Bachynksi's double-doubles this season
* Guard Jermaine Marshall, who missed the Arizona game with a groin injury, started but it was apparent he was not 100 percent. He had four points, missing all four field goal attempts but hit his free throws in the final 28.5 seconds to keep ASU in front. "I never felt he was fluid or moving well," Sendek said. "He never got in synch." Barnes received some of his minutes in place of Marshall.
* Shaquille McKissic had 11 points, two assists and a gorgeous assist in 20 minutes, the eighth game in the last 10 in which he scored in double figures.
* Utah coach Larry Krystkowiak had a conversation with Sendek at the scoring table following the game, but the details were left unshared, unless you believe Sendek's version. "He just was checking to see where would be a good place to get a bite to eat," Sendek said.
Bachynski had four blocked shots, two against younger brother Dallin, and has 266 blocked shots in his career, 12 short of former Arizona center Anthony Cook's conference record set from 1985-89. The brothers spent time playing video games at Jordan's apartment on Wednesday night, and it was not hard to spot their father in the crowd -- he was the one wearing the Jordan-designed ASU-Utah joint-logo shirt.
Follow Jack Magruder on Twitter
---