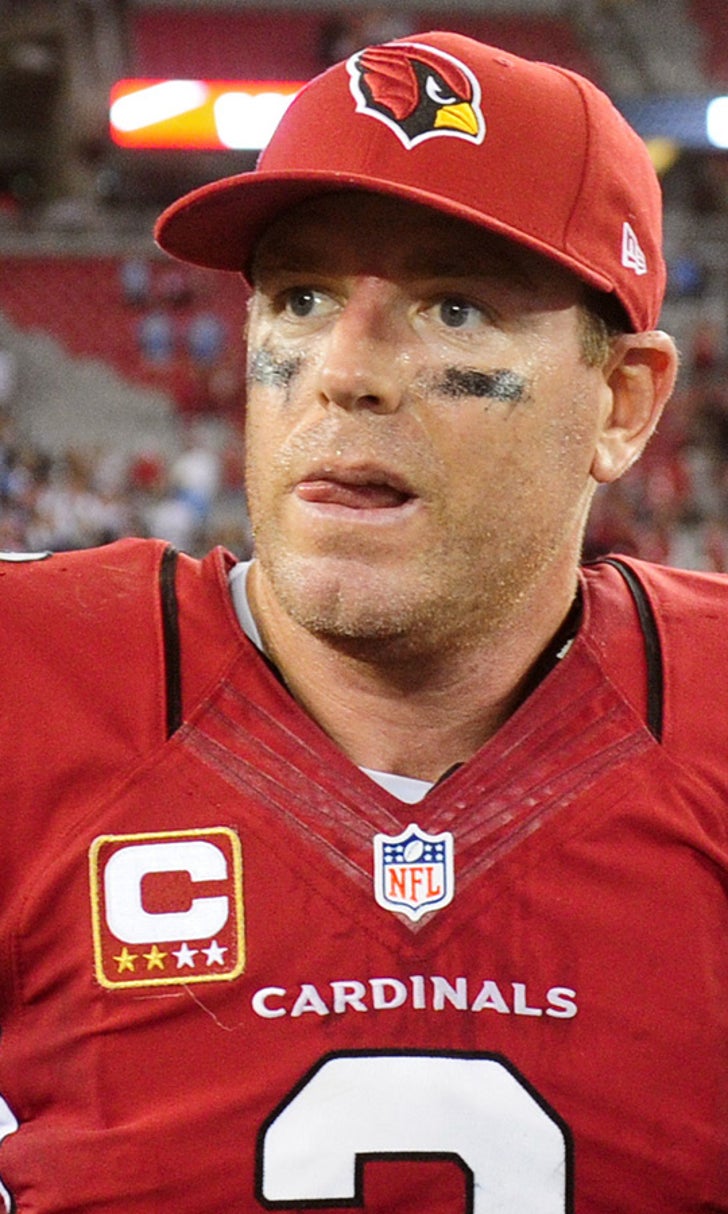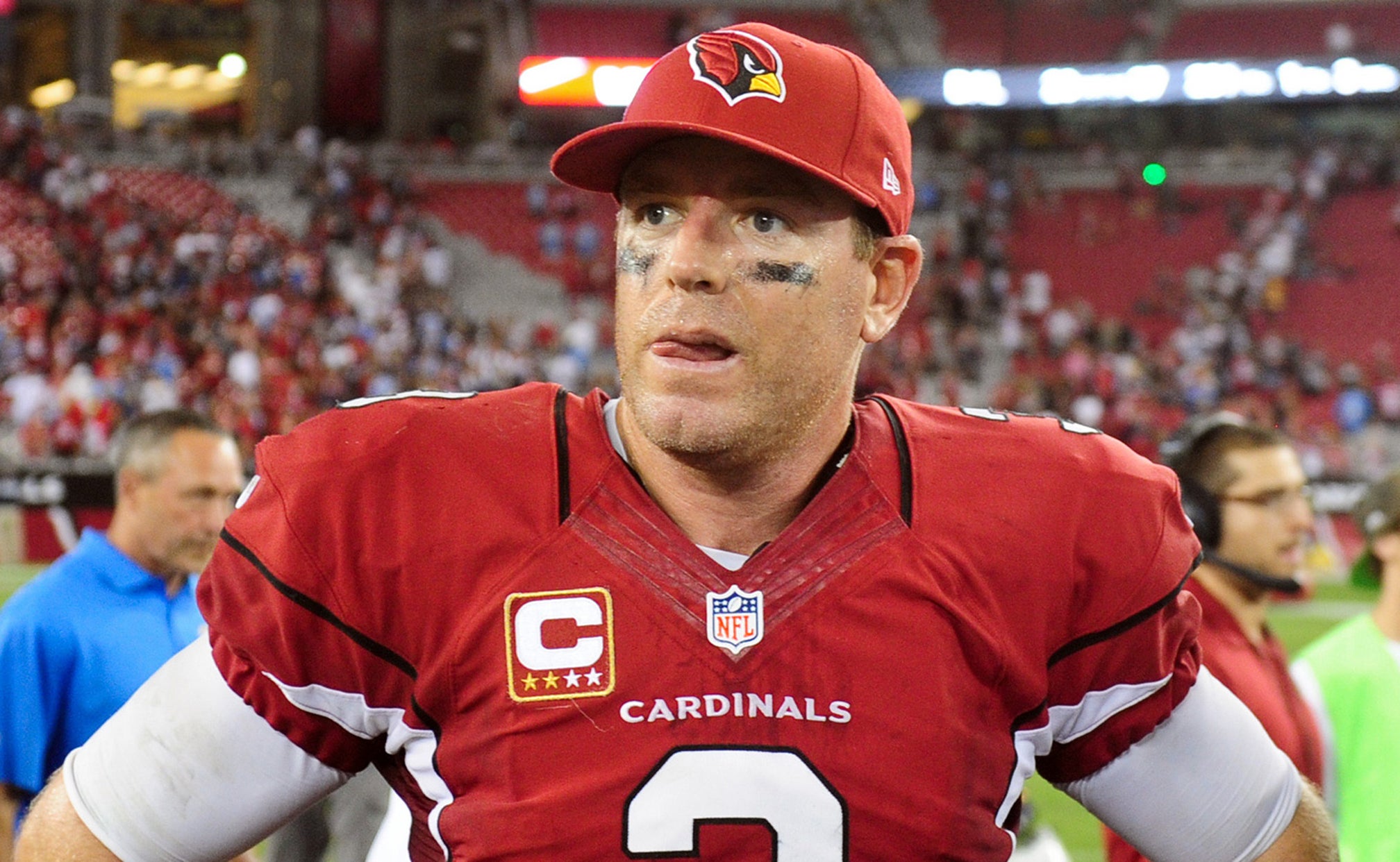 Carson Palmer's injury rare but 'not season-ending'
BY foxsports • October 2, 2014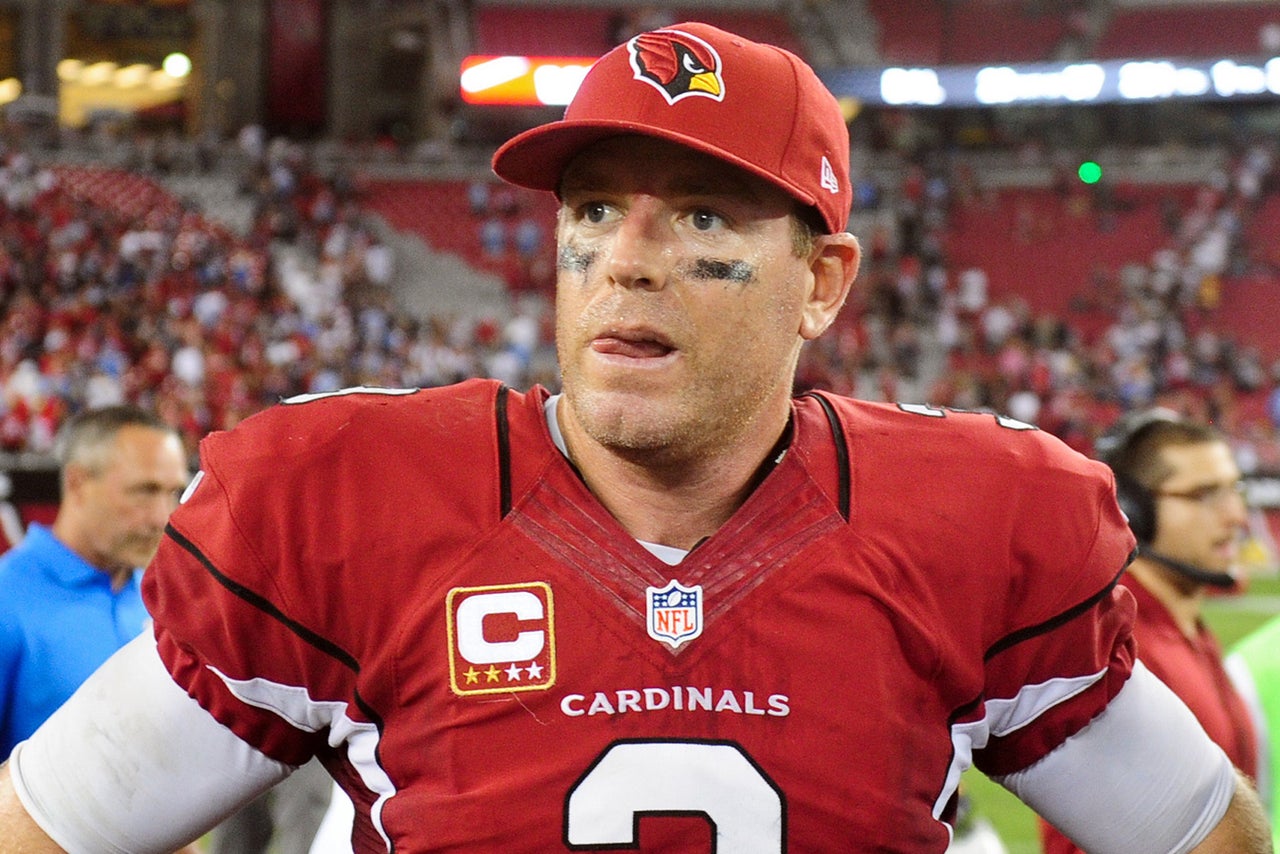 TEMPE, Ariz. -- If Cardinals quarterback Carson Palmer feels like he was hit by a truck on the play on which he suffered nerve damage in his left shoulder, well, he kinda was.
 "This is not a typical football injury. The doctor I saw yesterday (Wednesday) said he sees them a lot in car accidents, so it's not something that is kind of run of the mill," Palmer said of the shoulder injury that will keep him sidelined again this week, when the Cardinals play in Denver on Sunday (FOX, 1 p.m. PT).
 Spine and nerve specialists that Palmer saw in Los Angeles on Wednesday confirmed the Cardinals staff's diagnosis, that he has no structural damage to his shoulder and that no surgery is required.
 "It's not career-ending. It's not season-ending. That was all positive. I'll continue the rehab I've been doing with our guys, and we're very confident this thing will wake back up and come back," Palmer said.
 It is also not linear, so there is no clear idea of when he can return.
 "One of the things I've learned is, nerves are very finicky and very unpredictable," Palmer said. "This is just something you have to continue to work, and when it is ready, it is ready."
 Palmer suffered the injury when he was tackled in the 18-17 victory over San Diego on Sept. 8 and has not played in the two games since. Drew Stanton took helped the Cardinals to victories over the New York Giants and San Francisco before a bye week last week.
 "One of the things I was told with the doctor I met with yesterday, it's a one in 100,000 that you hit the nerve right where you hit it," Palmer said.
 "I can get tackled thousands of times, and it just happened that my arm was in the wrong position and I landed directly on the nerve and put enough pressure on the nerve to just shut it down." 
 Palmer aggravated the nerve when he threw during the bye week last Friday and has not thrown since. He said he has tried a variety of remedies in an attempt to stimulate the nerve.
 "I've tried dry needling, deep-tissue massage, a lot of different strengthening," he said. "Acupuncture. I've done everything that there is out there. I've gotten calls from a lot of different people in a lot of different fields who thought they had the answer."
 Those, he runs by the medical staff.
 "It's been very frustrating, obviously," he said. "It is one of those things there is not a simple answer. I'm a glass-half-full kind of guy. I'm going to continue to stay focused. I know the game plan in and out and do everything to help the guys around me and help Drew. I'm going to continue to stay positive.
 "Nerves take time. Sometimes they take a little pushing. Sometimes they take rest. It is very unpredictable. Anything our guys research and hear about we will try. Because you have to push it. You can't just sit back and cross your fingers and hope. You have to try new things."
 Cornerback Jerraud Powers knows exactly who, and what, the Cardinals are up against Sunday. Powers has seen Peyton Manning's legendary penchant for preparation up close as a teammate in Indianapolis from 2009-11.
 "This guy will pull out notebooks from 2002," Powers said Thursday. "My rookie year (2009), we were getting ready to play the Patriots in Indy. That week he was looking at notebooks from 2005 when the played the Patriots. Stuff that he had done. He makes sure there is no loophole in his preparation. He is going to go through every unturned page. You respect a guy like that.
 "He's going to know what (defense) we're in and what we are doing before he snaps the ball. Just like we are going to know what they are doing before he snaps. We're definitely going to have to be on the same page."
 The Cardinals defense held Colin Kaepernick and San Francisco to 106 yards in the second half of a 23-14 victory over San Francisco on Sept. 21 after holding the Giants to 14 points in the second week of the season.
 Powers ticked off the names of Denver receivers Demaryius Thomas, Julius Thomas, Emmanuel Sanders and Wes Welker
 "They have a complete offensive package of receiving weapons that is going to challenge every bit of our secondary," Powers said.
"Each week the communication has to be at the all-time high. We can't have any mishaps in communication. We've been doing a decent job of limiting the big plays so far this year, and it's our job this week to continue to do the same thing.
 Follow Jack Magruder on Twitter
---