Carroll's puzzling call is Butler's golden ticket to Super Bowl stardom
BY foxsports • February 2, 2015
GLENDALE, Ariz. -- Just when the world was getting to know Seattle wide receiver Chris Matthews ...
New England cornerback Malcolm Butler swooped in from even greater obscurity to become the latest Super Bowl rags-to-riches hero, making a game-winning interception at the goal line Sunday by stepping in front of a pass that some of his Patriots' teammates could not believe was thrown.
"Why wouldn't you give it to Beast Mode?" wondered Patriots linebacker Jamie Collins after his team took down last season's champions, 28-24, at University of Phoenix Stadium.
Butler, a rookie free agent, thought the same thing, but he also was ready for anything.
Trailing by those four points, the Seahawks and head coach Pete Carroll had a second-and-goal from the Patriots' 1-yard line with 26 seconds to play. They had a timeout remaining. And they had Marshawn Lynch, who had run for 102 yards to that point.
But once the Seahawks lined up in a three-receiver formation with two receivers stacked on the right side, Butler knew what was coming -- not a run by Lynch but a pick play to try to free Ricardo Lockette breaking underneath on a throw from Russell Wilson.
"Our defensive coordinator (Matt Patricia) is real smart," said Butler, out of tiny West Alabama University, "and in that formation, we knew they were going to throw the ball.
"I saw Russell looking over there, so that gave me a clue. I knew they were going to try to run a pick play. I just went with my instincts and made the play. I had a feeling I was going to make a play, but not this big."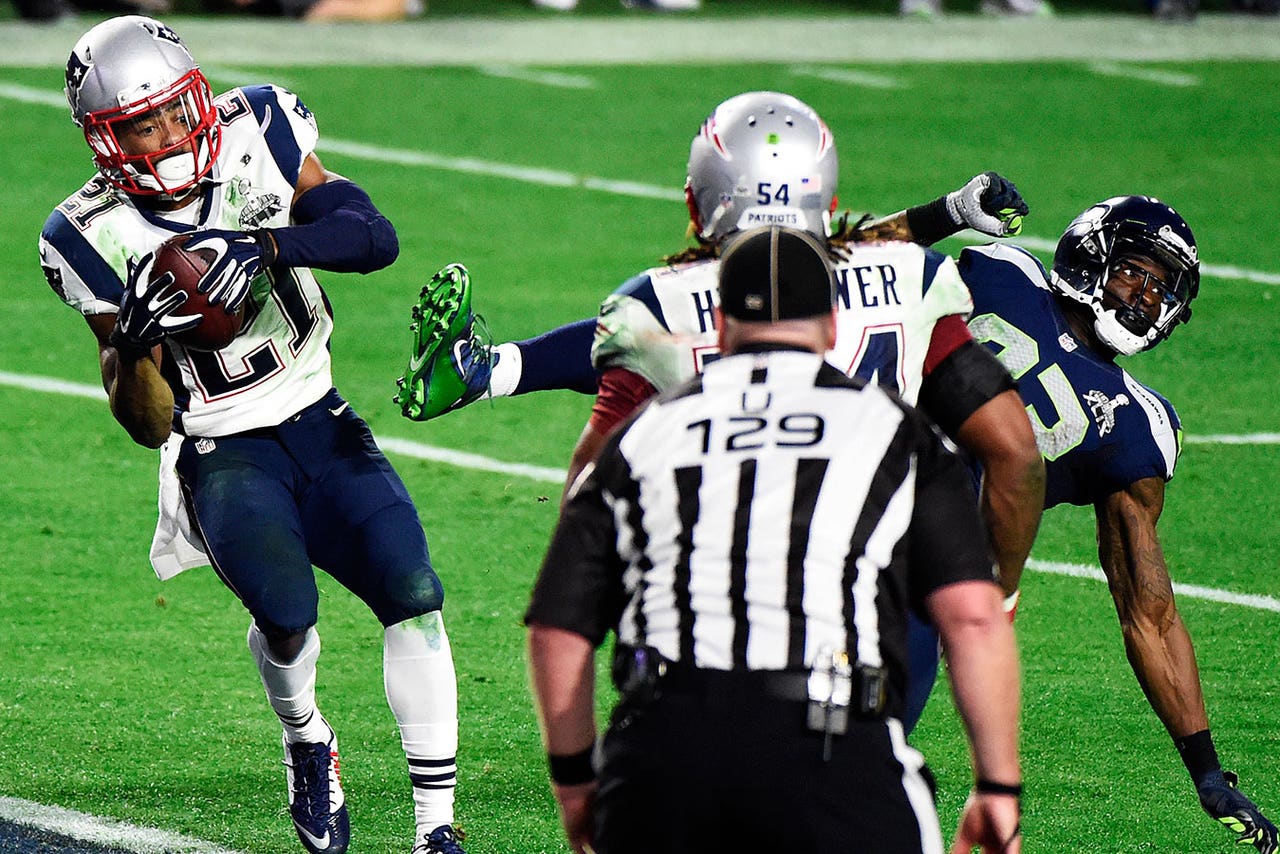 Photo gallery: Patriots 28, Seahawks 24
When Butler muscled his way in front of Lockette, he joined the group of defensive backs who have made their name in a Super Bowl -- Dallas cornerback Larry Brown in Super Bowl XXX at Sun Devil Stadium and Tampa Bay corners Dwight Smith and Dexter Jackson in Super Bowl XXXVII. All three had two interceptions, and Smith returned both of his for touchdowns.
But those games were more one-sided, and none of those picks had the game-changing impact of Butler's.
"I knew it was on the line and we needed it, so I just beat him to the route and made the play," Butler said.
"I just went out there and played football."
Butler made a play that was almost as good two plays earlier, when he deflected a deep pass headed for Jermaine Kearse down the right sideline. Kearse fell to the ground with the contact, but the ball dropped to him and he held on to the bouncing ball, good for a first down at the 5-yard line.
"At that point, I couldn't do anything but smile," said Patriots defensive lineman Vince Wilfork. "He (Kearse) wasn't supposed to make that play."
Butler said he took it hard.
"I made a great play on the ball when I deflected it, (but) it remained in his hands," Butler said. "Just like any other play, I feel like the game was on me if we lost. But we had another play."
Butler was not on the field when Lynch carried four yards to the 1, but he returned to the field when the Patriots went back to their three-cornerback package.
Butler, 24, played in 11 games and started one but did not have an interception for the Patriots during the regular season, and his teammates said it did not take long to understand what they had in Butler, who had seven interceptions in his two seasons at West Alabama.
"I'm going to tell you something," said Patriots cornerback Brandon Browner, who was with Seattle last season. "Malcolm Butler, all year long, from OTAs, minicamp, he had the most picks of anybody.
"He showed the best ball skills of anybody. How cool is that he got his first pick in the Super Bowl to win the game?"
In some ways, Butler's unusual story is not so uncommon among his teammates. Tom Brady was a sixth-round draft choice. Wide receiver Julian Edelman, a quarterback at Kent State, was not invited to the NFL Combine after his senior year. Rob Ninkovich was waived after suffering a knee injury and waived twice early in his career, changing from outside linebacker to defensive end along the way.
"We're a team of misfits," Edelman said.
Edelman fit well Sunday, with nine receptions for 109 yards and the game-winning touchdown, a 3-yard pass from Brady with 2:02 remaining. He capped a postseason in which he had 26 receptions for 281 yards and a touchdown and also threw a touchdown pass.
That he was on the field for the winning score surprised some. Edelman took a helmet-to-helmet hit from Seahawks safety Kam Chancellor while catching a pass and taking it to the Seahawks' 4-yard line with about 8-1/2 minutes left in the fourth quarter, and one NFL beat reporter tweeted that he heard independent medical personnel in the press box radio to the Patriots' sideline that Edelman should be tested for a concussion.
After the game, Edelman would not specify whether he was tested in any way for a concussion, telling the media simply: "We're not allowed to talk about injuries."
Like Edelman, Butler has found a fit in New England.
"I always knew I could play in this league, with dedication and hard work," Butler said. "It doesn't matter where you come from. It's what you do when you get here."
Follow Jack Magruder on Twitter
---