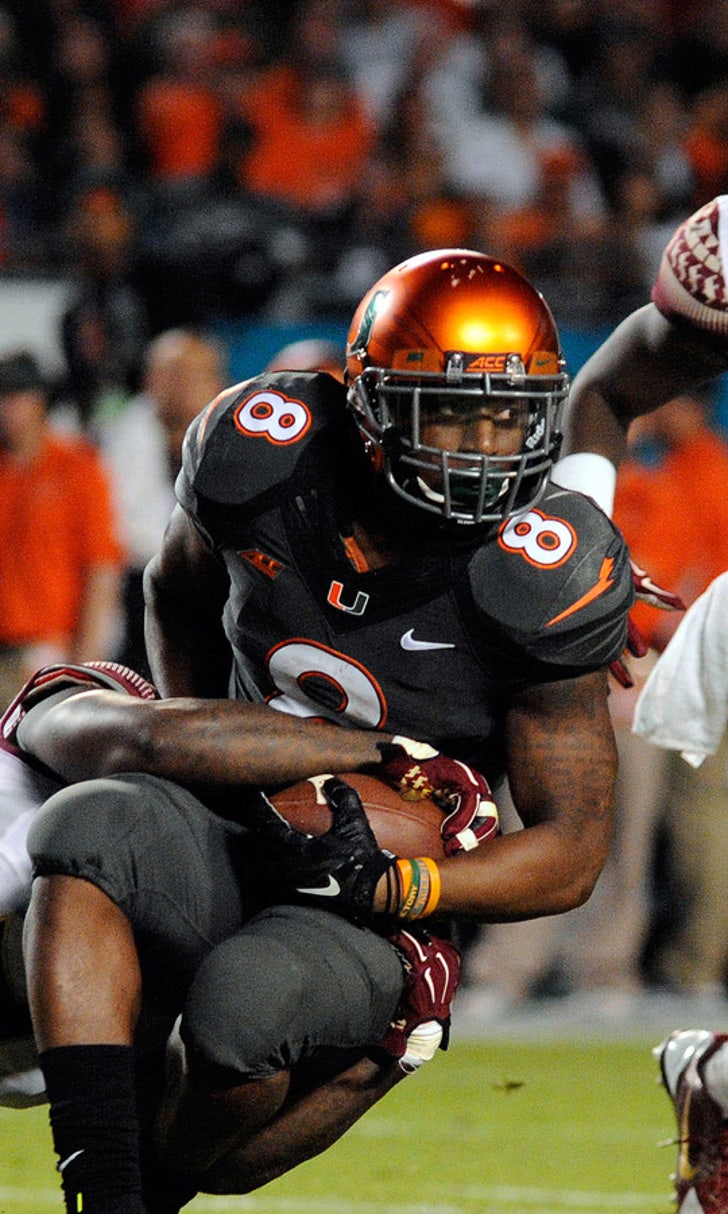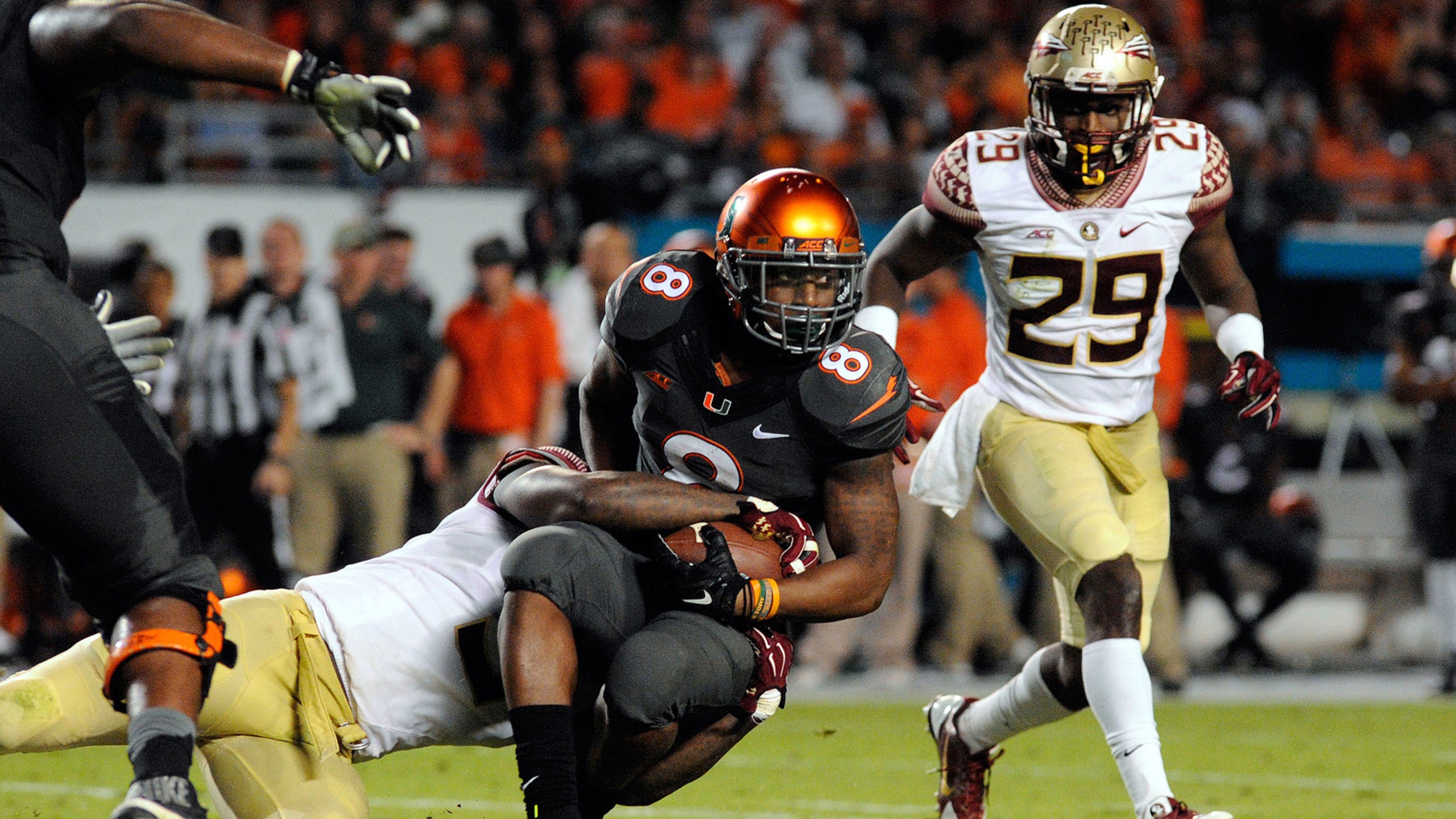 'Canes adjust goals after loss to FSU, want to finish strong
BY foxsports • November 17, 2014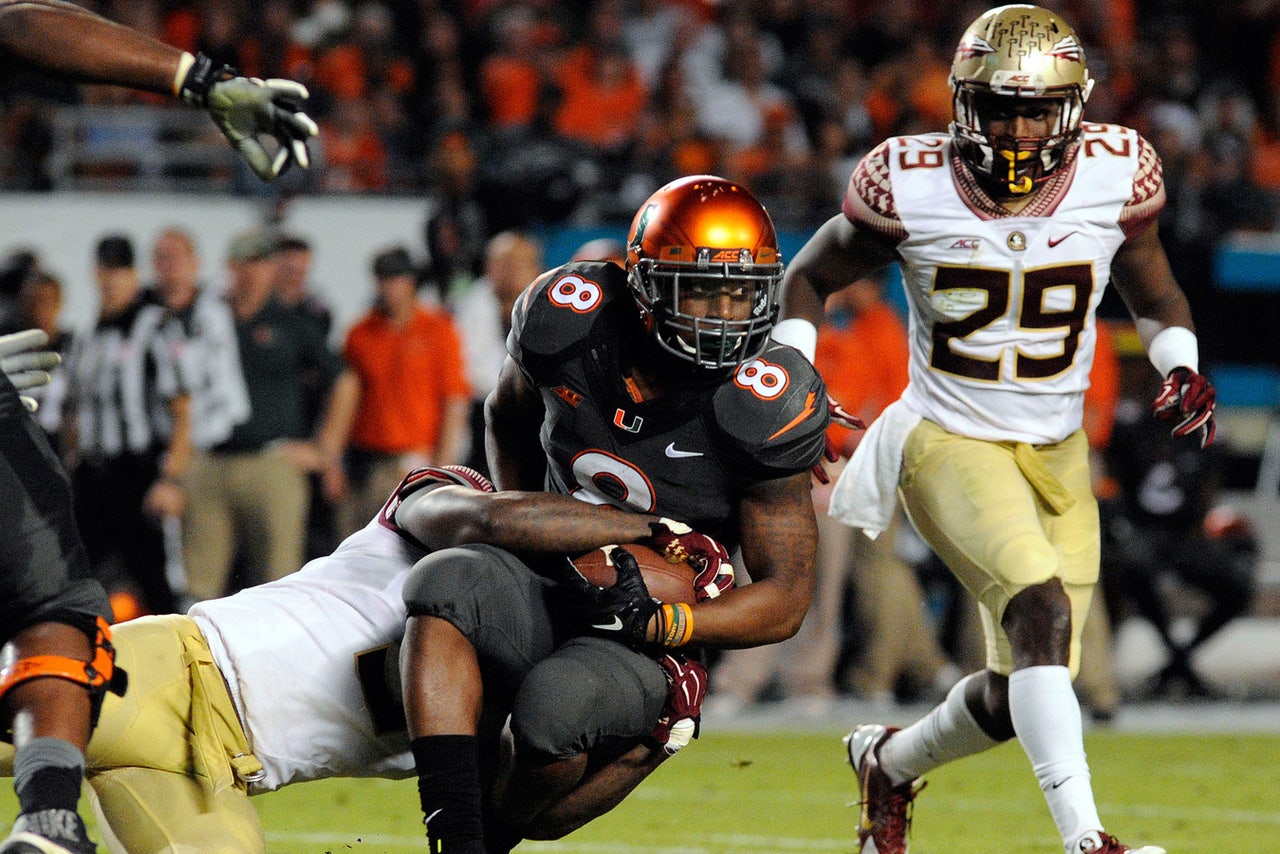 CORAL GABLES, Fla. -- Saturday's result against Florida State meant more than just five straight years of losing bragging rights to an in-state rival.
Miami was also eliminated from Atlantic Coast Conference Coastal Division competition, which equates to another season failing to reach the championship game. The program has never played in the league final since joining in 2004.
''We've got a lot of football left,'' head coach Al Golden said. ''Obviously the seniors are great character kids and they're going to keep leading. They know what the challenge is. They put us on primetime again, so we've got to go into another hornet's nest.''
The Hurricanes travel to Virginia on Saturday for another night game in front of a national audience. They then return to Sun Life Stadium to host Pittsburgh over Thanksgiving weekend to close out the regular season. Those results will determine what bowl they attend.
With an ACC title out of the picture, Miami has focused on new goals.
Three straight wins would match last year's record. But it would feel different. In 2013, they lost four of the final six games and ended on a bad note. UM also hasn't won a bowl since 2006.
''We want to finish the season 9-4,'' senior offensive lineman Jon Feliciano said. ''That's the best record we can get right now. We want to go to a bowl game. We want to win a bowl game. We haven't won in awhile.''
Another senior, linebacker Denzel Perryman, agreed. He looked forward to pushing the younger players as hard as he has all season.
''Just got to finish out strong,'' said Perryman, who didn't enter his name in the NFL Draft this past spring to return to school. ''That's all that's left to it. Finish strong. Hopefully we can get us a nice bowl and win that game, too.''
INJURY UPDATES
Senior defensive lineman Anthony Chickillo and junior safety Deon Bush did not participate in Monday's practice as they got full treatment for injuries they sustained during the second half of Saturday's game.
Both players are still considered day-to-day. Golden didn't know whether they would be available to practice on Tuesday.
According to Golden, sophomore running back Gus Edwards is doing ''great.'' Listed as probable for the FSU game, the Hurricanes decided to sit him based on how he looked during warmups.
''It was close last week,'' Golden said. ''We really thought he would do it, but then there were some plays in pregame that didn't look like it would be fair to put him out there. We missed him. We did.''
FEELING THE HEAT
During most of the fourth quarter, the Hurricanes played just one back with Edwards unavailable and junior Duke Johnson battling cramps.
Johnson would go back to the sideline and try to get it taken care of before running out for a play. He went back-and-forth for most of the final drive.
Though Johnson couldn't remember the last time it happened in a game, ''normally when I cramp I cramp bad.'' He ran 27 times (second most this season) for 130 yards and a touchdown. But over the final 27 plays, he sat out 14 of them. He tallied 12 carries in the second half.
''I have no idea,'' Johnson said as to why it happened. ''I really don't. It was just a weird situation because I hydrated, did everything I would do for a normal game. I just couldn't stop cramping.''
Could the outcome of Saturday's game have been different if he wasn't hampered by cramps? Even freshman quarterback Brad Kaaya sustained them in the second half.
''It's hard to tell,'' Johnson said. ''It was just on who made the play. I wasn't really getting the ball too much in the second half. It wasn't much pressure on me. Whenever I got the ball I did what I could. The cramp really didn't affect me until later in the game. I think around that time it was the last 50 seconds of the game.''
GETTING HIS CREDIT
Senior tight end Clive Walford was named one of eight semifinalists for the John Mackey Award, given to the nation's most outstanding tight end.
Through 10 games, Walford leads the Hurricanes with 33 catches and is second with 522 yards. He is tied with senior wideout Phillip Dorsett for the most touchdowns (seven).
Amongst the five power conference tight ends, Walford trails just Jimmay Mundine of Kansas in catches (40) and yardage (537). He is tied with Iowa State's E.J. Bibbs in touchdowns. Both players are also semifinalists for the honor.
''I don't know how there's a better one out there,'' Golden said. ''He made a huge commitment to come back. He's never looked back. He's gotten better in every aspect. There were a lot of times the last couple of years he would've gotten caught in that (touchdown) play (on Saturday). That talks to his strength, his endurance, his lower-body strength to be able to run that out for 50 yards against those guys.''
Rather than forego his senior year for the NFL Draft, Walford has instead become the program's all-time leader in yards (1,599) and touchdowns (14) at the position. Kellen Winslow II (2003) is the only Miami recipient of the Mackey Award.
''It means a lot to me personally because it seems like I made the right decision for me, my teammates and my family,'' Walford said.
You can follow Christina De Nicola on Twitter @CDeNicola13 or email her at cdenicola13@gmail.com.
---