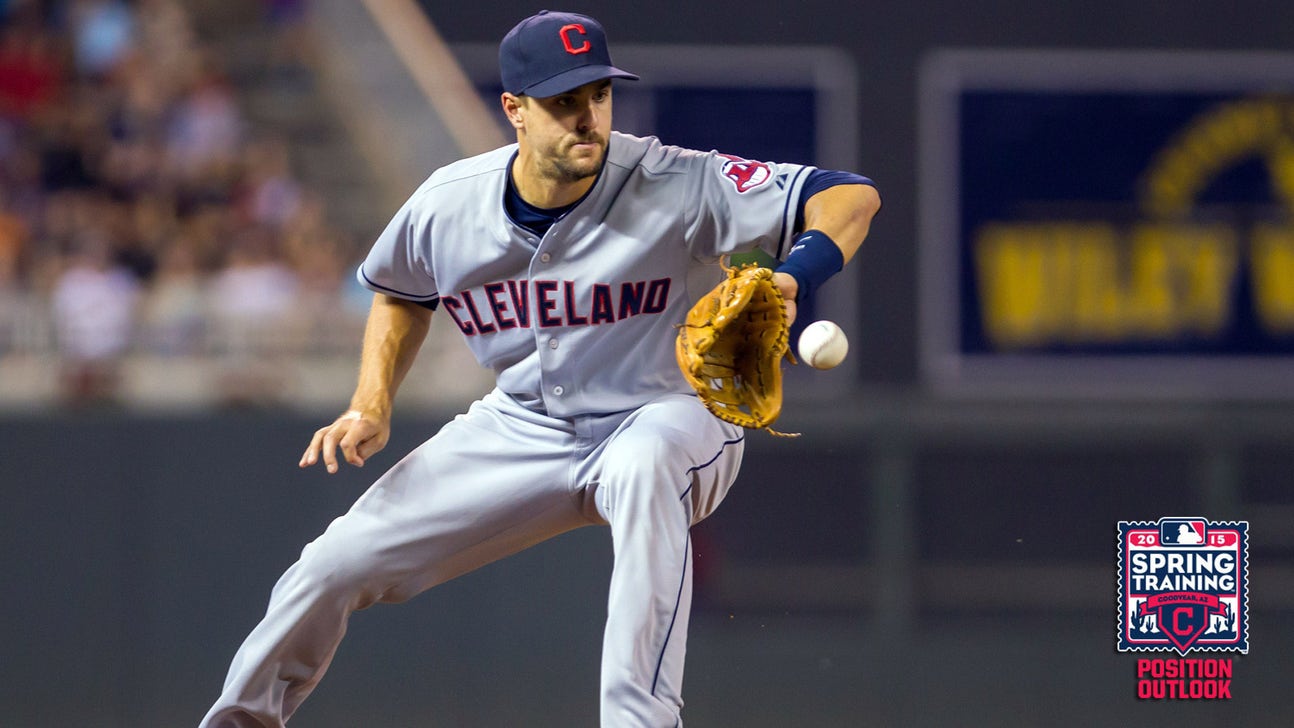 Can Chisenhall use last season as a springboard to further success?
Published
Feb. 10, 2015 4:42 p.m. ET

Until Carlos Carrasco's dominating run the final two months of the season, Lonnie Chisenhall was the runaway winner of the Indians most improved player of 2014.
Many still might give Chisenhall the edge. He had a career-best nine-game hitting streak in June, had three games of four hits or more and became the fourth player in MLB history with five hits, three home runs and nine RBI in a game (June 9 at Texas).
Going into spring training last year, many wondered if Chisenhall would even make the opening day lineup with Carlos Santana taking over at third and Mike Aviles' versatility in the outfield. But after struggles by Santana and Nick Swisher, Chisenhall worked his way back into the every day lineup as he as batting .371 on Memorial Day.
At the All-Star break, Chisenhall was fourth in the American League in batting. He struggled however in the second half but still finished batting .280 with 13 home runs and 59 RBI. Even though he hit just .218 after the break, Chisenhall's .280/.427/.770 slash line for the season marked his best year in the majors.
Both general manager Chris Antonetti and manager Terry Francona think that Chisenhall can be even better this year. During Tribe Fest last month, Michael Brantley was so impressed with the gains that Chisenhall made during offseason conditioning that he was calling him "CrossFit Lonnie".
The biggest area where Chisenhall needs to improve is on defense. His 18 errors, which led the Indians, were third among American League third basemen. Per STATS LLC, his .728 zone rating was second-worst among every day AL third basemen. The zone rating is an estimate of a player's efficiency in fielding balls hit into his area.
"I think Lonnie can be a good defender. He's got good reactions, he's got a good body and he's got plenty of arm," Francona said. "He's also had a knack for making errors that are untimely, or just maybe balls he should make A lot of times that's part of the maturation process. He's come so far in so many areas that it wouldn't surprise me if he continues to get better defensively."
The other area is more consistency offensively. While Chisenhall is hitting .277 in April, .333 in May and .299 in June the past two seasons, the averages dip to .234 in July, .203 in August and .233 in September during the same span. Antonetti though says to focus on the entire picture, noting that Chisenhall's .716 OPS was seventh among AL third basemen last year.
"Depending on the statistic he was one of the most productive third basemen last year," Antonetti said.
2014 STARTS AT THIRD: Chisenhall 108, Mike Aviles 28, Carlos Santana 26.
2015 OUTLOOK: Third might not be the only position that Chisenhall plays this season. He saw some time at first last season and practiced some in the outfield. Aviles will back up Chisenhall but if Chisenhall struggles keep an eye on Giovanny Urshela, who hit .276 with 13 home runs and 65 RBI last season at Columbus. Urshela sprained the PCL in his left knee during winter ball but is expected to be ready for the start of the season.
KEY NUMBER: 8 -- Positions in the batting order where Chisenhall appeared. The only spot in the order he didn't appear last season was the leadoff spot. His most at-bats were from the fifth spot (36 of 148, .243 average) but he batted just .211 when hitting sixth.
3B PROSPECT TO WATCH: Yu-Cheng Chang. Just 19 years old and signed out of Taiwan in June of 2013, Chang batted .346 in the Arizona Rookie League last year and has drawn some comparisons to David Wright by Baseball America. He has the chance to open the season in Lake County.
2014 ORGANIZATION DEPTH CHART (15 or more games at third): Columbus: Urshela/Ryan Rohlinger; Akron: Justin Toole/Ronny Rodriguez/Urshela/Adam Abraham; Carolina: Yandy Diaz/James Roberts; Lake County: Grant Fink/Paul Hendrix; Mahoning Valley: Yonathan Mendoza/Drake Roberts/Ordomar Valdez; Arizona Summer League: Nathan Winfrey/Grofi Cruz/Yu-Cheng Chang; Dominican Summer League: Erlin Cerda/Alexis De Los Santos.
---