Cabrera's hit in 10th gives Padres win over Braves
Published
Aug. 3, 2014 11:14 p.m. ET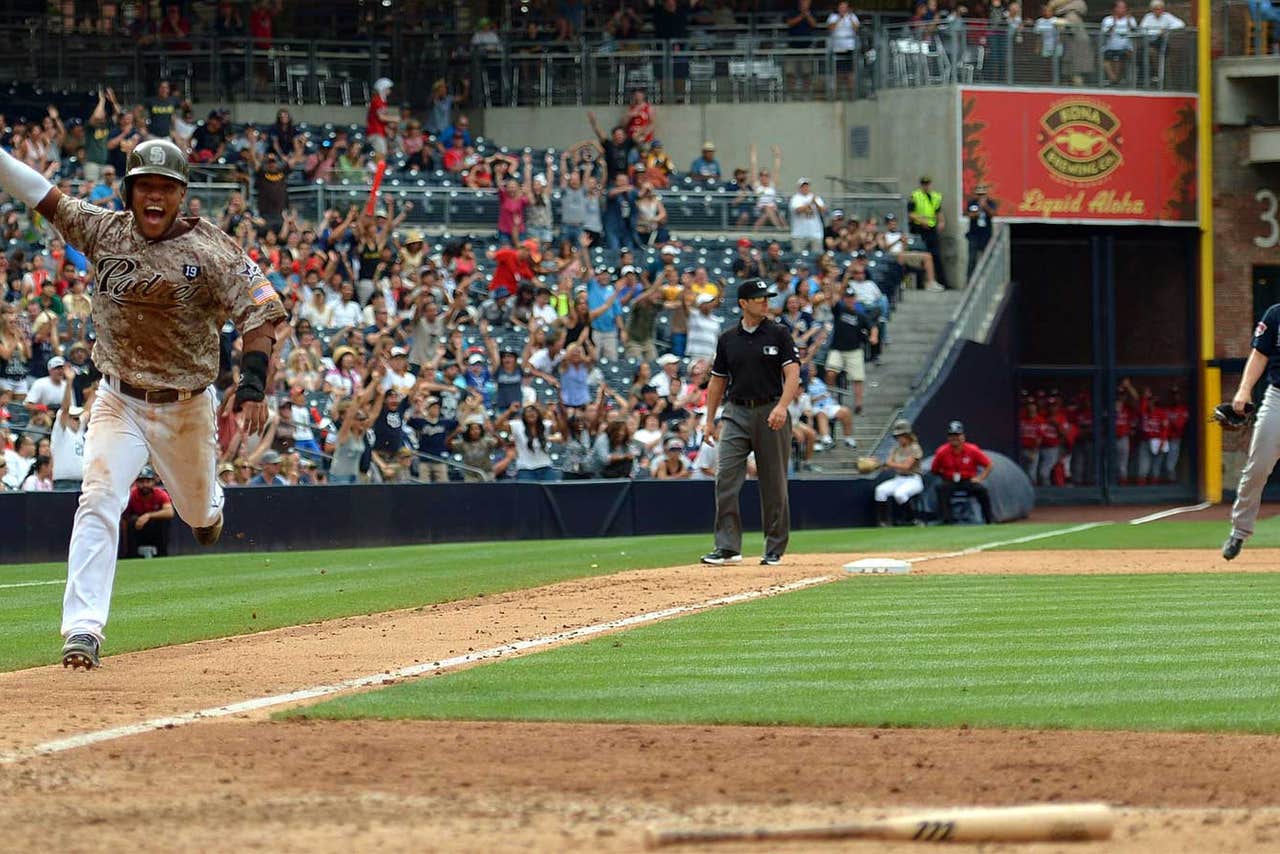 SAN DIEGO (AP) -- The San Diego Padres' previously inept offense has become resurgent and it's leading to more victories.
Everth Cabrera singled in the winning run in the 10th inning as the Padres won their second straight extra-innings game with a 4-3 victory over the reeling Atlanta Braves on Sunday.
"Any time you can walk off two times in a row, it doesn't get much more exciting than that." said Tommy Medica, the team's hottest hitter.
San Diego, which leads the majors in runs scored since the All-Star break, has won five of six and 10 of 16 since the break.
Medica, who hit a pair of two-run homers on Friday night, put the Padres ahead 3-2 in the eighth with a leadoff solo homer off Anthony Varvaro. Medica was 8 for 12 with five RBIs in the three-game sweep of Atlanta, extending the Braves' losing streak to six games.
"We've got to get it going because it doesn't get any easier," Atlanta catcher Gerald Laird said.
Will Venable led off the 10th with an infield single off David Hale (3-4) and Alexi Amarista walked. The Braves got a double play on Renee Rivera's sacrifice bunt attempt with Amarista taking second. Chris Nelson walked to bring up Cabrera. After the Padres pulled off a double steal, Cabrera lined a hard single past second baseman Ramiro Pena.
"Two great games that at the end, we got the big hit," Padres manager Bud Black said. "Inspiring wins for our guys."
Tim Stauffer (4-2) pitched one inning for the win.
The Braves pushed the tying run across in the ninth off closer Joaquin Benoit. Jason Heyward hit a leadoff double and Evan Gattis then hit a comebacker to Benoit. Heyward broke for third and Benoit's throw was on the bag, but Yangervis Solarte failed to field the throw for an error as it went into foul territory, allowing Heyward to score and tie the game at 3.
The Braves tied the game at 2-all in the seventh when they finally got to Tyson Ross on Heyward's RBI triple and a run-scoring double by Gattis.
Nick Vincent came in and gave up a double to Chris Johnson off the left-field wall but Gattis didn't run on the play and was held at third base. Vincent loaded the bases with a walk before striking out pinch hitter Emilio Bonifacio. Vincent then got B.J. Upton to ground into a third-to-home-to-first double play.
It was the second straight game that Atlanta hit into this same double play.
"What you're looking for is a ball to get through the infield, a pop up, a wild pitch, anything," Braves manager Fredi Gonzalez said. "We're not getting any of that stuff right now."
TRAINER'S ROOM
Braves: LHP Jonny Venters felt no ill effect the day after his light bullpen session on Saturday. Venters has not pitched since undergoing Tommy John surgery in May 2013.
Padres: C Yasmani Grandal was back in the starting lineup at first base after not starting three straight games with fluid in his right knee.
ON DECK
Braves: Alex Wood (7-8, 3.30 ERA) opens the club's two-game set at Seattle on Tuesday night against Felix Hernandez (11-3, 2.01). Atlanta beat Hernandez the only time it faced him on June 29, 2011.
Padres: After an off day Monday , the club opens a six-game road trip with rookie Jessie Hahn (7-2, 2.01) opposing the Twins Phil Hughes (10-8, 4.12). Hahn has fared better away from pitcher-friendly Petco Park where he is 3-2 with a 2.43 ERA in five starts. Hahn has won all four of his road starts with an ERA of 1.50.
ROSS STILL HOT
Ross continued his recent hot streak as he pitched at least six innings and allowed two earned runs or less for the ninth consecutive start, the NL's longest streak. In his last four outings, Ross has allowed four runs on 18 hits with 31 strikeouts over 25 innings.
MINOR NOT GOING TO MINORS
Braves LHP Mike Minor will not be sent to the minors despite is recent struggles. The Braves decided against sending him to the minors to allow him to work on his control issue. The lefty has given up six earned runs in three of his four starts, including Friday night's 10-1 to the Padres.
---