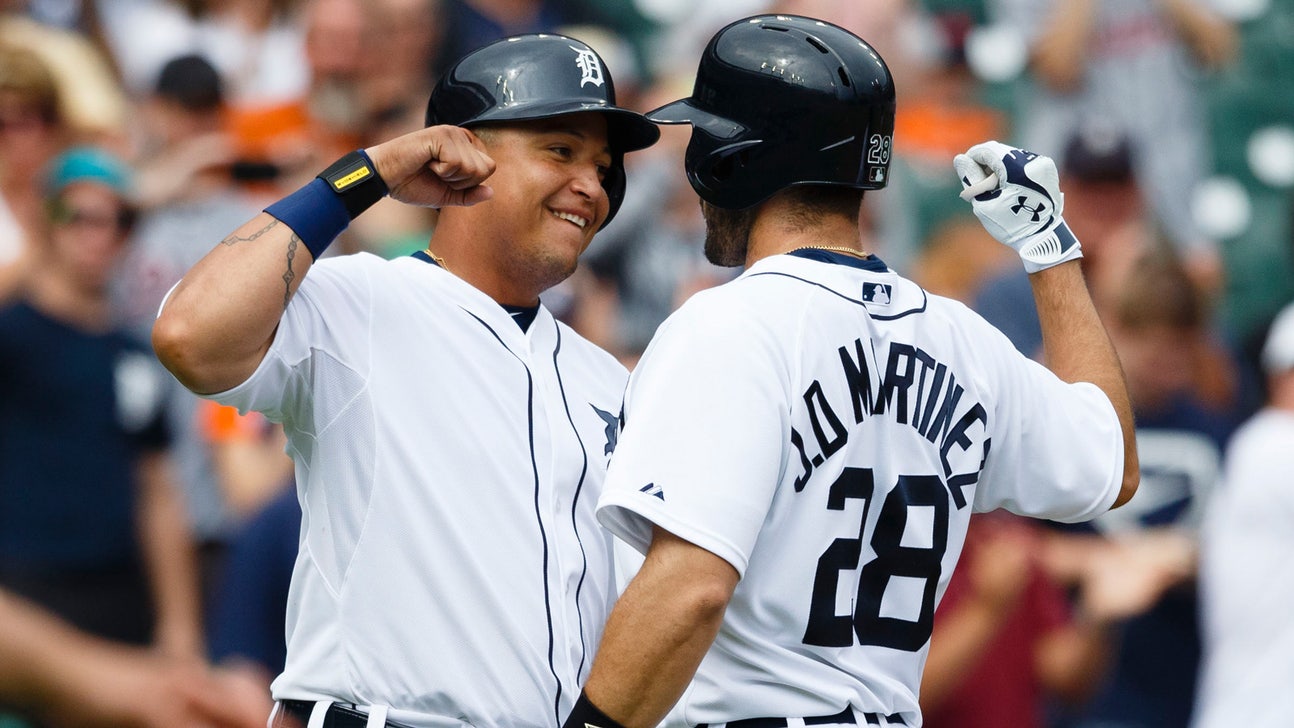 Cabrera gets help from J.D. Martinez, Cespedes in Tigers' victory
Published
Jun. 14, 2015 6:11 p.m. ET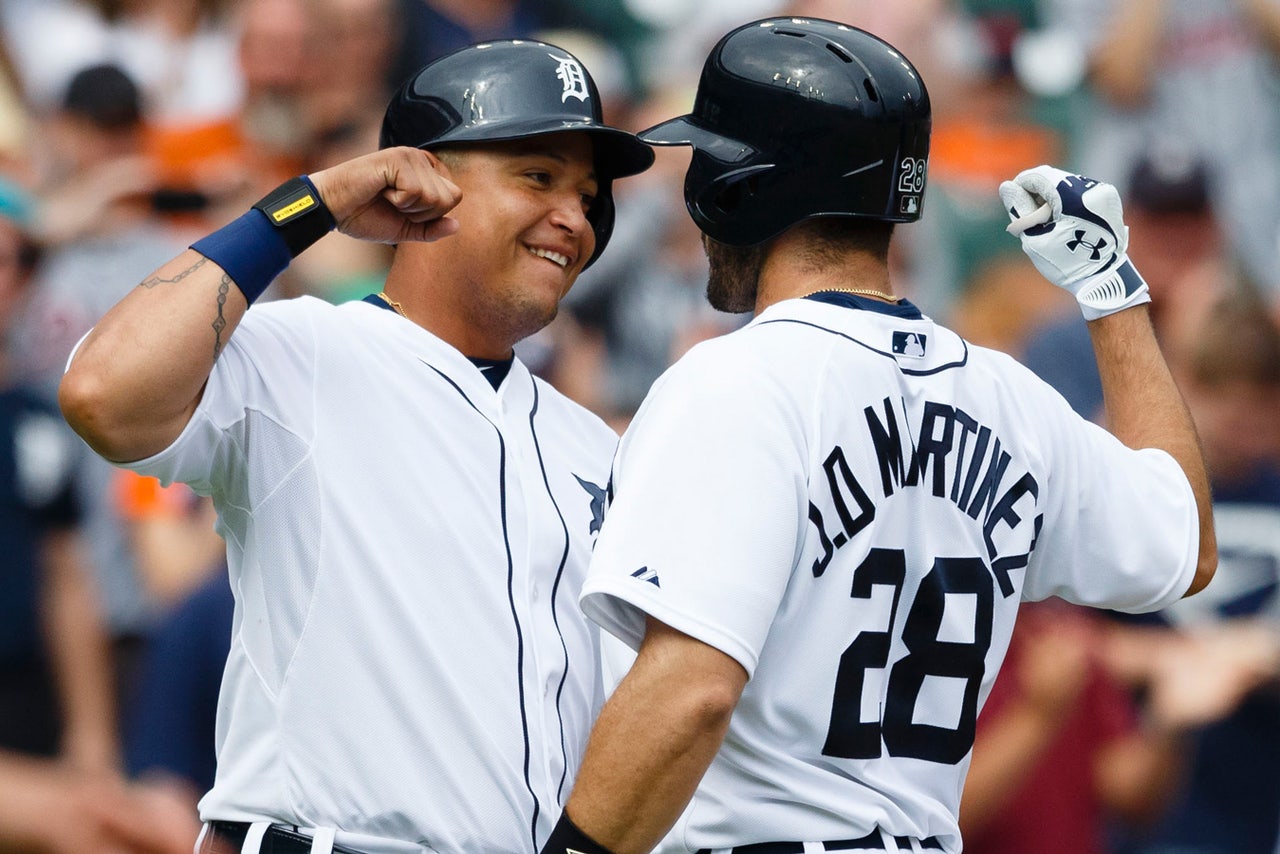 DETROIT -- Miguel Cabrera can't do it alone, even though he seems to be able to against the Cleveland Indians.
It seems that he won't have to now that Victor Martinez is working his way back from the DL on a rehab assignment, but also because J.D. Martinez is finding his swing and Yoenis Cespedes is quietly having an excellent season.
Cabrera continued his career domination of the Indians in Sunday's 8-1 victory with a 3-for-4 day, including another ridiculously far home run to an almost un-hittable part of Comerica Park.
Cabrera hit a first-pitch fastball from reigning AL Cy Young winner Corey Kluber to left-center field, estimated at 450 feet, just two feet shy of the one he hit Friday night against Danny Salazar.
"Again, there's not many no-doubters that go to that part of the park at Comerica," Tigers manager Brad Ausmus said. "That's two in a series and if you didn't have Miguel Cabrera here, you'd be lucky to see two in a season."
Cabrera really doesn't care to discuss how far his home runs go.
"We win, that's more important," Cabrera said. "Doesn't matter if it's far or short. We got a win. That's the point. When we don't win, you guys get in our heads, trying talking we aren't good players. What does that mean, far or not far? I don't care if it's far."
In nine games against the Indians this season, Cabrera is batting .647 with 10 runs scored, two doubles, five time runs and 15 RBI.
As impressive as Cabrera has been, and no doubt will continue to be, it remains a team game.
J.D. Martinez made a 2-0 game a 5-0 game after an hour and 51-minute rain delay, going the opposite way in the sixth inning.
It was Martinez's second home run in two days, 12th of the season and extended his hitting streak to eight games.
Martinez added a single in the eighth for his 16th multi-hit game.
It was seven games ago that Cabrera told Martinez he needed to put a little more rhythm in his swing.
"I think it's definitely getting there," Martinez said. "I definitely feel that the last couple games, I would say since the second game in Chicago, my last at-bat there, I started feeling a little bit more rhythm from what Miggy told me."
In the eight-game streak, Martinez is batting .333 with four runs scored, two doubles, three home runs and seven RBI.
"He's just having better at-bats, he really is," Ausmus said. "He looks confident up there. His swing never looked like it had gone too far off-line."
Meanwhile, Cespedes can be streaky but he's on a hot streak of late, with an eight-game hitting streak of his own, batting .452.
Cespedes leads the Tigers with 24 multi-hit games.
It all makes Martinez wonder about the current All-Star voting, in which Cespedes is seventh behind Kansas City's Lorenzo Cain, Alex Gordon and Alex Rios, Los Angeles' Mike Trout, Baltimore's Adam Jones and Cleveland's Michael Brantley.
"I definitely think they're going to have to change it after this year, the way the selection goes," Martinez said. "I don't think it's right. I think there's a lot of guys that deserve to make the team. Look at this guy here next to me, Cespi, the way he's hit and the way he's performed."
Because of the voting, Kansas City's Eric Hosmer has moved ahead of Cabrera in the voting for first basemen.
"Eric's having a great year and he's one of my really good friends," Martinez said. "In the offseason we both live in south Florida. But I think it's well-known that Miggy's probably one of the, if not the best player in baseball."
Cabrera said he didn't care about the All-Star voting.
He just wants the Tigers to win, which they will be able to do as long as Victor Martinez comes back healthy and J.D. Martinez and Cespedes continue to contribute.
---