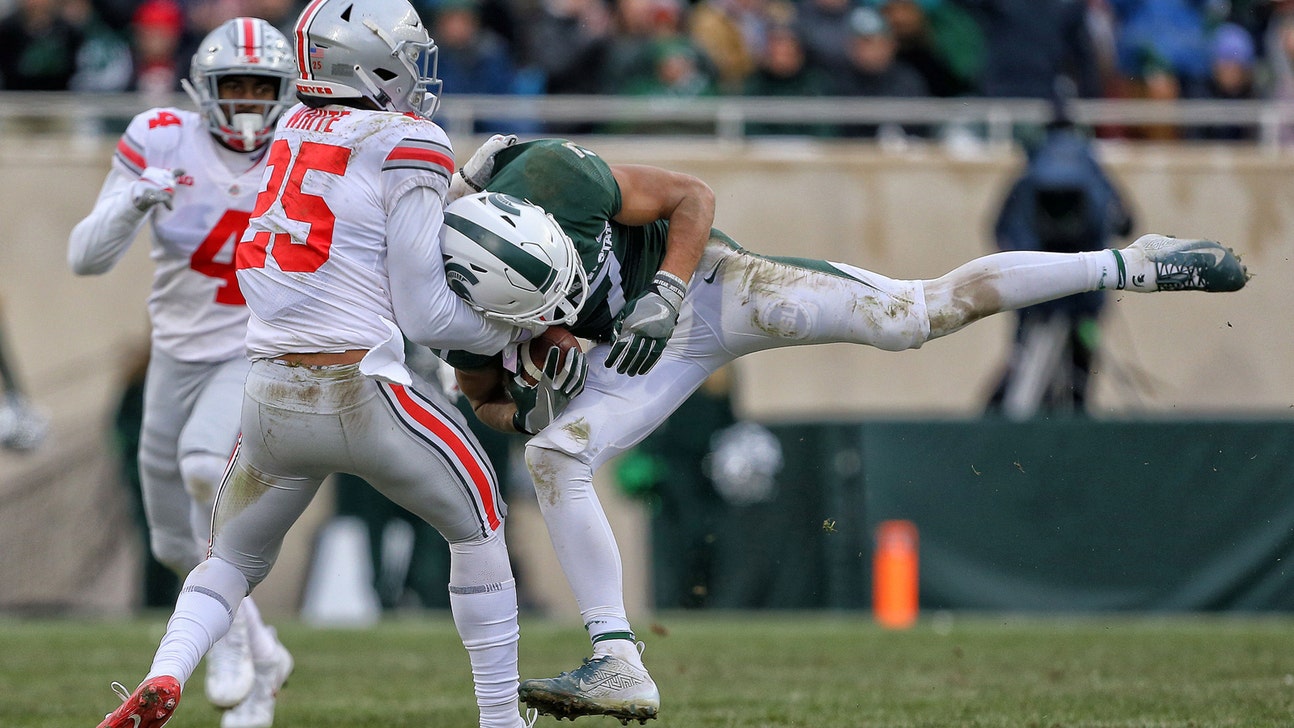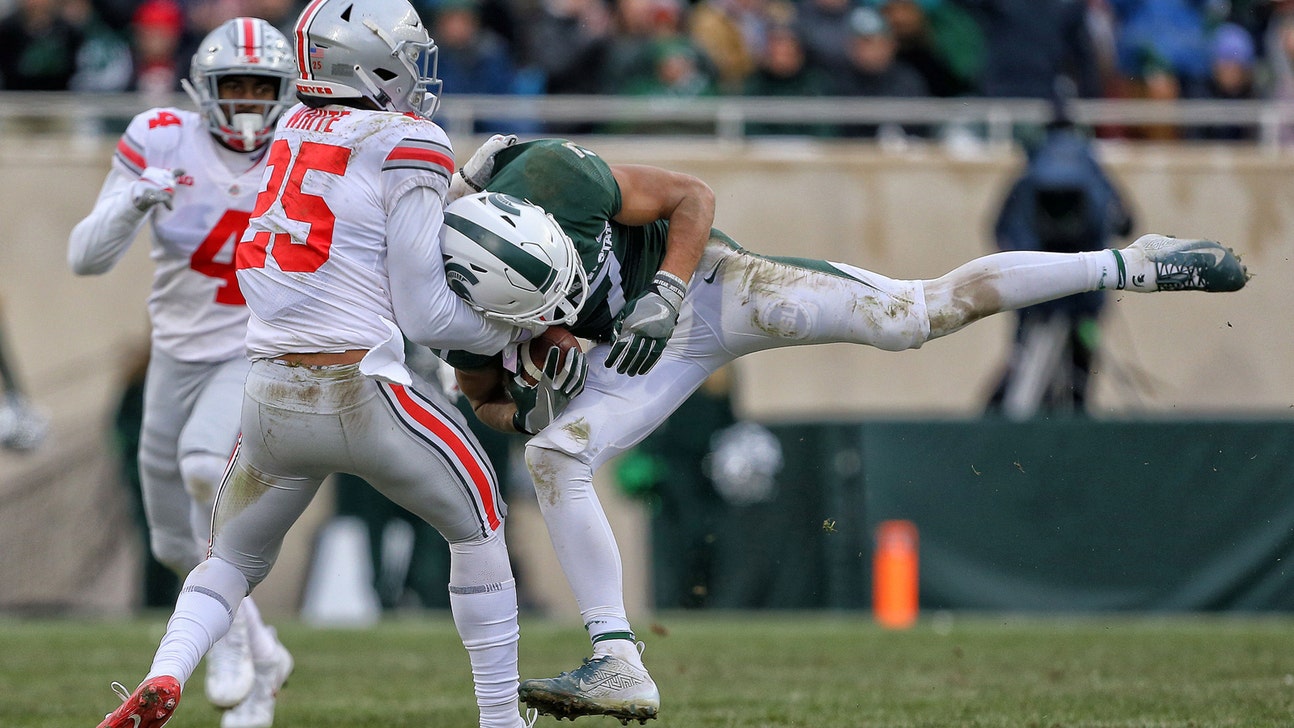 Buckeyes take advantage of field position to beat Spartans 26-6
Published
Nov. 10, 2018 6:05 p.m. ET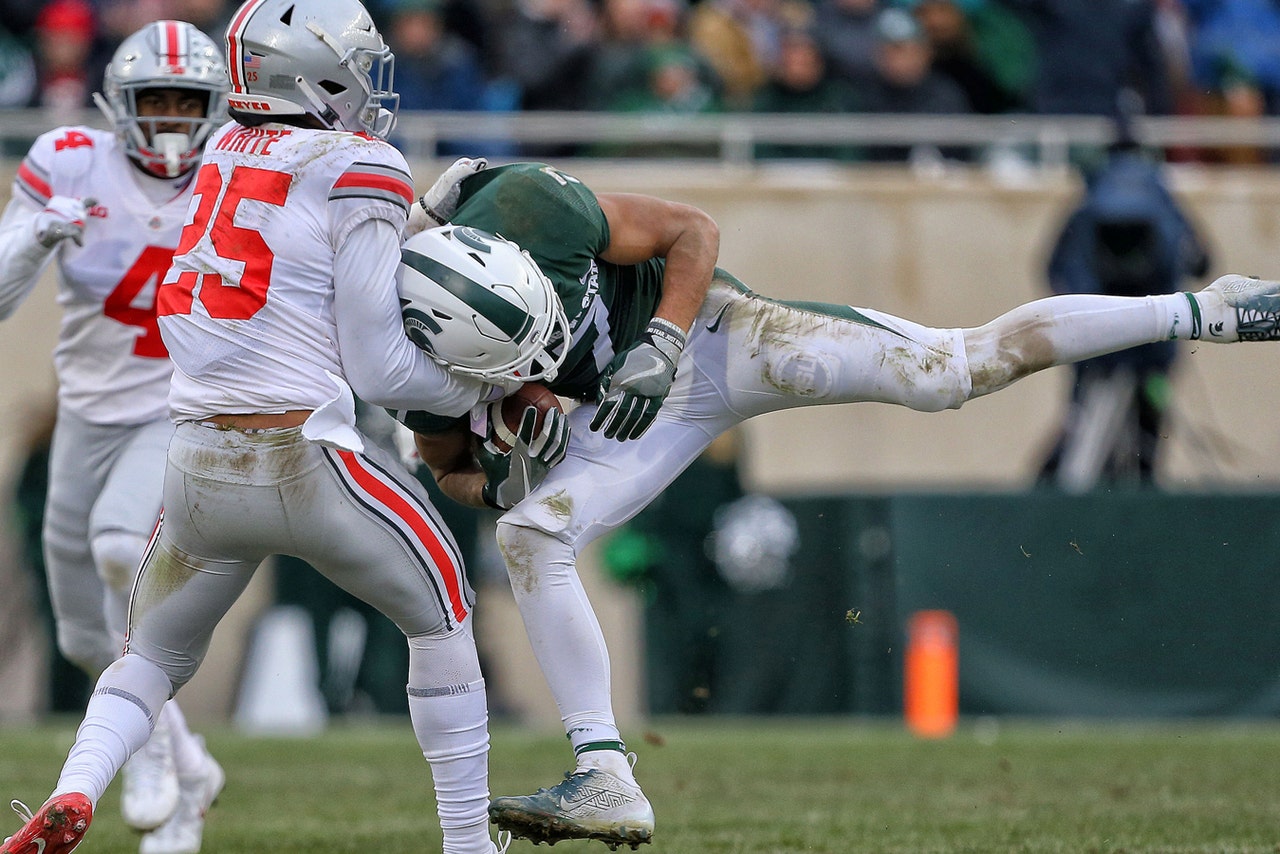 EAST LANSING, Mich. (AP) -- Drue Chrisman's first punt of the day was an embarrassment, a 4-yarder at the end of Ohio State's first possession.

"I don't know where it ranks in Ohio State's worst punts in history, but it was definitely my worst punt," Chrisman said. "I was just like, `Man, I've got to ball after this one.'"

Chrisman made up for that early blooper, keeping Michigan State pinned back with a sensational second half of punting. Eighth-ranked Ohio State pulled away for a 26-6 victory over the 24th-ranked Spartans on Saturday, largely because of what Chrisman did to Michigan State's field position.

In a tight defensive struggle, Chrisman's punts forced Michigan State (6-4, 4-3 Big Ten, No. 18 CFP) to start its first five drives after halftime from its own 5, 6, 3, 1 and 2-yard line. On the fourth of those possessions, the Spartans took an intentional safety instead of punting out of their own end zone. That decision gave Ohio State a 9-6 lead but wasn't enough to flip the field position.

The ensuing free kick went out of bounds, giving the Buckeyes the ball at the 50, and then Chrisman pinned Michigan State back again. Ohio State (9-1, 6-1, No. 10) capitalized on that punt when a shotgun snap by Michigan State hit the man in motion. Dre'Mont Jones recovered the fumble for the Buckeyes in the end zone, giving Ohio State a 16-6 advantage.

"We just kept playing the field-position game," Buckeyes coach Urban Meyer said. "We always talk about the offense's job in a game like this -- get two first downs, get the ball to midfield and let's get the ball down inside the 10-yard line."

Both offenses found the going tough. Michigan State was 2 for 16 on third down. The Spartans used both Brian Lewerke and Rocky Lombardi at quarterback but never reached the end zone.

"It's not easy to call plays off the goal line," Michigan State coach Mark Dantonio said.

Chrisman's day began with his 4-yard punt, but Michigan State couldn't take advantage.

"I almost benched him, but I didn't have anybody else to go with," Meyer said.

Ohio State opened the scoring late in the second quarter on a 1-yard pass from Dwayne Haskins to Parris Campbell. It was 7-3 at halftime.

The Spartans had a third-quarter touchdown called back for a penalty. They settled for a field goal on that drive to make it 7-6, but that was as close as they got.

Michigan State has dealt with significant injury problems at the punter position this year, and that was a factor in Dantonio's decision to take the safety . The Spartans were soon right back against their own goal line. That was when the fumble on the snap turned the game in Ohio State's favor for good.

"Sent the motion a little early," Lombardi said. "We just didn't connect on it. ... I've got to fix it."

THE TAKEAWAY

Ohio State: This was likely the Buckeyes' toughest remaining challenge before a late-November showdown with Michigan. Ohio State remains very much in contention for the Big Ten title after shutting down Michigan State's offense and winning the special teams battle. The Buckeyes have won seven straight road games in this series.

Michigan State: Lombardi appeared to give the Spartans a spark late in the first half, but Michigan State's offense couldn't sustain any momentum, thanks in part to all the bad field position. The Spartans' top-ranked run defense looked the part, but they weren't able to move the ball well enough.

STAREDOWN

In the final minute of the first half, Michigan State lined up as if to go for it on fourth-and-1 from the Ohio State 26. Then the Spartans called a timeout.

Then the Buckeyes called one. Then Ohio State called another.

Then Michigan State took a timeout.

The Spartans finally gave in and kicked a field goal.

MOVING UP

Haskins threw for only 227 yards, but that was enough to move him ahead of J.T. Barrett and past Bobby Hoying on the school's single-season list. Joe Germaine, who passed for 3,330 yards in 1998, tops the list but is only 50 ahead of Haskins.

POLL IMPLICATIONS

Michigan State will likely drop out of the Top 25, while Ohio State can hope a solid win on the road will impress the voters and the playoff committee.

UP NEXT

Ohio State: The Buckeyes face Maryland next Saturday in their final road game of the season.

Michigan State: The Spartans also play their last road game, at Nebraska.
---