Browns notebook: Dual role suits Sheard just fine
Published
Aug. 13, 2014 4:45 p.m. ET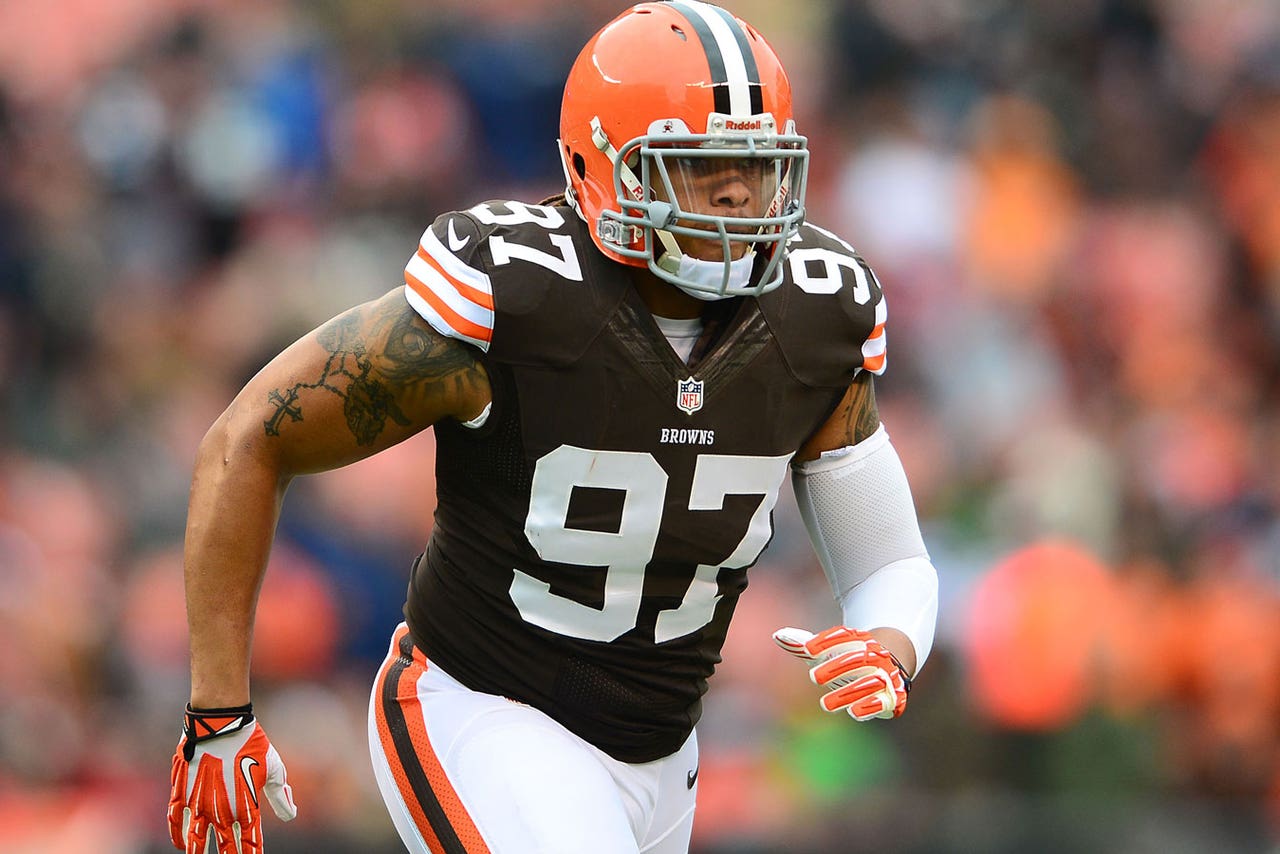 BEREA, Ohio -- Jabaal Sheard has been the Browns top pass rusher for all three of his seasons in the NFL. He is the only player in franchise history to lead the team in sacks in three-straight seasons.
However, he's still listed as a backup on the team's depth chart at outside linebacker behind Paul Kruger, opposite of Barkevious Mingo.
But, he doesn't look at it that way.
"No, I look at it as a backup No. 1, not really a No. 2," Sheard said. "I'm a backup No. 1, so if anybody goes down then I'm the next man in."
Sheard (6-3, 264) has 21 sacks in his three NFL seasons. As a rookie, he led the team with 8.5 sacks as a defensive end. Last season, he had 5.5 in his first season as a linebacker. Sheard also had 47 tackles, four passes broken up and a fumble recovery. He has shown he has the versatility to play both positions.
Sheard said he really isn't bothered if he's not listed at the top of the depth chart.
"No," he said. "Like I said, I'm ready to go when they need me. I'm out there. You only can control so much. I control what I can do. I just go out there and play, and hopefully, make some plays."

Mike Pettine said after the first preseason game that Sheard deserves to be on the field more.
"I think we'll mix Jabaal Sheard in a little bit more -- give him a few more reps in that rotation."
Pettine also has said he expects to have Sheard, Mingo and Kruger all being used at the same time.
Sheard likes the idea.
"It's kind of the same like last year," he said. "We've got three talented guys. You've got to get them on the field. Most likely, it'll probably be third down when we get out there together."
Sheard started as a defensive end in the 4-3 in defensive coordinator Dick Jauron's defense his rookie season. He then was converted to outside linebacker last season in defensive coordinator Ray Horton's 3-4 defense.
Now, under defensive coordinator Jim O'Neil, Sheard has a dual role of sometimes being a defensive end, sometimes an outside linebacker.
"I'm supposed to be hand-on-the-ground," Sheard said. "I like standing up a little bit. It gives you better vision of what's going on in the backfield. Yeah, I stand up a little bit. Sometimes, I get down and get dirty, get my hand in the ground and go get the quarterback or the running back."
Sheard said he likes the challenge of being versatile.
"Every day has been fun to me," Sheard said. "I'm actually enjoying camp. Every day I feel like I'm getting better, improving at this defense and understanding more what the coaches want from us."
Sheard likes how the defense is coming along.
"I feel like we've been doing a good job," he said. "We've been getting better day in and day out. That's what camp is for, giving our offense a good look, getting them better. We've just been improving. It's still a process. We still have got a lot to learn."
EXTRA POINTS
West Meets Idol: Both Browns top two running backs spent time with Hall of Fame running back Jim Brown after practice.
RB Ben Tate talked with Brown for a bit and then Terrance West did, as well.
West described when he first met the player he idolized growing up.
"It was amazing," West said. "I was walking out (to practice) and I heard somebody say, 'T-West, T-West,' I turned around and it was Jim Brown. I said 'Wow.' I didn't know what to say."
West said he's watched film of Brown in his heyday since he started playing youth football.
"I've watched film of him before every game since (I was) playing Pop Warner," West said.
West was asked what Brown said to him.
"He said he likes that I never give up," West said. "He said he saw that I'm a determined guy and that I'm special."
No Huddle: The Browns practiced in the no huddle for a good share of time during Wednesday's practice.
"It's something we want to incorporate offensively at some point," Pettine said. "I think it's always good to change your tempo, sometimes by necessity if you're down.
"It's not just necessarily a true two minute when you get behind but when you want to change the tempo up a bit," he said. "It's the future of the league. Defensively, we can't see enough of that. In Buffalo, we were up tempo all the time so our guys weren't phased by it when we saw it during the regular season."
Pettine said that Kyle Shanahan's offense can be pared down and simplified to one code word or phrase.
"We'll work on it more and more as it's a leaguewide trend."
Pettine Shoots Down Rumor: There have been some rumors that the Browns might be shopping QB Brian Hoyer in a trade since the acquisition of QB Rex Grossman on Tuesday.
"'Stories' is a good word to apply to that," Pettine said. "We're not going to comment on every story out there. We made a move to strengthen our quarterback move and I don't really want to comment on every story."
For Starters: Pettine said he expects the starters to play 'about a half' against the Redskins. He also said the plan is to decide who will start the game at quarterback on the players' off day on Thursday.
"We'll meet (Thursday) and decide on all of the positions."
Day of Rest: CB Joe Haden and DL Ahtyba Rubin were on the side getting a scheduled day of rest.
"Some of the guys were down today to give them an extra day off with Thursday being an off day."
Meanwhile, DL Billy Winn (abdomen) was back at practice.
On the Side: OL Paul McQuistan, DB Aaron Berry, DB Isaiah Trufant, DL Desmond Bryant (wrist), LB Darius Eubanks (shoulder), WR Nate Burleson (hamstring) and WR Josh Gordon (abdomen) were on the stationary bikes and with the trainers on the side during practice.
OL Nick McDonald (wrist) is still on the Active/non-football injury list.
TE Jordan Cameron (shoulder) and TE MarQueis Gray (abdomen) were both wearing red non-contact jerseys.
Quick Hits: QB Brian Hoyer took the reps with the first team...Hoyer threw a touchdown pass to RB Ben Tate...WR Travis Benjamin caught a deep pass from QB Johnny Manziel for about 50 yards after dropping one previously that Hoyer had thrown.
Next Up: The players are off on Thursday before returning for practice Friday from 9:30 a.m. to 12:10 p.m., which is the last practice open to the public. The Browns will have a closed practice Saturday before traveling to Washington to play the Redskins on Monday Night Football.
---