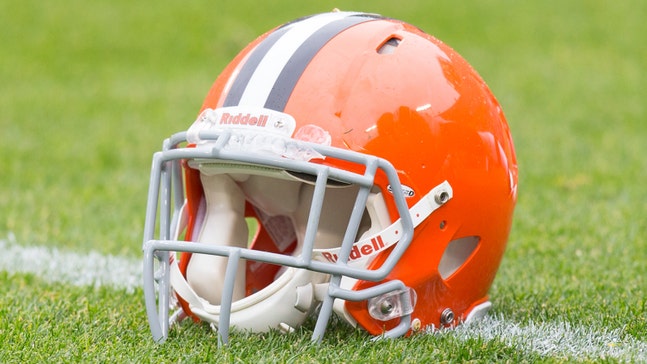 Browns add RB Terrence West in trade
Updated
Mar. 4, 2020 2:56 p.m. EST

BEREA, Ohio -- The Browns bolstered their running game by adding one of the most decorated running backs in college football this past year this year.
Terrence West from Towson State (5-9, 225) had 2,509 yards and 41 touchdowns on 413 carries (6.08 avg.) His numbers established not only school records but NCAA marks, as well. In his three years at Towson State, he carried the ball 802 times for 4,849 yards (6.05 avg.) with 84 touchdowns. He also caught 36 passes for 385 yards with two touchdowns.
"It means a lot to me that they wanted me," he said. "My favorite team now is the Cleveland Browns."
West talked about his 41 rushing touchdowns. West rushed for over 1,000 yards in all three of his college seasons.
"I've always had a nose for the end zone," he said. "I'm a physical runner, who punishes those who tackle me."
The Browns traded with the 49ers to the 94th overall spot, up from the fourth-round (106th) and gave up one of their sixth-round picks (180th) to select West.
West said he has always been a Ravens fan being from Baltimore, but now he's abandoned those ways.
"I want to get after it when we play them."
CBSSports.com Dane Brugler rated West as his fourth-best running back.
"Solidly-built throughout with good muscle build to shake off defenders...smooth hips and lower body to stay balanced -- works off and around blocks well with a good combination of power and foot quickness...physical, tough and lowers his pads to finish through contact...good vision, patience and natural feel as a ballcarrier to press the hole and attack the LOS, following his blocks...strong cuts and breaks tackles at all levels -- a chore to tackle...good speed and won't slow down at the second level with long strides in the open field...workhorse and wears down defenses...catches the ball well (31 career catches)...humble work ethic and devoted to the game with his head on straight -- keeps his eyes on the prize and has his priorities in order...extremely productive career (led the team in rushing each of the last three seasons) and leaves Towson as the school's all-time leading rusher (4,854), setting FCS single-season records in 2013 for rushing yards (2,509) and rushing touchdowns (41)."
---