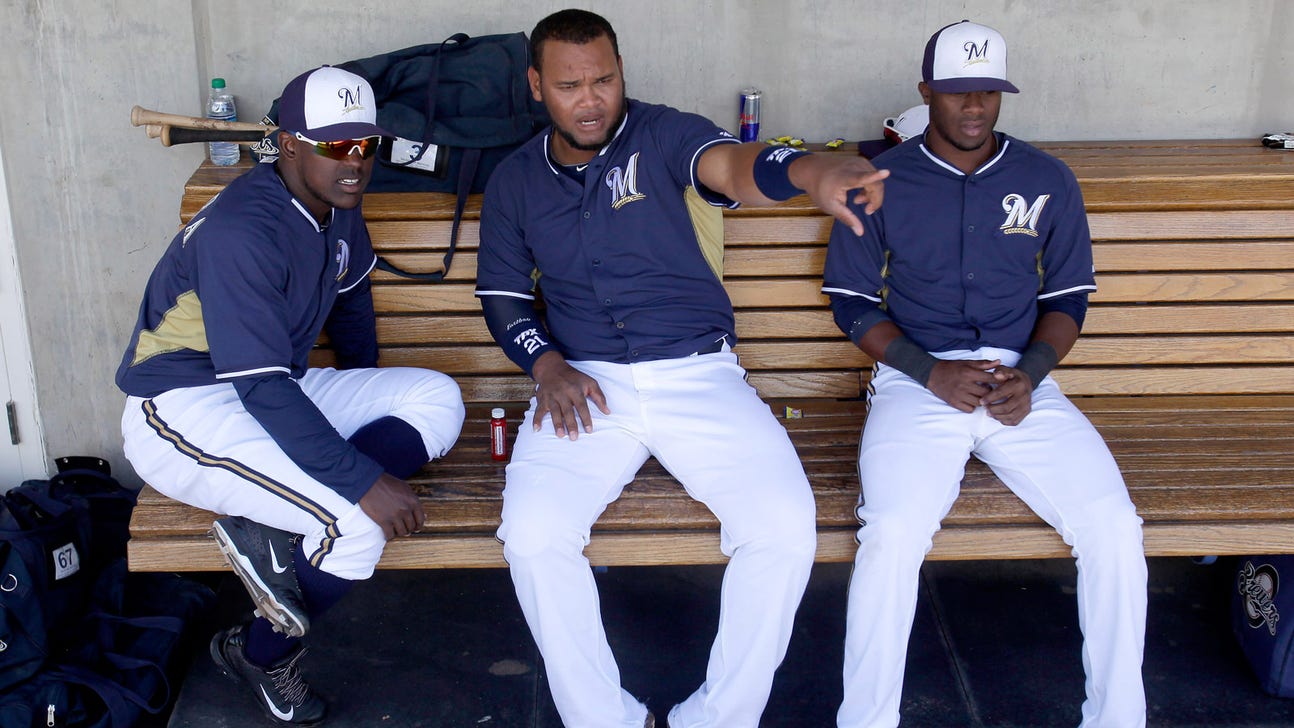 Brewers' 25-man roster prediction
Published
Mar. 17, 2014 4:24 p.m. ET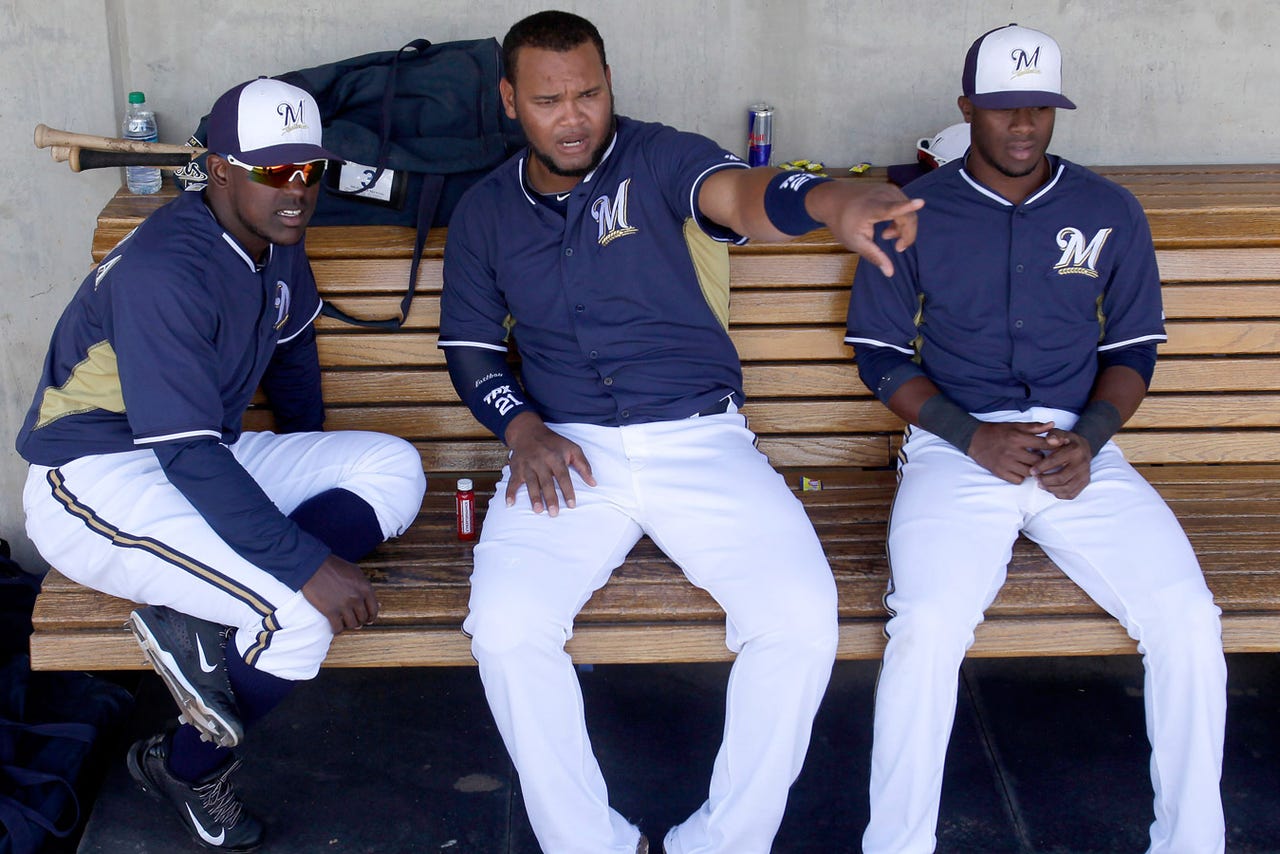 With Opening Day just two weeks away, the Milwaukee Brewers have a few roster decisions to make before kicking off the 2014 season on March 31 at Miller Park.
Here's how the 25-man roster could look:
Starting pitchers (5): Yovani Gallardo, Kyle Lohse, Matt Garza, Wily Peralta, Marco Estrada
Analysis: The Brewers had a good idea of their starting five heading into spring training and nothing has changed. There was not much suspense in the rotation once Garza was signed, as Peralta and Estrada slid back to the four and five spots. Milwaukee does have depth should injuries strike, as Tyler Thornburg, Jimmy Nelson, Johnny Hellweg, Hiram Burgos and Mike Fiers will be in either the big-league bullpen or Triple-A.
Bullpen (7): Jim Henderson, Brandon Kintzler, Francisco Rodriguez, Will Smith, Wei-Chung Wang, Alfredo Figaro, Tyler Thornburg
Under consideration: Rob Wooten, Zach Duke, Donovan Hand
Disabled List: Tom Gorzelanny
Analysis: One of the few areas in which the Brewers have decisions to make, the bullpen has six guys competing for three spots. Henderson, Kintzler, Rodriguez and Smith are all locks to make the team and Gorzelanny is likely to begin the season on the disabled list while recovering from offseason shoulder surgery. Rule 5 pick Wei-Chung Wang was thought to have no chance to make the roster when spring training began, but the Taiwanese left-hander has tossed 7 1/3 scoreless innings this spring and hasn't walked a batter. The 21-year-old hasn't pitched an inning above rookie ball, but the Brewers probably won't want to lose him. Milwaukee would have to offer Wang back to Pittsburgh if he doesn't make the 25-man roster. The Brewers could work out a trade, but the Pirates probably wouldn't be too cooperative with their division rivals.
Figaro, Thornburg and Wooten all have options left. Working against Duke and Hand is the fact they aren't on the 40-man roster. Figaro has a 2.57 ERA in seven innings this spring, and the Brewers like his power arm. They feel he can be a late-inning reliever if his off-speed stuff develops. The Brewers may opt to have Thornburg open the season starting in Triple-A, but manager Ron Roenicke said Monday, "If we feel he's better than the other guys we have, then we'd like him in our bullpen."
Wooten certainly could make the roster, but he has allowed 10 hits and five runs in seven innings this spring. The 28-year-old could go back to closing games in Nashville and provide the Brewers with an option to bring up later in the year. It's hard to see the Brewers deciding to keep Duke if lefties Smith and Wang are already in the bullpen, especially with the left-handed Gorzelanny eventually returning.
Catcher (2): Jonathan Lucroy, Martin Maldonado
Sent to minors: Robinzon Diaz, Lucas May
Analysis: There's no decision here. Diaz and May are only still in camp to give Lucroy and Maldonado a blow when needed. The Brewers will have to sort out their catching situation in the minor leagues with Diaz, May, Matt Pagnozzi and Adam Weisenburger all capable of catching in Triple-A.
Infielders (7): Rickie Weeks, Scooter Gennett, Jean Segura, Jeff Bianchi, Aramis Ramirez, Mark Reynolds, Lyle Overbay
Under consideration: Juan Francisco, Elian Herrera, Irving Falu
Analysis: The Brewers face two different decisions in the infield, as first base needs to be figured out and the utility spot decided. One seems to be much easier than the other, as Bianchi figures to beat out Herrera and Falu for the final bench spot.
Bianchi is the best shortstop of the three, something very important with the club likely keeping two second baseman and two first baseman. Roenicke is comfortable with Bianchi, and that goes a long way. The 27-year-old is hitting .310 in spring training and has done nothing to lose his job, despite Herrera and Falu both impressing and hitting over .285.
The most important decisions the Brewers are faced with are at first base -- only two of Reynolds, Overbay and Francisco can be kept. Reynolds is probably the safest bet of the three, as he also can provide insurance to Ramirez at third base. Overbay would be the best defensive option, while Francisco would provide pop off the bench.
The Brewers haven't dropped any hints or tipped their hand at all on which way they are leaning. It's quite plausible to imagine any combination of the two making the Opening Day roster. Reynolds has an opt-out clause in his contract and must be informed of the team's decision by next week.
Outfield (4): Ryan Braun, Carlos Gomez, Khris Davis, Logan Schafer
Sent to minors: Caleb Gindl
Analysis: Like at catcher, the Brewers know what their outfield will look like. Gomez and Braun will unquestionably be in the lineup every day, while Davis will likely be the Opening Day left fielder. Schafer has had a good spring training and will push Davis for playing time. He's a great defensive outfielder that should improve at the plate in his second full season in the big leagues.
Gindl had an uphill climb to even be considered for the roster. Keeping two second basemen and two first basemen will limit Milwaukee to just four outfielders. Gindl will be up with the Brewers at some point in 2014.
Follow Andrew Gruman on Twitter
---