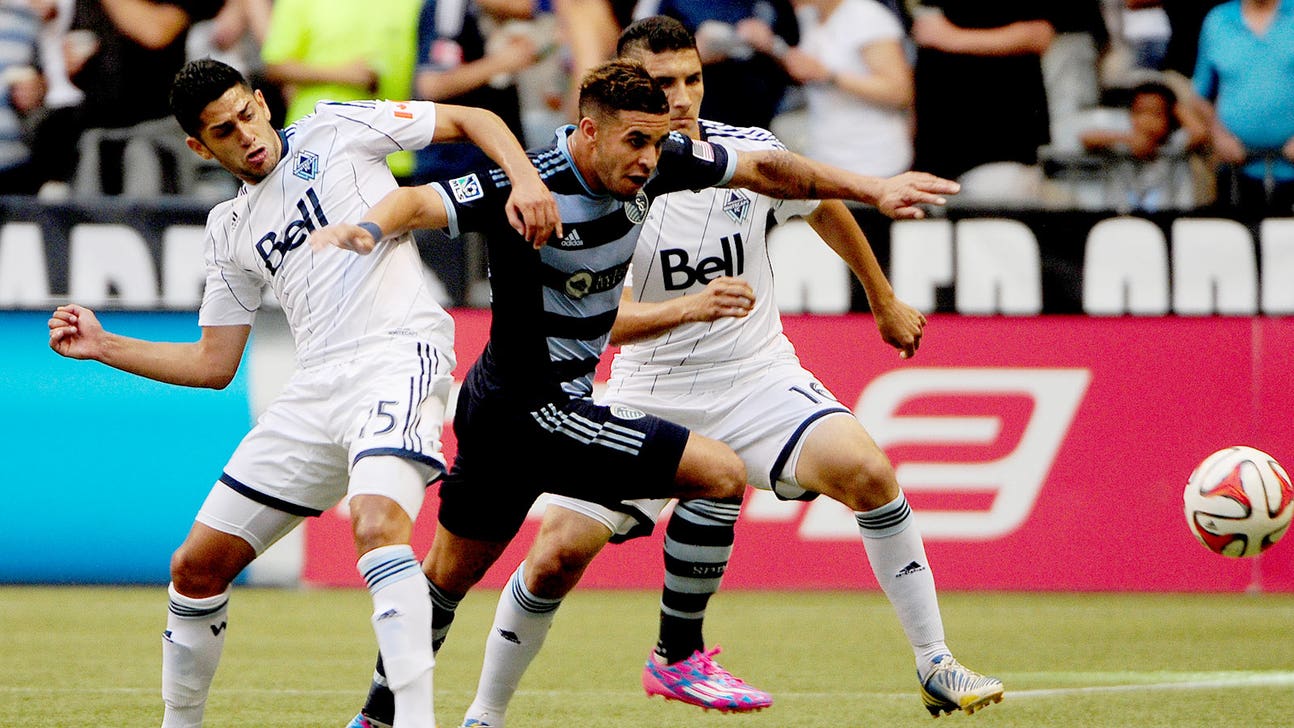 Breakdown: Vancouver targets consistency after impressive victory over Sporting KC
Published
Aug. 11, 2014 10:00 a.m. ET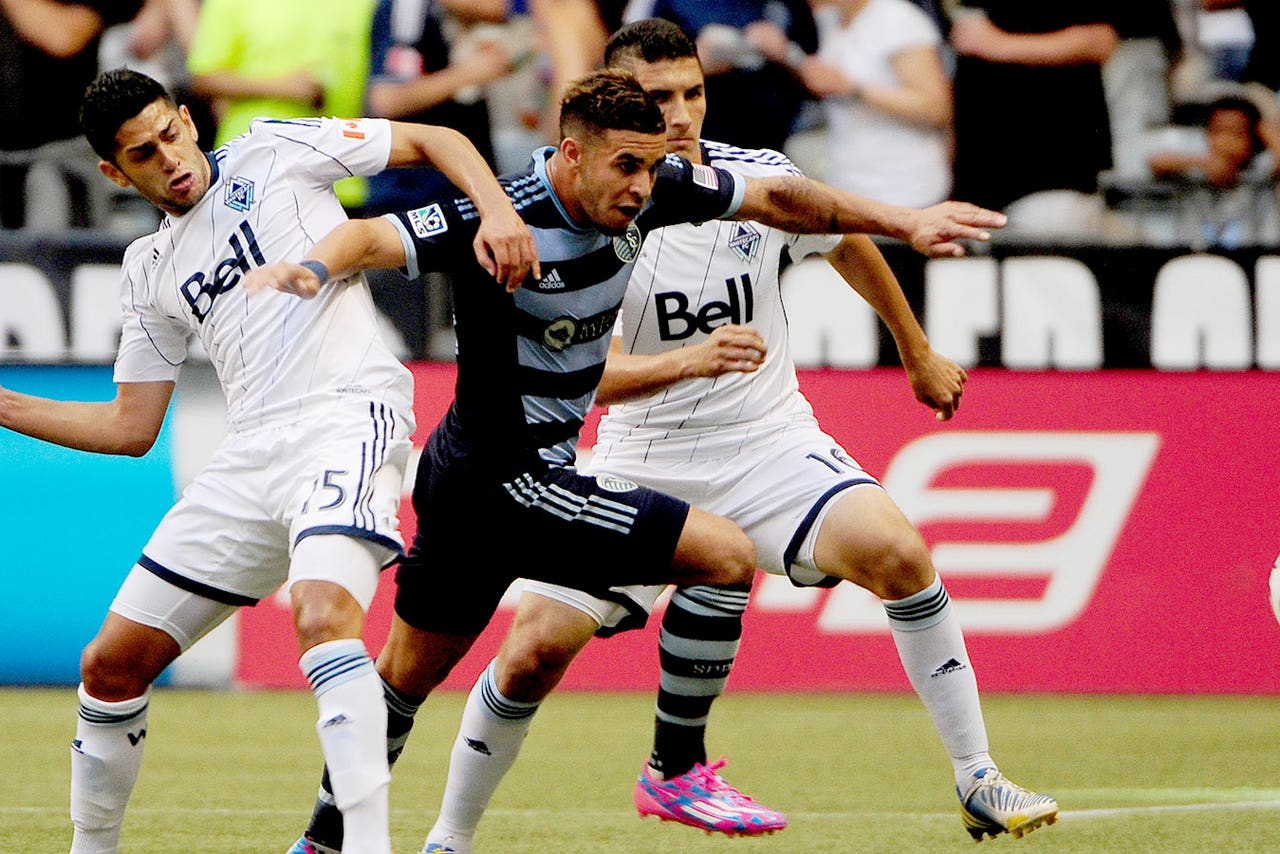 VANCOUVER, B.C.
Instructions flew around the training field at the University of British Columbia as Vancouver coach Carl Robinson took his players through their final walkthrough on Saturday.
Robinson wanted his players to keep their shape diligently and watch certain key points as the match with Sporting Kansas City unfolded. He knew his team needed to maintain its organization against Sporting's high pressure in order to create opportunities to counter without leaving the back four exposed. He harped on potential dangers and pointed out individual responsibilities to reinforce those tenets as the ball moved around the field.
At one point, Robinson stopped the proceedings to underscore an evident and ultimately critical theme. He picked out his midfield players and reminded them of their responsibilities. Sporting plays a midfield three and everyone needs to pick up a man, he said. He then noted the man-on-man nature of the battle ahead and went onwards with his more complex and particular directives.
Those words rang particularly true as the Whitecaps asserted control in the center of the park and then used their dominion to claim a 2-0 victory at B.C. Place on Sunday night. Gershon Koffie and Matias Laba provided the firm foundation by breaking up the play, dropping into the right areas to limit the space in front of the back four and providing the excellent Pedro Morales with the license to roam freely to find the game.
Few, if any teams, manage to establish the terms in that department against Sporting, though the makeshift nature of the trio right now does change the calculus a bit. Robinson fielded a question after the match about whether his holding players produced their best performance of the season. His response highlighted the effectiveness of those displays against a side that had won its previous five matches away from home.
"I think it was," Robinson said. "I really do. We didn't want Benny Feilhaber to play because he's a super little player. Mikey Lopez is in there as well and (Jorge) Claros – who we had looked (as a transfer target) at one time. We wanted to control that area. I think we've done that in the first half. We set the tone with the way we played on the front foot."
Laba and Koffie deployed their energy and relied upon their proficiency (including a combined pass completion rate of 81 percent, per Opta statistics) to set the stage for the Whitecaps' impressive display. Their teammates did not waste those efforts. Morales' testing ball from midfield prompted Igor Juliao to head the opener into his own net. Morales and Darren Mattocks combined on the break to create the second with Sporting uncharacteristically torn asunder. And the shape held firm after the interval to manage the game adroitly and secure the deserved points.
Vancouver constructed the sort of firm foundation required to foster success on a grander scale. The elements, if not always the execution, are there to secure a playoff berth. The quality must increase in both penalty areas to transform draws into victories, but this Whitecaps side will likely advance as far as its searing counter, its strong midfield three and its youthful legs will take it.
"We can compete," Robinson said. "Can we compete on a consistent basis? That's the question with our young players. You get ups and downs with a young group. We're finding that. We're not losing too many games, which is great. But we're not winning enough games,  which isn't good. That's something I need to work on with the group of players. But the potential is there. It really is. It's a work in progress."
There are more detailed lessons ahead for this group as the postseason chase continues. It is down to this group to heed them in order to produce the consistency required to achieve their objectives by the end of the campaign.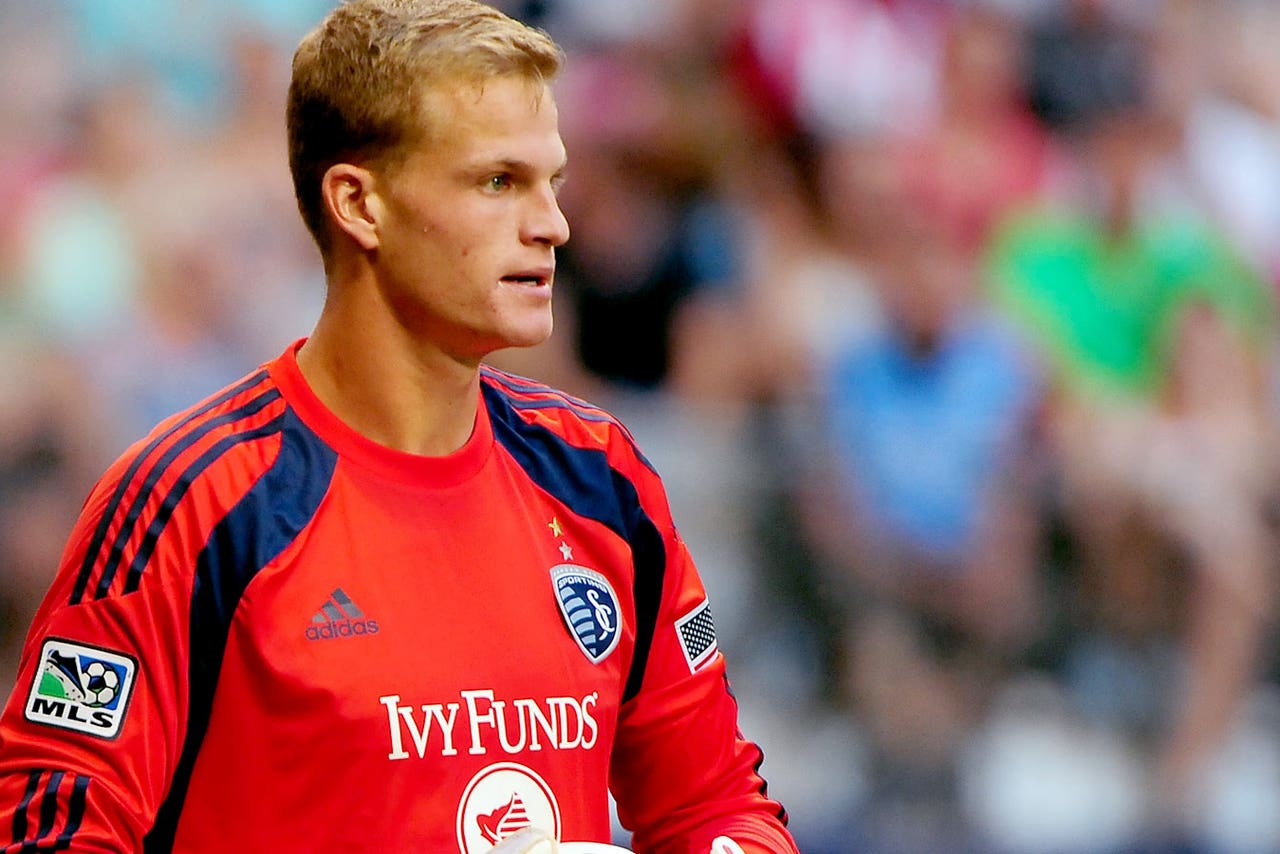 Sporting Kansas City goalkeeper Jon Kempin stopped a penalty after entering his first MLS match as a substitute.
Five Points – Week 23
1. Fate throws Jon Kempin into the deep end: Andy Gruenebaum gave Kempin a heads up about his shoulder injury as the two Sporting Kansas City goalkeepers walked into the locker room at B.C. Place. Kempin said he didn't think much of it until he heard that he would actually replace Gruenebaum and make his first MLS appearance in the process. He worked through halftime to prepare himself and took his place between posts for the second half.
Kempin acquitted himself well. He kept a clean sheet and produced a fine stop on Mattocks' penalty attempt. His one save didn't prove enough to drag Sporting back into the game, but it did supply him with his first chance to play in a regular season fixture just a few days after claiming MVP honors in the first Homegrown Game.
"It's been awesome," Kempin said. "It's been crazy. I'm really happy to be playing in some games and getting some minutes. I feel confident, so I thought it was good."
2. Vancouver strengthens its options in central defense: Kendall Waston faced the sort of decision most players usually take an eternity to make. Vancouver made a firm bid for him to fill the hole left by Jay DeMerit's retirement. He needed to decide whether he wanted to leave Saprissa and pursue a career in MLS instead.
Waston chatted with Columbus forward Jairo Arrieta about MLS and the rigors ahead for him there. He pondered the potential personal and professional benefits. And then he stepped right into the whirlwind to take him from Deportivo Saprissa to the Whitecaps.
"It was all very fast," Waston said as he waited for all of his paperwork to clear this weekend. "It was between Thursday to Saturday, everything was done. I have to change everything up because it wasn't in my plans, but it was a good time to come here. I am very excited."
3. Nick Rimando stands alone between the sticks: Rimando claimed his 113th career clean sheet in Real Salt Lake's dominant 3-0 victory over D.C. United on Saturday night. The veteran goalkeeper, 35, credited his teammates over the years for allowing him to finally wrest the record away from Kevin Hartman.
"First of all, I don't think that any shutout is just for myself," Rimando said. "I might have my name on the shutout but it's a committed effort from the team. This is not only my record. My name is on it but there are a lot of guys that should be getting credit for this too. Nat Borchers, Eddie Pope, Ryan Nelsen, Chris Schuler, Tony Beltran, there are a lot of players. Man, I've been around a long time. But there are a lot of people that need to get credit for the record that I achieved tonight."
4. Schmid inaugurates 200 club as Sounders FC grind out victory against Houston: Seattle handed Sigi Schmid his 200th MLS victory with a second-half response against the Dynamo at CenturyLink Field. This performance lacked the allure of other displays this season, but the home side persisted in the second half and received the benefit of a deflection and a penalty kick award to collect the points.
5. FC Dallas is (very, very) quietly the hottest team in the league: FCD claimed its fourth win in five attempts and extended its unbeaten run to eight games (currently tops in MLS after Sporting's defeat at Vancouver) with a 3-1 triumph over Colorado on Saturday night. Another added bonus in the congested Western Conference: Oscar Pareja's side now sits six points clear of sixth-placed Colorado and Portland.
---