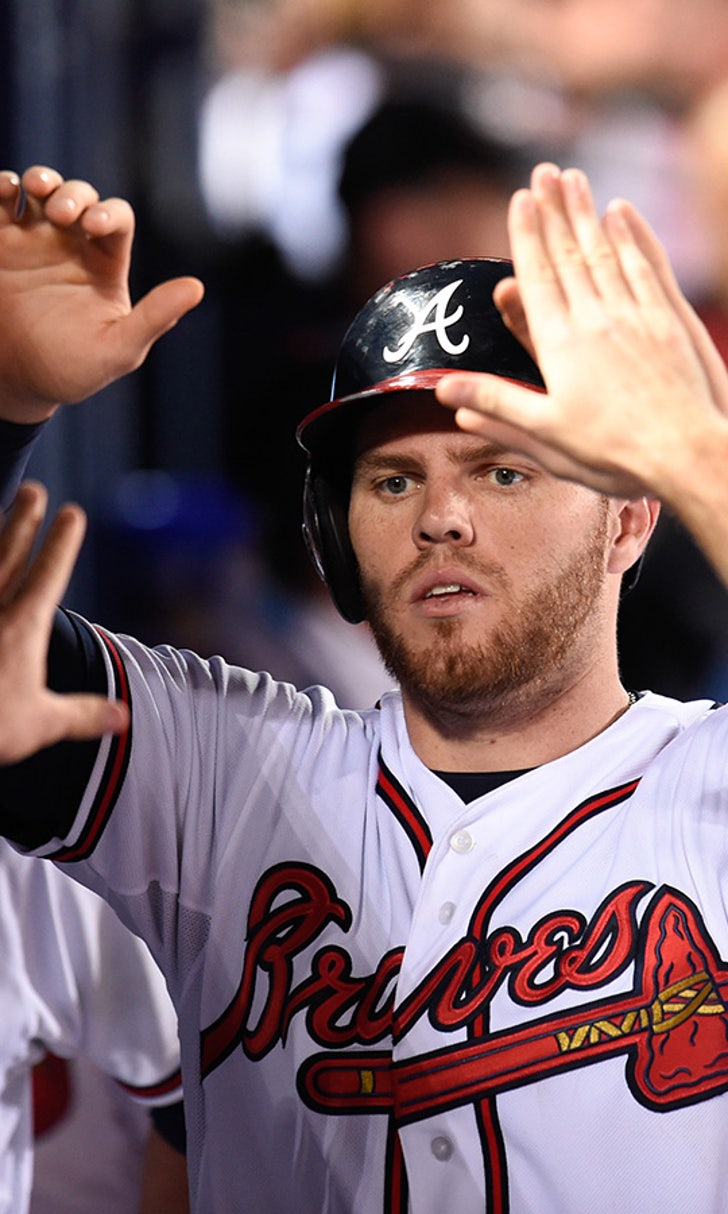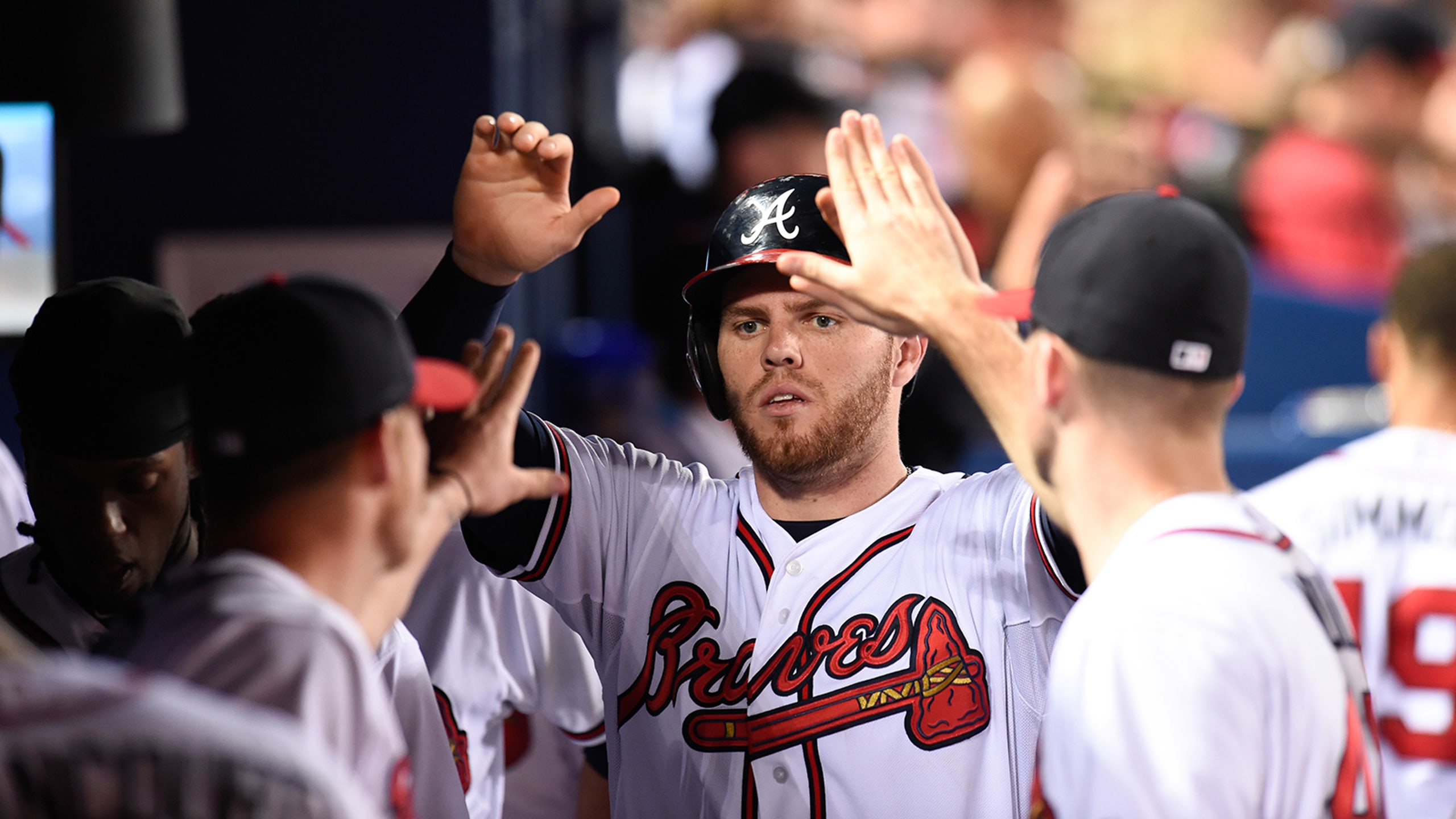 Braves' Freeman focused on returning to iron man ways
BY Cory McCartney • January 30, 2016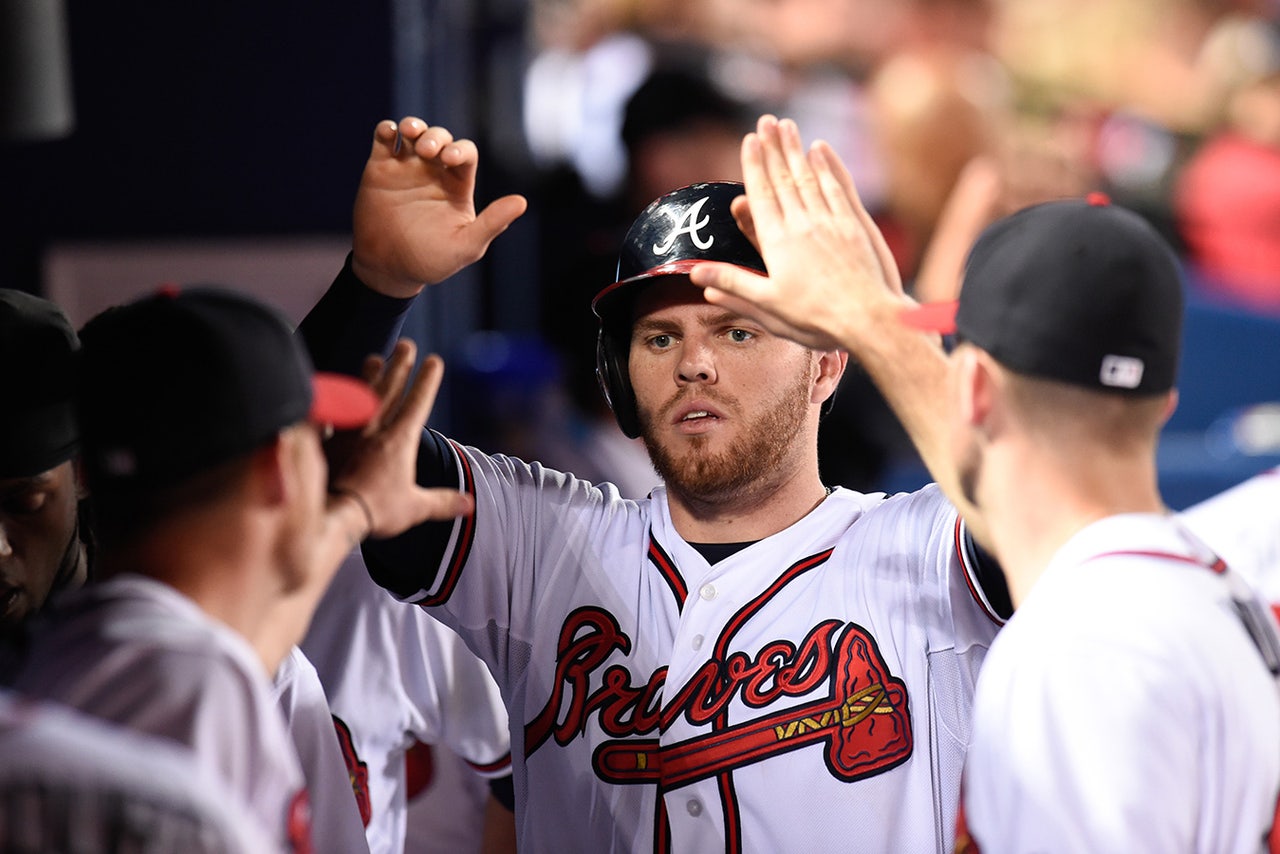 ATLANTA -- Freddie Freeman's philosophy on leadership revolves around one simple principal: being present.
"I would like to be out there every day and be that one steady guy that everybody can lean on," the Braves first baseman said during Saturday's Fan Fest at Turner Field.
That's what made 2015 so difficult, as Freeman played in a career-low 118 games in a season cut short by a nagging wrist injury. He avoided surgery and, barring any setbacks as he continues to progress during his time in the batting cage, expects to be ready for Feb. 25's first full-squad workout.
"Everything feels good," he said. "I'm on the right path to be 100 percent healthy and full bore on the first day of spring training."
From 2011-14, few players were more reliable, with Freeman playing in 613 games, including all 162 in '14. Among National League players, only the Astros/Phillies/Giants' Hunter Pence (638), Pirates' Andrew McCutchen (618) and Cubs' Starlin Castro (615) played more, but it was Freeman that held the majors' active streak of appearing in 234 straight before he exited in the seventh inning against the Red Sox in June 17.
He had suffered the injury the pervious series against the Mets, but attempted to play through it and after nearly a month on the disabled list. He returned after the All-Star break and proceeded to hit just .241 with six homers in the final months.
It resulted in Freeman posting the fewest hits (115), RBI (66) and worst OPS (.841) since 2012, or before he rattled off back-to-back All-Star seasons.
If the relative struggles weren't enough, Freeman also had to watch another long-time teammate, shortstop Andrelton Simmons, be traded to the Angels in November, and a month later, the Braves' 2015 All-Star representative, right-handed pitcher Shelby Miller, was shipped to the Diamondbacks.
Amid the latest round of deals, came rumors that Freeman -- who in 2014 signed the longest and richest contract in franchise history at eight years, $135 million -- may also be on the move. But general manager John Coppolella was steadfast in saying "we will listen on any player not named Freddie Freeman."
"That definitely made me feel good," Freeman said. "I actually had a phone call from him in November when those rumors started to swirl for a few days. He called me and put me at ease and it was definitely nice to hear that from the general manager, and for him to keep saying, even though people wanted to keep bringing up those rumors over and over again, he kept shutting them down."
Freeman laughs at the realization that nearly the entire the Opening Day roster from the Braves' 2013 National League East championship team has been dismantled. Simmons, Jason Heyward, Justin Upton, B.J. Upton and Chris Johnson were all traded, Dan Uggla was released and Gerald Laird and the day's starting pitcher, Tim Hudson, weren't retained.
All that remains is the two-time All-Star cornerstone of the franchise.
"Definitely a little weird, because that was only two years ago," he said.
But he's been clear in embracing the change. Coppolella's work helped revitalize a farm system that's considered the best in baseball, and littered the major league roster with veterans and talent that figures to have an impact in 2016, including new center fielder Ender Inciarte, left fielder Hector Olivera and a litany of pitchers.
"It's definitely different, but we've got a lot of veteran guys, the (Nick) Markakises, the (A.J.) Pierzynskis, the (Nick) Swishers, and we've got a lot of guys coming up I think are going to mix well and bring a division title here very soon," Freeman said.
And, should he have anything to say about it, the first baseman as the constant in the present and the future, making another run at being the Braves' iron man.
"I have one goal every single year and that's to play every single game," Freeman said.
Follow Cory McCartney on Twitter @coryjmccartney and Facebook. His book, 'Tales from the Atlanta Braves Dugout: A Collection of the Greatest Braves Stories Ever Told' comes out April 5, 2016.
---
---