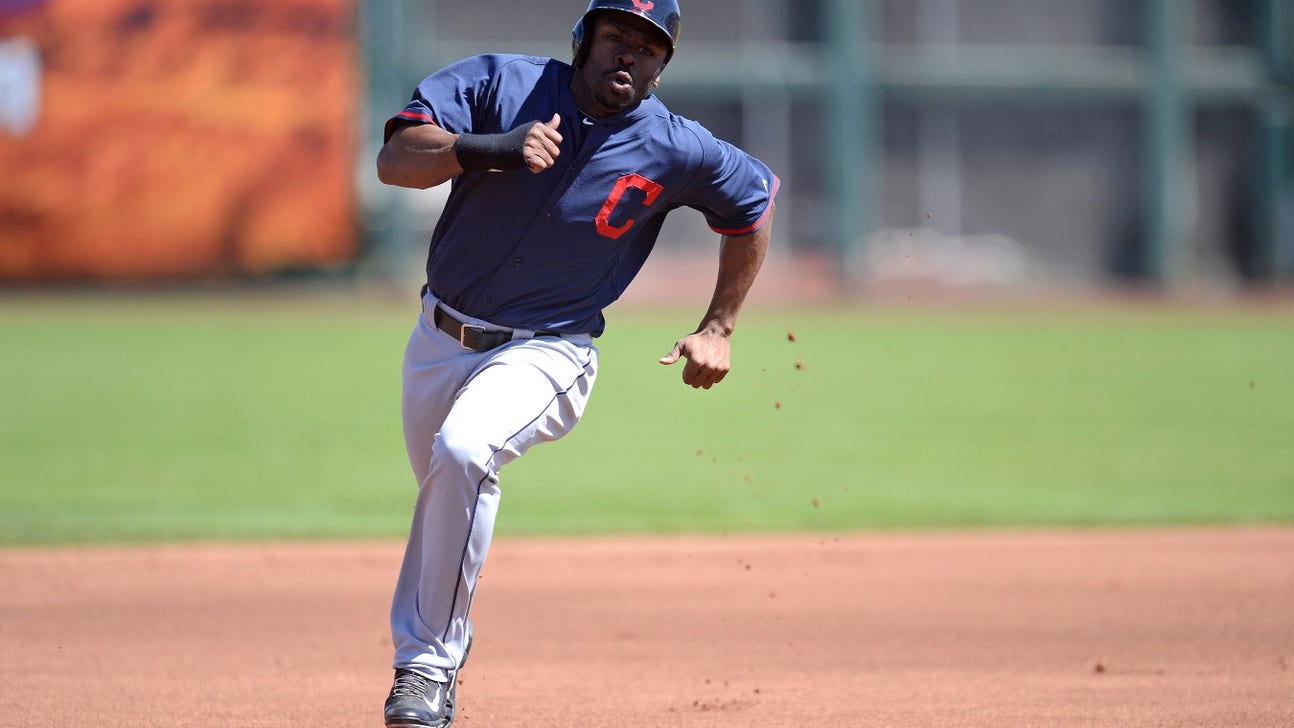 Bourn upbeat despite strained hamstring
Updated
Mar. 4, 2020 8:07 p.m. ET

GOODYEAR, Ariz. -- Indians center fielder Michael Bourn was upbeat the day after straining his hamstring in a Cactus League game.
Bourn suffered a mild strain of his left hamstring during Sunday's 4-1 win against the Giants in Scottsdale. He said he tweaked it during the first inning as he was running from first to third after a Nick Swisher single. Bourn scored two batters later and had another at-bat before he was pulled in the bottom of the second. He underwent further evaluation Monday morning but did not have an MRI.
"It felt a little sore yesterday and feels much better. It doesn't hurt as much (today)," Bourn said. "They are going to take it slow with me. Other than that I feel good, I had strength in it as they were testing it."
Bourn said the injury did not occur in the same spot where he injured it late last season. In the Indians regular-season finale at Minnesota, Bourn was injured as he was trying to steal second base during the ninth inning. He had offseason surgery and had been feeling fine up until this point.
As far as a timetable to return, Bourn thinks he could be back by the end of the week and expressed confidence that he should be ready for the March 31 opener in Oakland. Knowing the tricky nature of hamstrings though, if Bourn doesn't get in another Cactus League game, it wouldn't be a surprise.
"If I have to go in or go without playing the remainder of spring training that's OK. I just want to get a few more at-bats before the season begins," he said. "I should be ready for Opening Day and make sure I'm healthy and prepared to play baseball."
Bourn, who has been on the disabled list only twice since 2007, is trying to bounce back after playing only 130 games last season. He has the most steals in baseball over the past six seasons but had only 23 last season after five years of 40-plus. He batted .263 from the leadoff spot and saw his on-base percentage dip to .360.
"When Bourn plays, he needs his legs -- that's his strength. We'll try to be wise and use good judgment with him," manager Terry Francona said.
Way 2 Opening Day
Preseason baseball LIVE on SportsTime Ohio
With Bourn out, you could see Michael Brantley, Matt Carson, Mike Aviles, Elliot Johnson and Jeff Francoeur getting some time in center. Johnson gets his second start of the spring in center today and will bat leadoff against the Reds.
OTHER INJURY NEWS: Outfielder Nyjer Morgan (calf) will likely be available tomorrow when the Tribe hosts the Giants. ... Infielder Justin Sellers suffered a hip flexor in Sunday's game against the Giants and will miss the next couple days.
BEHIND THE PLATE: Carlos Santana is scheduled to be the catcher during Wednesday's game against Oakland. Santana caught a bullpen session Monday morning.
ROSTER MOVES: Pitchers Scott Barnes and Nick Hagadone were optioned to Triple-A Columbus while pitchers Travis Banwart, Tyler Cloyd, J.C. Ramirez and Mike Zagurski were re-assigned to the minor-league camp.
LINEUPS
Indians -- Elliot Johnson CF, Nick Swisher DH, David Murphy RF, Lonnie Chisenhall 3B, Mike Aviles SS, David Cooper 1B, David Adams 2B, Tyler Holt LF, Luke Carlin C
Reds -- Roger Bernadina CF, Brandon Phillips 2B, Joey Votto 1B, Jay Bruce RF, Ryan Ludwick LF, Todd Frazier 3B, Zack Cozart SS, Devin Mesoraco C, Chris Heisey DH
PITCHERS
Indians -- RH Corey Kluber, RH John Axford, LH Marc Rzepczynski, LH Josh Outman and LH Nick Hagadone
Reds -- RH Mike Leake, RH Jonathan Broxton, RH Trevor Bell, RH Pedro Beato and LH Manny Parra
---