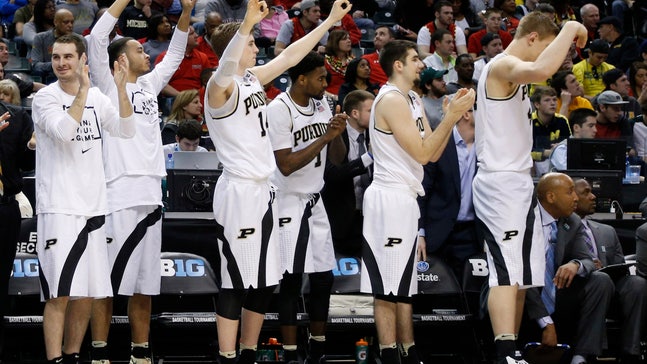 Boilermakers seek first Big Ten title since 2009
Published
Mar. 12, 2016 10:30 p.m. EST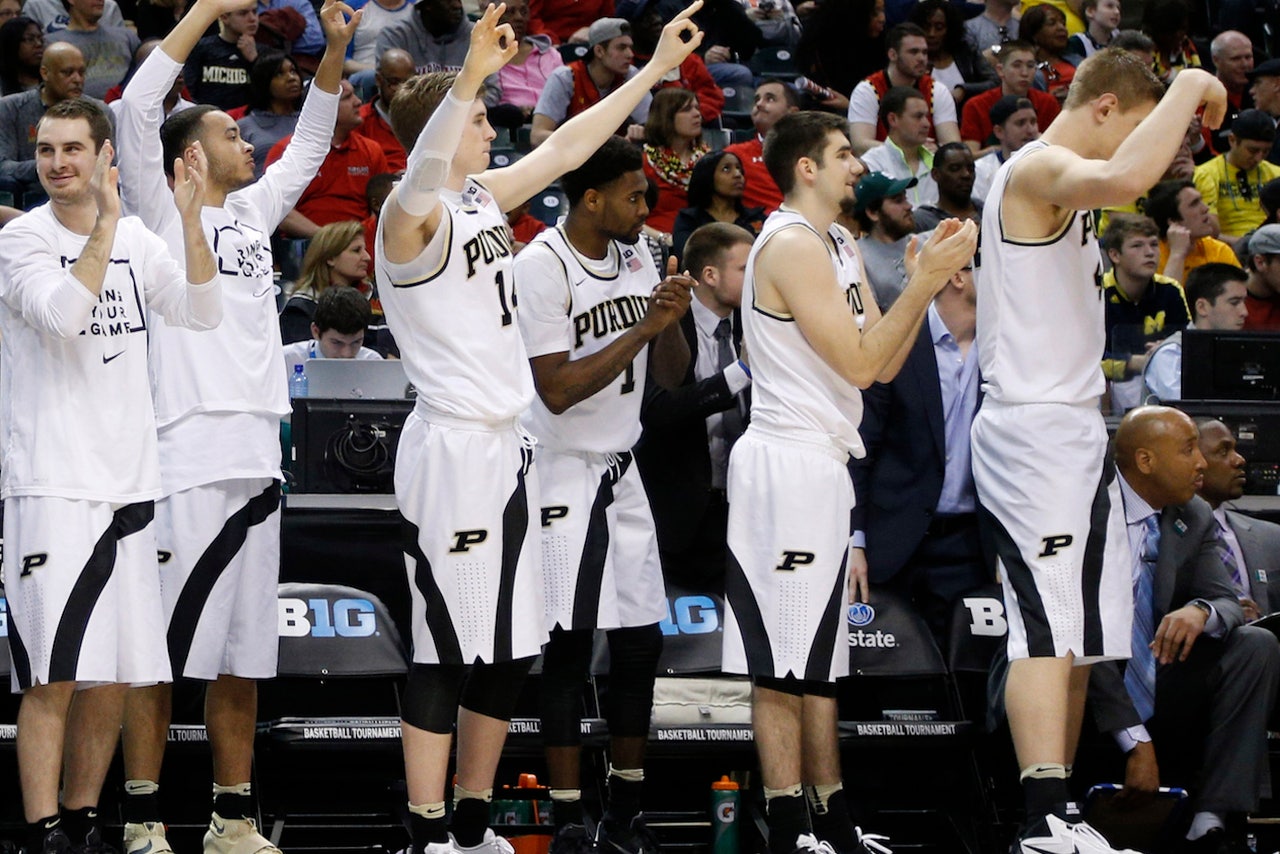 Purdue has already taken care of what many Michigan State fans might have wanted to do themselves: dismantle underdog Michigan's Big Ten tournament run.
The second-seeded Spartans will settle for a conference title game and revenge shot against the fourth-seeded Boilermakers on Sunday in Indianapolis with both schools looking to extend their longest win streaks since their opening runs ended in December.
Michigan State (28-5) has climbed back to second in the national rankings with an eight-game winning streak that started immediately after an 82-81 loss at Purdue on Feb. 9. It reached its current level with Saturday's 64-61 semifinal win over No. 18 Maryland behind Denzel Valentine's 18 points, 10 assists and seven rebounds.
The Big Ten Player of the Year hasn't shot particularly well in two tournament games, hitting 37.0 percent, but he's averaged 18.5 points, 9.0 assists and 8.0 boards.
"That was a weird game for Denzel Valentine and all he did was 18, 10 and seven," coach Tom Izzo said. "I guess I'm getting like fans, spoiled."
After explaining Friday that the Spartans were angry about finishing second in the regular season to Indiana, Valentine has them in position for the next crown. They've won 12 of 13 as they chase a fifth tourney title that would set a record since one of Ohio State's five was vacated.
What's most impressive is how the Spartans have put themselves in this position. One day after Maryland scored a tourney-record 97 points, Michigan State held the Terrapins 15.1 below their season average. The Spartans have limited Ohio State and Maryland to 57.5 points on 38.0 percent shooting, including 27.3 from 3-point range.
"We made stops, got rebounds when we needed to and guys made free throws down the stretch," Valentine said.
At the other end, the Spartans were 8 of 19 from 3-point range, which puts them six away from breaking the school record of 307 established two years ago. Over the last 14 games, they've made 49.1 percent from outside, but one of three games under 40.0 in that span was the loss at Purdue.
Valentine did his part with 27 points, 10 assists and eight rebounds, but Michigan State shot 38.2 percent overall while the Boilermakers hit half of their 16 3s.
Rapheal Davis was 6 of 8 from long range for 24 points, while A.J. Hammons had 19 points and 13 rebounds to help snap a seven-game losing streak against the Spartans.
Michigan State is back in the title game for a third straight year after winning in 2014 and losing to Wisconsin last season, while Purdue is returning for the first time since winning it in 2009.
The 13th-ranked Boilermakers (26-7) have been arguably more impressive than the Spartans in this edition. They beat Michigan 76-59 on Saturday for a fifth straight win, and two tournament victories have come by an average of 24.0 points while shooting 55.7 percent and 43.6 from long range. Their opponents are at 38.5 and 23.3.
Hammons had 27 points and 11 rebounds, and the senior center has averaged 16.8 points on 69.4 percent shooting in his last six games. Another big performance would go a long way toward validating his choice to return for a fourth season.
"I came back to get a ring, so it would mean a lot," Hammons said. "And then on top of that, I've been here four years trying to build back the program and helping everybody out. So it would mean a lot to the fans and the program just to come back with a ring and a championship."
---