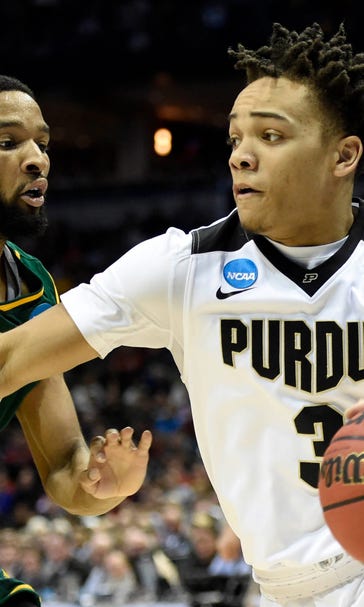 Boilermakers move past Vermont 80-70 in first-round tourney win
March 17, 2017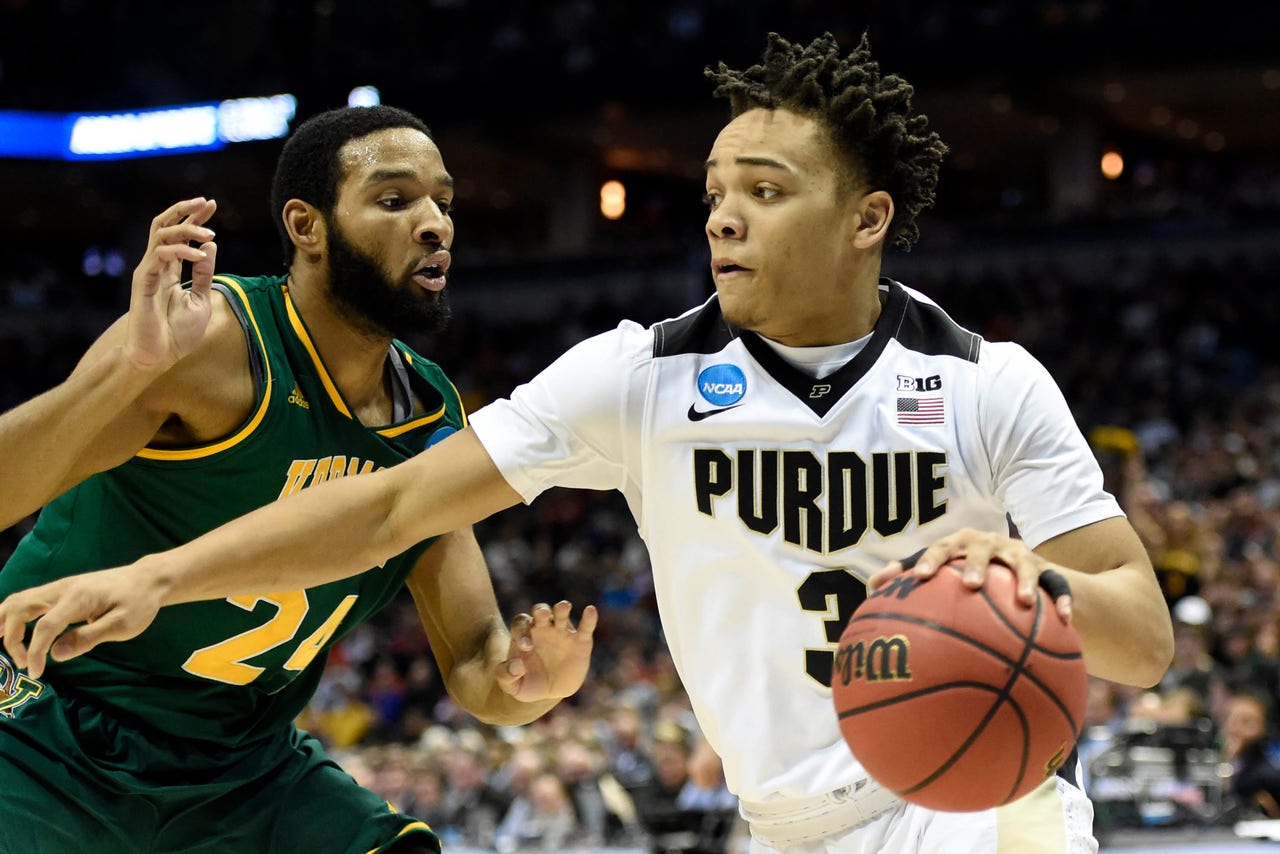 MILWAUKEE (AP) -- The drought is over for Purdue. Vincent Edwards and company finished it off with one big push against Vermont.

Edwards scored 15 of his 21 points in the second half, and the Boilermakers held off the Catamounts 80-70 on Thursday night for their first victory in the NCAA Tournament in five years.

Caleb Swanigan added 16 points, 14 rebounds and four assists for fourth-seeded Purdue (26-7), which lost to Arkansas-Little Rock in double-overtime in the first round last year. It also dropped its tournament opener to Cincinnati in 2015.

"Both of those games just replayed in my head all year, even though we had seasons to play," Edwards said. "I still could replay it almost every last three, four possessions, in each of those games. So to come out here, I just really wanted the win."

It was the first NCAA Tournament victory for the Boilermakers since they beat Saint Mary's in the first round on the same day in 2012. Next up is No. 5 seed Iowa State, which advanced with an 84-73 win against Nevada.

"It feels good but I don't think we want to stop here," said Dakota Mathias, who made three 3-pointers and finished with 13 points. "We play a good opponent the next game, have a quick turnaround, we've got to take care of ourselves and get back at it."

It was Vermont's first loss of 2017. The Catamounts (29-6), the regular-season and tournament champions in the America East, had the nation's longest active win streak at 21 games. But they lost versatile senior Kurt Steidl to a knee injury in the first half and were unable to make up for a huge disadvantage inside against the bigger, stronger Boilermakers.

Anthony Lamb had 20 points and nine rebounds, and Trae Bell-Haynes finished with 15 points, seven boards and six assists.

"We played a really good first half and were able to stay neck-and-neck with them, but in the second half they just made a few more plays and hit a couple of 3s down the stretch and they're a really good team," Catamounts guard Dre Wills said.

With Swanigan and 7-foot-2 center Isaac Haas, Purdue had a sizeable advantage in the paint. But the Catamounts played tough perimeter defense, turning post passes into a risky proposition, and stayed right with the Boilermakers with opportunistic baskets on offense.

But the combination of Edwards and Swanigan was too much to overcome down the stretch. Edwards scored Purdue's first eight points of the second half, helping the Boilermakers open a 45-38 lead.

Every time Vermont made a charge in the second half, Purdue had a response.

"Our guys, you know, answered every one of their runs by either going inside, knocking down 3s, and they were a good team," coach Matt Painter said. "One of the best teams we've faced all year."



Darren Payen made a jumper and Ernie Duncan hit a 3 to get the Catamounts within one before Swanigan responded with a 3 for the Boilermakers. A jumper by Lamb trimmed Purdue's lead to five, but Carsen Edwards and P.J. Thompson each hit a 3 to make it 76-65 with 1:56 remaining.

The Boilermakers finished with a 38-28 rebounding advantage and outscored the Catamounts 42-24 in the paint. They also shot 52 percent from the field.

"It's huge, we got the monkey off our back with two first-round exits the last two years with pretty good teams," said Thompson, who finished with 10 points. "We had a hell of a year this year. The last thing we were going to do is lose in the first round."

BIG PICTURE

Purdue: The Boilermakers had eight turnovers in the first half and two in the second half. If they can take care of the ball the way they did after the break, they will be one tough out with their imposing front line.

UP NEXT

The Boilermakers face the Cyclones in the second round on Saturday.
---
---