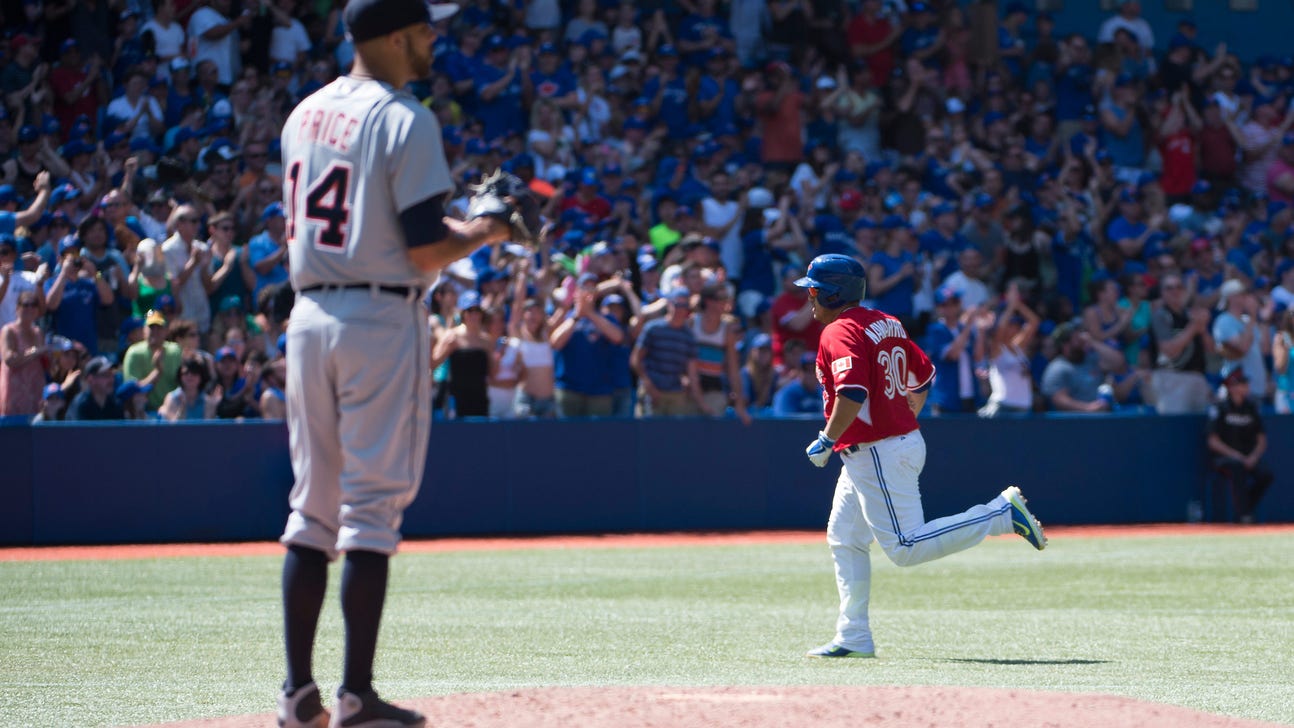 Blue Jays beat Tigers 6-5 in 19-inning marathon
Published
Aug. 10, 2014 8:05 p.m. ET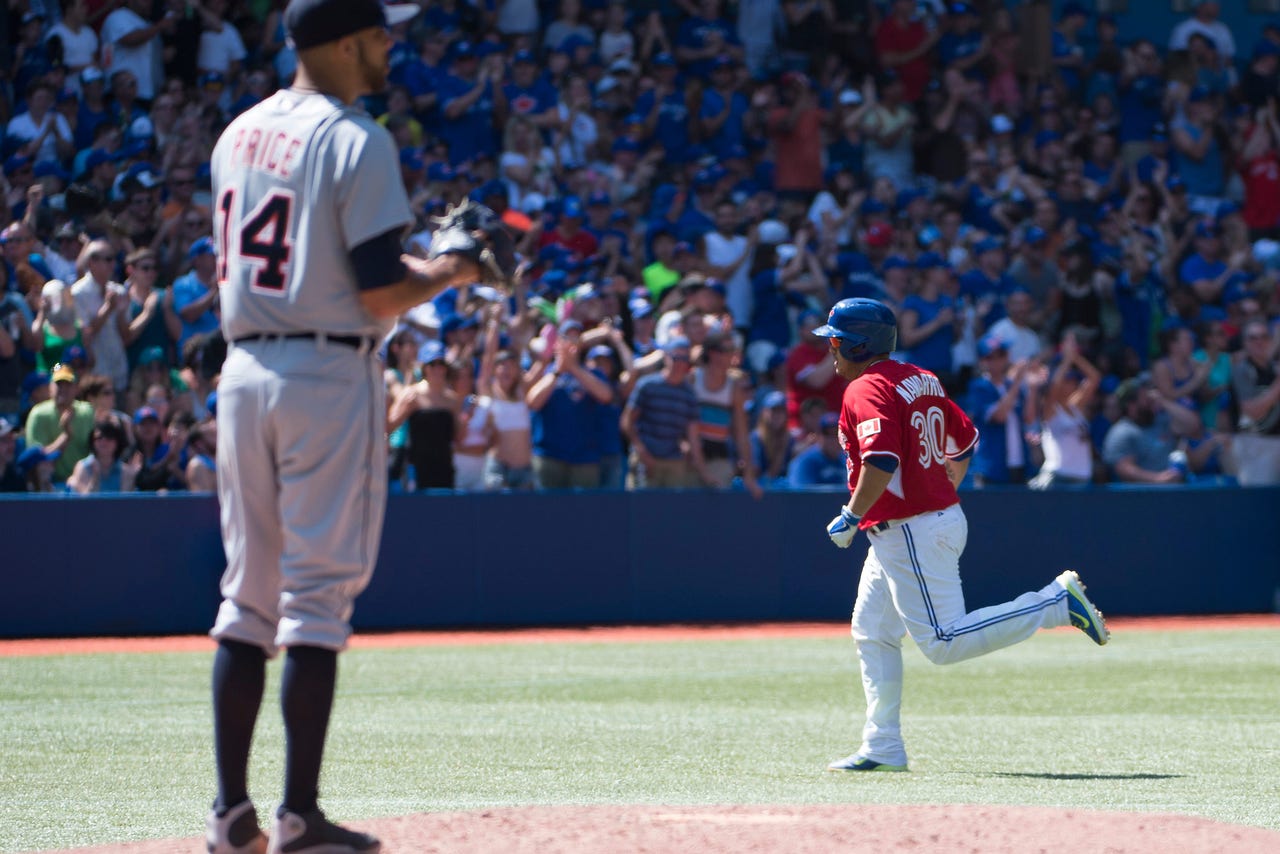 TORONTO (AP) -- They were drained and depleted after Sunday's 19-inning loss, but the Detroit Tigers can't afford to ease up. Their lead atop the AL Central is dwindling fast.
Jose Bautista's single in the 19th inning drove home the winning run as the Toronto Blue Jays rallied from a 5-0 deficit to beat the Tigers 6-5.
Coupled with Kansas City's seventh straight win, a 7-4 victory over San Francisco, Detroit's lead in the division has been shaved to a half-game.
"We're still in first place, that's all that matters," Detroit left-hander David Price said. "It doesn't matter if we win the division by 15 games or if we win it by one game."
The Tigers have gone 2-5 on their current road trip after sweeping Colorado to start August. After using eight pitchers Sunday, and putting two more on the 15-day disabled list, their staff is in rough shape.
"We're going to have to do some shuffling," manager Brad Ausmus acknowledged. "Other than (Justin) Verlander pitching tomorrow, I can't tell you anything."
Munenori Kawasaki singled off Rick Porcello (13-7) to begin the 19th and advanced to third when second baseman Ian Kinsler couldn't field an errant throw from Porcello on Jose Reyes' sacrifice bunt. Cabrera was intentionally walked to load the bases for Bautista, who ended it with a single to right over the drawn-in outfield, sending his teammates streaming out of the dugout in celebration.
Porcello, who threw 110 pitches over seven innings against the Yankees on Thursday, and tossed a 30-pitch bullpen session Saturday, worked two-plus innings out of the bullpen as the Tigers used eight pitchers.
Porcello called the grounds crew out to work on the mound in the 17th because he was struggling with his landing spot on the well-worn dirt.
"The holes were so big," Porcello said. "I couldn't really get any kind of footing, I was falling on every pitch. There was nowhere to move around on the rubber. It was one big crater."
Led by a six-inning stint from Chad Jenkins (1-1), Toronto's bullpen threw 15 2-3 innings of scoreless relief. The Blue Jays also used eight pitchers.
It was the second 19-inning game in as many days. The Los Angeles Angels beat the Boston Red Sox 5-4 on Saturday night. The last time there were two 19-inning games in the same month was July 1985.
Toronto had twice played 18 innings, doing it against the Angels on July 28, 2005, and Texas on June 8, 2013.
At 6:37, it was the longest game by time in Blue Jays history, easily surpassing a 5:57 game against the Yankees on April 19, 2001.
The lights at Rogers Centre were turned on in the 13th inning, fans rose for a 14th-inning stretch and the grounds crew came back out to clean the field for a second time as the marathon game dragged on.
"A lot of things you don't see in everyday baseball seemed to all happen in this game," Tigers reliever Joe Nathan said.
The Tigers, who didn't call up replacements for injured pitchers Anibal Sanchez and Joakim Soria, used everyone except pitchers Max Scherzer and Verlander.
"We didn't think we could get them here," Ausmus said of the decision not to bring in reinforcements from Triple-A Toledo. "Of course, if we knew we had until 7:00 to get them here, maybe we would have."
TRAINER'S ROOM
Right-handers Sanchez (right pectoral strain) and Soria (left oblique) were placed on the 15-day disabled list before the game. Sanchez is expected to miss three to four weeks.
ON DECK:
Detroit begins a two-game series at Pittsburgh on Monday, with Verlander (10-10) facing Pirates left-hander Jeff Locke (3-3). Verlander is 4-0 with a 1.97 ERA in four career starts against Pittsburgh.
EARLY EXIT FOR AUSMUS
Ausmus was ejected by home plate umpire Bill Miller for arguing after the top of the third, his third ejection of the season. "To me, the strike zone was excessive on the outside and inside corner for Buehrle," Ausmus said. "There was a number of them that I felt were too extreme to go unnoticed."
---