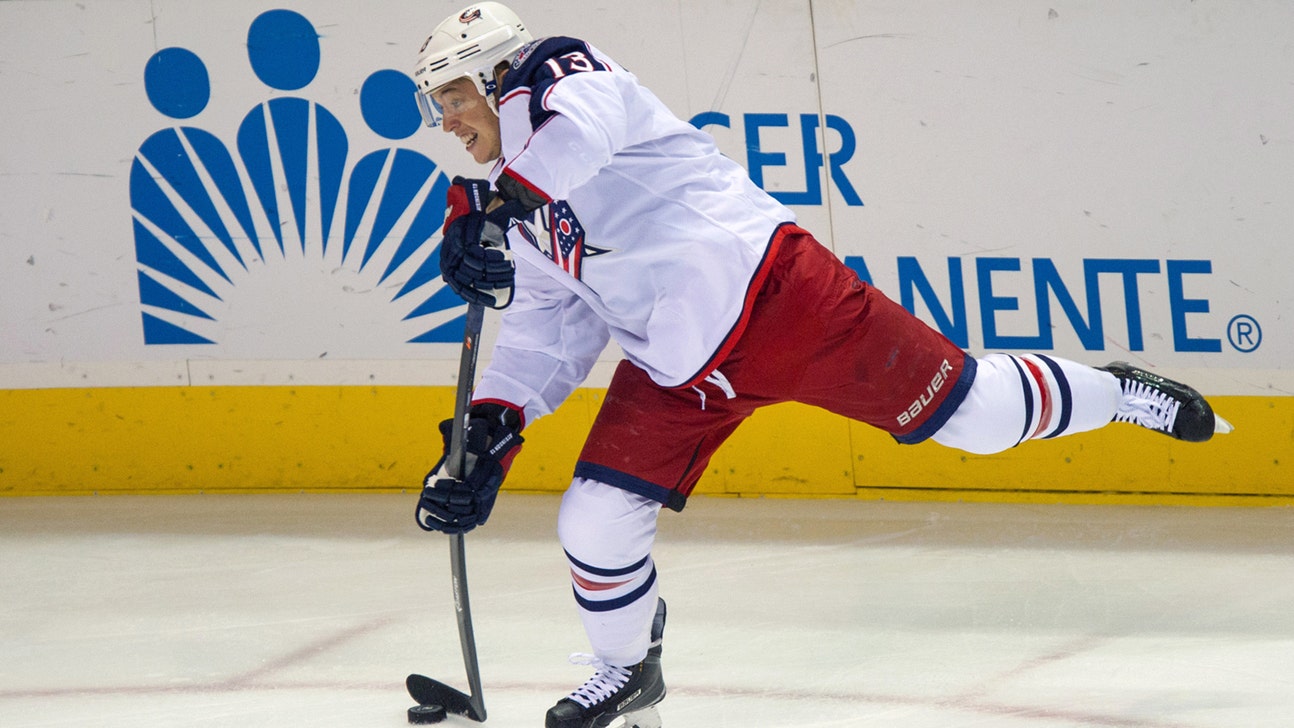 Blue Jackets look to avoid fifth straight loss
Updated
Mar. 4, 2020 5:58 p.m. ET

Injuries are part of the reason why the Columbus Blue Jackets are struggling in nearly every facet during their longest losing streak in a year.
The New Jersey Devils recently ended a dubious stretch of their own.
The Blue Jackets try to overcome the slew of absences and get their offense going as they try to snap a four-game skid Saturday night against the Devils.
Columbus (4-6-0) may again be without as many as eight players, including forwards Nathan Horton (back), Boone Jenner (broken hand), Brandon Dubinsky (abdominal surgery), Matt Calvert (upper body), Artem Anisimov (concussion), Mark Letestu (groin), goalie Sergei Bobrovsky (broken finger) and defenseman James Wisniewski (broken finger).
"For guys being called up and the second, third and fourth lines being jumped around a little bit, it's tough for them," center Ryan Johansen said. "It's not easy adjusting to different players all the time. But we've got to find a way to make it work."
The Blue Jackets didn't Friday, falling 4-1 to Toronto while giving up goals on the only two shots they allowed in the third period as their losing streak reached four games.
Columbus, which has totaled six goals during its skid, hasn't lost five straight since Oct. 27-Nov. 7 of last year.
The injuries could be posing a problem on the penalty kill, which has allowed goals on 6 of 14 chances in four games after successfully killing 15 of 16 through the first six.
Cam Atkinson has a goal in each of the past two games to tie Johansen for the team lead at five. Atkinson had three goals and three assists in four meetings with New Jersey (5-3-2) last season, but only one assist in two visits to Newark.
With Bobrovsky out, Curtis McElhinney could be back in net after making 23 saves Friday. He's 0-2-0 with a 4.49 goals-against average in three games, but has a 1.95 GAA in winning all three of his starts against the Devils.
If McElhinney doesn't start, Anton Forsberg would make his NHL debut. A seventh-round pick in 2011, Forsberg went 1-2-0 with a 2.36 GAA in three games for Springfield of the AHL before being called up this week.
The Devils have won two of their last seven games (5-3-2), but the most recent - their first home win in four attempts on the season - provided a sense of relief. Jacob Josefson converted the only successful shootout attempt in Thursday's 2-1 win over Winnipeg, snapping New Jersey's record 18-game losing streak in the tiebreaker.
"It was our first shootout win in what seems like 10 years," coach Pete DeBoer said. "It was big for us. To say that it lifted a huge weight off my shoulders would be an understatement.
"I knew we were going to win shootouts this year. I'm always trying to instill confidence in this group."
That may be needed if Michael Cammalleri, the team leader with five goals, is out for a second straight game with a jaw injury.
Adam Henrique led the Devils with a career-high 25 goals last season, but he only has three in 2014-15 and none in four games. However, he's scored three times over the past two meetings with Columbus - both at home.
Michael Ryder is also trying to find some consistency in front of the net. The right wing ended an eight-game drought by scoring with 3:27 left and forcing overtime Thursday.
"We need our forwards to step up and finish some chances," DeBoer said.
---