Better shooting, improved team chemistry have spurred Badgers' 12-0 start
Published
Dec. 18, 2013 6:00 a.m. ET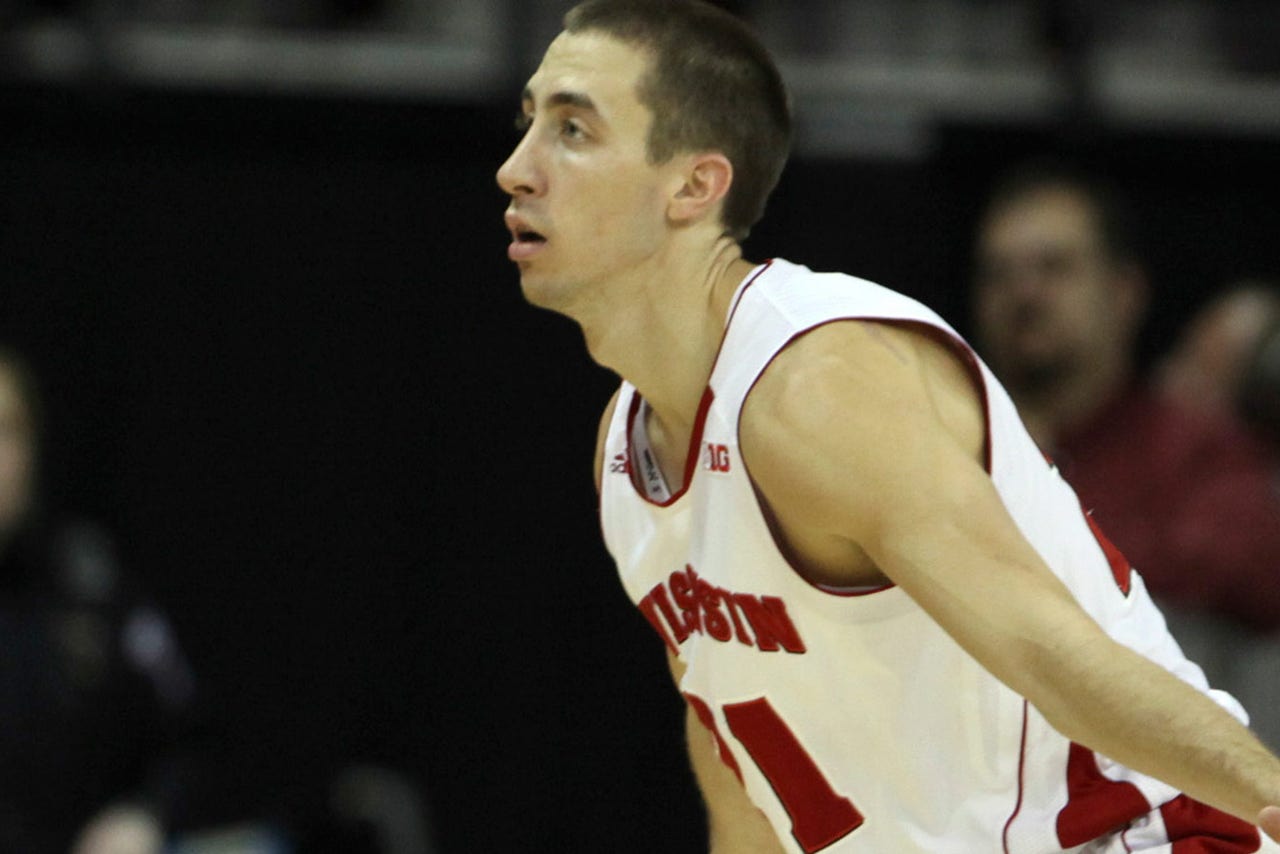 By now, Wisconsin's hot start and rise to a No. 4 ranking has become somewhat of a national story. As the Badgers approach the end of nonconference play, they stand 12-0, which marks the best start in the modern era for the basketball program. Not since the 1915-16 season has Wisconsin begun a year with 12 straight victories.
That fact alone is pretty remarkable considering all the success Bo Ryan has had in his first 12 seasons as coach, which includes Big Ten regular-season and tournament titles, NCAA tournament berths every season and even a No. 1 national ranking back in 2006-07.
So why has this year's team been able to do what no other Badgers team has in nearly a century? Here are five reasons for Wisconsin's 12-0 start: 
Balanced offense
Every starter has led the team in scoring at least once this season, and it's because there really is no weak link on offense for Wisconsin. The Badgers are one of three teams in the Big Ten, along with Michigan State and Penn State, to have four players averaging double figures in scoring. Eight Big Ten teams have three players in double digits, while Nebraska is the lone team with two in double figures.
Although Michigan State and Penn State each have four players in double figures, neither team has a player averaging more than 7.3 points per game after that. Wisconsin, meanwhile, has guard Josh Gasser averaging 9.3 points per game. Up until this past week, he was the fifth starter scoring in double figures, which is almost unheard of these days.
Better shooting
Many people have perhaps incorrectly assumed that Wisconsin is suddenly playing at some breakneck, up-tempo pace. And while the Badgers do occasionally shoot jumpers quicker than what we've become accustomed to, the statistics bear out that this team is simply a better shooting and more efficient bunch.
Wisconsin is averaging 64.3 possessions per game, which ranks 334th out of 349 Division I teams, according to statsheet.com. A year ago, that number was 62.3 possessions per game.
So while Wisconsin is averaging two more possessions, the Badgers also are scoring 9.7 points more per game. UW's 74.7 points per game average is the highest in the Bo Ryan era. Why?
Wisconsin is hitting 40.3 percent of its 3s compared to 33.0 percent last year -- the worst mark in Ryan's tenure -- and 46.9 percent of overall field goal-attempts compared to 42.0 percent. Plus, the Badgers are shooting 73.7 percent on free throws. Last year's team, which featured Ryan Evans' mind-boggling struggles, shot only 63.4 percent from the line.
Wisconsin's 1.16 points-per-possession rank 36th in the country and third in the Big Ten behind Iowa and (1.20) and Michigan (1.19).
Chemistry
There is something to be said for possessing this not-so-easily-defined intangible. And it looks as though Wisconsin has plenty of chemistry, from the upperclassmen all the way down. Badgers forward Sam Dekker was pretty open about that chemistry lacking at times a year ago.
Dekker noted before the season began back in October he didn't feel like he could be himself and speak his mind all the time last season around a veteran-laden team. You don't see the same type of tentativeness from the freshmen this year, and a lot of that has to do with acceptance from the older players. Just watch the way freshman Nigel Hayes joked around with senior Ben Brust after Wisconsin's latest victory, and it's clear to see how well these guys get along.
"We're trying to get every single person better every game, get our chemistry levels up," Dekker said in October. "That might be the main thing this year is our chemistry level. Last year, we didn't have as much of that. There was a little bit of, I wouldn't say angst, but there was a little bit of separation at times on the court. We can't have that this year, and I think we have a group that's OK with that."
Avoiding injuries
This may sound pretty simple, but not every team in America is fortunate enough to keep its key players healthy all season. Just ask last year's Wisconsin team, which lost Josh Gasser for the season to a torn ACL and forward Mike Bruesewitz to both a leg injury and a concussion.
The most notable injury this season came when backup point guard George Marshall sustained a concussion, but his absence actually may have helped Wisconsin. It provided freshman Bronson Koenig with an opening to play, and he has taken advantage of it, averaging 16.2 minutes per game. Marshall has since decided to transfer.
This season, Wisconsin has used the same starting lineup in all 12 games. Last season, eight different players started at least twice.
Toughness and the Josh Gasser effect
Bo Ryan offered what he described as the shortest answer he'd ever given to a question when he was asked to pinpoint why this team demonstrated such grit and toughness following a recent victory against Marquette. His response? Josh Gasser.
Gasser missed last season with a torn ACL but worked tirelessly to earn back his place in the starting lineup. And he has once again become the team's defensive stopper and glue guy. He held Virginia standout Joe Harris to just 1-of-10 shooting during Wisconsin's 48-38 victory against the Cavaliers earlier in the season, and his fire has trickled down to teammates.
"The guys saw what he went through last year," Ryan said on Dec. 7. "And you can't tell me that there's not a guy in that locker room that didn't take notice of the hours and the discipline and all the work that Josh put in. He never missed anything. Was always around. ...
"We've got some other guys out there that have a lot of grit. But I think you have to start somewhere, and that's where it starts."
Dekker described a play against Virginia in which Gasser fought over screens, batted a ball away from an opponent, grabbed the loose ball, got fouled and turned to the Wisconsin bench to pound his chest and celebrate.
"He can turn games around with so many little things like that," Dekker said. "He's a great leader for us. He just brings a toughness and grit to the whole bunch that rubs off on us. What he brings day in and day out, every practice, every game, it makes our team 10 times better just because he's that leader that we can look for to get a big stop or get a big play, just get the crowd into it or get our team into it physically and mentally."
Gasser's shooting ability, which was sorely missing last year, also has been on display. He ranks sixth in the Big Ten in free-throw percentage (85.1) and 12th in 3-point field-goal percentage (41.9). He also is ninth in the conference in minutes played (32.6).
All of his traits have helped Wisconsin win close games against the likes of Florida, Green Bay, Saint Louis, West Virginia, Virginia and Marquette to set up Wisconsin for a favorable seed in the NCAA tournament. But the entire team deserves at least a share of the credit. And Ryan, of course, wouldn't have it any other way.
Follow Jesse Temple on Twitter
---