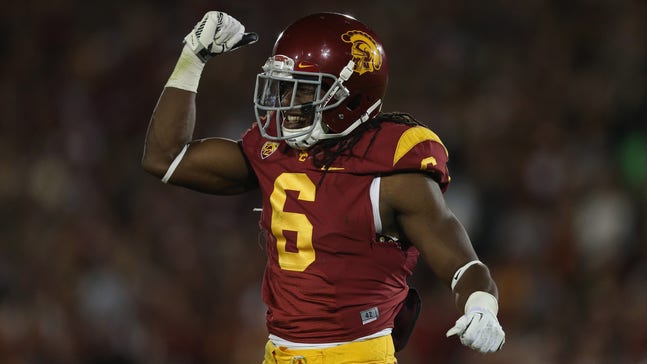 Bengals dig deep, find more to Shaw than lie
Published
May. 2, 2015 9:14 p.m. ET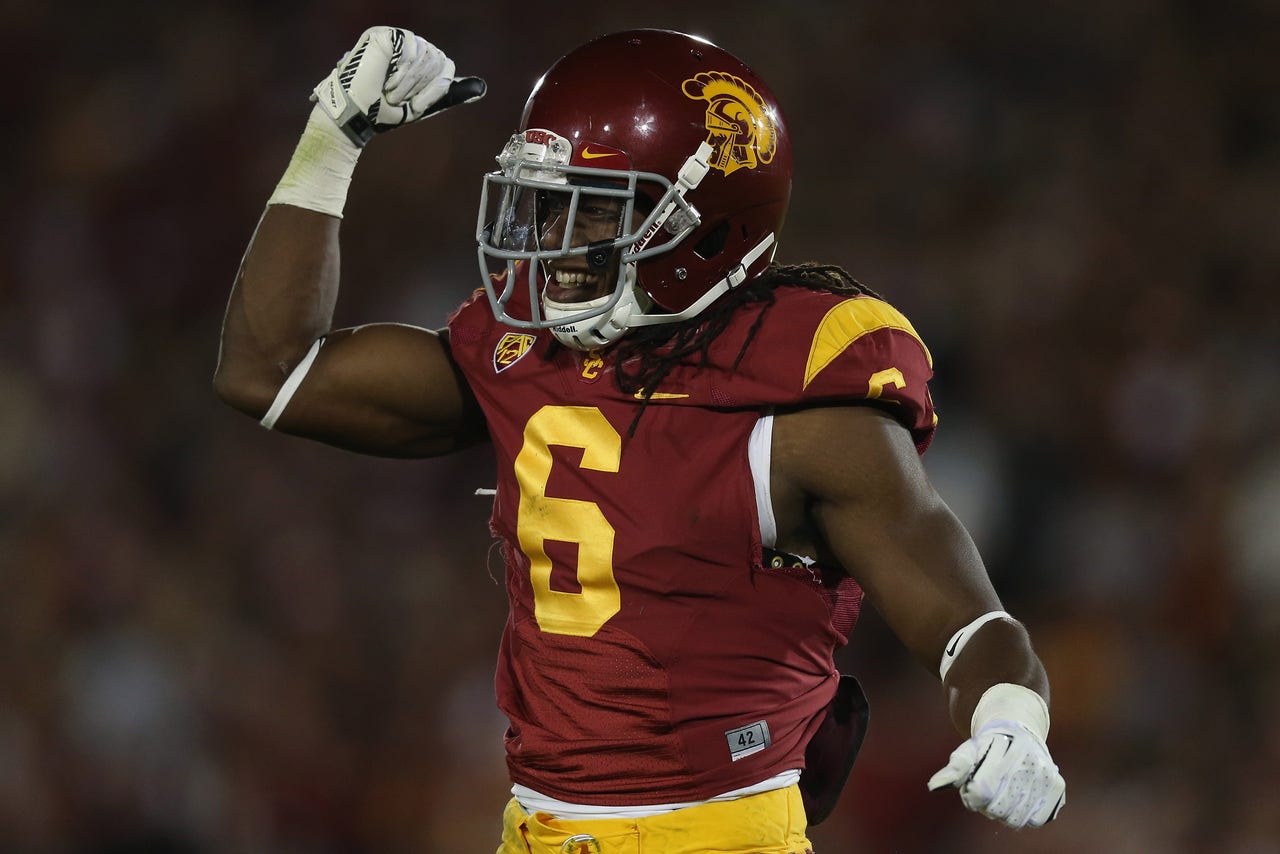 CINCINNATI -- It was a story too good not to be true. Except it wasn't.
Josh Shaw did jump off an apartment balcony two stories high, injuring both of his ankles in the process last August but not for the reason he said. Shaw, who had just been voted a captain on the University of Southern California football team, hadn't jumped to go help his 7-year-old nephew from potentially drowning in a pool. The senior defensive back had instead jumped out of panic following an argument with his girlfriend that drew the attention of a neighbor who ended up calling the police.
One lie led to another and another and pretty soon Josh Shaw was the one drowning.
August has to seem much longer than eight months ago for Shaw.
The Bengals used the first of their two fourth-round draft picks on Saturday to select Shaw. They like that Shaw is a big cornerback (6-feet, 201 pounds), is fast (ran a 4.44 40-yard dash at the scouting combine) and physical at the line of scrimmage. Those are great attributes to have when a defense plays as much man-to-man coverage as the Bengals play.
They didn't like that he lied about something that didn't need to be lied about. Or that he continued with the charade another three days, embarrassing USC officials and coaches as well as his own family who backed him publicly before he finally came clean. The incident that didn't need to happen resulted in Shaw being suspended indefinitely from all team activities. He was eventually allowed to rejoin the Trojans for their final three games but damage had been done to Shaw and his team.
So while every player who heard his name called at some point since Thursday night had a reason to be grateful, Shaw's gratitude was unique.
Trust isn't easy to earn. It's tougher when you burn the people closest to you.
"I was suspended from all team activities, so one thing I did was right after my suspension I went house to house apologizing to my teammates, no matter if they were walk-ons or big-time contributors to the team," said Shaw, speaking on a conference call with Cincinnati media. "I made it a point to go to each and every guy and look them eye to eye and apologize for putting our team in that position."  
Shaw suffered two high ankle sprains from his jump. His reputation took a harder hit.
"He was voted captain the Saturday before the incident," said Bengals defensive backs coach Vance Joseph. "At USC to be voted captain, that's a huge deal for those guys. It's a big ceremony. It's major. It's taken serious. He was voted captain on Saturday, he's off the balcony on Sunday."
The Bengals dug deeper into Shaw's situation. They found more positive than the negative produced by one incident.
This is a California kid who played one season at Florida before being granted a hardship exemption by the NCAA to transfer to USC in order to be closer to his ailing grandfather and help out with the family's landscaping business. The NCAA isn't exactly known for its accommodating side, so the fact that it allowed Shaw's transfer without having to sit out the customary one year says something.
The Bengals saw him play in the Senior Bowl. Joseph went to the USC pro day and watched a lot of tape from the 2013 season. Mark Carrier, who also coaches the defensive backs, is a USC alum with strong contacts at his alma mater. The Bengals brought Shaw in for a final visit within the past two weeks.
Joseph answered the first two questions posed to him Saturday by including how Shaw had graduated in 3 1/2 years.
Big, fast, physical. And smart.
The Bengals saw so much more positive when they looked around the one glaring negative. They didn't dismiss the incident, but they had a better perspective of Shaw.
"His mistake was more maturity than it was his being a bad character guy," said Joseph. "As a bad-character guy, it would have to be multiple incidents that are questionable. He's had one incident in his entire college career. It was a major deal, but (he's) not a bad person. Not a bad person. I've played in this league, I've coached in this league a long time. There's been a lot worse guys drafted and played. If he's a problem, that's a good thing."
Shaw will be entering a secondary competition where he's in the back of the room. There are four corners who were first-round picks ahead of him. His best bet at being part of the 46-man roster on game days will be to prove he can be relied on for special teams. He's going to have to earn the trust of his new teammates and coaches.
It's a lesson he had to learn the hard way last year.
"It's the first time in my life I really hit ground bottom," said Shaw. "For me being able to overcome that with my family, it was definitely hard at times. I know that I'm selected today in the fourth round primarily because of that incident and me lying. The most important thing I learned is to not even put myself in that position and always be truthful."
---