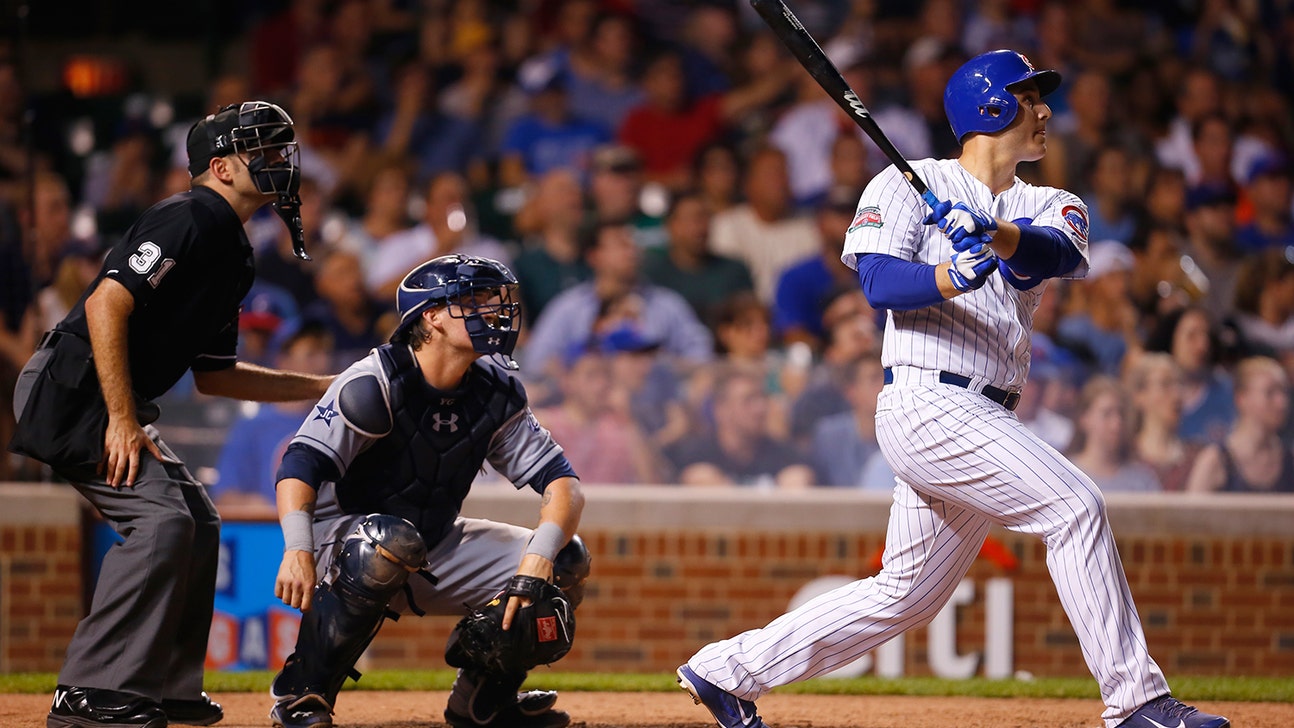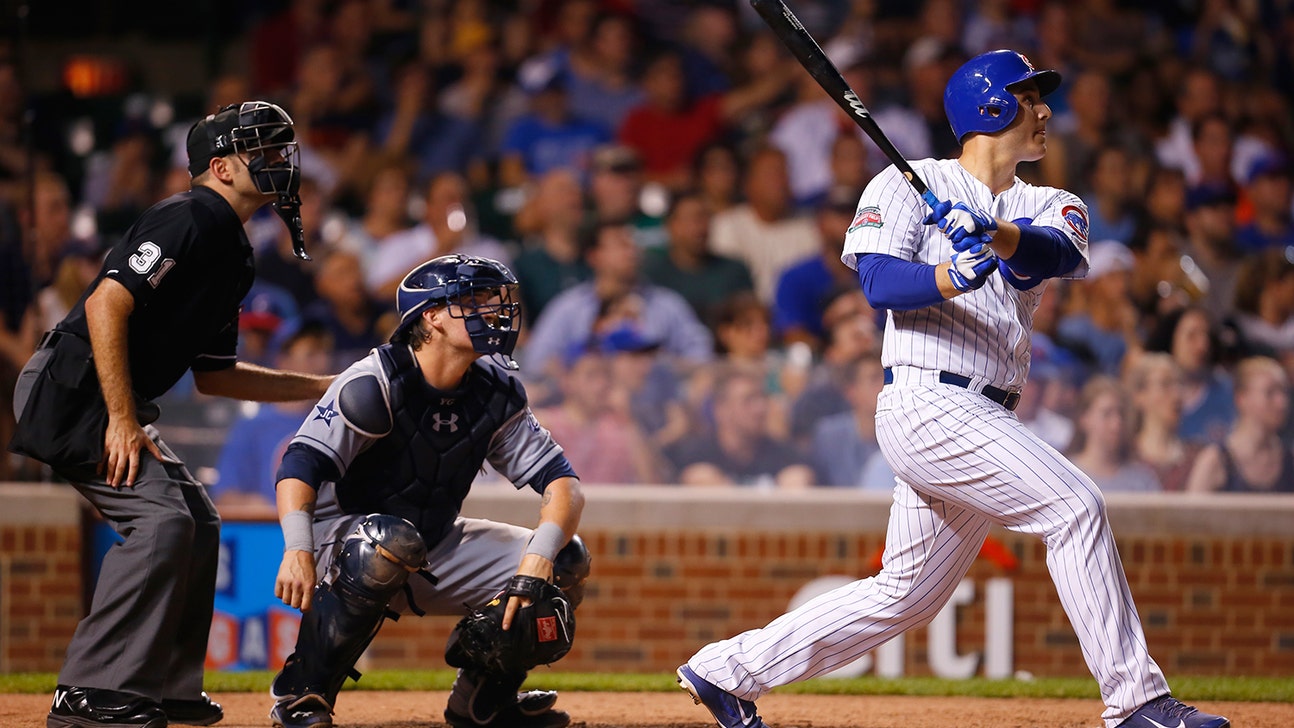 Behind the numbers: Beating spring predictions
Published
Aug. 1, 2014 2:55 p.m. ET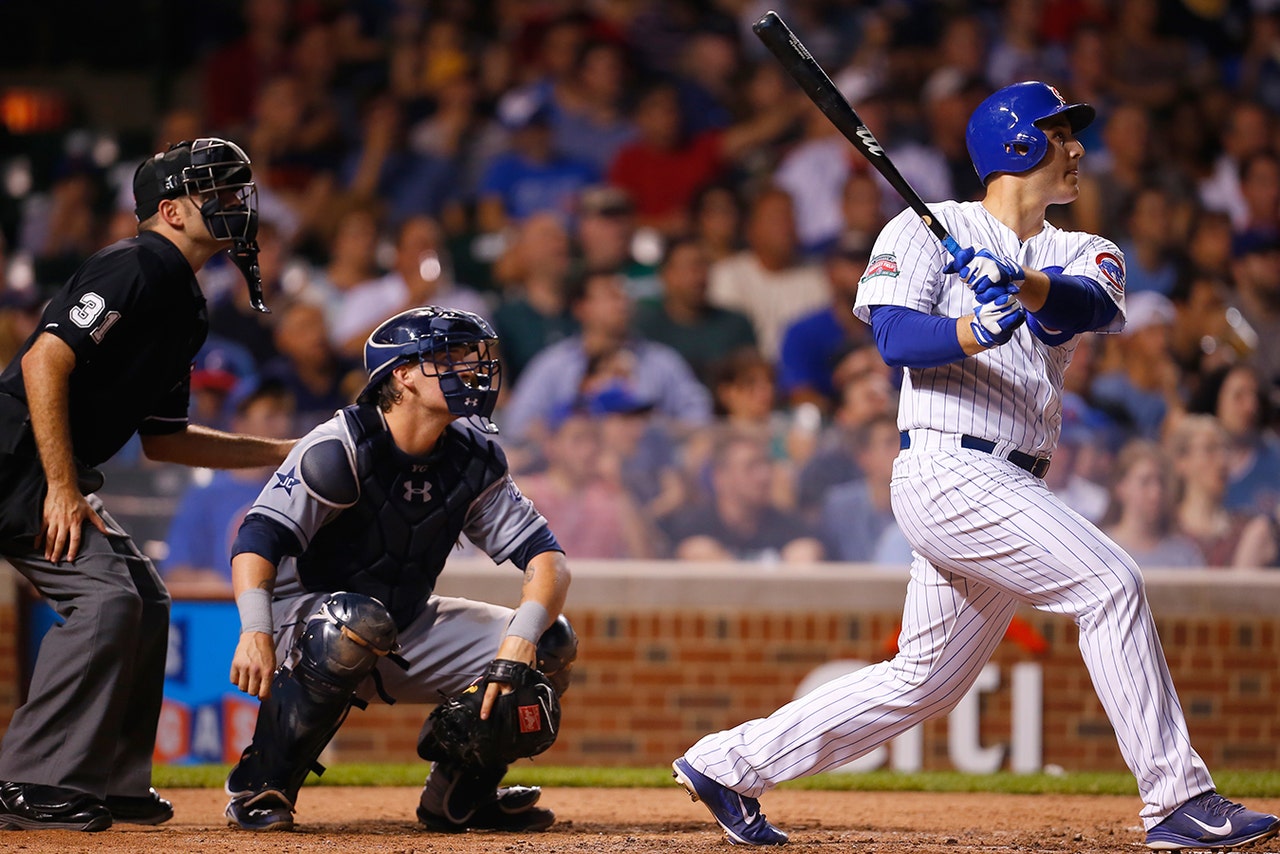 In honor of Wednesday's long-awaited sequel (OK, that may be a stretch), "Sharknado 2: The Second One," we're going to take some space this week to follow up on July 9's Behind the Numbers piece in which I highlighted players who have fallen short of our spring projections.
This week, we'll do the opposite and touch on 10 players (or more if space allows) who, while they may not have come out of nowhere (except you, J.D. Martinez), have exceeded our spring projections. We'll look to determine whether this may be luck, the development of, say, a new pitch, unexpectedly good health or a combination of factors.
J.D. Martinez (OF-DET)
Projection: None
Actual: .317/.352/.587, 13 HR, 44 RBI in 218 AB
I threw $11 in FAAB money Martinez was a few weeks ago, simply hoping to fill a gap in a league in which a total of 90 outfielders are started each week. That was June 23, and at the time, Martinez was batting .310 and working on a 12-game hitting streak. I wish I'd grabbed him a week earlier, but it's hard to complain too much about the production he's provided. Given that we didn't even think Martinez was worth projecting this year, it's safe to say he's one of the biggest surprises. Martinez batted just .250/.272/.378 in 296 at-bats for the Astros last year, but in improving his walk rate from 3.2 to 5.5 percent, notching fewer strikeouts, and hitting more flyballs, the 26 year-old has made himself into much more than a Quad-A type player. Can it last though? A few numbers say no:
.381 BABIP
19.7-percent HR/FB rate
.22 BB/K ratio
Those are all concerning - you'd like to see them more in the range of .300, 10 percent and .50, respectively. I'm willing to believe that he'll continue to hit for above-average power, but expect more in the .275 average range the rest of the way.
Melky Cabrera (OF-TOR)
Projection: .293/.337/.406, 8 HR
Actual: .313/.3632/.487, 14 HR
Cabrera has been on fire since the All-Star break, batting .432 and homering from both sides of the plate in Monday's 14-run Toronto outburst against the Red Sox. Leg injuries limited Cabrera to just 88 games for the Jays last year, but in 2014, he's played in 106 of the team's 107 games, making him one of the better fantasy bargains out there. Cabrera has always made excellent contact, and with an 11.4 K%, 2014 is no exception. His .332 BABIP is slightly above his .315 career mark, but certainly not alarmingly so. Surprisingly, Cabrera continues to hit a lot of balls on the ground (50.3 GB%), but when he does hit them in the air, they become home runs 12.7 percent of the time, a reasonable and sustainable rate. Cabrera is doing a better job this year avoiding swinging at pitches outside the strike zone, which was an issue that appeared to be getting worse the last couple seasons. Cabrera has the tools to hit .300 the rest of the way, and he certainly appears to be on his way to his first 20-homer campaign.
Devin Mesoraco (C-CIN)
Projection: .258/.324/.415, 12 HR, 49 RBI
Actual: .295/.366/.585, 17 HR, 49 RBI
After back-to-back sub-standard seasons saw his star dim significantly, Mesoraco emerged as an All-Star this season. A .340 BABIP for a catcher likely isn't sustainable, but Mesoraco should have no trouble hitting .270-.280 with well above-average power. He's actually sacrificed some contact ability for the power, as his strikeout rate has risen to 24.4 percnt this year compared to 17.3 percent a year ago. Mesoraco's walk rate is up slightly to 7.6 percent. Mesoraco has more than doubled his HR/FB rate this year to 22.4 percent while hitting drastically fewer balls on the ground compare to 2013 - 32.7 GB% vs. 45.1. It's interesting to see that his swinging strike rate has gone up dramatically to 14.5 percent compared to his previous sub-10 percent levels, suggesting an "all-or-nothing" approach that is working now, but may cause batting average issues down the road. Mesoraco has tailed off a little recently, batting just .261/.337/.477 in the last 30 days, so perhaps the drop will be steeper than we think. His floor the rest of the way is probably .250 with another six homers, but he should be able to do a bit better.
Brett Gardner (OF-NYY)
Projection: .270/.351/.395, 7 HR, 36 SB
Actual: .276/.352/.437, 12 HR, 17 SB
That Gardner is batting .276 with 17 steals is of little surprise, but the steals are actually a bit fewer than we forecasted. Gardner swiped just 24 last year, but with 49 in 2012, we figured somewhere in the middle was a good bet. Fortunately, however, Gardner has made up for the lack of swipes with surprising power. After homering twice against Yu Darvish and the Rangers Monday, Gardner already has 12 long balls this season. He's turned some of last year's 33 doubles into homers, given he has just 13 doubles this season, but we're not complaining. For his career, just 6.4 percent of Gardner's flyballs have gone over the wall, but this year he has that number up over league average (usually around 11 percent) to 13.3 percent. Best guess at the end of the year: .275, 17 HR, 25 SB. Regarding the steals, Gardner turns 31 next month, so he's highly unlikely to push 50 steals again in his career, but 15 homers and 20-25 steals? We'll take it.
Anthony Rizzo (1B-CHC)
Projection: .260/.342/.469, 27 HR
Actual: .283/.388/.525, 25 HR
After a disappointing .742 OPS in his first full season a year ago, the 24-year-old Rizzo has officially fulfilled the expectations we had of him back in his days in the Padres organization. Rizzo has homered nine times in the last 30 days, and his 25 long balls leads the National League. There are a few numbers that really stand out this year versus 2013:
BABIP: .304 vs .259 - Better luck on balls in play always helps
LD%: 23.4 vs. 19.6 - He's hitting the ball harder
HR/FB%: 21.9 vs. 12.6 - Elite power hitters CAN sustain rates greater than 20 percent
Splits: .312/.409/.570 against LHP vs. .189/.283/.342 - He's a plus vs. LHP rather than a liability
Talk about the numbers trending in the right directions. Rizzo strikes out in 18.5 percent of his at-bats and walks in 12.5 percent, both reasonable numbers, particularly for a power hitter. For a guy who posted OPS numbers of 1.056 and 1.101 in his last two minor league stops (2011/2012), this is the type of performance for which we were looking. The Cubs are, of course, ridiculously-loaded with high-ceiling position prospects led by Kris Bryant, but Rizzo will anchor their 2016 lineup.
Corey Dickerson (OF-COL)
Projection: .275/.324/.480, 8 HR, 5 SB
Actual: .328/.393/.585, 13 HR, 8 SB
We could easily write about Drew Stubbs and Charlie Blackmon here as well, as the entire Rockies outfield, save the injured Carlos Gonzalez, has exceeded expectations. Let's give Dickerson a look, though. The 24-year-old showed pretty good power last year in his first taste of big-league ball with an impressive 23 of his 51 hits going for extra bases. That's a 45.0 XBH%, a mark that's sitting at a still-solid 41.0 percent this year. So now we know that he has power, how do we explain the 63-point batting average increase over last year? A couple items stand out:
BABIP - .386 vs. 2013's .311
BB% - 9.6 vs. 7.5
LD% - 29.3
Dickerson's line-drive rate ranks behind only Freddie Freeman's 30.7 percent for tops in the game. A .386 BABIP is likely not sustainable, but with that sort of line-drive rate, a mark well above .300 is certainly possible. Unfortunately, Dickerson is batting just .227 versus LHP, so he may be a platoon guy the rest of the way, but given that the right-handed hitting Brandon Barnes is batting just .214 against southpaws, perhaps Dickerson has a shot at everyday playing time. That's probably unlikely given Gonzalez is back and Stubbs is also playing well, but Dickerson should continue to have plenty of deeper league value.
Tyson Ross (SP-SD)
Projection: 4.11 ERA, 1.34 WHIP, 7.6 K/9, 3.6 BB/9
Actual: 2.65 ERA, 1.16 WHIP, 9.0 K/9, 3.0 BB/9
I suppose we should have seen this coming last year. After bouncing around between Triple-A, the disabled list and the bullpen, Ross joined the Padres rotation permanently in July last year. After posting a 2.93 ERA in 13 starts to finish the year, Ross was in the rotation from day one this year, and he's only getting better. Ross has allowed two or fewer runs in each of his last seven starts to lower his ERA to 2.65. Generating nearly three ground balls per fly ball with solid control and in a great pitcher's park has done wonders for Ross' career, and every time I see him pitch, I walk away impressed. His command will vary from time to time, but Ross should be a rotation cornerstone for years to come, at least until he either gets hurt or prices himself out of the Padres' budget.
Jake Odorizzi (SP-TB)
Projection: 3.53 ERA, 1.22 WHIP, 8.0 K/9, 2.9 BB/9
Actual: 3.80 ERA, 1.28 WHIP, 10.2 K/9, 3.3 BB/9
Odorizzi has actually underperformed a majority of our projections, but those strikeouts ... The Ks give Odorizzi a 3.46 FIP, and he's already made more starts this year than we projected he'd make all year. Odorizzi's 45.1 FB% is a bit high, leaving him susceptible to the long ball, and with a 90.6 mph average fastball, the strikeout rate is a bit surprising and may not be sustainable long term. That said, as a member of the Royals organization, Odorizzi was a highly-rated prospect after posting a 2.93 Triple-A ERA at age 22. I just have a hard time buying the strikeout rate given his past performance, but as a solid No. 4 starter, teams could do a lot worse.
Sonny Gray (SP-OAK)
Projection: 3.52 ERA, 1.25 WHIP, 7.5 K/9, 3.2 BB/9
Actual: 2.65 ERA, 1.18 WHIP, 7.8 K/9, 3.2 BB/9
I can see Gray as a legitimate No. 1 starter on a contending team, but he's not quite there just yet. Still, he's won each of his last five starts while allowing a total of five runs, so perhaps he's well on his way to ace status. Gray, a 2011 first-round pick, has actually seen his ratios regress compared to last year's 64 big-league innings, as his 2013 K/9 sat at 9.4 with a 2.8 BB/9, but he's still just 24, and lately seems to really be coming into his own. Gray averages a tick over 93 mph with his fastball, and with an improved GB% (54.7), he looks to have everything going for him. I would look for continued improvement and potential Cy Young numbers as early as 2015.
Jake Arrieta (SP-CHC)
Projection: 4.31 ERA, 1.24 WHIP, 7.7 K/9, 3.6 BB/9
Actual: 2.18 ERA, 1.01 WHIP, 9.8 K/9, 2.6 BB/9
Arrieta has now tossed nine straight quality starts, driving his ERA down into Clayton Kershaw territory at 2.15 in 15 starts. Arrieta missed the first month of the season with shoulder tightness, but he's been one of the better pitchers in the game since returning on May 4. Arrieta, who had a 5.23 ERA in 409.2 career innings prior to this year, was a pretty well-regarded Orioles prospect a few years ago, but it seems NL Central pitching agrees with him a bit more than did the AL East. 
It's probably safe to say at this point that 2013 is an outlier, but if the Cubs decide to trade Arrieta and he winds up back in the American League, you'd have treat his chances with a healthy dose of skepticism. In the National League however, while he may be pitching a bit over his head, if he can continue to do a good job keeping the ball in the park, the success should very well continue.
Dellin Betances (RP-NYY)
Projection: None
Actual: 1.43 ERA, 15 holes, 3 saves, 93 strikeouts
David Robertson has 26 saves and a 15.2 K/9, so he's well on his way to being Mariano Rivera's successor. There appears to be little chance that the Yankees won't lock Robertson up to a huge contract extension shortly, but in the event talks break down, Betances represents a pretty good Plan B. After struggling through some injuries in recent years, Betances made the move to the bullpen full-time in Triple-A last year, and that seems unlikely to change any time soon. Now fully healthy, Betances is averaging a robust 96.2 mph with his fastball and hitters overall are slashing a paltry .129/.209/.200 against him. Betances' control has been an issue in past minor league seasons, but if he can continue to improve in that area and further develop what already is a very good slide, he has top-five closer upside.
Regan is a five-time Fantasy Sports Writers Association award winner.
Get a FREE RotoWire 10-day trial (no credit card required) at RotoWire.com
---