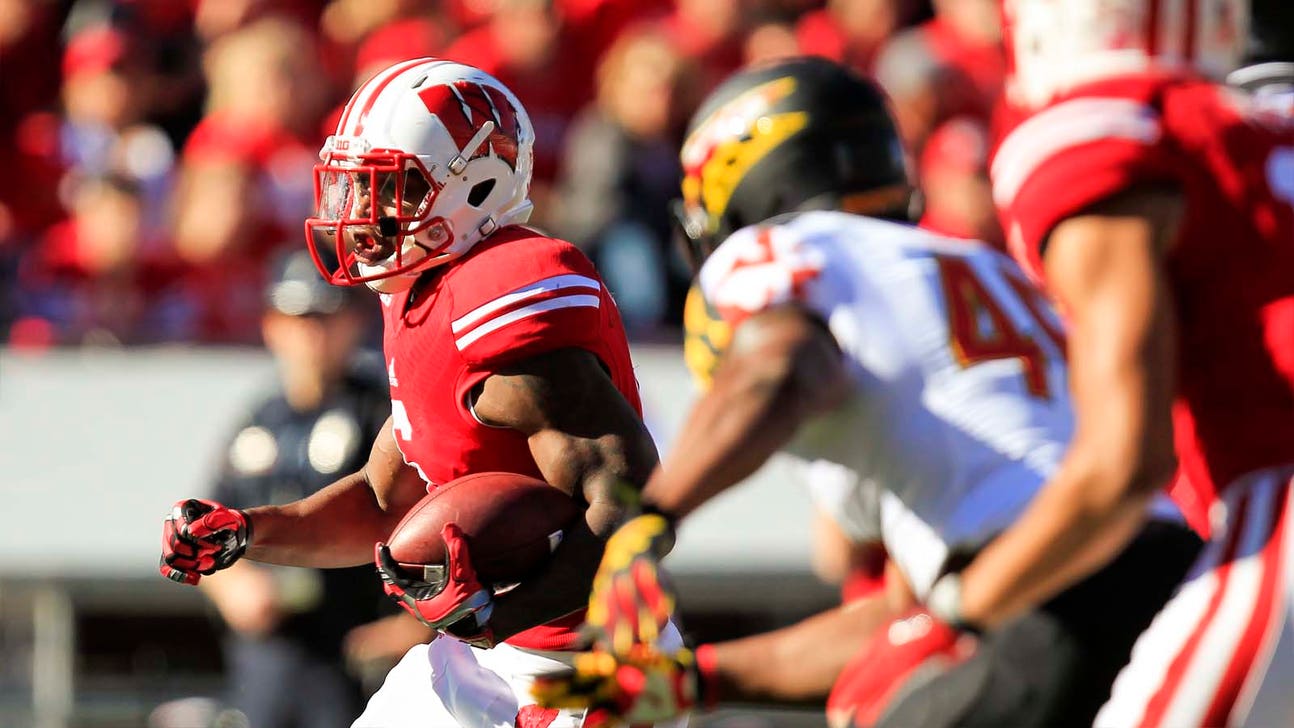 Badgers report card: Overall dominance against Terrapins
Published
Oct. 26, 2014 3:15 p.m. ET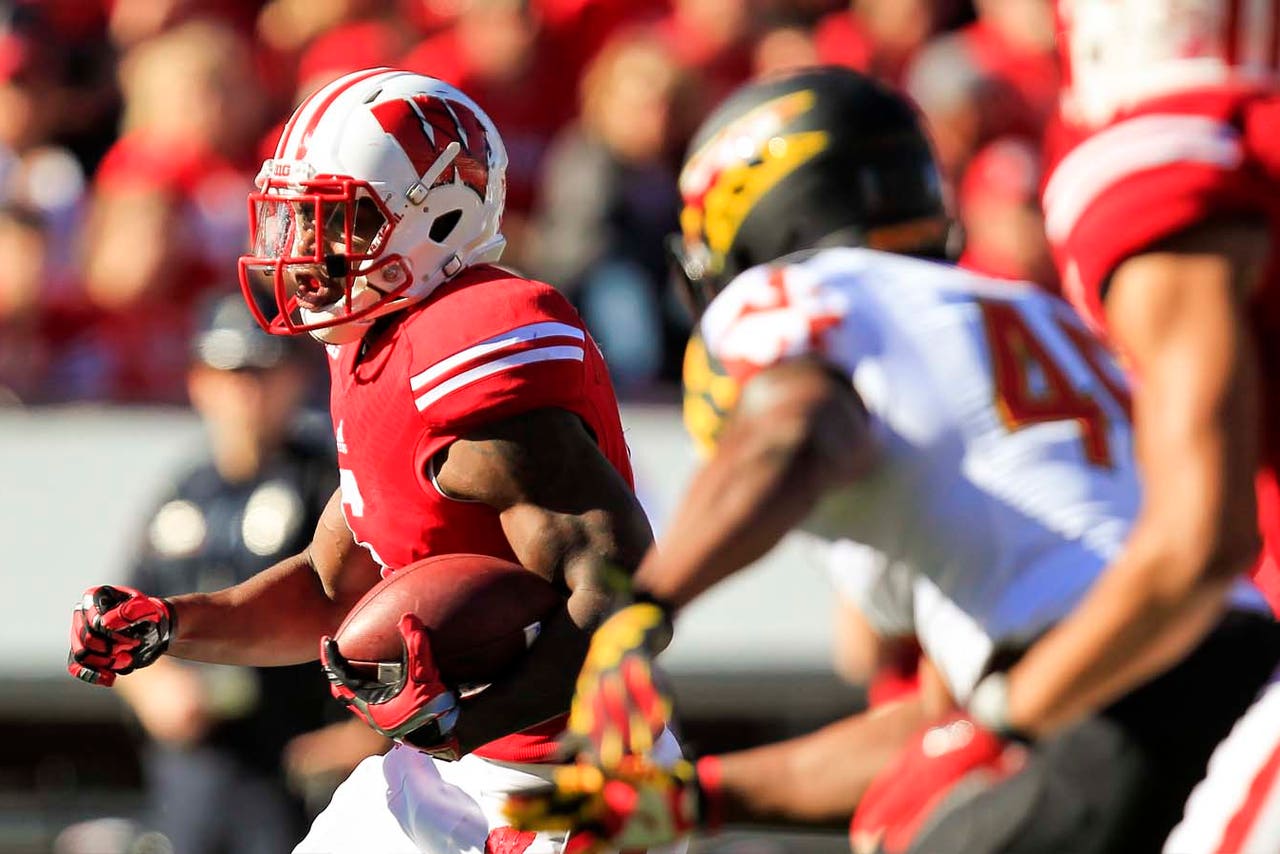 During Wisconsin's 52-7 destruction of Maryland on Saturday, fans had the opportunity to see a little bit of everything.
Quarterback Joel Stave delivered the on-target play-action passes most remember from seasons past, quarterback Tanner McEvoy dazzled by showcasing his rushing ability, running back Melvin Gordon continued his Heisman Trophy push, the defense owned Maryland in every phase, and the special teams included a couple of zany trick plays.
All in all, it was about as good of a day as Wisconsin fans could've hoped for against a Maryland team many thought was much, much better. And the grades in this weekly report card reflect Wisconsin's dominance.
Let's get to it.
High marks for Wisconsin here because the Badgers finally showed they're capable of hitting a couple deep play-action passes to keep the defense honest. That may not sound too thrilling to teams like Baylor, TCU and West Virginia, but it's a big deal around these parts on a team that must take advantage of the few long passes it attempts each game.
Joel Stave wasted little time in this area by hitting receiver Alex Erickson for a 43-yard gain off a play-action pass on Wisconsin's third offensive play of the game. Tailback Melvin Gordon immediately followed with a 6-yard touchdown run to set the tone early. Stave threw an even more beautiful ball when he found Erickson in the third quarter for a 47-yard touchdown on a deep post route over the middle, fitting the pass between two Maryland cornerbacks.
We all know this season has been the most trying of Stave's career, but he looked more comfortable Saturday than at any point in the year. He completed 9 of 15 passes for 155 yards with two touchdowns and no interceptions. It marked his most passing yards since throwing for 339 against Penn State in the regular-season finale last year.
Tanner McEvoy, meanwhile, was pretty effective in the passing game as well in Wisconsin's two-quarterback system. McEvoy was not asked to throw the deep play-actions that have troubled him this season. He completed 5 of 7 passes for 44 yards.
Add in punter Drew Meyer's thrilling 17-yard pass to tight end Troy Fumagalli on a brilliantly executed fake, and it was an all-around great day for the passing game. A season-high nine different Badgers caught a pass on Saturday.
Watching Wisconsin rush for more than 300 yards as a team has become a thing of routine, but that shouldn't take away from the astounding nature of such performances. Once again, the Badgers dominated on the ground, amassing 311 yards against the Terrapins.
As usual, Melvin Gordon led the way, carrying 22 times for 122 yards with three touchdowns. The scores came on rushes of 6, 1 and 3 yards, which lowered Gordon's average yards-per-carry (he finished at 5.5 per touch). But that hardly matters to Gordon, who has a knack for finishing near the goal line.
"You've got to turn it up," Gordon said. "In the red zone, especially at the goal line, everything is moving a lot faster. Mentally, you've got to be sharper with your decisions. In practice, too, when we get to the goal line, I really try to focus in and lock in and just really zone in on my reads. If I do it in practice, I do it in a game and it shows up."
Backup tailback Corey Clement also produced a nice game, rushing 15 times for 90 yards and scoring a 3-yard touchdown to put Wisconsin up 52-0 in the fourth quarter. With Tanner McEvoy earning more repetitions Saturday, the running game proved even more potent. McEvoy carried four times for 84 yards, which included a sensational 60-yard touchdown.
Gordon said he was surprised at the ease with which Wisconsin ran the ball against a quality opponent such as Maryland. He also pointed to last week's Maryland-Iowa game as the root of the Terrapins' struggles. Maryland battled through the fourth quarter to squeeze out a 38-31 victory.
"I didn't think it would be like this," Gordon said. "I kind of thought the game against Iowa kind of wore them down or something. It had to be. The team I saw on film, those guys were getting after it. I think honestly the Iowa game, they kind of wore them down. They play the same style as us. Wear and tear. First year in the Big Ten, playing a physical team like that, so I think that took a toll on them."
Wisconsin's rushing offense now ranks second in the country at 338.4 yards per game, behind Navy -- a team that runs the triple-option and carries nearly 10 times more per game than Wisconsin.
No team possesses a better passing defense in the Big Ten than Wisconsin, and Saturday showed why the Badgers are so stout. Terrapins quarterback C.J. Brown hardly had room to breathe, and he completed 13 of 29 passes for 129 yards with one touchdown and no interceptions. He also was sacked twice.
The only reason Brown even threw a touchdown pass is because Maryland coach Randy Edsall kept his starters in the game in the fourth quarter against Wisconsin's reserves to try and avoid being shut out at Camp Randall Stadium. Brown then found receiver Stefon Diggs for a 21-yard touchdown in the right side of the end zone.
Diggs entered the day leading Maryland in receptions, yards and touchdown catches. But outside of the final touchdown, he was a non-factor. Diggs appeared to sustain a head injury of some sort when he fell backwards while trying to make a catch earlier in the game. But he returned and couldn't get untracked.
"If we could play like that every week, that would be wonderful," Badgers coach Gary Andersen said. "They just really executed at a very high level. I'm proud of them. That's what we want to be."
How good was Wisconsin's run defense on Saturday? Pretty darn good. About as good as you'll see, in fact, against a Big Ten team.
Maryland carried the ball 28 times and gained a total of 46 yards. That's a yards-per-carry average of just 1.6. Maryland's longest run all day came from quarterback C.J. Brown and went for 11 yards. On the flip side, five different Wisconsin players had a run of more than 11 yards on Saturday.
Brown was Maryland's leading rusher in carries, yardage and touchdowns entering the day. He finished Saturday's game with 13 carries for 14 yards. Pretty impressive from Wisconsin's run defense. The Badgers recorded seven tackles for a loss and also recovered a fumble that led to a Melvin Gordon touchdown.
"We knew we could be this type of defense," linebacker Marcus Trotter said. "We're working towards that. We're not there yet. But we're close."
A punter throwing a pass? A quarterback kicking a punt? Saturday's game seemed to have a little bit of everything for Wisconsin, and those two plays in particular stood out during the Badgers' blowout.
First came punter Drew Meyer's 17-yards pass to Troy Fumagalli that kept a drive alive in the first quarter and led to a field goal. Wisconsin faced a fourth-and-nine at the Maryland 36, and Meyer handled the snap and began running toward the line of scrimmage. Before crossing, he leaped to pass on top of the defense and found Fumagalli over the middle. Meyer also punted four times and pinned the Terrapins inside the 20 on three occasions.
Later, third-string quarterback Bart Houston boomed a low, rugby-style line drive punt that traveled 52 yards. At the time, Wisconsin led 24-0 in the second quarter and faced a fourth-and-15 from its own 13-yard line. Houston had worked on the play for only about a week in practice but showed his athleticism and very well could be used in similar situations this season, Andersen said.
At kicker, freshman Rafael Gaglianone made his only field goal attempt of 36 yards and buried all seven of his extra-point tries.
The only negative in special teams was a fumble by kick return man Kenzel Doe, who has struggled in that area during his career. Doe muffed a punt with Wisconsin ahead 31-0 in the third quarter that was recovered by teammate Derrick Tindal.
Wisconsin's offense came to life in both phases, the defense completely dominated, and we even saw some fun special teams plays during Saturday's route. What's not to like?
Without a doubt, Saturday's game represented the Badgers' most complete team effort. And with five regular-season games remaining, it should give fans hope that this team can put everything together and make a serious run at a Big Ten West division title. Five more games like that, and the Badgers will be ready for a Dec. 6 matchup in the conference championship game in Indianapolis.
Follow Jesse Temple on Twitter
---