Badgers' Marcus Trotter taking full advantage of final collegiate campaign
September 10, 2014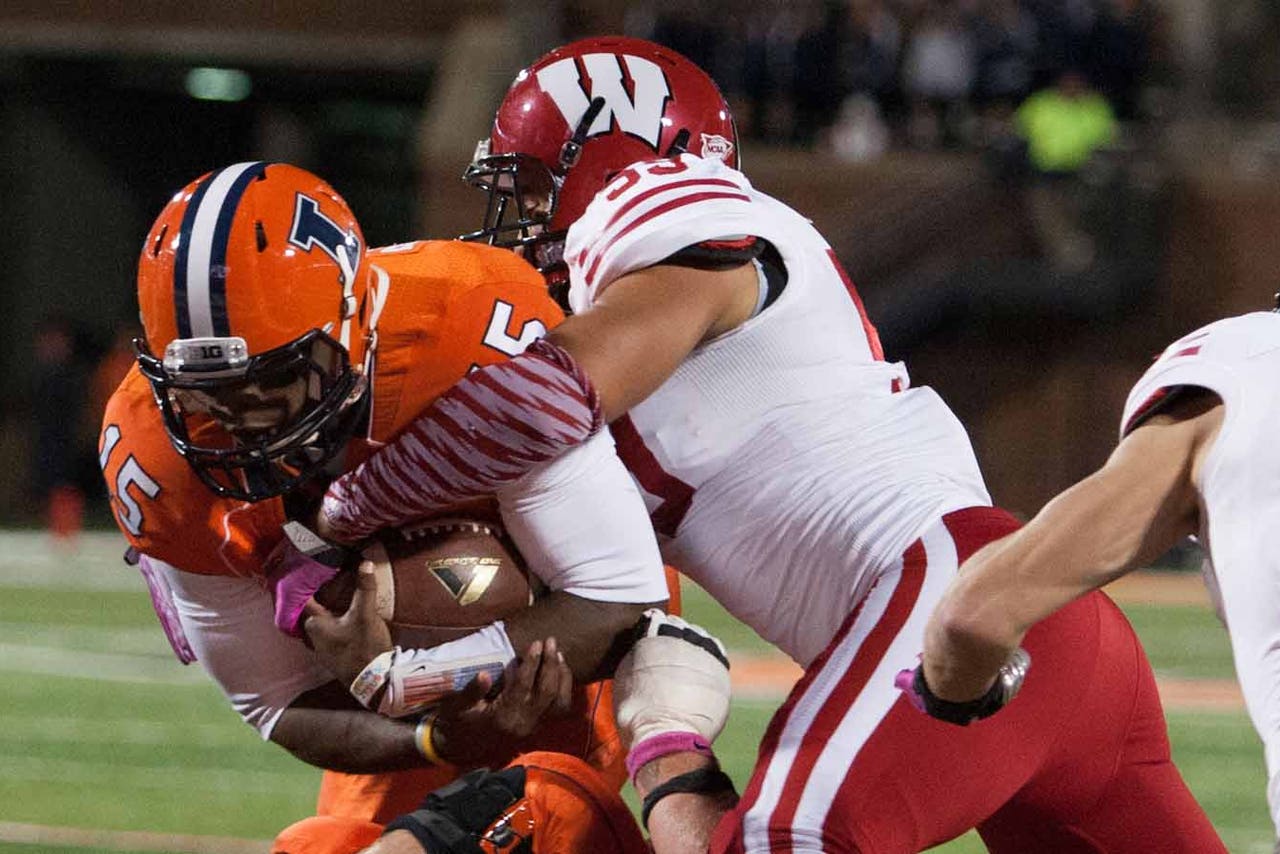 MADISON, Wis. -- Perhaps you have heard that Marcus Trotter is not the most athletic linebacker this side of the Mississippi River. Maybe, as a Wisconsin football fan, you have said as much some time over the past five seasons.
Trotter himself has dealt with such a stigma since his high school days, when few college coaches expressed an interest in his playing ability -- and the ones that did preferred that he play fullback instead.
Well, Trotter always did want to be a linebacker. And nobody was going to deny him of such an opportunity. As he plays through his final season at Wisconsin all these years later, he also has proven to himself that he made the right decision. That's because, through two games, Trotter is the team's leading tackler with 18 total tackles. He also ranks second in tackles for a loss (2.5), has half of a sack and a quarterback hurry.
Not bad for a player whose best scholarship offer out of high school was to Western Michigan.
"Obviously, I'm not the fastest linebacker, but I think I've gained some speed to tell you the truth," Trotter said. "I really focus on the mental side of the game. I'm really good at picking up offensive tendencies, and I use that to my advantage because I might not be the fastest guy but I feel like I can get there faster than anyone because I know what they're probably going to be doing."
Trotter is yet another story of an in-state kid joining Wisconsin's program as a walk-on and transforming into a reliable starting scholarship player. He said his motivation has come, in part, to show that he is every bit as good as his twin brother, Michael, who came to Wisconsin on scholarship. Marcus said many coaches tried to persuade him to play for them as a package deal when they really only wanted Michael.
"Not that many schools were recruiting me," Trotter said. "Indiana gave me a scholarship, but it was purely just because they wanted Michael to come. Literally. I had a huge chip on my shoulder. I'm really happy that happened because I walked in here as a freshman with a huge chip on my shoulder. I feel that's the reason why I progressed as I have because I just had such a fire in me to prove people wrong."
When Marcus arrived at Wisconsin, he had to convince former coach Bret Bielema to let him play linebacker instead of fullback. Starting fullback Bradie Ewing was nearing the end of his Badgers career, and the team needed a replacement. By the end of his first semester in the program, however, Marcus had shown enough to stay on the defensive side of the ball. And he has steadily improved to the point that he is now one of the team's starting inside linebackers alongside Derek Landisch.
The two have the tall task of replacing Chris Borland and Conor O'Neill, but they each have brought enough intelligence to the position to make up for their deficiencies.
"Definitely playing next to Marcus is great because we talk things out," Landisch said. "We see formations while we're in our stances, and we're talking plays out. That's definitely something that I'd say helps both of us. We're always on the same page. Just growing up with Marcus coming through the ranks ever since I was a freshman, we've played with each other all those spring balls, all the fall camps. Having that continuity has definitely helped us."
Both players are a key reason Wisconsin ranks No. 18 nationally in total defense through two games (263.5 yards), No. 25 in rushing defense (90.0 yards per game) and No. 29 in scoring defense (15.5 points per game).
Trotter, in particular, has made the necessary leap to replace Borland, who was one of the great linebackers in program history. Before this season, Trotter had appeared in only 14 games, but his preparation left him in good position for a new role.
"I've waited a very, very long time for this opportunity," said Trotter, a fifth-year senior. "I've always thought I could get a lead role and produce the way I have been. I feel like the same plays I make on the field are the same plays I make in practice."
One of the reasons Trotter has been able to make so many plays this season is his slimmed-down physique, he said. At times in his college career, Trotter was up to 240 pounds, but he is now playing at about 225.
In defensive coordinator Dave Aranda's 3-4 defense, players slimmed down during the offseason to gain speed. And Trotter noted a specific play during Saturday's Western Illinois game in which he caught a wide receiver during the fourth quarter on a sweep play.
"I feel like if I was that slow I wouldn't have been able to do that," Trotter said.
Indeed, Trotter has shown he is plenty capable at the linebacker position. He may not blaze a 4.5 40-yard dash, but that has hardly mattered in the Badgers' scheme, where he has excelled because of his smarts.
"When it's time to play and when you put the pads on, Marcus is fine with his speed," Landisch said. "There's a difference between NFL Combine speed and game speed. And another thing is when you know a team's tendency, that also makes you faster because you know what's going to happen before it even happens."
Follow Jesse Temple on Twitter
---