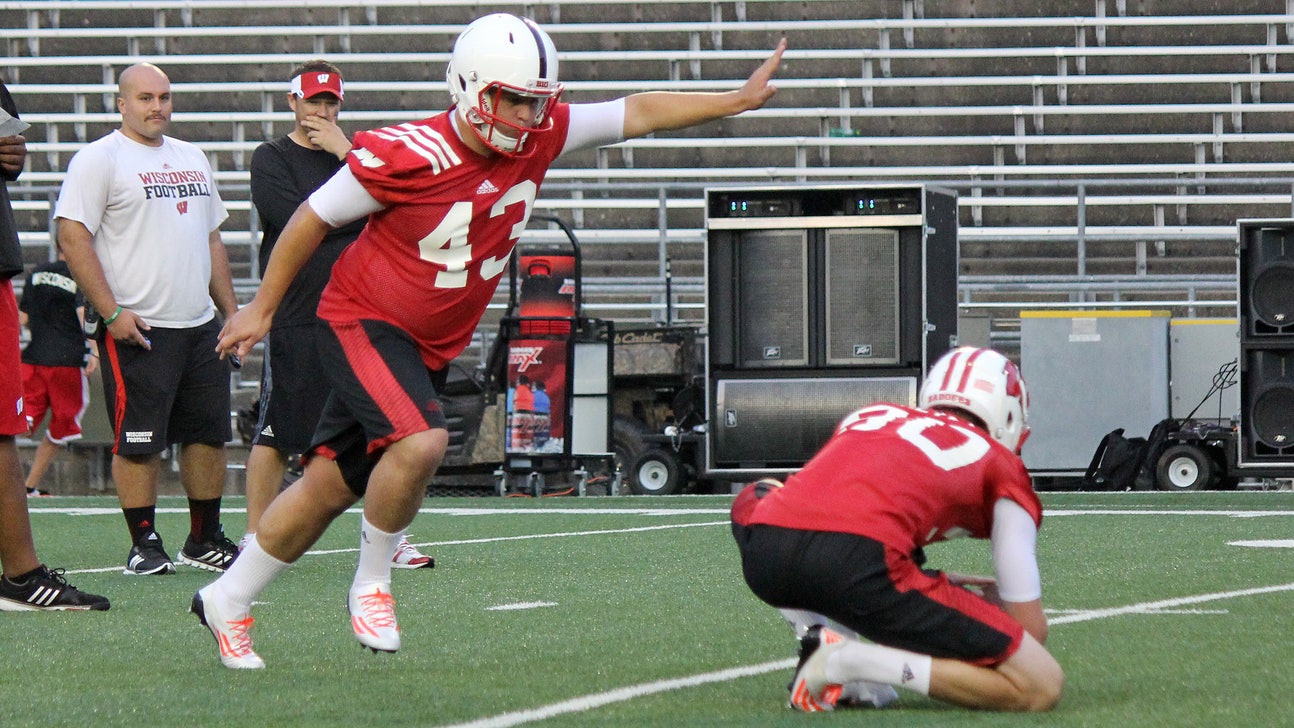 Badgers kicker Gaglianone brings big leg, Brazilian flair
Published
Aug. 13, 2014 10:27 a.m. ET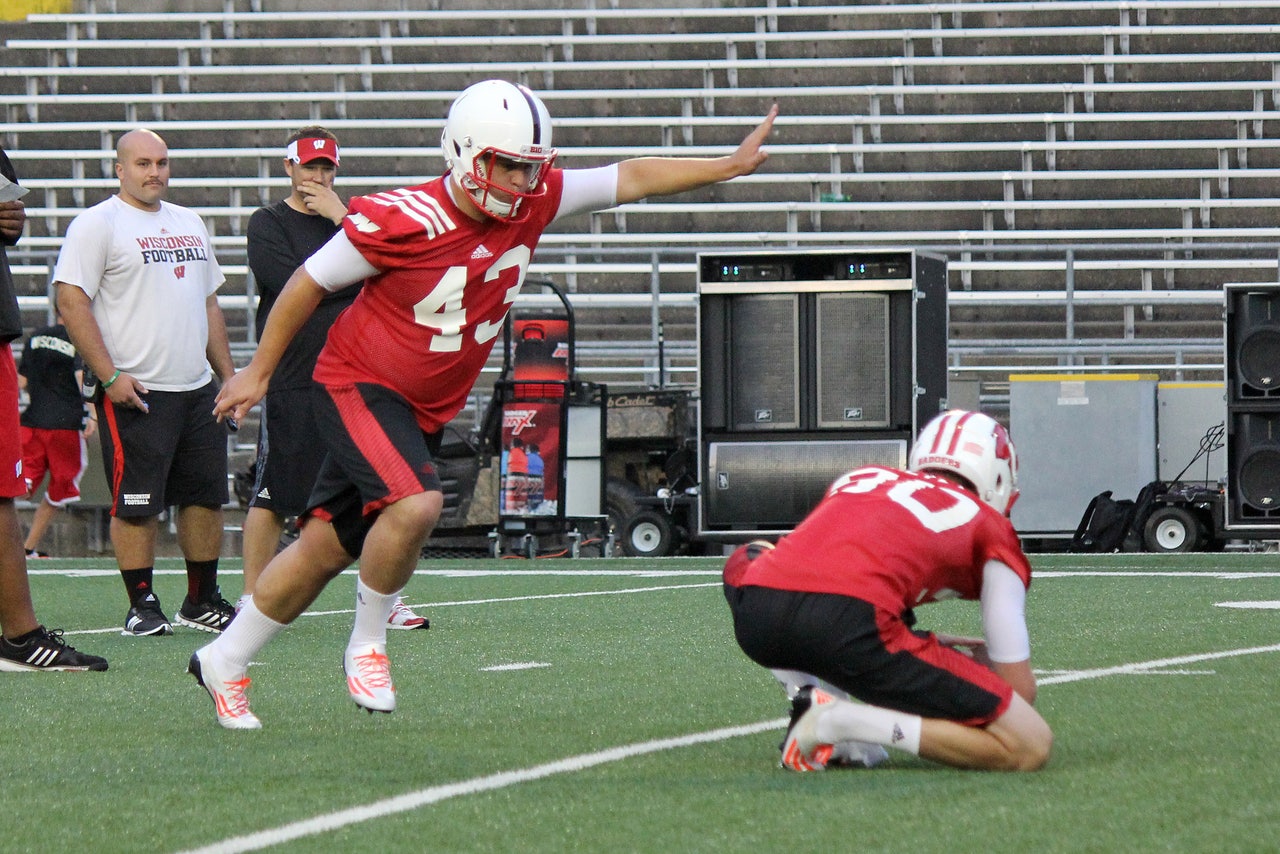 MADISON, Wis. -- Rafael Gaglianone would like to let his new teammates in on a little secret.
All the razzing they throw his way during practice, all the chants of "Ole, Ole, Ole" meant to mess with his head before field goal tries? He relishes it. Seriously. If that's all Wisconsin's football team has to offer in the distraction department, he'll be sorely disappointed.
"They might not know that, but Ole, Ole, Ole kind of brings good memories from back in high school," Gaglianone said. "We used to do that every time I'd make a kick before going into kickoffs. Even if they're trying to mess with me, it kind of bumps me up a little bit in a good way. I'm definitely enjoying the atmosphere. Those pressure situations are definitely the best.
"The entire team is getting together and trying to get in your head. As soon as you hit a good ball, you can hear by the sound of it and you look up, it's going. You just know it's going in. Everybody kind of gets quiet for a second."
Say this about Gaglianone: He has plenty of personality and confidence, particularly for a freshman. And if he performs at the level many anticipate, he very well could become a cult hero of sorts with the Wisconsin Badgers faithful.
Rafael Gaglianone (pronounced Ha-Fah-El Gah-Glee-a-No-Nee), a stocky 5-foot-11, 231-pounder, raised eyebrows on the first day of fall camp when he drilled all five of his field-goal attempts -- doing so after telling head coach Gary Andersen that he wouldn't miss. He has maintained the most consistent leg thus far among the three kickers vying for the Badgers' starting job, which also include Jack Russell and Andrew Endicott. During Sunday's scrimmage, he continued his strong start by drilling 4 of 5 kicks, two of which came from 50 and 55 yards.
Gaglianone won't say what his range really is, though he admits to making some 63-yard field goals. Andersen acknowledged Gaglianone had made at least one kick from 62 yards out during practice.
"I guess my range is wherever coach puts me out there," Gaglianone said. "There will never be a field goal that I would go out there thinking I won't have the leg or thinking I won't be able to do it. I'm sure they'll keep me under 55. They'll never let me go any farther than that.
"I feel like if they put me out there, though, I'll definitely go for it. It's been a good opportunity just to show off my leg a little bit. But we've got to focus on the 48-and-ins. That's what we've got to be perfect."
Gaglianone, a native of Sao Paulo, Brazil, began his athletic pursuits with soccer. Though he possessed a stronger leg than teammates, he said he was a relatively inconsistent soccer player. Frustrated with the sport, he took the advice of a high school coach at Baylor School in Tennessee, who suggested he try kicking for the football team. After some private workouts with coach James Wilhoit, a first-team All-SEC kicker at Tennessee in 2006, Gaglianone's game took off. He made 10 of 14 field goals as a senior, including a 57-yarder, and was named the state's kicker of the year.
Wilhoit noted Gaglianone's soccer background gave him a working knowledge of ball striking, and his lack of bad habits as a football kicker made it much easier to hone his mechanics.
"One thing you'll notice about him is he has a very compact swing," Wilhoit said. "He doesn't have a lot of extra movements. It looks effortless, but he's worked very hard at eliminating a lot of extraneous movements so that he can be as consistent as possible."
Wilhoit worked with three of the top five rated kickers in the 2014 class, which also featured Tennessee's Aaron Medley and Ole Miss' Gary Wunderlich. Wilhoit, who has trained Gaglianone since his sophomore year of high school, called Gaglianone the most college-ready kicker of the three true freshmen, which is especially high praise.
"When it comes to a pure field-goal kicker and kickoff guy, there is not anybody that is stronger mentally or technically than Rafael," Wilhoit said. "He just does a great job at making kicks and competing, and the stage is never too big for him. That's the thing that I've noticed is he just has this look in his eye and he's determined to do something, so he's going to do it."
Wisconsin special teams coordinator Jeff Genyk, who served as Eastern Michigan's head coach from 2004-08, said he'd only once worked with a freshman kicker that was polished and prepared to perform at a high level right out of the chute. He cited Eastern Michigan's Andrew Wellock, who finished second for the Lou Groza Award in 2004.
Gaglianone certainly appears to have an opportunity to join a small list during Genyk's coaching tenure.
"All of the all-Big Ten, all-Pac 12 kickers I've had an opportunity to work with, none of them did it in their freshman year," Genyk said. "So you're certainly hopeful that what you saw in high school and what you saw during practice and games will equate to all of a sudden being in an environment like this. We have an excellent snapper in Connor Udelhoven. The best holder I've been around is Drew Meyer, so that certainly helps. So far, he's responded quite well."
Genyk said a week ago that Gaglianone had been making kicks at an 85-percent clip, while incumbent starter Russell had made roughly 70 percent. Gaglianone doesn't just make kicks, however. He delivers shots with power and length that sail well through the uprights, in part because his frame does not look like most kickers that have come through Wisconsin's program in recent years. He weighs more than 63 players on the Badgers' roster and is 55 pounds heavier than either of his competitors for the starting kicker job.
"I think in the recruiting process, some people missed on him because he's not 6-2," Wilhoit said. "He doesn't pass the eye test right away, but he's so athletic. He just does a fantastic job of striking the ball and making kicks. He's much more explosive than you think. He is a very good kicker. If I had anybody in the 2014 class to come in and play as a freshman, he's the guy that I would want."
Whatever the size or shape, Wisconsin has been in desperate need of a consistent kicker the past two seasons, and Gaglianone could be the answer. The Badgers ranked dead last in the Big Ten in field goal accuracy rate in 2012 (10 for 18, .556) and 10th out of 12 in 2013 (14 for 21, .667). Wisconsin hasn't ranked in the top five in that category since 2008.
Badgers fans are hoping that all could change very soon with a Brazilian who brings both flair and talent.
"I feel pretty confident that I've been doing a good job and they're trying to get some trust in me," Gaglianone said. "I've been proving myself a couple times in front of my teammates. So that really helps. Just putting some power behind the kicks, not just making it by a little bit. It's hard to say who's going to be the starter. But I feel confident if I keep doing my job, there's no reason it won't be me."
Spoken like a man who no doubt will welcome the challenge.
Follow Jesse Temple on Twitter
---