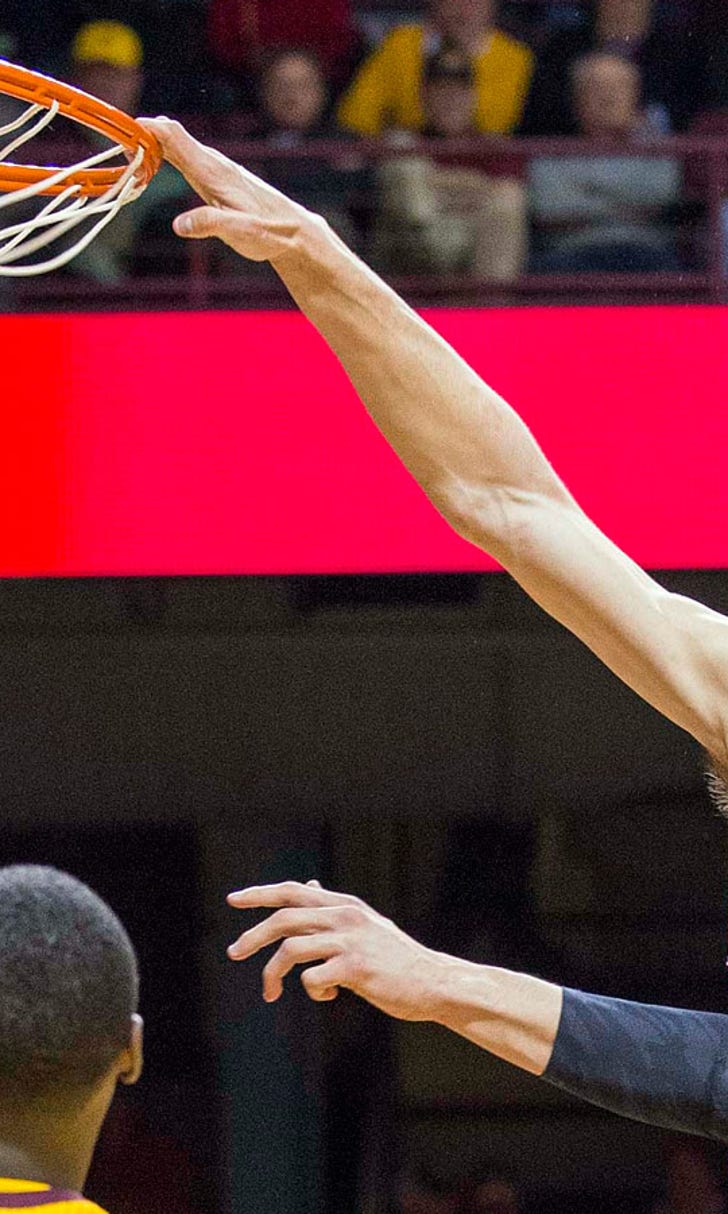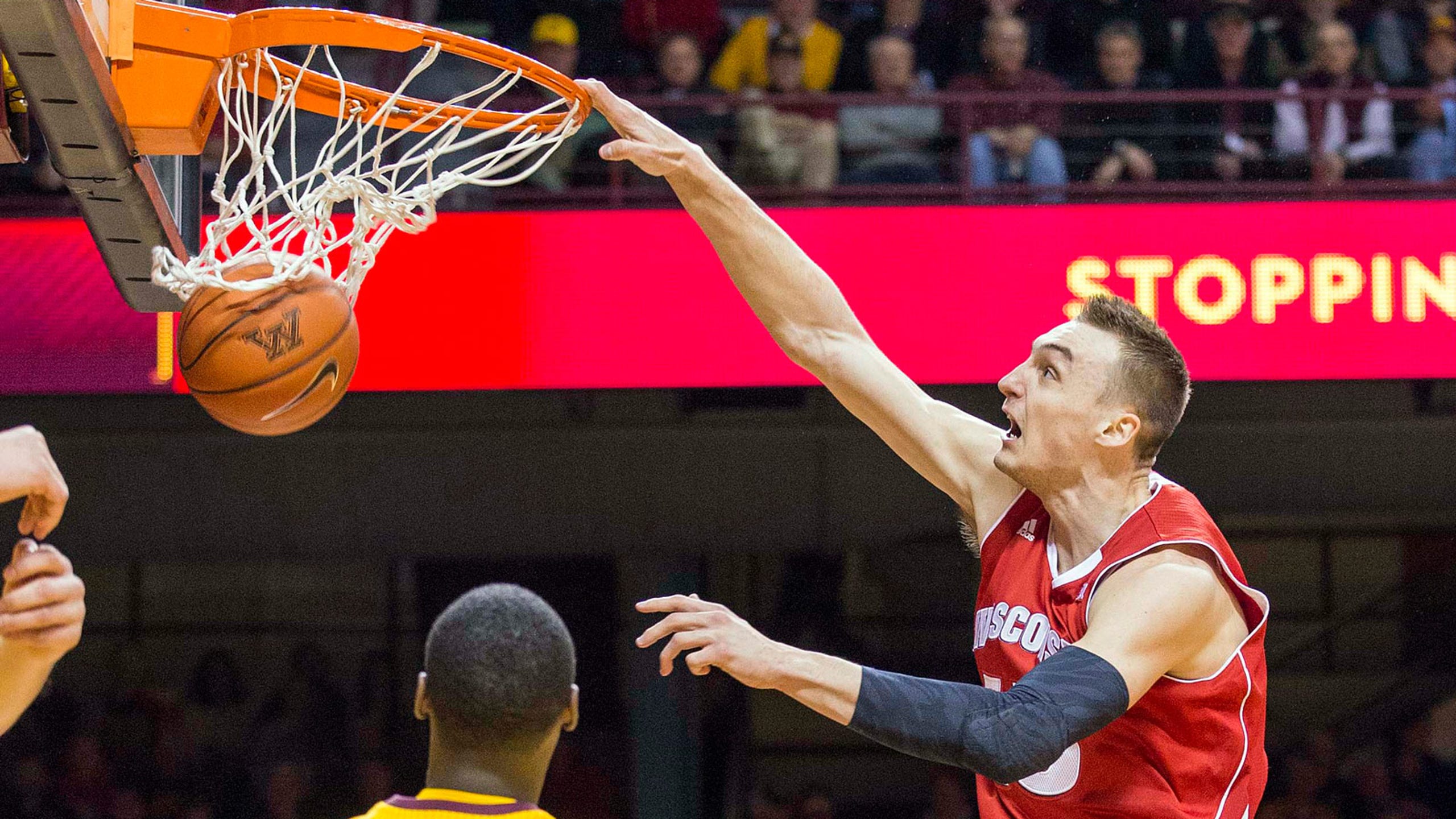 Badgers clinch outright Big Ten title with business-as-usual win
BY foxsports • March 5, 2015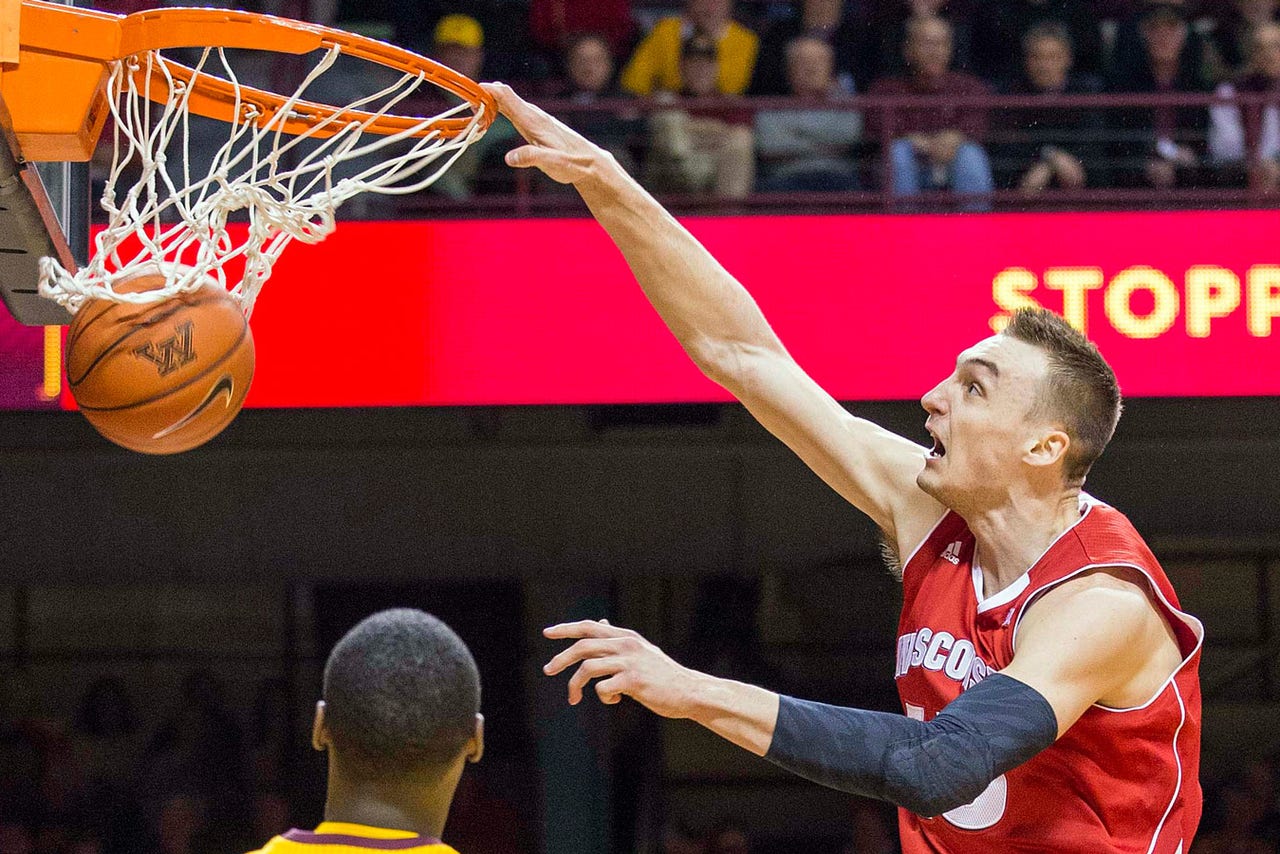 MINNEAPOLIS -- Frank Kaminsky watched the final moments tick off on his latest masterpiece, gave Bo Ryan a quick hug, hopped over to the ESPN set for a quicker interview, showered in the Williams Arena dressing room, then hung around with a handful of Wisconsin fans waiting for him and his teammates back in the gym after another notable feat.
There were no net-cuttings. No trophy ceremonies.
Just business as usual.
The celebratory moments came in the wake of a senior-day home win against Michigan State earlier this week. But this program's self-appointed standard for Big Ten performance wasn't met until a 76-63 victory over border rival Minnesota on Thursday night.
Save for a couple hundred students chanting "Big Ten Champs" in the arena's upper deck, you'd have never known it. Not from the nonchalant manner in which Wisconsin's players left the floor after clinching the program's first outright, regular-season conference crown in seven years.
"They had goals," Ryan said. "What's in a player's mind, they only know. But Frank made his intentions well-known, along with some other guys.
"It's not like they trash-talked. It was a goal that they had."
But that's merely the present moment. A season predicated upon getting back to the Final Four -- and this year, not coming up short -- rolls on whether the Badgers (27-3, 14-2 Big Ten) take time to commemorate each milestone or not. Joviality at home Sunday after seizing at least a tie of the crown was occasion enough.
Thursday was just another step. Wisconsin now has one game, at Ohio State, left before the postseason. As long as it doesn't go belly-up in the Big Ten tourney, a No. 2 NCAA seed is likely in the cards.
Razor-sharp focus has staked Bucky to 11 wins in its past 12 Big Ten affairs. And it'll have been the key facet if Wisconsin's able to redeem itself from a one-point loss to Kentucky in last season's national semifinals, Ryan said.
The fruits thereof were prevalent early and late Thursday night. Wisconsin made 7 of its first 8 shots, connected on 7 of 10 3-point attempts in the first half and led by as many as 20 before halftime. Then it held off a Golden Gophers rally that brought the ailing home team (17-13, 6-11) within six early in the second half.
"Besides Kentucky (undefeated this year)," Minnesota coach Richard Pitino said, "in my opinion -- not that I've watched everybody -- but that's about as impressive a team as I've seen."
Kaminsky rested for less than a minute, finishing with 25 points, six rebounds and seven assists in a performance that further advanced his cause for national player of the year recognition.
Add Pitino to the list of endorsers.
"I personally think he's the Wooden (Award) winner," Pitino said. "He's just a great player in everything he does.
"The only way to beat him: get him on the bench somehow."
Thursday night was an exemplary exhibition of Ryan basketball -- fundamentally sound defense, patient but persistent half-court offense, the best player on the floor in Kaminsky moving the ball as much as he scored it. The Badgers' nine turnovers were uncharacteristically high, exemplifying how much care NCAA Division I's No. 24 shooting team takes care of the ball.
Under the broader spectrum of chasing a national championship, it was just another game. But that's how Wisconsin -- however methodical and cliche its approach and style of play might be -- approaches things.
The rest is just fluff, Kaminsky said earlier this week.
"We never really look at (NCAA tournament) projections," said the Lisle, Illinois native, who came in as Division I's only player averaging 17 points, eight rebounds, two assists and 1.5 blocks per game. "I know my parents aren't going to buy plane tickets to where we're supposed to be on projections. So we've just got to wait until we see and find out."
Follow Phil Ervin on Twitter
---