Attitude adjusted: Pierzynski addition has been nothing but positive for Cardinals
BY foxsports • August 6, 2014
ST. LOUIS -- A.J. Pierzynski says he is in a better place these days.
So, too, is his new team.
The Cardinals improved to 6-3 since they signed Pierzynski after a 3-2 victory over the Red Sox on Tuesday night at Busch Stadium. In the 10 games before Pierzynski was picked up after Yadier Molina's injury, they went 4-6.
Pierzynski has been in the middle of a lot of the action since arriving, whether it's been behind the plate, in the dugout or at bat. The 37-year-old has given the Cardinals everything they hoped for since they signed him July 26, three weeks after he had been dumped by the Red Sox and then bashed on the way out of town for a reportedly selfish attitude, among other reasons.
On Tuesday night, Pierzynski made a difference with his bat when he started an eighth-inning, two-out rally by poking a pitch that was low and away into left field.
"That ball was almost in the dirt off the plate away and he was able to still cover it and flip it over the infield," Cardinals manager Mike Matheny said. "That's not something you see very many hitters able to do."
He went to second on a single by Oscar Taveras and then scored the winning run on a single by Jon Jay. Pierzynski had triggered a winning rally two days ago by driving in the tying run with a one-out single in the seventh.
After that hit, he could be seen shouting into the Cardinals' dugout. When Taveras followed with a single that brought in the winning run, he, too, showed some serious emotion. Asked later about it, Taveras said he had seen Pierzynski do it and followed the lead of his veteran teammate.
For Pierzynski, getting released by the Red Sox is proving to be a positive development. He hit .254 with the Red Sox but upped his average with the Cardinals to .320 after two hits Tuesday. But it's not only his swing that he has found in St. Louis.
"I feel like I'm in a better place overall," he said. "Once you've been released by a team, then get picked up by another team, you want to go out and enjoy it because you don't know what's going to happen. I'm just going out, having fun and playing and not worrying about so many things outside of what's happening in the game."
The 17-year veteran doesn't miss much that happens during a game. Known for being loud -- some would say obnoxious -- Pierzynski did not take long to make his presence felt in the dugout.
"He's not afraid to yell at people," Matheny said. "He enjoys the competition and he's just going to say whatever comes to his mind. That's who he's always been. Why would he change now that he's here?"
No need to, especially with the lift he has provided the Cardinals so far.
3 UP
-- Lance Lynn. Another strong outing should have been even better, but Lynn hurt his cause when he was unable to pick up a grounder back at him. The bases were loaded with one out when Will Middlebrooks hit a spinner that Lynn did not pick up until it was too late to go for the force at home. The run was earned since Lynn got an out at first, the only earned run he allowed in seven innings. The big right-hander allowed only four hits and walked one and lowered his ERA to 2.89. It was the 10th time in his past 11 starts that he did not allow more than two runs.
Watch the Cardinals Live pregame and postgame shows before and after every St. Louis Cardinals game on FOX Sports Midwest.
-- Shane Robinson. In his first plate appearance since returning from Memphis (for the third time this season), Robinson worked a seven-pitch walk, advanced to second -- barely -- on a Matt Carpenter grounder and raced around to score the tying run on a single to center by Kolten Wong -- again, barely. Robinson's nifty headfirst hook slide made the difference -- and that catchers no longer can block the plate didn't hurt, either.
-- Michael Wacha. He played catch for the first time since landing on the disabled list June 23 because of a shoulder issue. Though he hasn't been totally cleared to throw -- another MRI is to come on Aug. 18 -- Wacha was able to begin a throwing program that the club hopes will have him back in the rotation in September. "As long as nothing shows up (on the next MRI) based on his throwing program, he'll just keep moving forward," GM John Mozeliak said.
Said Wacha, who played some light catch: "I don't feel anything in the shoulder. It feels alive, really. I'm excited about getting good news, getting started back up."
3 DOWN
-- Matt Holliday. Unless he knew he was about to be double-switched out of a tie game in the seventh inning, Holliday had no business being ejected for arguing a called third strike. If the pitch was low and/or away, it was too close to dispute. The pitch also was located right where the first two strikes had been called in the at-bat. By the third one, Holliday should have known better.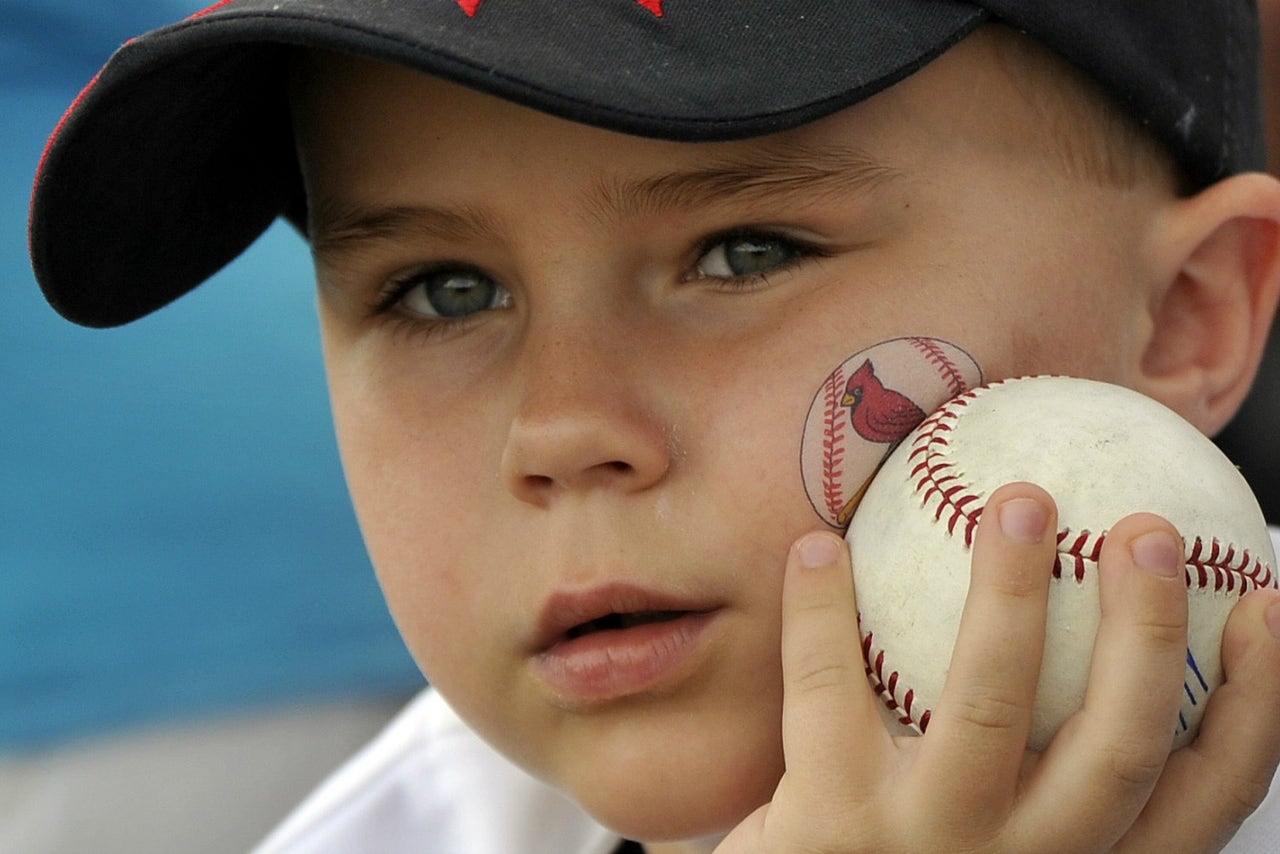 LET'S GO CARDINALS: Check out these photos of fans and the excitement around Cardinals baseball.
-- Stopping Yoenis Cespedes. Playing for the first time at Busch Stadium, the new right fielder for the Red Sox came through with three of his team's five hits. He had a bloop triple in the second, singled and scored in the seventh and led off the ninth with a single but was left there when Trevor Rosenthal retired the next three batters on flies to the outfield.
-- Allen Craig. You won't see the former Cardinals outfielder on the field in the three-game series. He has landed on the disabled list with a sprained left ankle -- the same foot that ended his 2013 regular season -- he suffered in his first game with the Red Sox last Friday. In a meeting with St. Louis reporters before the game, Craig took the high road about being traded and having to learn about it on TV, though he admitted he was sad and did not see it coming. Craig and John Mozeliak met outside the Red Sox clubhouse before batting practice. Neither disclosed the topic of the conversation.
You can follow Stan McNeal on Twitter at @StanMcNeal or email him at stanmcneal@gmail.com.
---