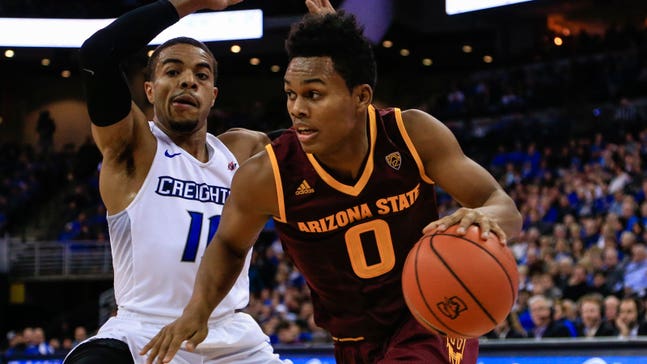 ASU squeaks past Creighton with help of late goaltending
Published
Dec. 2, 2015 11:26 p.m. ET

OMAHA, Neb. -- His team down by a point with 18 seconds left, there was only one thing Arizona State's Tra Holder thought to do when Creighton's Isaiah Zierden rebounded Savon Goodman's missed free throw.
Holder sneaked up from behind, grabbed the ball and put it off the glass. The Bluejays' Geoffrey Groselle swatted at it as it hung over the cylinder and he was called for goaltending, giving the Sun Devils the lead, and they held on through the frantic final seconds to win 79-77 Wednesday night.
"I saw his back toward me, so I wasn't really surprised I was able to take the ball," Holder said. "I was concentrating on making my layup."
Zierden, meanwhile, was mad at himself.
"He missed the free throw and I just couldn't grab the rebound," he said. "I've got to do a better job of securing the rebounds."
Creighton still had chances to win, but Cole Huff missed two free throws with six seconds left and his wide-open 3-point try at the buzzer bounced off the rim.
The Sun Devils (5-2), who pulled out a two-point win over UC Santa Barbara in their previous game, won in their first true road game and got a shot of confidence as they go into games against No. 18 Texas A&M at home Saturday and at No. 1 Kentucky on Dec. 12.
"I just love our team right now," said Savon Goodman, who scored a season-high 23 points. "Everybody's playing their role, everybody's finding their niche. We're on a roll."
Willie Atwood had 14 points and Holder matched his career high with eight assists for the Sun Devils.
Groselle, who led the Bluejays (5-2) with 15 points, had no regrets about goaltending on Holder's go-ahead layup.
"It was going in. It didn't matter," he said.
The Sun Devils, who shot 36 percent from the field in their previous two games, were held to 41 percent in the first half.
The pace picked up in the second half, and ASU heated up to 64.3 percent in what turned out to be a scoring contest to the end.
"We told ourselves that we've been down before," Goodman said. "We're on the road, and we expected a game like this. We expected a crowd like this. We had to get used to it. We got ourselves broke into the game. The second half we just got lost in the game."
Arizona State erased an eight-point deficit in less than three minutes at the start of the second half. Goodman scored eight of ASU's first 10 points of the half and Holder made two free throws to tie it 45-all. The Sun Devils took their first lead, 56-54, when Goodman passed to Obinna Oleka along the baseline for a layup.
"The first four minutes (of the second half) were vital for us," ASU coach Bobby Hurley said. "With their ability to score and also the crowd on the road, us doing that was important. That's how we've won. We haven't shot the ball great yet. We came out of our shell with that today."
TIP-INS
Arizona State: Came in outrebounding opponents by 10.1 per game and held a 34-29 over the Bluejays ... Sun Devils are beginning a challenging stretch that has them playing No. 18 Texas A&M at home on Saturday, at No. 1 Kentucky on Dec. 12 and at UNLV on Dec. 16. ... ASU is 5-4 all-time against the Bluejays.
Creighton: Made just 1 of 5 free throws in the second half and 6 of 11 for the game. ... Bluejays made 11 of 24 3s.
UP NEXT
Arizona State hosts Texas A&M on Saturday.
Creighton visits Loyola-Chicago on Saturday.
---
---