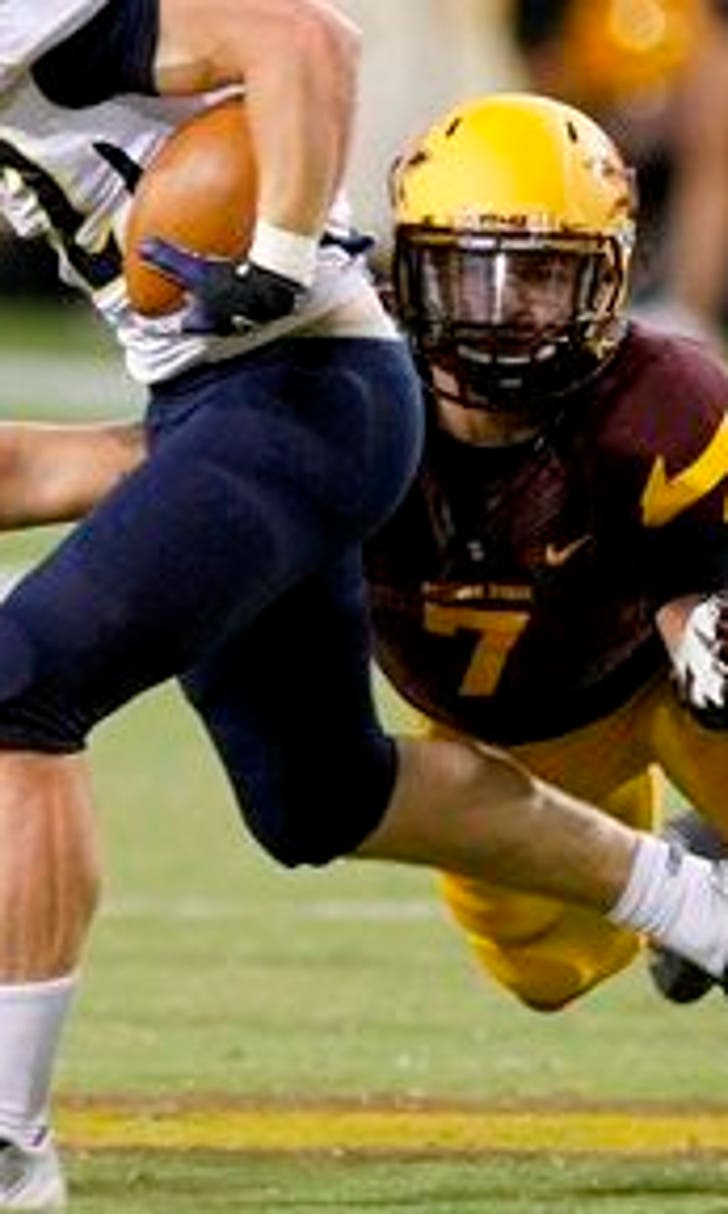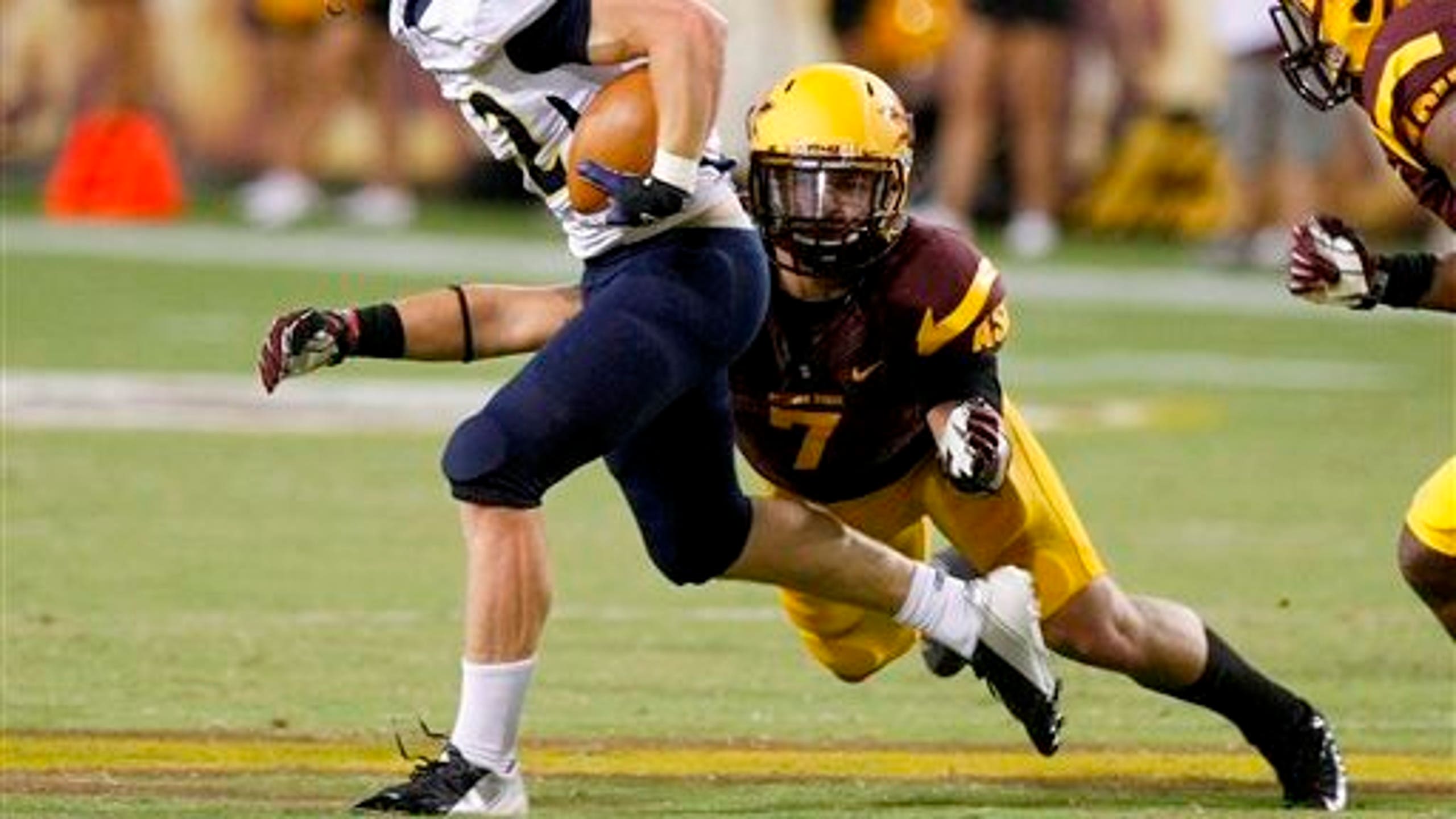 ASU linebacker Mendoza out at least 3-4 weeks
BY foxsports • August 13, 2014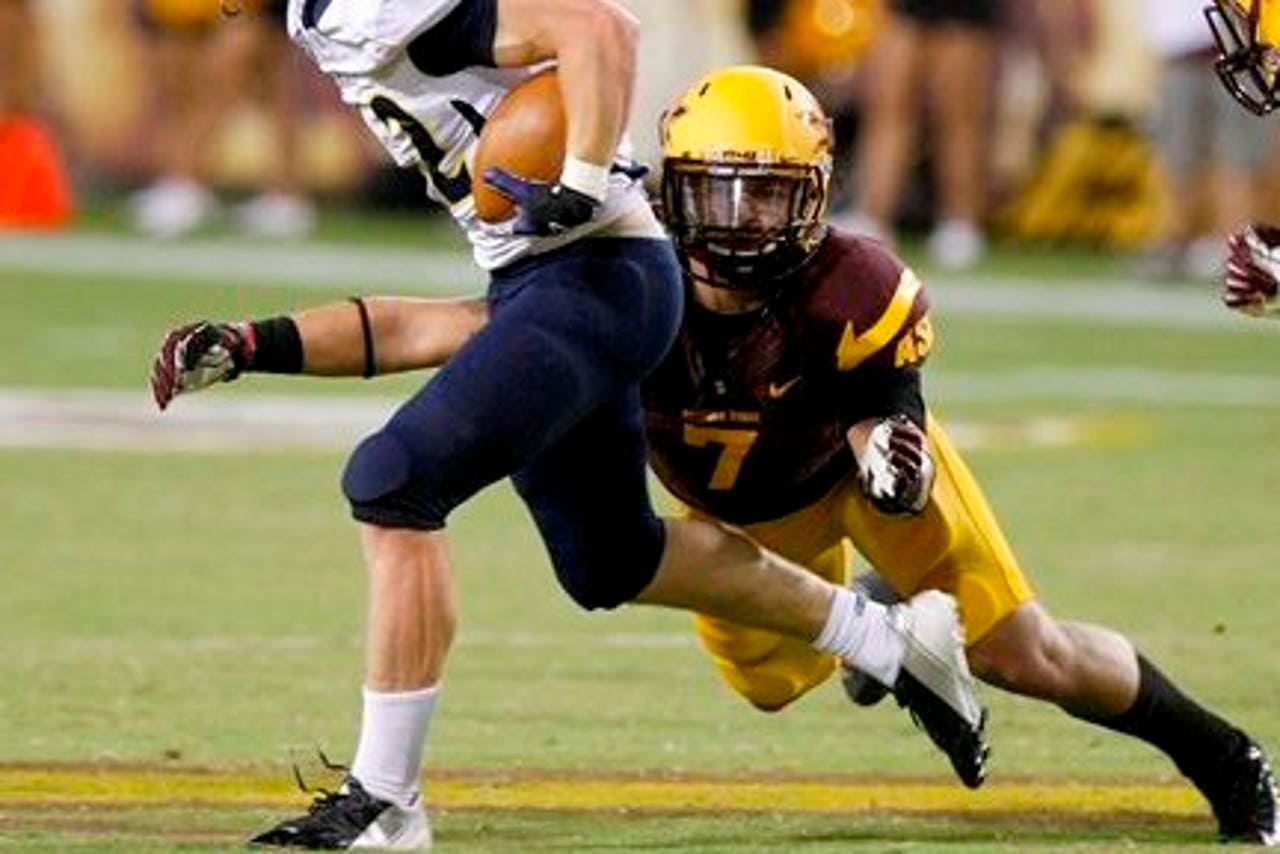 PAYSON, Ariz. -- Sophomore Arizona State linebacker Carlos Mendoza will be sidelined at least 3-4 weeks with a knee injury, coach Todd Graham said Wednesday.
It is not yet clear when Mendoza suffered the knee injury. Mendoza, in his third year at ASU, arrived for ASU's morning practice at Rumsey Park in Payson, Ariz. -- the practice was relocated from Camp Tontozona due to field conditions -- but met with the team's medical staff and promptly left. He returned at the end of practice.
Losing Mendoza delivers another blow to an already thin defense. Mendoza was running with the first-team defense at will linebacker, and Graham said Monday night Mendoza had just had the best practice of his collegiate career. Mendoza was battling for the starting job with freshman D.J. Calhoun, who moved up to first team Wednesday.
Mendoza's ASU career has been marred by injuries. A shoulder injury cost him all but two games of his freshman season, and various injuries limited him to six games last season. He also missed spring drills with a foot injury.
With Mendoza out and Calhoun working with the first team, redshirt freshman Chans Cox and redshirt junior Eriquel Florence worked at second-team will linebacker.
ASU might have gotten help at the position from graduate transfer Ruben Ibarra from Purdue. Ibarra, who had been awaiting academic clearance at ASU, won't join the team, it was learned Wednesday night.
With junior D.J. Foster limited the rest of camp for precautionary reasons, Deantre Lewis sidelined for most of practice and freshman Kalen Ballage out with a back injury, ASU's running back depth was tested again Wednesday.
As a result, freshman Demario Richard got a lot of run Wednesday behind senior Kyle Middlebrooks, taking a good number of invaluable reps.
"I got out here and showed the coaches what I can actually do besides the slot position -- more at the running back position," Richard said. "I came in here Aug. 1 and four hours later, next thing you know I was getting thrown to the sharks with the ones and twos."
Richard, 5-foot-10 and 203 pounds, has worked some at slot receiver but stood out as a running back Wednesday, making a few nice runs and catching passes out of the backfield. ASU expects Richard to contribute this season, and the Palmdale, Calif., product says he's just working now on mastering pass plays in particular.
"As soon as I get these plays down, it's going to be rapid fire in this offense," Richard said. "The biggest challenge right now is the playbook. That's the thing I'm dealing with the most."
Graham said last week ASU expected junior defensive tackle Jaxon Hood to join the team for its trip to Camp Tontozona, but that wasn't the case Wednesday. Graham said he still expects Hood to join the team there within the next couple days.
Hood has been absent for all of fall camp so far dealing with what Graham termed "personal issues." With 17 starts, Hood is ASU's most experienced defensive player.
Graham last week said ASU won't trick opponents to score this season, so when the offense ran a play in a wildcat formation during goal line work Wednesday, Graham did not sound pleased.
"That's not my personality!" Graham shouted at offensive coordinator Mike Norvell.
Asked about his reaction, Graham said it was about the team developing an identity as a power run team.
"I would like to stop practice, get on a loud speaker and say 'We're going to line up two tight ends, two backs and run power,' because our defense needs that and our offense needs that," Graham said. "It makes a statement about who we are.
"There's going to be a time this year just like there was a time last year where the ball's on the one-yard line and you have to score, and you're just not going to trick people. I'm not big into that."
The offense did not score on the play.
-- Storms overnight and in the morning drenched the field at Camp Tontozona despite a tarp, so ASU had to move its practice to Rumsey Park for the first time in three trips under Graham. The team could practice at Tontozona on Thursday if weather permits.
-- Freshman tight end Brendan Landman was the latest player to shed the green non-contact jersey Wednesday. Only Foster, redshirt freshman safety Marcus Ball and freshman offensive lineman Sam Jones were limited.
-- Redshirt sophomore Edmond Boateng got reps on the first team defensive line, manning the "Tiger" position freshman Tashon Smallwood has held over the past week.
Follow Tyler Lockman on Twitter
---