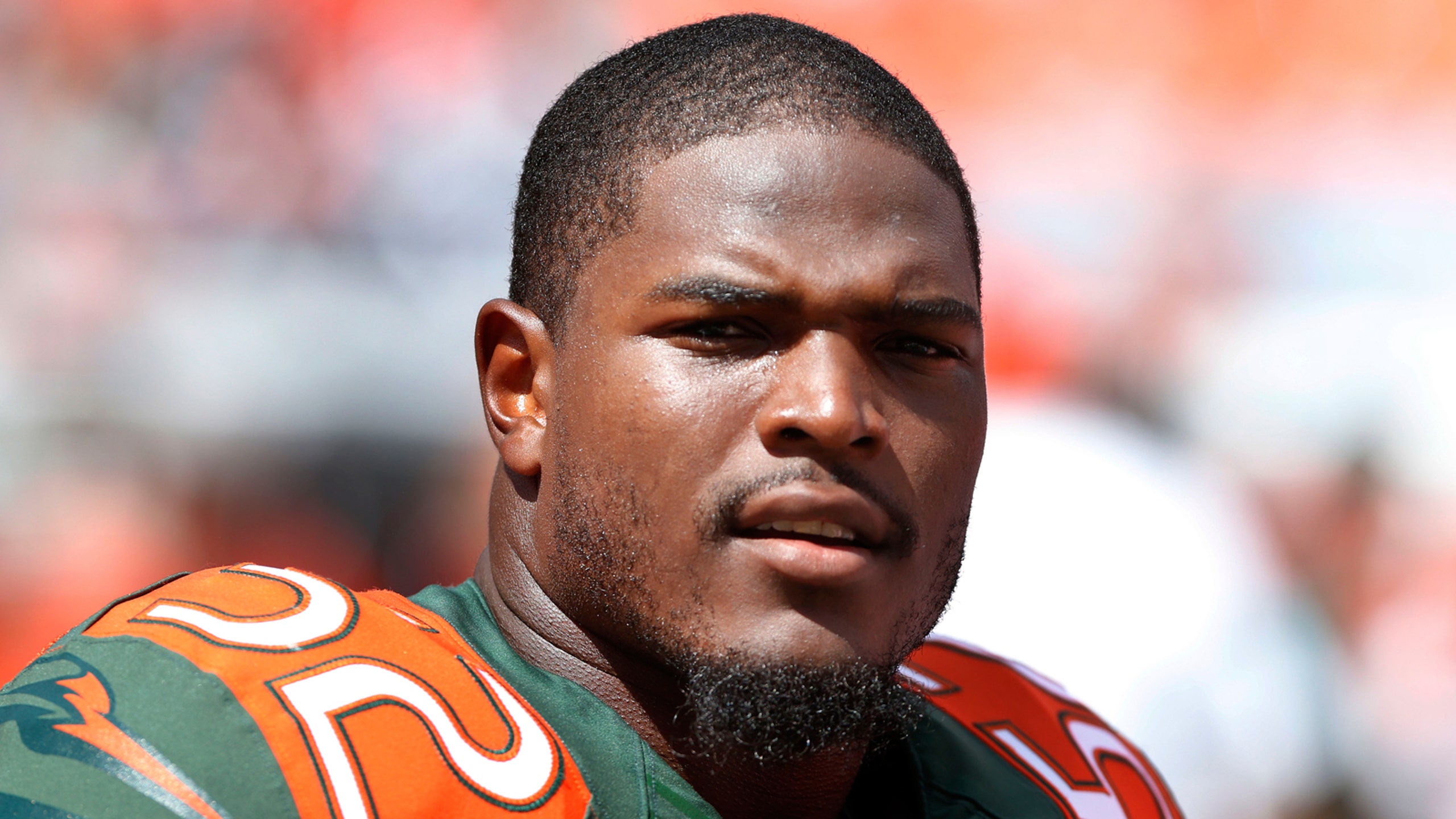 As their final season winds down, Miami seniors see program's progress
BY foxsports • November 19, 2014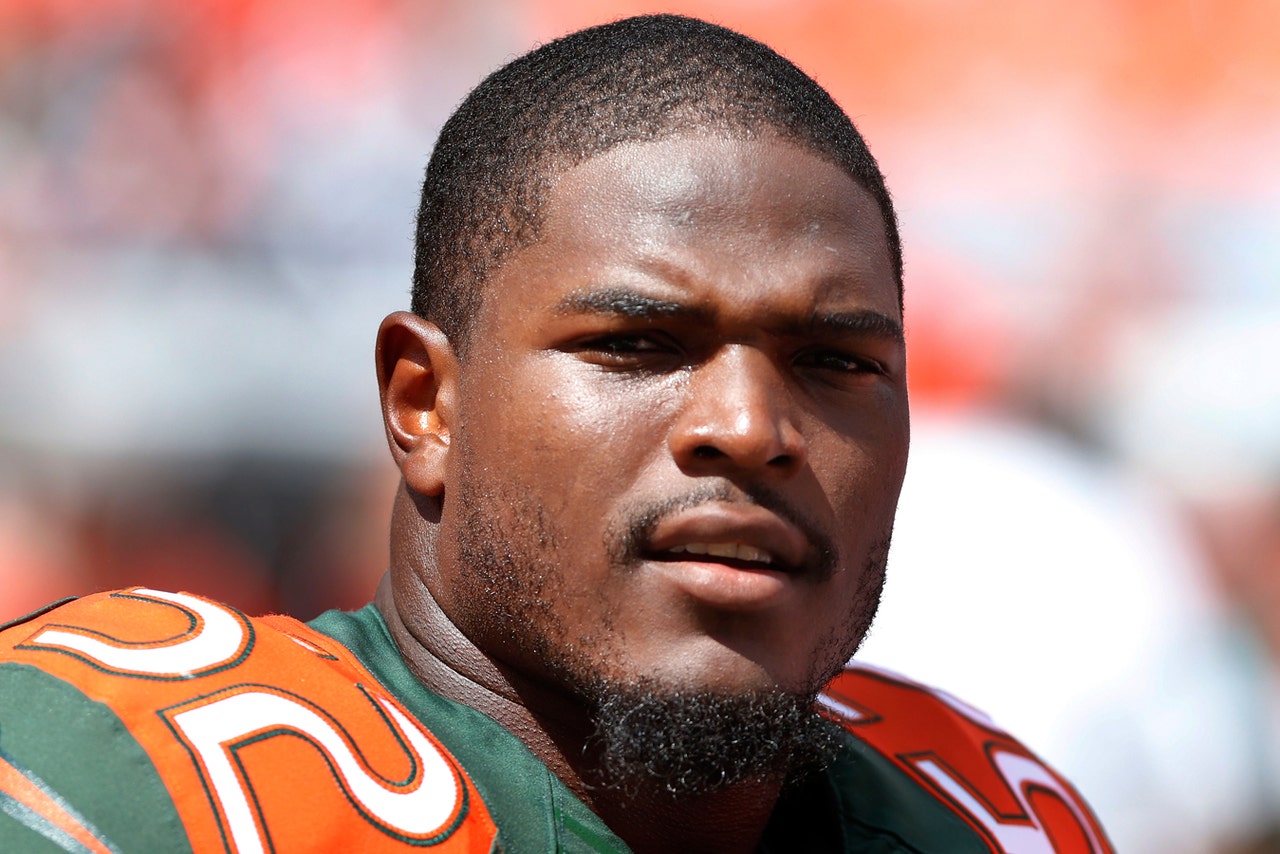 CORAL GABLES, Fla. -- Three games remain in University of Miami senior linebacker Denzel Perryman's collegiate career.
Four years ago, as a prep star at Coral Gables Senior High School, Perryman thought he would be part of the recruiting class that brought the Hurricanes back to relevance. But then the NCAA cloud appeared.
Entering Saturday's game at Virginia, the best Miami can hope for is a 9-4 season by winning out and matching last season's total.
During his four-year stretch, Miami failed to reach the Atlantic Coast Conference championship for the first time, though it would've done so in 2012 had it not been for the rogue booster saga. It also hasn't won a bowl game in eight seasons.
"When I came in, we got hit with the NCAA stuff," said Perryman, a semifinalist for the Butkus Award. "For two years we pretty much self-imposed a bowl, and last year was pretty much our free period, no allegations or nothing like that. We're pretty much on the rise, and I feel like the program is in that same direction."
So how does one measure success? Is it by a team's record? Signature wins? What qualifies as progress for a program?
Since Al Golden took over in 2011, the Hurricanes have a 28-19 record. Dating back to 2006 -- the final year of the Larry Coker Era -- they have lost at least four games every season. The mediocrity isn't something new. It has been around for nearly a decade.
"You can't escape your record, first and foremost," Golden said. "You are what your record says you are. The last five weeks we've gotten better, and we've gotten better with practice, collectively, in all three phases. Although we came up short, we can't lose sight. Those are the same things that gave us an opportunity to win that game the other night (against Florida State). A play here or a play there, and we do it. We need some guys to step up now and say, 'Hey, I'll make that tackle. I'll make that play.' "
If Saturday's heartbreaking 30-26 loss to FSU proved anything to the players, it's that they can finally hang with the top teams in the country, something that has been missing over the past few years.
The Seminoles had outscored the Hurricanes 74-34 in the previous two outings. In 2012 against No. 9 Notre Dame, the Fighting Irish cruised to a 41-3 victory. No. 20 Kansas State blew out Miami 52-13 at home that same year. Staying competitive in Saturday's game shows growth, particularly considering the NCAA uncertainty has been over for 13 months.
"We know we can compete with anyone on any given day," freshman quarterback Brad Kaaya said. "This season, going into next season, all the young guys see that, and it gives us motivation, especially losing to Florida State. It really gives all the young guys a whole lot of fire and motivation."
Added freshman receiver Braxton Berrios: "We're going to continue to get better. We have a lot of things that are behind us that we're moving forward from, and we're rolling downhill. It's going to be good. We're picking up speed."
It may be too late for seniors such as Perryman, wideout Phillip Dorsett and offensive lineman Jon Feliciano to achieve the goal of winning an ACC title, but there are still long-term results at stake.
There is a feeling of pride, of wanting to hand the program off to the underclassmen on a positive note. As either recruits or freshmen under former coach Randy Shannon, that wasn't the case.
A 7-3 start in 2010 dissolved into a three-game spiral. Shannon had been fired before the bowl loss because of an embarrassing showing against South Florida. In 2011, Golden inherited Shannon's group and went 6-6. Following a three-game losing skid in the middle of 2012, the Hurricanes bounced back by winning three of the last four contests but couldn't accept the Coastal Division spot in the ACC title game. In 2013, the Hurricanes dropped four of the final six games after a 7-0 start.
"This is probably the best team I've been a part of, even if the record doesn't show that we were," Feliciano said. "Where we're at now, people are more passionate, people are more together, and I think that's why we're starting to win games and we had a chance to beat Florida State last week."
The legacy of this class of seniors will be ensuring the culture has changed for the better. Miami went into the Florida State game believing it would not only compete but also win. Nobody has quit on the season just because the Coastal Division title is gone. The three-game stretch could build momentum toward 2015.
Perryman recalls Sean Spence, now with the Pittsburgh Steelers, taking him under his wing and passing on the torch. He intends on doing the same with junior Raphael Kirby.
Routinely playing underclassmen this season has meant mistakes and growing pains but also learning. On Saturday night against the Seminoles, 28 freshmen and sophomores saw reps. Five of them started. Berrios dropped a touchdown and Kaaya threw an interception on the final play.
Seeing the youth develop from promise to consistency is the next step in the program's progression. Look no further than Kaaya, who ranks first in the ACC in touchdowns (22) and passing efficiency (155.2) as well as third in passing yards (2,403).
"A lot more maturity," Dorsett said of what Miami needs. "Brad's getting better and better each day, so this team's going to be led by a great guy in the future. He's a freshman right now, but he's still the leader of our team. He's going to be a real good one. He's going to be able to uplift guys. Just the team maturing. We've got a lot of young guys playing right now, so as they get older they're going to learn the ins and outs of the game better. This team's going to be good in the future."
You can follow Christina De Nicola on Twitter @CDeNicola13 or email her at cdenicola13@gmail.com.
---