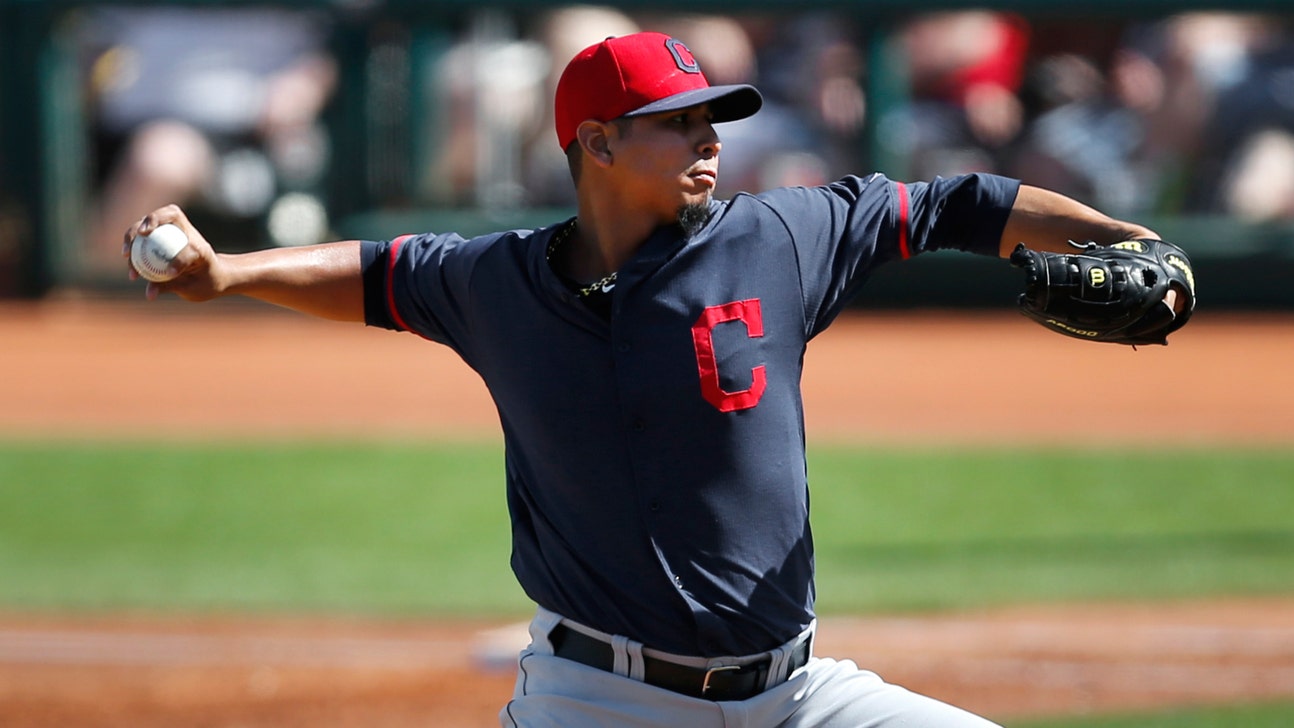 A's rough up Carrasco for 13-3 win over Indians
Updated
Mar. 4, 2020 4:11 p.m. ET

GOODYEAR, Ariz. (AP) -- Sam Fuld scored two runs on two singles and a walk, leading the Oakland Athletics over the Cleveland Indians 13-3 on Wednesday.
The center fielder has scored 13 runs in 12 games as the A's leadoff hitter.
Yoenis Cespedes, who snapped an 0 for 23 slump Monday, drove in a run in Oakland's two-run fifth inning against Carlos Carrasco, who is trying to earn the final opening in the Indians' rotation.
Carrasco followed starter Danny Salazar and inherited a 3-0 lead. Carrasco gave up eight runs -- five earned -- in 2 2-3 innings.
"We had a couple times where we didn't convert a play but then we didn't limit the damage," Cleveland manager Terry Francona said. "Worked away from his fastball a little bit. Frustrating outing. The good part is it is spring training but we're looking for him to build. It's a little disappointing."
Top shortstop prospect Francisco Lindor doubled and scored in the third and contributed a run scoring single as the Indians built a 3-0 lead against A's starter Dan Straily.
Way 2 Opening Day
Preseason baseball LIVE on SportsTime Ohio
Drew Pomerantz pitched three scoreless innings. The left-hander, who came to the Athletics in a December trade with Colorado, was Cleveland's first pick in the 2010 draft. He is seeking a job in the Athletics' bullpen.
"Pomerantz threw the ball over the plate. That's the biggest difference between this outing and the others," A's manager Bob Melvin said. "When he gets his breaking ball over, he becomes unpredictable."
STARTING TIME
Athletics: Straily, who led American League rookies in games started, innings pitched and strikeouts last season, made his fourth spring start. He pitched four innings and gave up five hits and three runs. In his Previous two starts, Straily has allowed just one run in 7 1-3 innings.
"We ramped up the intensity," Straily said. "I wasn't pleased with my arm side fastball. I missed with it to a couple lefties who hit doubles off them. Whether it is spring training or not, no competitor likes to give up runs. I will definitely work in a few more breaking balls next time. I hope to go six innings then."
Indians: Salazar has been brought along slowly by the Indians to allow the young right-hander to last the season. Salazar pitched 107 1-3 innings for Lake County in 2009. Reconstructive elbow surgery limited his innings in 2010 and 2011. Then he logged 145 innings at Akron, Columbus and Cleveland last season.
The 24-year old completed 3 2-3 innings Wednesday before he reached his pitch limit. He allowed no runs on three hits and two walks with three strikeouts, including Cespedes twice.
"I fell behind in count a lot in the first inning," Salazar said. "They told me in the fourth that I only had 10 more pitches or I could have finished. I feel good. I feel like I'm ready for the season. I feel like I can do much more after every game."
TRAINER'S ROOM
Athletics: Right-hander A.J. Griffen will likely start the season on the disabled list with a sore shoulder. ... Lefty starter Scott Kazmir will pitch Saturday against Seattle after missing a turn with tightness in his triceps. ... Reliever Ryan Cook will miss time with shoulder inflammation.
Indians: Ryan Raburn has been restricted from playing in the field since he ran into the right field wall against the Cubs on March 7. Raburn was in the lineup Wednesday as the designated hitter. While the rest of the team has an off day on Thursday, Raburn will get at bats in a minor league game.
HOT CORNER
Lonnie Chisenhall started at third base and Carlos Santana at catcher against the Athletics. The pair are competing for the job at third, although Santana will catch and serve as designated hitter at times during the season.
"Santana enjoys playing third," Francona said. "He is catching to help out. I think he would rather not be a full time designated hitter."
Chisenhall, who is hitting .286 with a home run and five RBIs, coming into the game, was charged with two errors. Santana fielded his only chance, a foul pop. Santana was hitting .167 with two home runs and six RBIs.
BULLPEN BATTLE
Pomerantz is trying to earn a job in the Oakland bullpen. The left-handed former No. 1 pick of the Indians in 2010, is in the mix with lefty Joe Savery and righties Arnold Leon and Josh Lindblom for three open spots in the bullpen now that Cook is behind because of shoulder inflammation. The 25-year old turned in three scoreless innings with three strikeouts.
ROSTER MOVES
The Indians optioned right-handers Preston Guilmet and Frank Herrmann, left-handers Colt Hynes and infielder David Adams to Triple-A Columbus.
"I told Frank that this camp was a complete success," Francona said. "I know he's mad that he gave up runs but he just needs to pitch and enjoy the next couple months."
---