Arizona State to launch Division I hockey program
BY foxsports • November 18, 2014
TEMPE, Ariz. -- First-year Arizona State athletic director Ray Anderson wants to make a statement about the direction of Sun Devil athletics. His first major move will do just that.
The university announced on Tuesday that it will elevate its national champion club men's hockey team to NCAA Division I status over the next three seasons. Anderson made the announcement at a press conference at the Carson Student-Athlete Center.
The move was made possible by private donations of $32 million by a group of hockey supporters, including Don Mullett, the father of former Sun Devil hockey student-athlete Chris Mullett.
The move comes at a time when many university athletic programs are cutting expenses and teams amid looming cost concerns, including the impending monetary compensation for student-athletes that came on the heels of a landmark federal court ruling.
"This is in line with (ASU) President (Michael) Crow's vision," Anderson said. "Let's step out there. Let's do some things that others maybe aren't comfortable doing so long as you can make the business case for it and a financial case for it. We're going to be entrepreneurial."
The plan is for the Sun Devils, who won the American Collegiate Hockey Association championship last season, to play a hybrid schedule in 2015 with a mixture of DI and ACHA competition, followed in 2016 by a full DI schedule independent of conference alignment. The team plans to transition to full Division I membership in 2017 and will join a Division I conference, either the National Collegiate Hockey Conference (NCHC) or the Western Collegiate Hockey Association (WCHA).
The creation of the program will necessitate the addition of a women's sport to remain in compliance with Title IX, at a cost of $1 million to $1.5 million. The university is still researching which sport might be the best fit, with lacrosse and rowing among the possibilities.
The annual cost of operating the men's ice hockey program is about $2.5 million and will include 18 new scholarships. The private donations will fund the program for the first 10 years. After that, the burden would fall on the university athletic department.
Had the university chosen to place the donation money into endowment, it would have paid out approximately $1 million per year. Instead, the funds will go into a quasi-endowment where interest earnings and principal will be used to fund the sports over time. The goal is to continue to fund-raise and endow the programs for the long term, but Anderson hinted there may already be more funding lined up.
"We believe very frankly that our donor base and our ability to create revenue streams and to get people excited about sports -- we're very confident we can do that," he said. "You provide us financial start-up capital that we know takes us 10 or 12 years out, that's a scenario that an entrepreneur will take every time. You get out there in the real world, how many people get start-up capital that takes them out 10 years? It doesn't happen."
ASU has not decided where the hockey team will play yet, but the options include U.S. Airways Center (the Suns have expressed interest), a renovated Oceanside Arena or a renovated Wells Fargo Arena.
The hope is that with Arizona State opting to add hockey, other Pac-12 schools will follow suit to reduce travel costs for the program. As it stands, the closest Division I competitors for ASU are Air Force and Colorado College in Colorado Springs and Denver University. There are very few Division I schools in the western United States. Aside from the Colorado schools, Alaska, Alaska-Anchorage, Nebraska-Omaha and North Dakota all field teams.
Anderson said he has already spoken with Pac-12 commissioner Larry Scott and Scott likes the idea of expanding hockey throughout the conference, both as a possible revenue sport and as a sport that would fit well on the conference's TV networks.
"You put those things together along with the growth of hockey on the West Coast and you've got something," Anderson said. "We're the Pac-12. We want to potentially have our own conference. The Big Ten has one.
"There's no timeline per se. I think they were a little stunned that we would have the boldness and the wherewithal to get it done. Now that they know this is true, I believe they will be very encouraging with the other Pac-12 schools and maybe do it in shorter order than anybody thought."
The Pac-12 issued a statement from Scott on the news.
"I applaud Arizona State University for creating new opportunities for student-athletes," he said. "Thanks to today's announcement, more Sun Devils will benefit from the often transformative experiences and life lessons made possible by college athletics."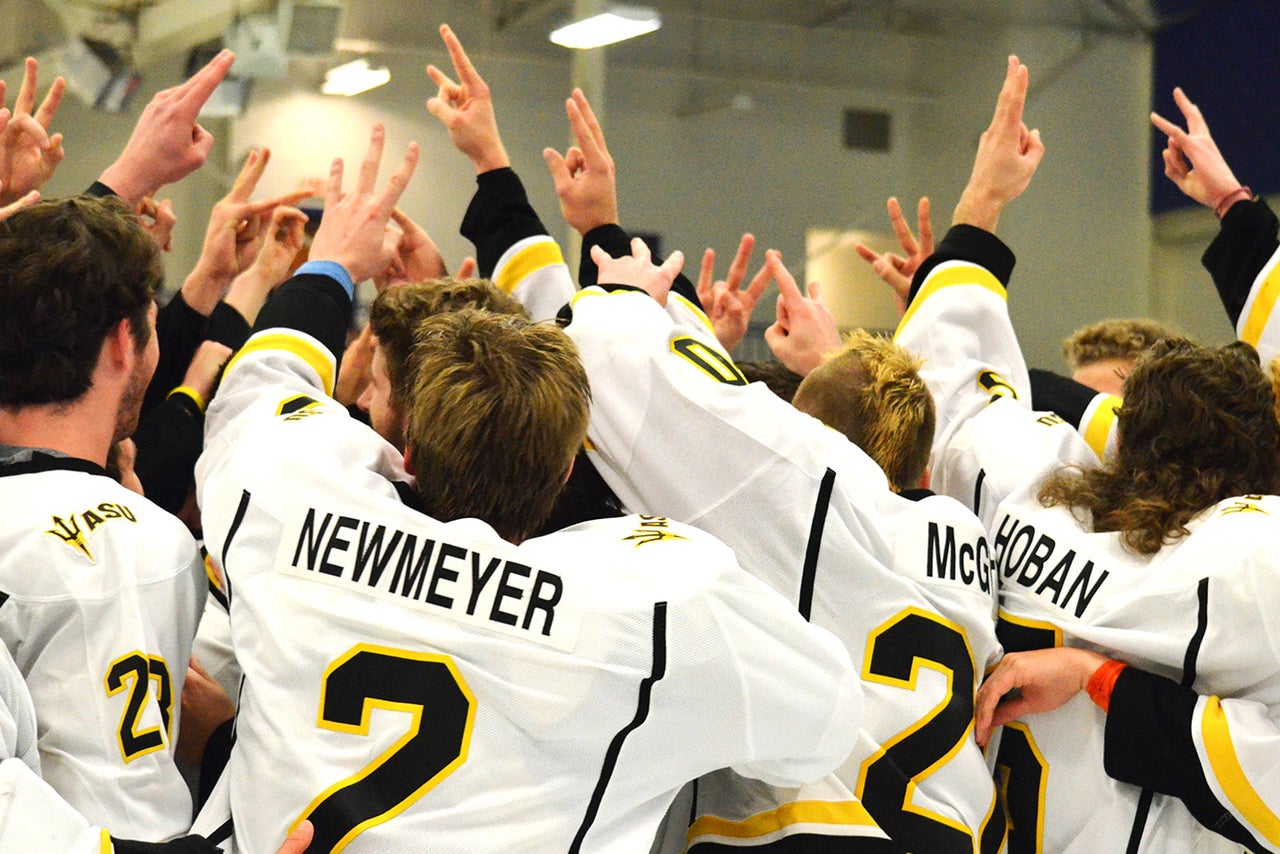 Arizona State's club hockey program had a 38-2-0 record last season and won the 2014 ACHA national championship.
Arizona State is the first power-five conference school to add men's ice hockey since the Big Ten's Penn State added the sport in 2012. There are currently 59 Division I hockey schools.
"Hockey in general on the West Coast, to say it's growing is a gross understatement," ASU coach Greg Powers said.  "Last year alone, 59 kids from the state of California played Division I hockey, 14 from Arizona.  We have the NHL here in Phoenix, obviously, and two of the last four Stanley Cups belong to a West Coast team in the Los Angeles Kings.
"It's a different landscape now on the West Coast ... but most importantly, we're Arizona State." 
Follow Craig Morgan on Twitter
---