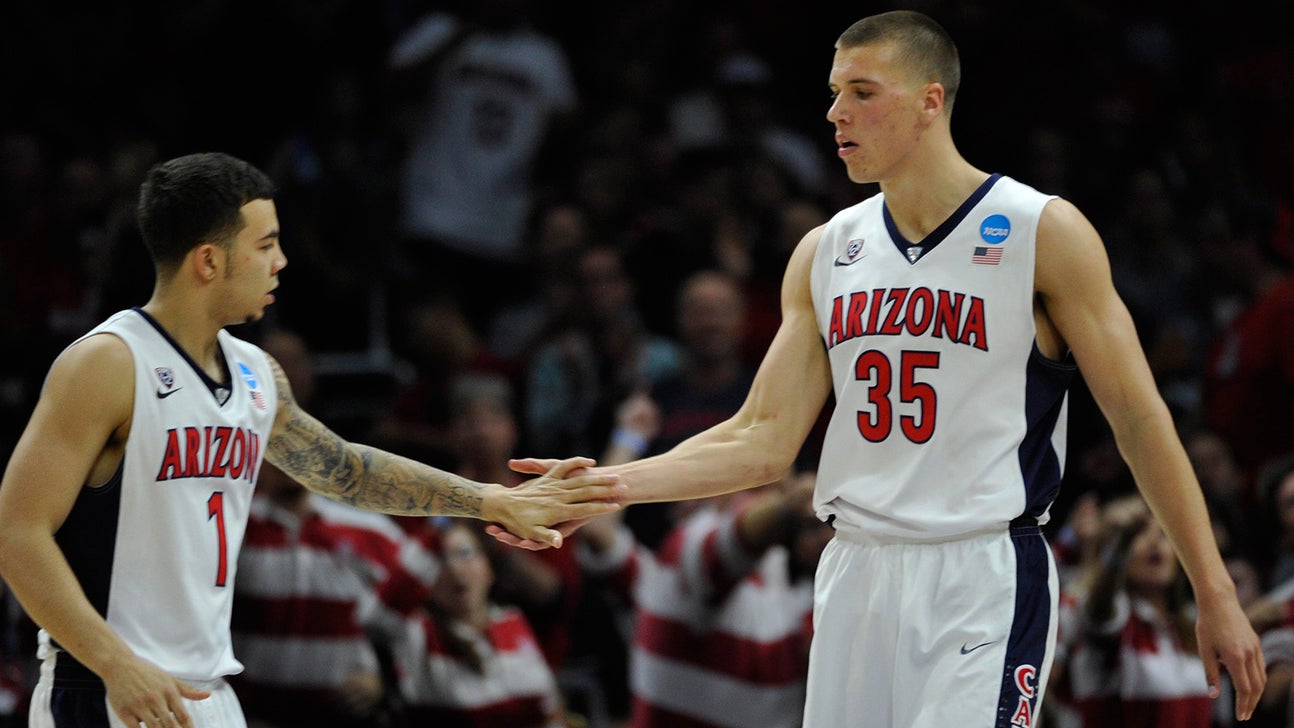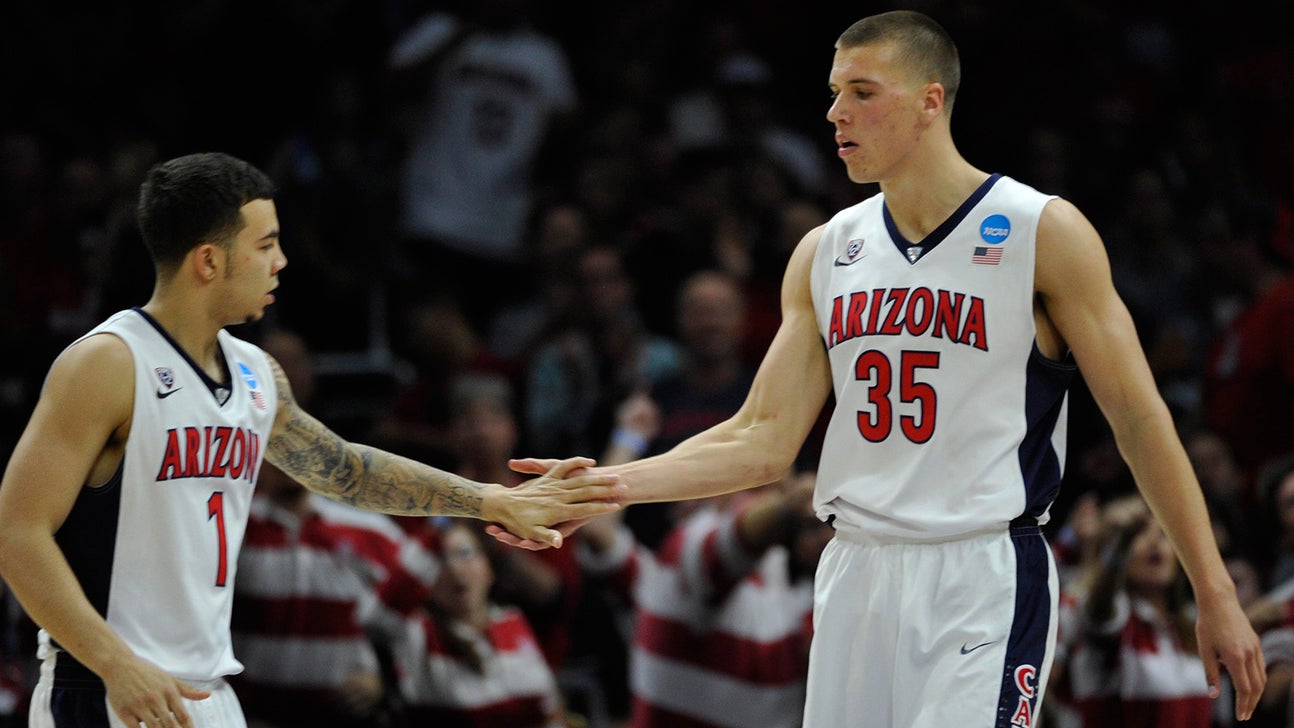 Arizona is media pick to win Pac-12 basketball title
Published
Oct. 15, 2015 1:41 p.m. ET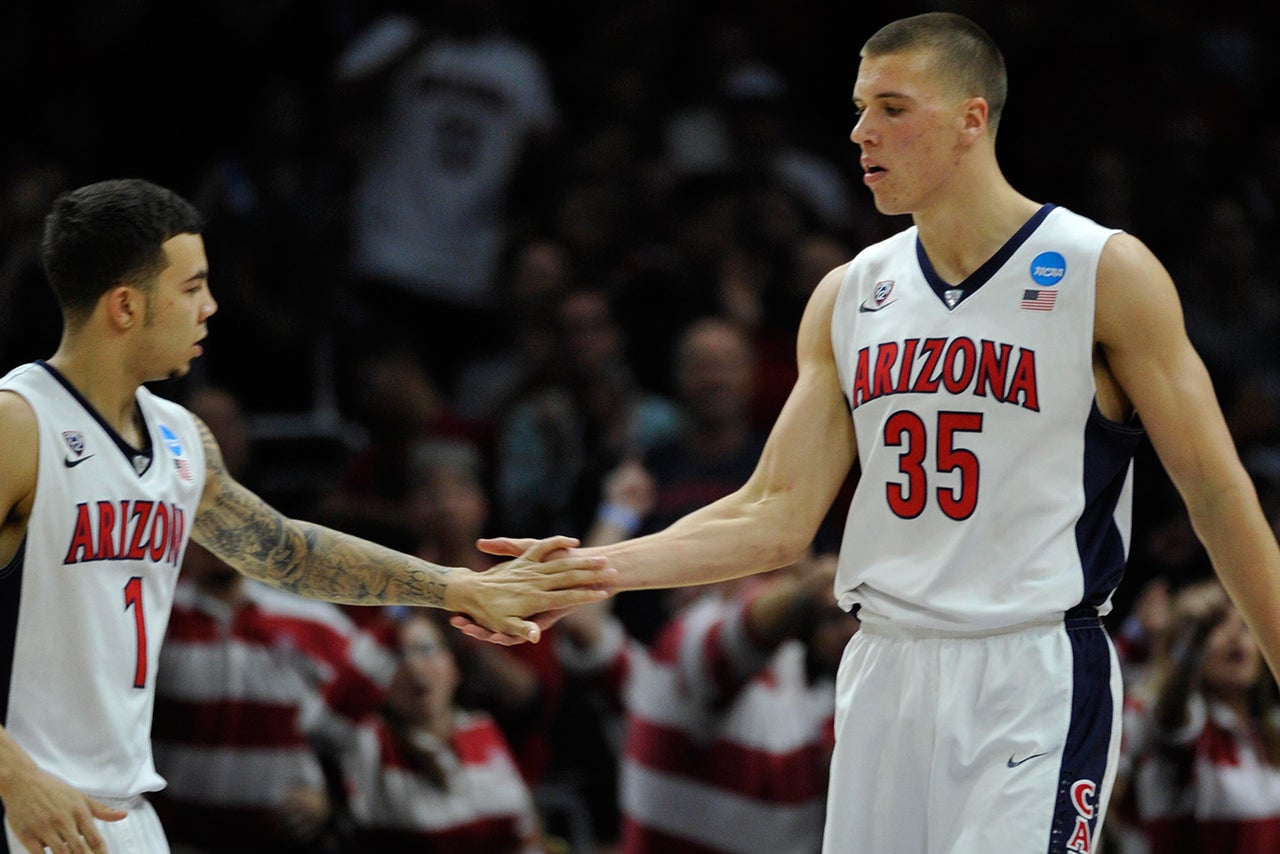 SAN FRANCISCO -- Sean Miller hardly expects his two-time defending Pac-12 champion Arizona team to run away with another conference title.
With so much balance and new talent coming in, it could come down to the wire. For a fourth straight season, the Wildcats are picked to win the Pac-12.
"Hopefully the way they picked it, it finishes that way, that means a lot of good things have happened for us," Miller said. "This season, more so than maybe in the recent years, there is a group of teams that can win the regular-season championship. I think that's fairly obvious."
The Wildcats dominated the conference a year ago, finishing 34-4 overall, going 16-2 in conference play and sweeping through the Pac-12 postseason tournament.
Center Kaleb Tarczewski (9.3 points, 5.2 rebounds per game) is the only returning starter for Miller. He's joined by senior guard Gabe York (9.2 points per game), junior guard Elliott Pitts, sophomore guard Parker Jackson-Cartwright, sophomore center Dusan Ristic, transfer forwards Ryan Anderson (Boston College) and Mark Tollefsen (San Francisco), redshirt guard Kadeem Allen and four highly regarded freshman recruits: guards Allonzo Trier and Justin Simon, forward Ray Smith and center Chance Comanche.
Arizona fans can get their first look at the Wildcats at the annual McDonald's Red-Blue game on Saturday at 1 p.m.
Arizona received 18 first-place votes in a poll of media members announced Thursday at Pac-12 media day. California, under second-year coach Cuonzo Martin, is picked to finish second with nine first-place votes.
"Great times for our programs, exciting times," Martin said. "I've been in a league we were picked 11th out of 12 teams and finished second. I don't think you get consumed with those type of numbers. I'd rather be the last team standing at the end of the season than at the beginning."
His team has added top recruits Jaylen Brown from Georgia and local Oakland standout Ivan Rabb to join senior returner Tyrone Wallace. The Golden Bears, who won their first conference title in 50 years in 2009-10, finished 18-15 and eighth in the Pac-12 last season.
"We have a lot of good pieces," said Wallace, who is on schedule to become the first person in his family to graduate from college. "It's about how well we come together."
Miller compared Cal's progress to how Arizona has built its program in recent years with a mix of top young players and experienced returners.
"Cal's going to be a terrific team. Cuonzo Martin and his team have done a great job," Miller said. "They have an influx of new talent that are among the best but also a veteran group that has been coached well and has been through multiple Pac-12 seasons. They have that blend of talent, both old and new, and that can be a powerful thing.
Utah is projected to place third and has four returning starters on Larry Krystkowiak's team. Pac-12 tournament runner-up Oregon is fourth, with UCLA fifth. They are followed by Oregon State, Colorado and Arizona State, which is now coached by Bobby Hurley. Rounding out the poll are NIT champion Stanford, USC, Washington and Washington State.
"I have the best group of big guys I've had since I've been in coaching," Cougars coach Ernie Kent said. "I look at it as if we're the last-place team, this conference is really going to be a good conference."
Lorenzo Romar's Washington team opens next month in China against Texas in the first regular-season college game played there. Pac-12 Commissioner Larry Scott said it is hoped this "is going to be an annual tradition for how we open our season."
"This is a trip that we're obviously not taking lightly," Romar said. "We must not lose sight among ourselves with our team that there is a basketball game that's going to be played. But then there are so many other things that are involved."
Scott said the Pac-12 has discussed the idea of playing the season over one semester.
"I know there's been a flurry of media documenting the intriguing concept that we absolutely ought to explore," he said. "I think we should look at everything. But as far as that consideration, we have to realize March Madness is something very unique, something very special, part of the psyche of the American sporting fan. It captures people's imagination and engagement in a way that's very hard to recreate. So I think that needs to be thought about pretty carefully before you move it."
In addition, all teams must prepare for games to be called a bit tighter so the action doesn't become overly physical.
"The whistle's going to blow, and it's going to blow often early in the season," said Bobby Dibler, Pac-12 coordinator of officiating.
Hurley is one of two current Division I coaches who has been Final Four most outstanding player along with Danny Manning at Kansas. Hurley will get to see fellow former Duke star and now-Stanford coach Johnny Dawkins during the season.
"It will be awkward competing against him but I'm excited for him and his team and his program," Dawkins said.
Hurley has already had ex-teammate Grant Hill stop by practice in Tempe.
"He shared a few thoughts with the players," Hurley said, "which was invaluable with what he has accomplished." 
The 2015-16 season gets underway for the Pac-12 with 11 games on Friday, Nov. 13.
Pac-12 men's basketball media poll
| | | |
| --- | --- | --- |
| Team | 1st-place votes | Points |
| 1. Arizona |  18 | 406 |
| 2. California |   9 | 378 |
| 3. Utah |   7 | 360 |
| 4. Oregon |   1 | 338 |
| 5. UCLA |   1 | 304 |
| 6. Oregon State |   | 235 |
| 7. Colorado |   | 188 |
| 8. Arizona State |   | 165 |
| 9. Stanford |   | 145 |
| 10. USC |   | 111 |
| 11. Washington |   |  96 |
| 12. Washington State  |   |  65 |
---