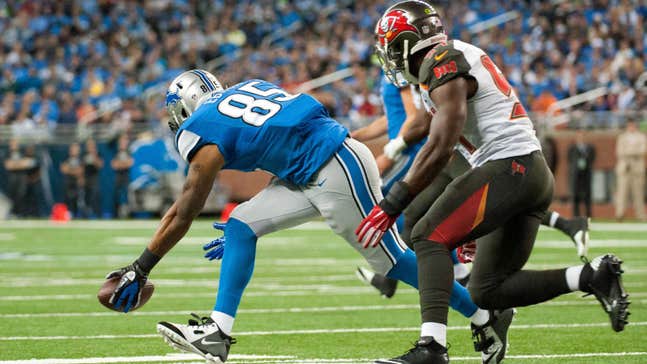 Are Lions finally catching on?
Published
May. 22, 2015 10:10 a.m. ET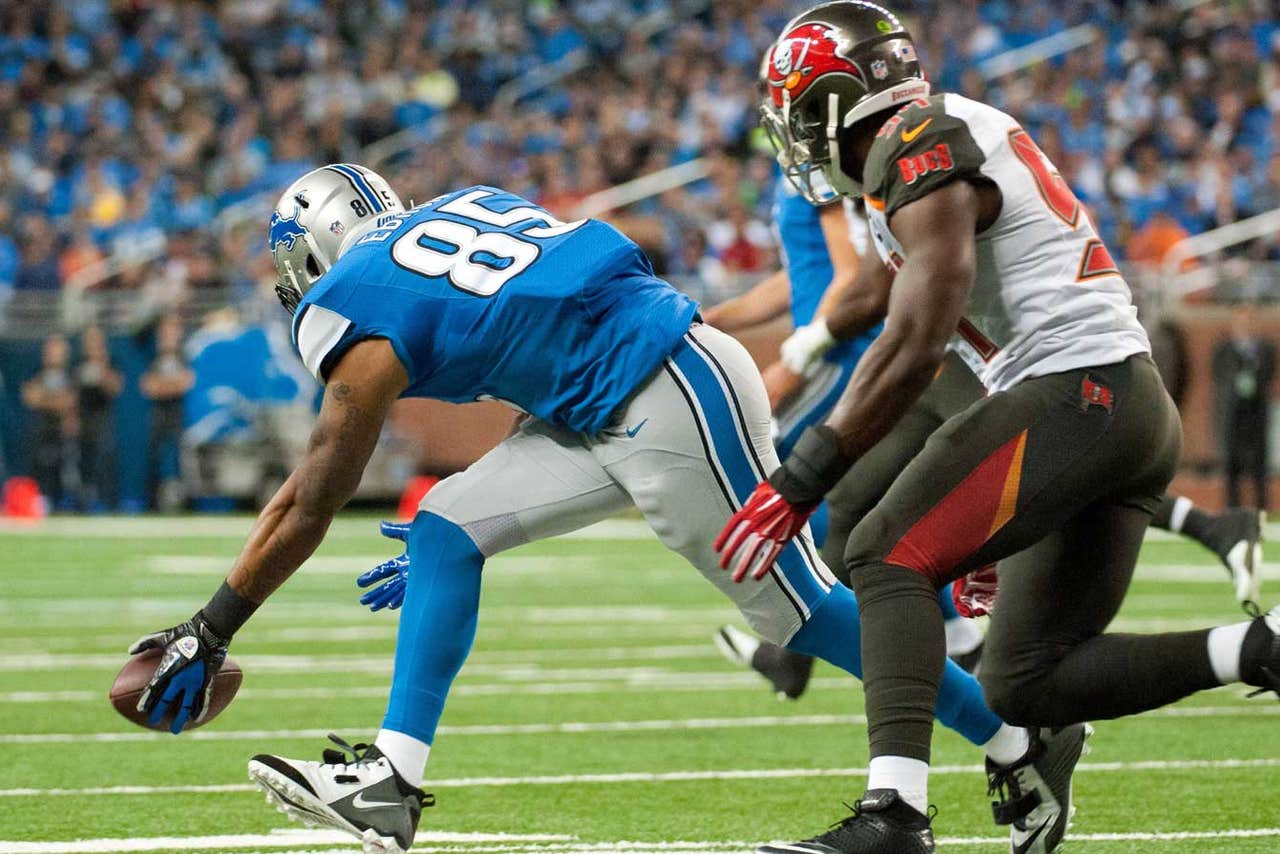 Based on their recent actions, Martin Mayhew and the Detroit Lions appear determined to put an end to all the jokes about how they've never met a receiver they didn't want to draft.
In reality, the Lions haven't taken a true receiver in the first five rounds for three straight years now, unless you count hybrid tight end Eric Ebron, the 10th pick overall in 2014.
During that same period, out of 16 picks in the first five rounds, the Lions used nine on defensive players and three on offensive linemen.
This year, the Lions didn't even take a receiver. Seven picks, zero receivers. And that came after some pre-draft speculation that, considering their reputation, the Lions could opt for another wideout as early as the first round.
Mayhew admitted there were some points in the draft where he did indeed consider taking one.
"I think that a couple times when a receiver's name was up there (on the Lions' board)," Mayhew said. "But there was somebody else that was more appealing. There was a reason to go in a different direction."
Who knew that he and the Lions could show such restraint in this area?
The rap against them, of course, goes back to the team taking a receiver in the first round for three straight years: Charles Rogers, second overall, in 2003; Roy Williams, seventh overall, in 2004; and Mike Williams, 10th overall, in 2005.
Mayhew wasn't the GM back then. It was Matt Millen. But Mayhew was in the front office at the time and probably always will be associated with those picks, whether it's fair or not.
As it turns out, this was the first time since Mayhew took over the draft as the GM in 2009 that he hasn't drafted a receiver.
When he did, he didn't have much success, which leads to the joke that the only thing Mayhew, a former cornerback, knows about receivers is that they're tough to cover.
Here's the history:
2009: Third round, Penn State's Derrick Williams.
2010: Seventh round, Weber States Tim Toone.
2011: Second round, Boise State's Titus Young.
2012: Second round, Oklahoma's Ryan Broyles.
2013: Sixth round, Virginia Tech's Corey Fuller.
2014: Sixth round, Notre Dame's TJ Jones.
The first three no longer are with the Lions. Young's emotional issues led to his downfall.
The drafting of Broyles was widely criticized at the time. He's had an injury-plagued and largely ineffective career so far. This coming season could be his last chance to prove himself in Detroit.
Meanwhile, Fuller showed signs last season of possibly developing into a quality receiver, including scoring the winning touchdown in the final minutes against New Orleans.
Jones missed his entire rookie season because of a shoulder injury suffered in college.
As a result of not using a lot of recent resources on top receivers, plus not hitting on the ones they did, the Lions are still searching for a dependable No. 3 man to complement Calvin Johnson and Golden Tate.
Johnson and Tate combined for 170 of the 210 receptions (81 percent) by the team's five receivers last season; 2,408 of the 2,959 receiving yards (81.4 percent) by that quintet, along with 12 of their 14 touchdown catches (85.7 percent).
With on-field practices for the offseason beginning next week, the Lions currently have what appears to be as many as six likely candidates for probably the final three receiver spots on the 53-man roster:
--- Jeremy Ross (6-foot, 215 pounds): There are mixed opinions on how valuable he is as a receiver. It's possible his roster spot could be tied to holding onto the job as the No. 1 return specialist.
--- Fuller (6-2, 200): He's shown enough promise that it would be surprising if he isn't on the team, considering his youth, size and speed.
--- Broyles (5-10, 195): Can he regain his form from before three straight season-ending injuries that started in 2011 as a senior in college?
--- Jones (6-0, 185): A wildcard in the competition because of his injury rehab.
--- Lance Moore (5-9, 177): The recent free-agent addition has the best resume of the group, but he's 31, entering his 10th season and had only 14 receptions last year for Pittsburgh.
--- Greg Salas (6-2, 210): Another free-agent signee who's coming off an unproductive season, catching only eight passes in 10 games with the New York Jets.
The current plan is for Ebron, an athletic tight end, to become much more involved in the passing game than he was when he caught just 25 passes for 248 yards and one touchdown last season, despite lofty expectations as a rookie.
Even if Ebron emerges, a more productive third receiver would be a welcome addition to the Lions' offense.
They haven't had one in a while.
---