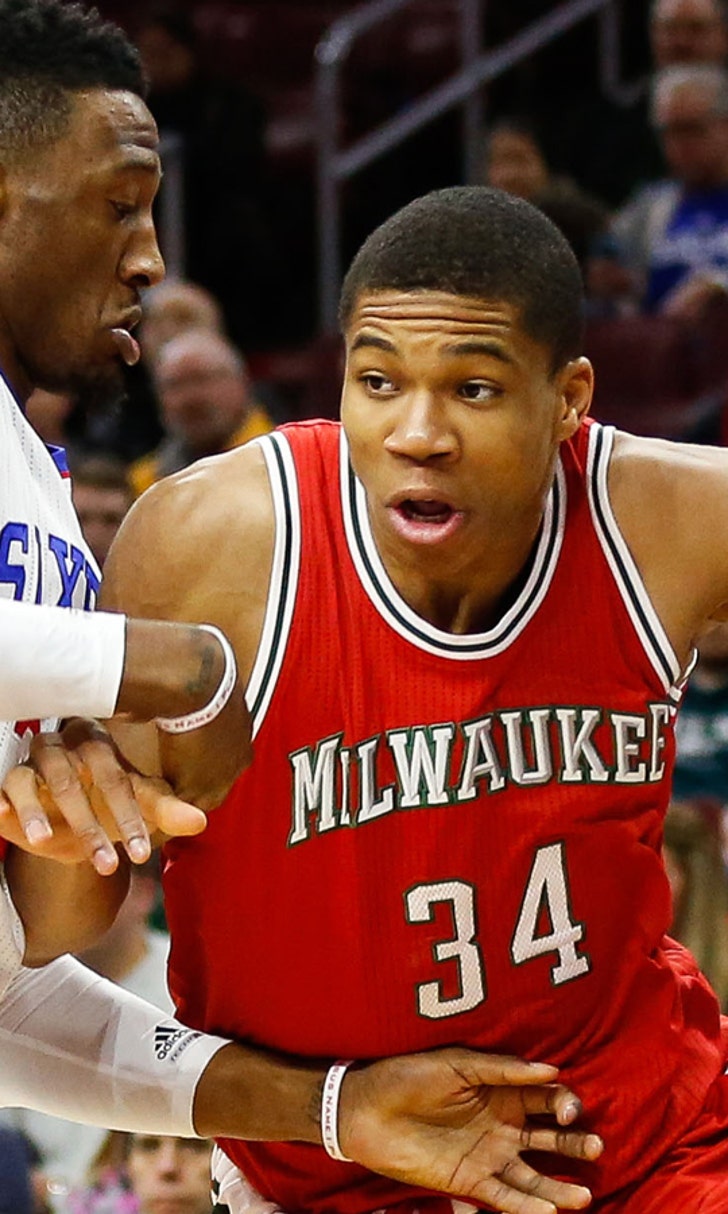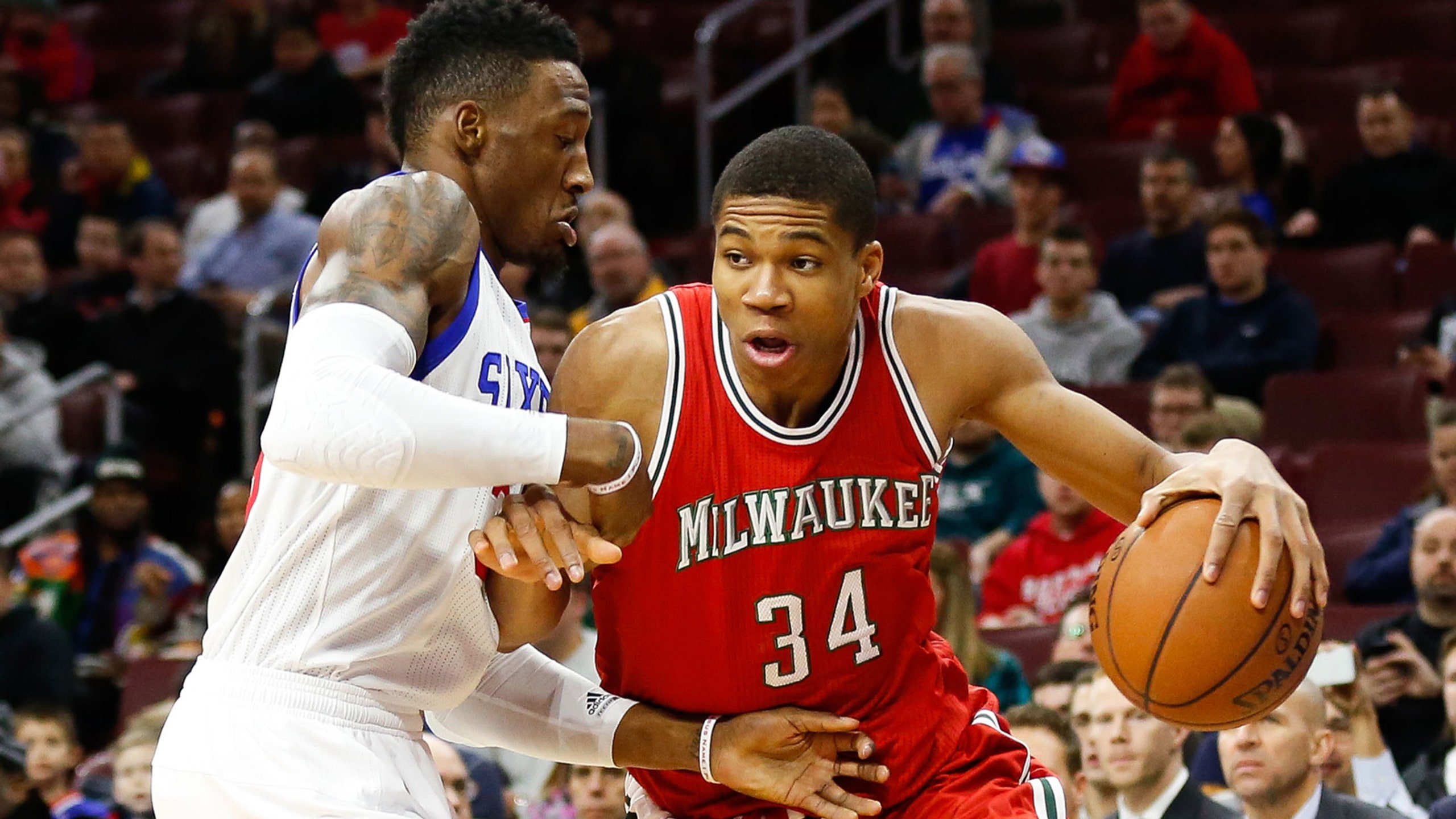 Antetokounmpo taking notes, improving game
BY foxsports • February 5, 2015
MILWAUKEE -- In the middle of a thought, Giannis Antetokounmpo reached into his locker and pulled out a green spiral notebook.
He held open a page just long enough to reveal what was written at the top in sloppy but legible handwriting.
"Keep learning and working hard than everybody else."
Antetokounmpo began penning his thoughts into the notebook during a recent stretch in which he struggled offensively. The idea stemmed from a realization that he needed to regroup and refocus his tireless work habits.
"I remember one game where I was in the middle of a bad stretch where I wasn't playing so well," Antetokounmpo said. "I said, 'What can I do to help myself?' It is just work harder, keep learning, listen to my coaches and come out and try to make plays while learning from my mistakes."
Antetokounmpo flashed his vast offensive potential during Wednesday's overtime victory over the Los Angeles Lakers. He racked up a career-high 25 points by scoring in a variety of ways, including a dunk off a spin move from the block, five made free throws and even a couple of mid-range jump shots.
It was just the third 20-point game of his young career and his first since Dec. 13.
"I don't think this will be his career high for long," Bucks head coach Jason Kidd said. "As he continues to grow and understand the game -- we've put him in a lot of different situations that he's succeeded in. He's getting comfortable shooting the ball and making plays for his teammates. He's a guy that fills up the stat sheet. He put a lot of pressure on their defense by driving the ball and getting into the paint."
Once Antetokounmpo proved he could get to the hoop by simply blowing by most defenders, opposing teams began sagging off of him to force him to take jump shots.
Antetokounmpo is shooting 62.7 percent from less than five feet this season, as 263 of his 431 shot attempts have come from within that range from the basket. He's just a 27.7 percent shooter from outside of 10 feet and is just 8 for 40 on shots of 20 feet or more.
"It is really big,"Antetokounmpo said of developing his jump shot. "It will give me another way to score and draw defenders. If I start making it, they are going to come up and I will have a lot more room to drive."
What an improved mid-range jump shot would do for Antetokounmpo's offensive game was on display Wednesday. The Lakers were forced to change the way they defended him after he knocked down a couple of jumpers.
Then Antetokounmpo was able to go to work and get to the basket for easy layups.
"It's big because it allows that defender to come up and feel like he needs to play him and not sag off of him," Bucks guard Brandon Knight said. "He doesn't need to make 20 of them, but if he can make one or two to make that defender uncomfortable, it will open up the rest of the floor for him as far as getting to the rim and creating for himself and other guys. We just don't want him hesitating. If he catches it and shoots it, we love it. If he continues to play to his strengths, he's going to be a great player."
Although Antetokounmpo ended up missing the shot, Kidd went out of his way to point out how pleased he was with Knight's decision to get Antetokounmpo the ball for a 16-footer with the Bucks up four points during the final minute of overtime.
"With the game in the balance, he has a wide-open jump shot and he takes it," Kidd said. "His teammates encourage that shot. He's growing . . . fast." Earlier in the season, Antetokounmpo might have hesitated or tried to force a drive. This time he didn't waver and confidently took the jumper that would have iced the game at the time.
"I'm just trying to get better and trying to find ways to grow as a scorer," Antetokounmpo said. "I have time to set my feet and take my time with my jumper. I'm working on it, and I'm not going to back down from taking the shot."
Since a two-week stretch in which he averaged just 8.2 points per game, Antetokounmpo has recorded two double-doubles. He's averaging 14.0 points and 7.6 rebounds over Milwaukee's five-game winning streak.
"He can be a difference maker," Lakers coach Byron Scott said. "He is special. When you look at the skill level he has -- the way he can handle the ball, the way he can pass the ball, the things he can do offensively -- he has a freakishness about him on the court that is undeniable.
"The guy is 20 years old. It seems like when he stretches his arms out he can touch baseline to baseline. If he continues to develop, they have something special here."
After every game, Antetokounmpo goes through an individual film session with Bucks assistant coach Sean Sweeney. The notebook comes along, as each mistake gets scribbled down on a page.
"Sometimes you have a game where you play bad," Antetokounmpo said. "The things that I'm working on, you'll be in a game and miss a couple of jump shots. You just have to keep working on that to get your confidence up.
"You have to stay focused, positive and working on the same thing every day, every day, every day until you get it right. That's what I'm doing."
Follow Andrew Gruman on Twitter
---