Angels giving left-hander Mark Mulder shot at comeback
Published
Jan. 23, 2014 7:02 p.m. ET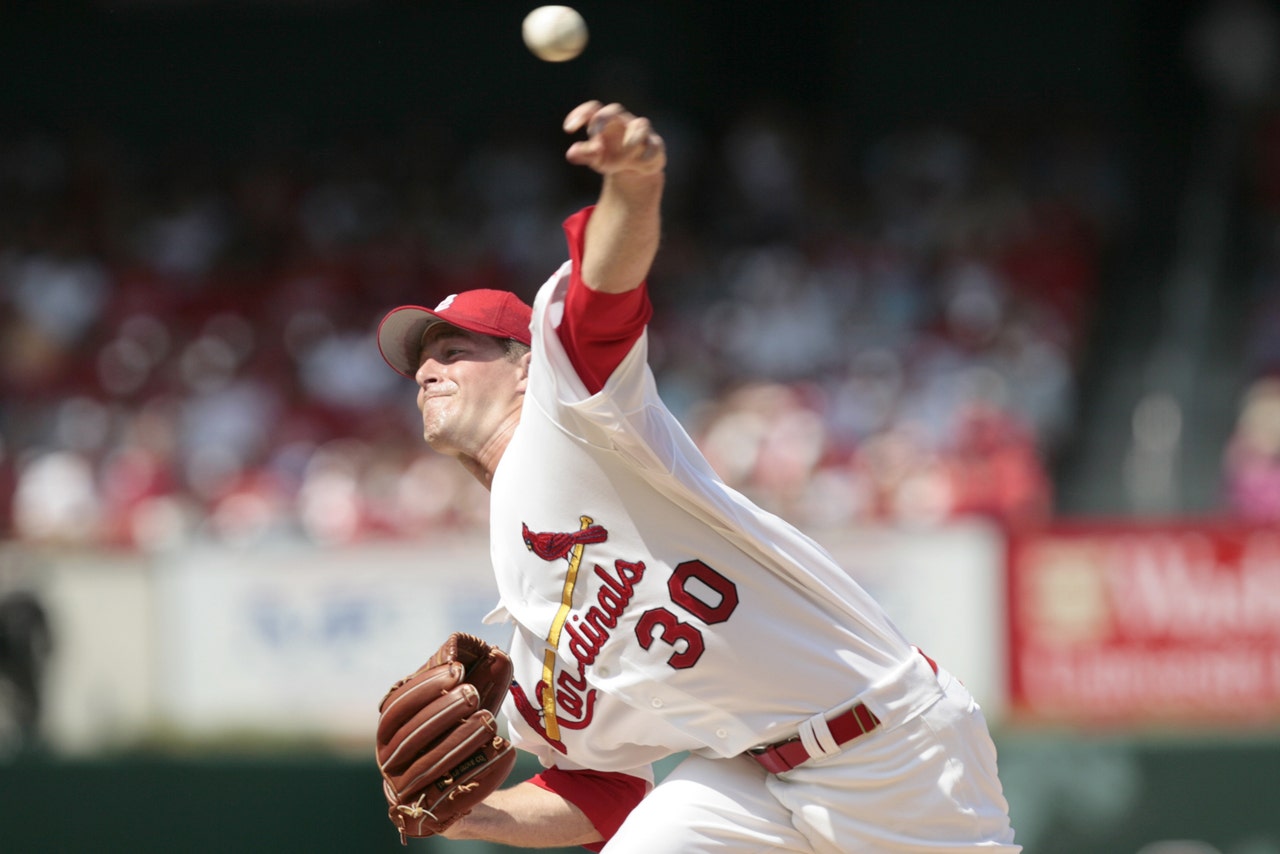 Mark Mulder is an old hand at this. He's gone to spring training many times before, in Arizona and Florida, as a kid trying to make the club and a veteran getting ready for another long season.
But this spring is going to be different.
This is almost like the first time, except that it isn't. Mulder isn't a rookie and in some ways he isn't a veteran either. Three weeks from the date Angels pitchers and catchers are to report to Tempe, Ariz., he's somewhere in between.
Mulder, 36, is on a comeback from a six-year retirement. Forced by injuries to retire in June 2010 after having last thrown a pitch in the big leagues in 2008, he wants one more chance to revive his career.
The Angels are giving it to him. They signed the left-hander, who won 103 games for the Oakland A's and St. Louis Cardinals, to a minor league contract in January. The deal will pay him $1 million if he makes the team; incentives could be worth another $5 million.
But this isn't about money. It's about getting back to the game, or at least trying. Which is why this seems like the first time.
"I can't say this is like my first (spring training) because I know what to expect," Mulder said. "As far as how excited I am, I'm just as excited, if not more so, going into this one than even my first couple. I think it's because I didn't plan on this. I didn't expect this. It's not something I planned on happening or even being able to do again."
It sort of fell into his lap. Mulder was watching the Dodgers in last season's playoffs from his Phoenix home. Lefty Paco Rodriguez was on the mound against the Atlanta Braves and Mulder saw something in his delivery that caused him to sit up.
It was simple really, but that's sometimes how these things happen.
"I literally stood up in my living room in front of the TV and separated my hands in front of my face," Mulder recalled. "Now, I'm not throwing anything like him. I look exactly the same as I did in Oakland, but I'm separating my hands in front of my face as opposed to at my waist, where I did my whole career.
"I said, 'That feels really good,' and thought nothing of it."
But it came back to him a few days later while watching the World Series. Mulder said he mimicked Rodriguez's delivery again, pulling his hands apart higher than he did during his career. Something felt right.
"I grabbed a ball, went out on the basketball court in my backyard and threw it against a wall and I couldn't believe what I felt like," he said. "I went inside, handed my wife my phone and said, 'Come out here a second.' I needed to see it. She took a video of two throws and I was astonished at how good it looked."
Mulder sought confirmation from several friends, among them Kyle Lohse, a former teammate in St. Louis. While playing long toss, Lohse told Mulder what he needed to hear, that whatever he was doing was working.
Mulder auditioned for several teams in November before signing with the Angels, who remain unsettled at the back end of their starting rotation. They offered him the best chance, and it's one he's thankful to have.
There's no medical explanation for why Mulder is throwing again without discomfort. All he has is his own theory.
"My opinion is that it's changed the muscle memory," he said. "I did something a certain way for a long time, and you kind of change one big thing. I don't know if it's created a short-cut for my arm. I just believe (it was) the bad muscle memory, the bad habits, all that time I didn't throw. Now you separate your hands differently and it all just went away."
Mulder's first retirement was a relief of sorts. Two rotator cuff surgeries had broken him down. After winning 88 games in a five-season stretch with the A's and Cardinals, he struggled in 2006 which resulted in his first operation. He never quite found a sense of comfort after that and a second surgery to clean out the area didn't help either.
Worse, he never found his way back to throwing with ease. Every time he felt pain in his shoulder, he changed his mechanics. He became, as he said, "mechanically dysfunctional."
So he walked away.
"For the last two years in St. Louis after my two surgeries, I knew that I wasn't coming back," he said. "I just knew that no matter what I did each and every day, I was not going to be able to come back. And I was miserable. I hated going to the field because I went to the park knowing that no matter how hard I worked, no matter what I did, it was not going to change anything."
Whether he's found the path to a successful comeback is something that will unfold this spring. But there's hope, for him and for the Angels.
"Really, there is no downside for us," Angels general manager Jerry Dipoto told MLB.com. "This is all upside for us, and it's really all upside for Mark Mulder. Hopefully, it's going to end up being one of the really cool stories of the year."
Even if it isn't, Mulder knows it's worth a try -- that if he doesn't make it back and is forced to retire again, it will be on his own terms.
But he's not there yet.
"I have to look at this and expect myself to make this team," he said. "I have to think that. I would be shorting myself if I didn't."
Even so, his years of experience have taught him that, one way or another, he'll know if it's going to work. Once he faces hitters in batting practice, then in spring games, the answer will come.
"I'm not in this to try and prolong anything," he said. "It's either going to work or it's not. I'm all in on this thing right now. If it does not go well and I feel the results are not good and I'm throwing as well as I can, then that's it. I'm obviously not going to drag this out."
---