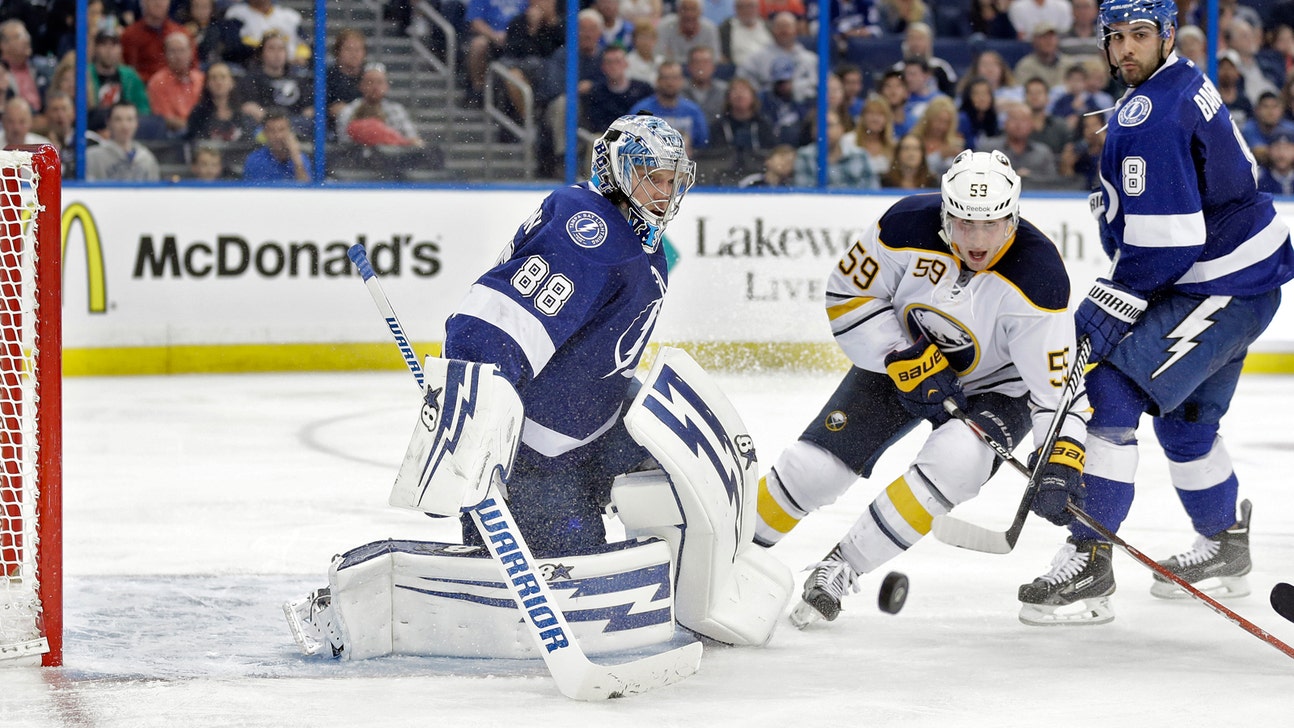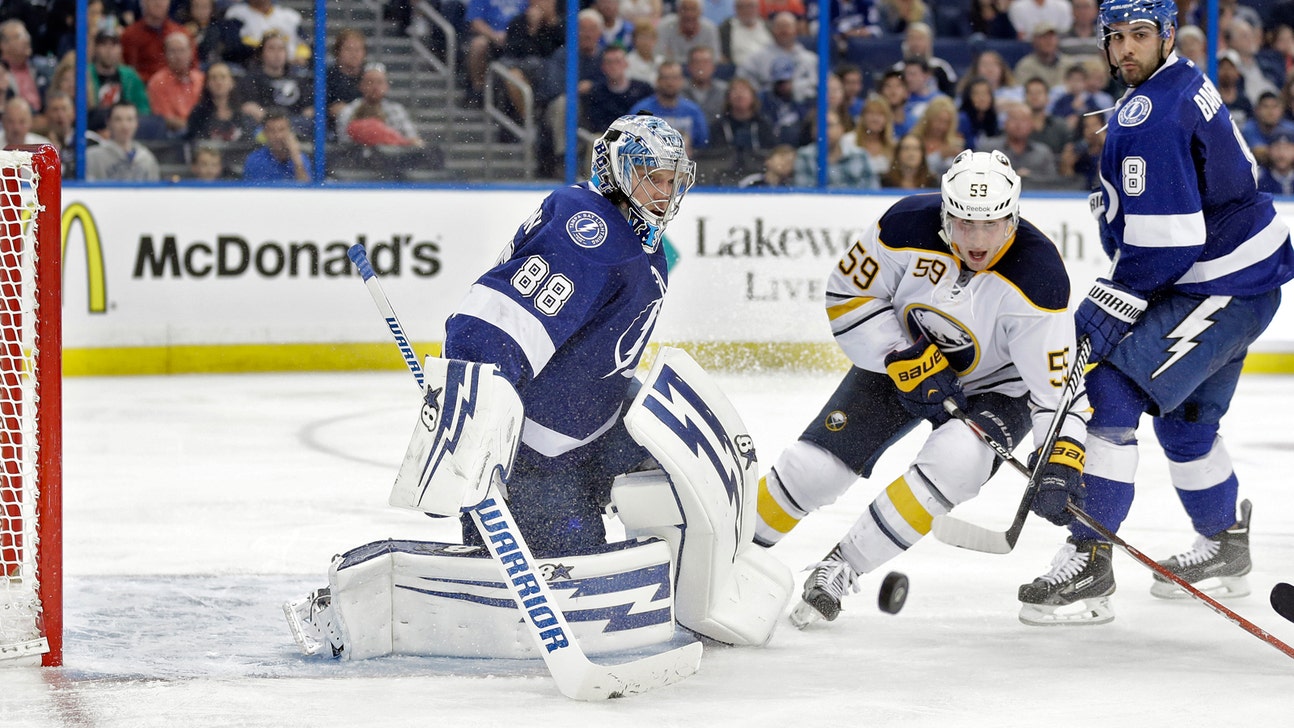 Andrei Vasilevskiy records first NHL shutout, Lightning top Sabres
Published
Mar. 3, 2015 10:27 p.m. ET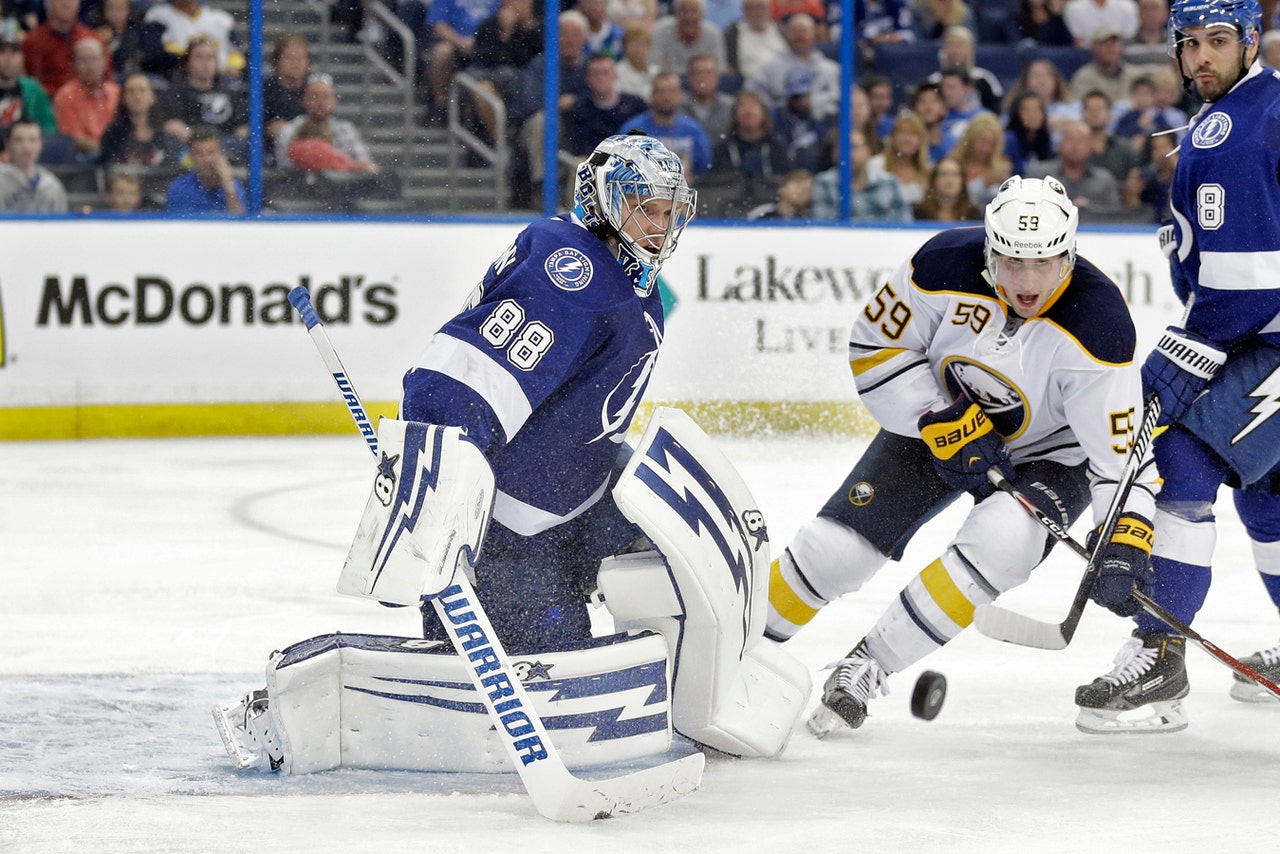 TAMPA, Fla. (AP) -- The Lightning sent a rookie goaltender out to face the lowest-scoring team in the NHL on Tuesday night, and he played like a seasoned veteran.
Andrei Vasilevskiy made 28 saves in his first shutout, and Tampa Bay beat the Buffalo Sabres 3-0.
Lightning coach Jon Cooper wondered how things might have turned out without Vasilevskiy turning aside a flurry of shots in the opening minutes.
"He didn't get tested a ton tonight, but he was tested early and often," Cooper said. "And that's when the score was 0-0. They go up, who knows what happens after that?"
Steven Stamkos opened the scoring late in the first period, snapping a wrist shot past former teammate Anders Lindback for his team-leading 36th goal. Ryan Callahan and Victor Hedman added power-play goals 1:36 apart early in the second.
Stamkos, the team captain, seemed most pleased by how Vasilevskiy rebounded from a 5-4 loss at Colorado in his last start.
"He was great," Stamkos said. "For a young guy to come in and then put out that performance your next start, that's big, hopefully, for his confidence."
Defenseman Braydon Coburn made his debut for Tampa Bay and was loudly cheered after his second-period fight with Buffalo's Marcus Foligno. The 6-foot-5 veteran was acquired in a trade with Philadelphia on Monday.
Cooper was impressed: "I thought, well, it's a pretty good entrance; come in and lay a big hit and get in a scrap. Gets your fans on your side right away."
Lindback (2-9) made 32 saves in his first appearance for Buffalo since being acquired last month from Dallas. He was given the starting assignment one day after Michal Neuvirth was dealt to the New York Islanders for Chad Johnson in a swap of goalies.
"I have a hard time feeling good when you're not winning," Lindback said, "but my game, obviously, felt all right to me."
Vasilevskiy (5-3) faced only four shots in the second period from the Sabres, who have been depleted by injuries and trades that leave them with the worst record in the league.
Buffalo coach Ted Nolan is determined to remain positive in front of his rebuilding team.
"I'm the senior guy. These kids are young men," he said. "Before they know it, their careers are going to be over, so our job is to make sure that they stay focused and become the best players they can under the most difficult situation."
NOTES: Stamkos has scored four goals in three games. ... Tampa Bay has won 13 of its past 15 home games. The Lightning are 24-6-1 there. ... The Lightning concluded the five-game season series against the Sabres with four consecutive victories. ... C Tyler Ennis started for the Sabres after missing two games due to a groin injury. ... Jerry D'Amigo, one of three forwards called up from the AHL earlier Tuesday by the Sabres, made his debut with the team.
---