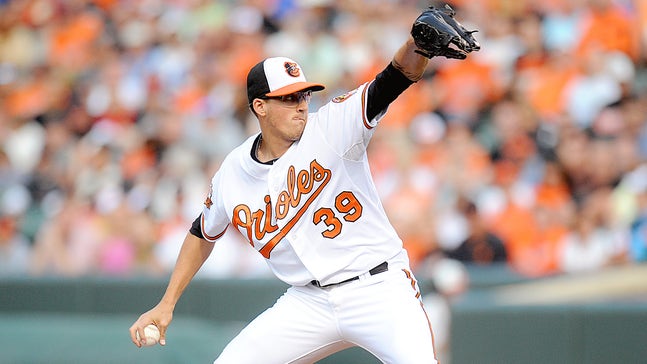 American League East fantasy baseball spring training notebook
Updated
Mar. 5, 2020 2:14 a.m. ET

My MLB spring training summary reads as such, Bryce Harper wants baseball to embrace emotion, personalities and allow the game to entertain the masses in new ways, Goose Gossage wants those damn kids off his lawn and Adam LaRoche chose his family over the White Sox after 12 seasons in the bigs.
Harper is right. Gossage is just set in his ways, which social media hates, but shouldn't make him enemy No. 1. LaRoche's decision created a potentially awkward atmosphere in Chicago, no matter the message Jerry Reinsdorf delivers to the media.
My fantasy baseball spring training summary out of the American League East reads as such.
Note: all spring training taken with grains of salt because this declaimer is the rule.
Baltimore Orioles Notes
Let's check in on the Orioles projected rotation:
Ubaldo Jimenez 9.45 in 6 2/3, Yovani Gallardo 16.62 in two starts, Tillman 7.94 in two starts (hip), Miguel Gonzalez 14.90 in four starts, and that brings us to Kevin Gausman. Penciled in as the No. 5 starter, Gausman posted a 4.50 ERA in six spring training innings, but has been dealing with shoulder tendonitis as of late. Gausman received a cortisone shot over the weekend and may not be ready to start the season.
It was only a few years ago when the Orioles thought Dylan Bundy and Gausman would be the 1-2 punch in their rotation. Now, Bundy – a Tommy John surgery recipient – is out of options and set to pitch out of the bullpen and Gausman could start the season on the disabled list.
Catcher Matt Wieters – currently holding 8th in the NFBC catcher ADP – who hasn't played since March 12 with elbow stiffness, played catch over the weekend. The problem is with the same elbow that underwent Tommy John surgery in 2014. Wieters only played in 75 games last season.
Mark Trumbo has banged out three homers this spring while carrying a .300 BA / .825 OPS. He's also struck out a team-high 14 times with no walks.
Tampa Bay Rays Note
Incumbent closer Brad Boxberger will miss eight weeks following groin surgery. He led the American League with 41 saves in 2015 and creates a vacuum of early-season save opportunities. Rays' manager Kevin Cash uttered the fantasy-unfriendly phrase "closer by committee" when asked who would fill in for Boxberger. With that said, Alex Colome is a favorite to earn the temporary role.
In three starts, 10 innings, Matt Moore has struck out 11 with no walks with a sub-2.00 ERA and sub-1.00 WHIP. Drew Smyly has also looked sharp in three starts 10:1 K:BB w/ sub-1.00 ERA.
Brad Miller, a popular pick in leagues where middle infielder starters are required, has committed three errors at short.
Toronto Blue Jays Notes
I find it fascinating that both Brad Penny and Rafael Soriano decided to retire over the last few days. Once dominant in their individual roles on the bump, they exit stage right without much fanfare. On top of that, former Blue Jays SP flier, Johan Santana, remains focused on another comeback and pitching for the first time since 2012.
Don't look now, but the platoon of Chris Colabello and Justin Smoak is raking. The first basemen have combined for 19 hits in 60 at bats with eight extra base hits. AL-only league potential.
With Devon Travis working his way back, Kevin Pillar will start the season as the Blue Jays leadoff hitter according to skipper John Gibbons. Hitting out of the eight-spot in 2015, Pillar swiped 25 bases. This leadoff role should provide a boost to his ADP over the next two weeks. That is unless owners are deterred by poor spring training stats.
Boston Red Sox Notes
The Travis Shaw vs. Pablo Sandoval position battle at third is legit. That is if you ignore the $75-million Panda Bear is owed over the next four years, which Red Sox beat reporter Pete Abraham does not. Shaw is hitting well over .400 this spring with 15 hits in 34 at bats. The 25-year-old farm grown prospect has displayed pop in the minors over the past four seasons and projects to hit around .250 this season. Plus, remember if/when Hanley Ramirez gets hurt, Shaw can also play first. There is reason to pay attention to this battle over the next two weeks.
Starting pitcher Eduardo Rodriguez has to start the season on the 15-day DL due to a knee injury. However, he's still playing catch on the side and if there are no setbacks should rejoin the team in mid-April. He won 10 games in 21 starts last season with a K/9 rate north of 7.00. If you're interested in taking a gamble on him – expect an ERA closer to 4.00 rather than 3.50.
FWIW, Jim Kaat has chimed in on the David Ortiz bat-flipping comments. I like Kaat's and Ortiz's personalities – as different as they are - and believe these "unwritten rule" lines drawn in the sand on topics like bat flipping are becoming more tired than the acts themselves. You know, like the originality of a crying Jordan meme - which has become a beacon of disappointment rather than something creative. Ortiz's bat flips are non-verbal celebrations in the moment. The act is not original, but it captures the athlete's emotions when words are not enough. The outside noise is faux rage because of how things use to be.
New York Yankees Notes
Weird to think C.C. Sabathia is at the point in his career where he's fighting for the 5th starter slot:
Jacoby Ellsbury took a pitch off his wrist. He's out a few days. Granted, a hit-by-pitch can happen to a player of any age, but the return timetable for veterans always seem to last longer. With Ellsbury missing 51 games in 2015, don't think some owners think twice about drafting him after hearing of this HBP scare.
Michael Pineada and Luis Severino have combined for 25 strikeouts and only three walks this spring (21 innings).
Related: Fantasy Baseball Divisional Notebook Archives
---