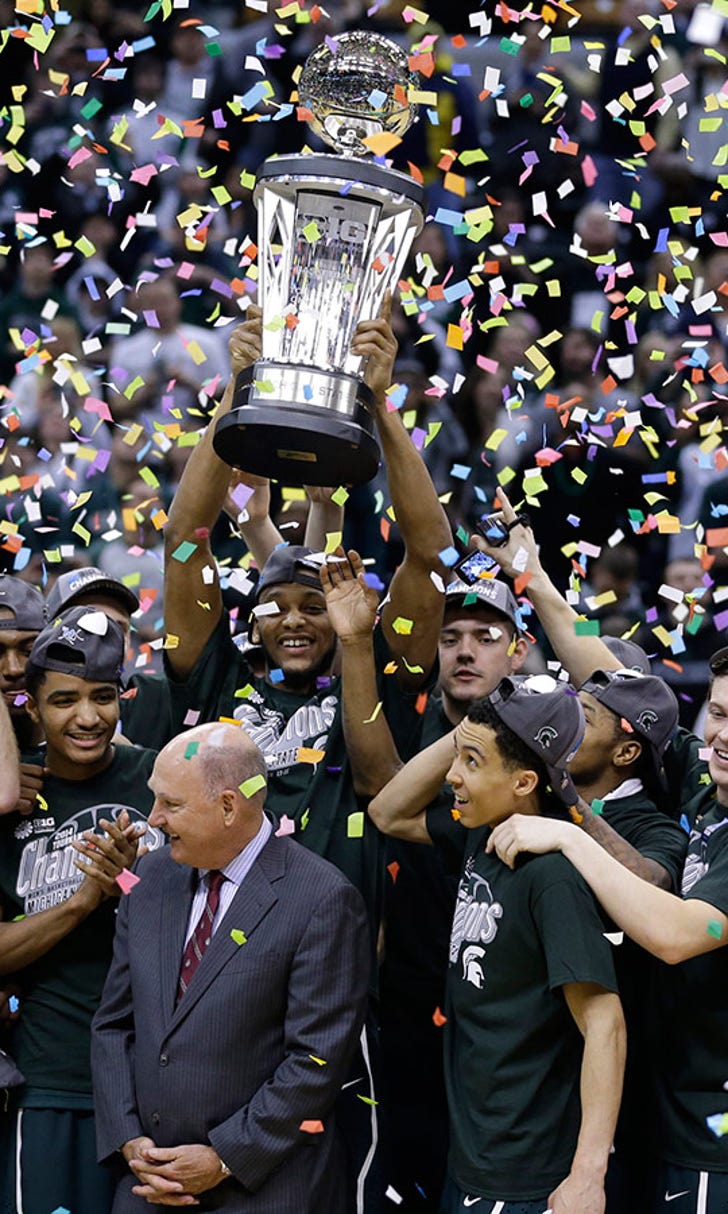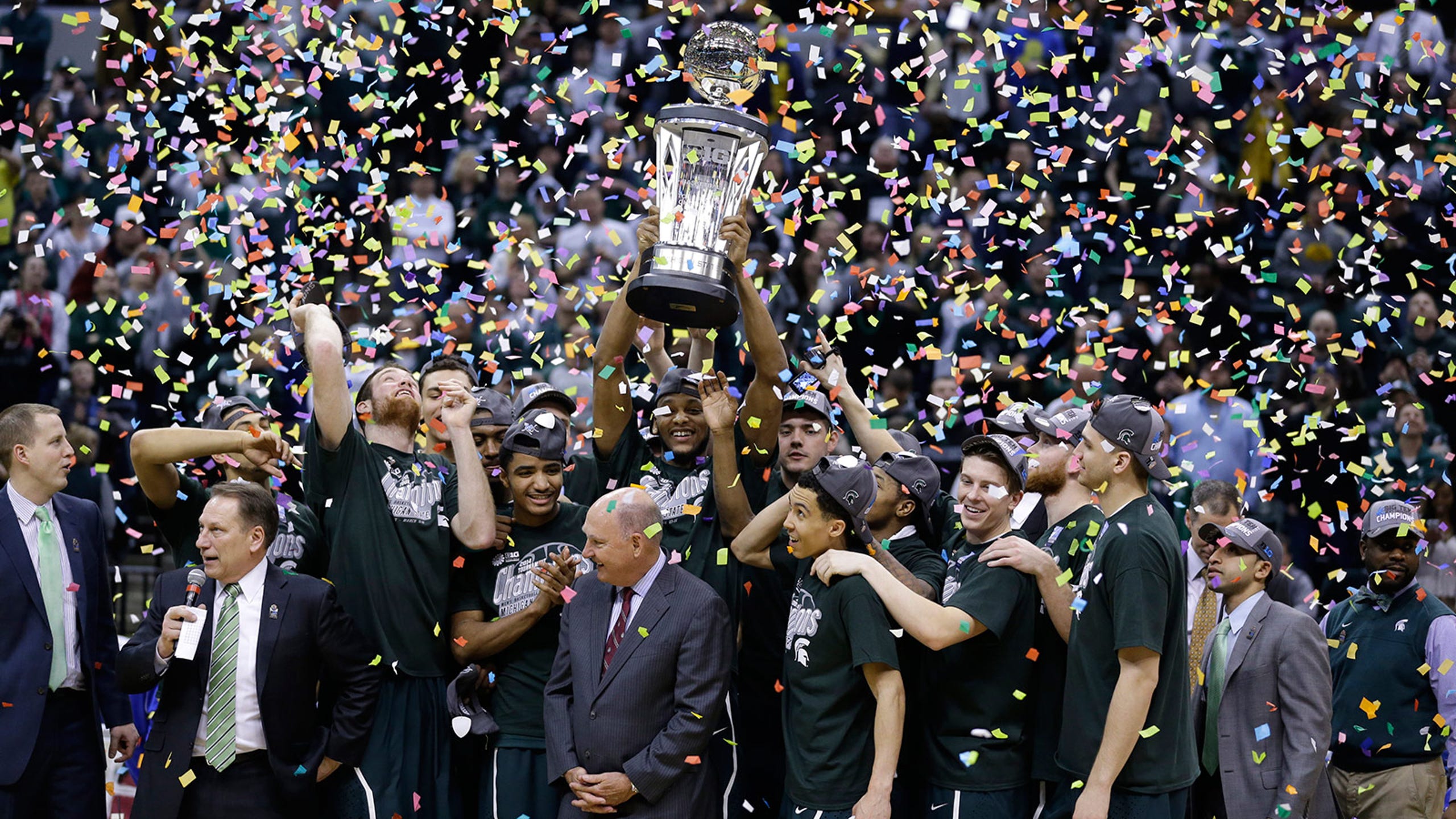 All eyes on the Michigan State Spartans
BY foxsports • March 19, 2014
Now comes the hard part.
Michigan State has been picked to win the NCAA basketball tournament by everybody from Dick Vitale to President Obama. On Thursday, the Spartans begin their quest to cut down the nets in the opening game against Delaware.
The Spartans deserve the confidence of bracketology experts from the White House to the hoops talking heads across the nation. Beating highly-ranked Wisconsin and regular season Big Ten champion Michigan in the conference's tournament definitely was impressive.
It's easy to point to the fact that MSU didn't have its formidable starting lineup healthy and playing together until the end of the season, and hop aboard the Spartans' bandwagon.
However, there are some realities about them that can't be ignored.
Forward Branden Dawson was voted the Big Ten tournament's most outstanding player. And while he can be a beast, he can also make Spartans coach Tom Izzo pull out his hair faster than any player on his roster. Dawson is prone to doing both great and frustrating things on the court, and did miss much of the conference season after breaking his hand in frustration while watching game videotape.
Which Dawson shows up likely will determine how far MSU goes.
The Spartans have two powerful constants in pivot man Adreian Payne and shooting guard Gary Harris, both of whom figure to be high NBA draft picks. But will opponents be able to double-team them because point guard Keith Appling doesn't pose enough of a scoring threat and the team lacks a third quality front court threat?
MSU will most certainly destroy Delaware in the tourney opener in Spokane, Wash., but then the going will immediately get tough.
Because the Spartans are a No. 4 seed, they have No. 5 seeded Cincinnati looming in game two. The Bearcats have their own dynamic scoring guard in 6-foot-4 Sean Kilpartrick (20.7 points, 4.4 rebounds) and split two close games with defending champion Louisville -€" which happened to be the other pick to reach the Final Four's championship game by Vitale, the President and many others.
That's a very rough second game.
However, should MSU reach the Sweet 16, they will most likely face the team I believe is the most underrated in the nation in top-seeded Virginia.
The Cavaliers get no respect because they are new on the elite scene and lack a true marquee player. But know this: Virginia won both the ACC regular season (28-6 overall, 16-2 ACC) and tournament championships, beating Duke in the title game in Greensboro, N.C.
"I think they're a hell of a basketball team," Blue Devils coach Mike Krzyzewski said after that game.
Virigina is coached by Tony Bennett, who played for and coached under his father, Dick Bennett, best known for turning around the Wisconsin program. And it comes as no surprise that his teams play tough defense (.385 opponent field goal percentage) and rebound (plus-6.3 per game).
MSU, which also excels in those areas, led the Big Ten by holding opponents to .400 shooting accuracy and had a 5.1 rebounding advantage.
Izzo is the reason many are picking the Spartans to win it all. Yet, Izzo has won only one NCAA title, and that came in 2000. And he's reached the championship game just one other time.
He deserves all the accolades for reaching the Final Four six times, winning seven Big Ten regular season titles and four conference tournament championships. But that is where Izzo has done his best work -€" in getting his team to the big stage.
Somebody else almost always ends up cutting down the nets on him. That's part of his history, too.
The Spartans are definitely a feel-good team to root for with their biggest fan being Lacey Holsworth, the young cancer survivor whom Payne calls his sister. Izzo was brought to tears introducing her at the team's banquet, and Payne held her in his arms.
However, they still have no clear and easy path to the championship game in Arlington, Texas. There is a grind in store. Being a brackets darling is nice, but it doesn't get you any banners.
---