A year later, Boyd trying to make strong NFL impression
BY foxsports • January 22, 2014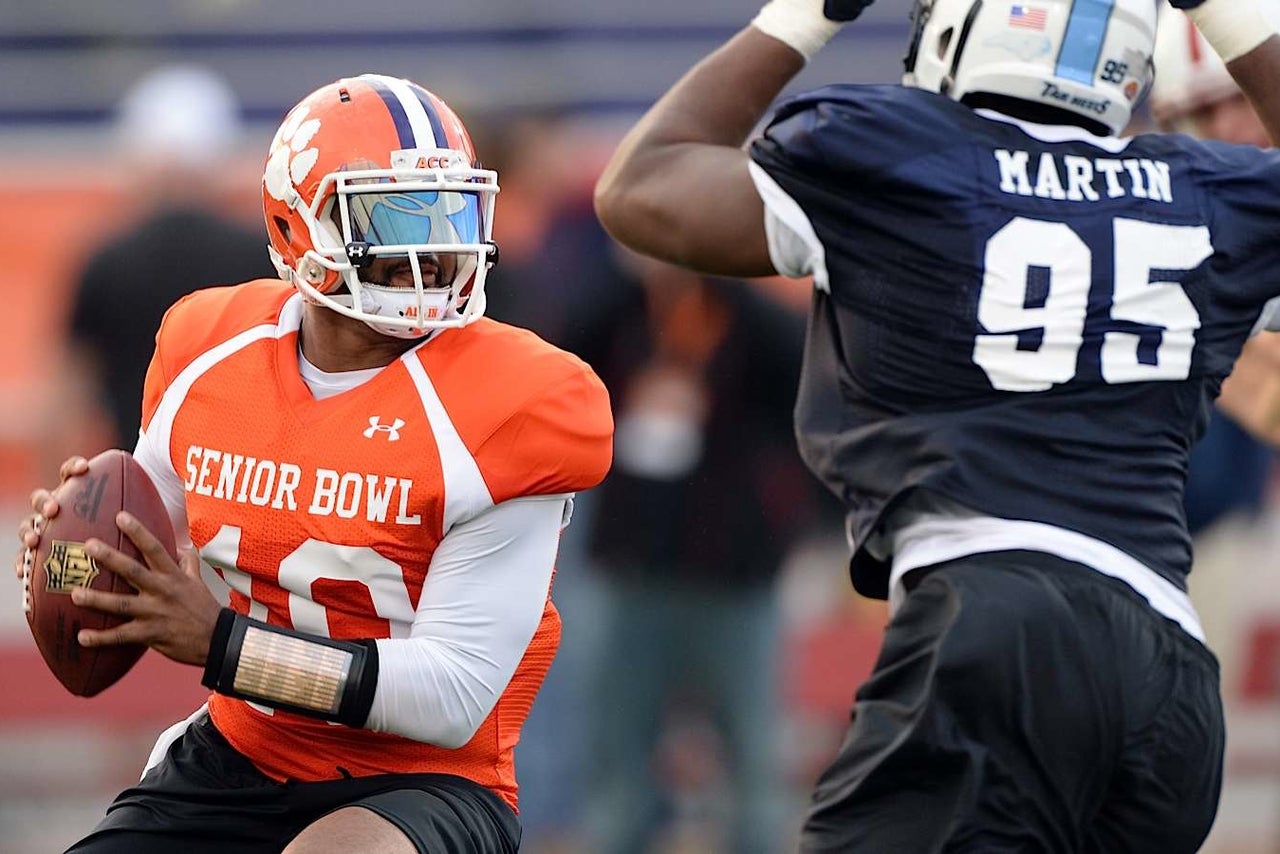 MOBILE, Ala. - Timing matters when it comes to the NFL Draft.
Clemson quarterback Tajh Boyd arrives to the process a year later than he thought he might. Whether he's higher or lesser regarded this time around might depend on who you ask -- and how Boyd performs at this week's Senior Bowl, where he's trying to show teams he's a better, more polished version of the guy they didn't get to see last year.
Momentum matters, too, and after a 346-yard, two-touchdown performance against a loaded LSU defense in the Dec. 31, 2012, Chik-Fil-A Bowl, Boyd was eyeing the 2013 NFL Draft as an early entry.
"I was pretty close, honestly," Boyd said after Senior Bowl practice on Tuesday. "I had set a mark and made a list of things that if I did, I'd declare for the draft. After the game I honestly thought I was going."
He went home and thought it out, talking it out, too, with those close to him. He decided to come back to Clemson for his senior season.
"I got a chance to get a few weeks to myself and kind of understand the whole situation and the whole process," he said. "I felt I could have made the move last year but at the same time I wanted to go back and make sure I was fully ready to make that leap. I don't regret coming back or anything of that nature."
At least now he doesn't. There was a bit of a hangover at first.
"It took me a month or so," he said. "I was sitting in workouts like, 'Why am I here?' But I matured as a person and as a player."
Only two quarterbacks went in the top two rounds last year, and this year three or four could go in the first. Most projections don't have Boyd among that group.
It's early, though. And those are just projections.
"I'm a competitive guy," Boyd said. "I want to be one of the top quarterbacks. I want to be a top quarterback. I've dealt with adversity. You want to do something you want to do it best as possible. We'll see what happens in May but right now I just want to be the best I can be."
He came back to Clemson for big games and big numbers, and though he was great in a season-opening win over Georgia, he also had a clunker against eventual national champion Florida State. His 2013 overall numbers (68.5 percent completions, 34 touchdowns vs. 11 interceptions) were very close to his 2012 numbers, but his overall body of work suggests he could use a strong Senior Bowl week to begin to convince teams he can be a franchise-type quarterback.
"Tajh has had a couple good days out here," NFL Network analyst and former Ravens, Eagles and Browns scout Daniel Jeremiah said. "I think coming into this week he was probably a borderline third-round guy. Some people like him a little better than that. Maybe late second round is where I see him, but there's a lot to like. He's a strong guy, a strong runner, he's like a bull in the red zone. He runs a little like Steve McNair used to.
"The knock on him is that when has to go away from his first look, when he has to move around, his accuracy when he has to reset is not very good. He's a little bigger than maybe people thought. He's a little bigger than people thought and that's not an issue, but consistency and accuracy are the biggest things with him."
Boyd measured a shade under 6'1 and 222 pounds this week. He's been clearly the best of the three North team quarterbacks this week in windy conditions, though Jeremiah isn't the only experienced eye who sees South team quarterbacks Derek Carrof Fresno State and Jimmy Garropolo of Eastern Illinois at least a little ahead of Boyd at this point.
"Monday was a decent practice and Tuesday was better, and I think improving every day is what I wanted to do here," Boyd said. "I didn't need to go too fast too soon. Hopefully people see the progression and the improvement and then when game time comes Saturday, I'll have a solid performance."
Last year, E.J. Manuel lit up the Senior Bowl game and rode that momentum to the middle of the first round. Like Manuel, Boyd has athleticism, potential and plenty to prove.
"Never shy away from the competition," Boyd said. "If you want to think you're the best then I say go out here and let's prove it. And that's my mindset this week.
"Whatever they need to see, I want to show scouts this week. It's great to sit and talk to the guys. They ask me questions and I ask them questions, too -- what do you want to see me improve on? I want to make the most of this."
---