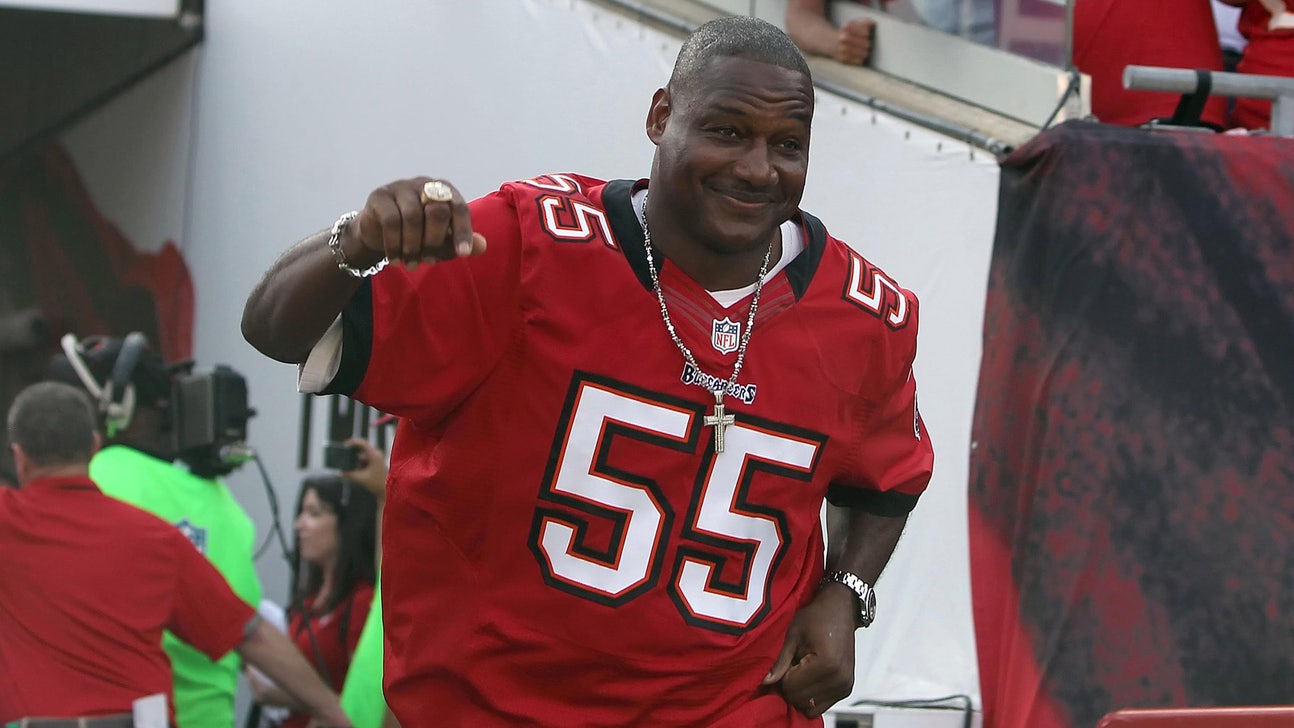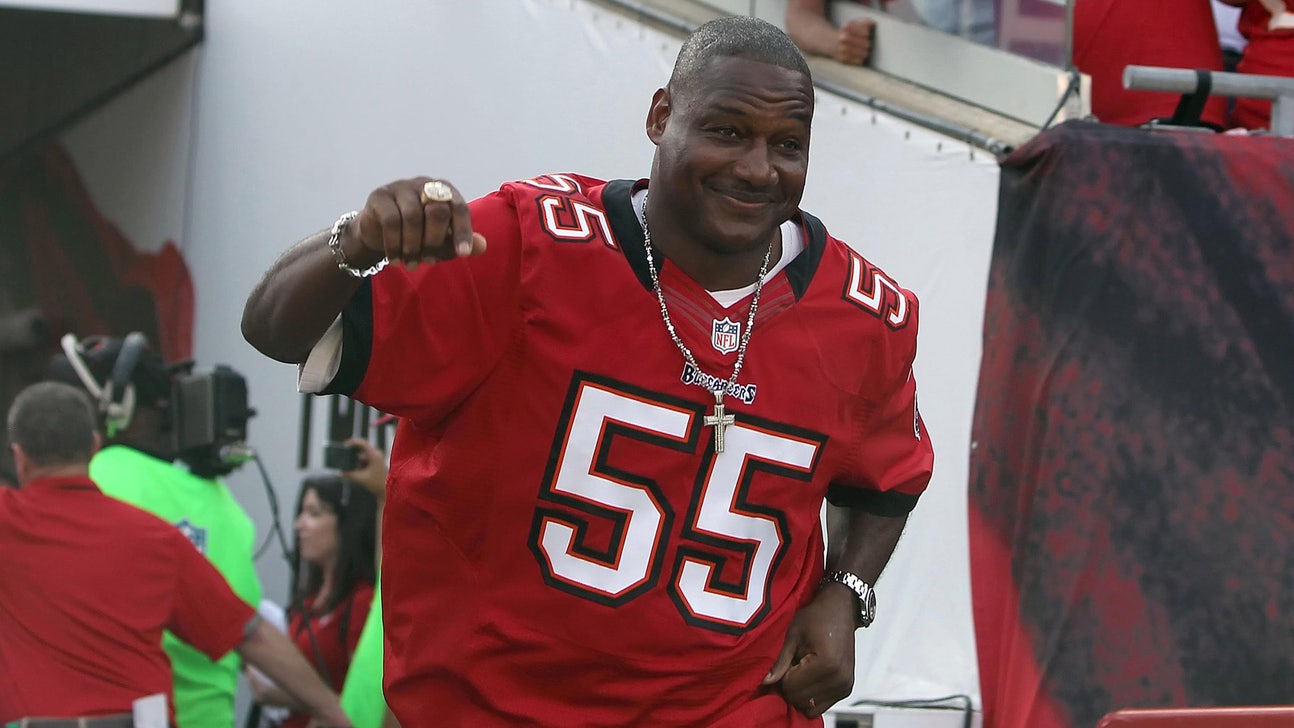 A deep character: Derrick Brooks to broaden legacy with Hall of Fame induction
Published
Aug. 1, 2014 5:00 p.m. ET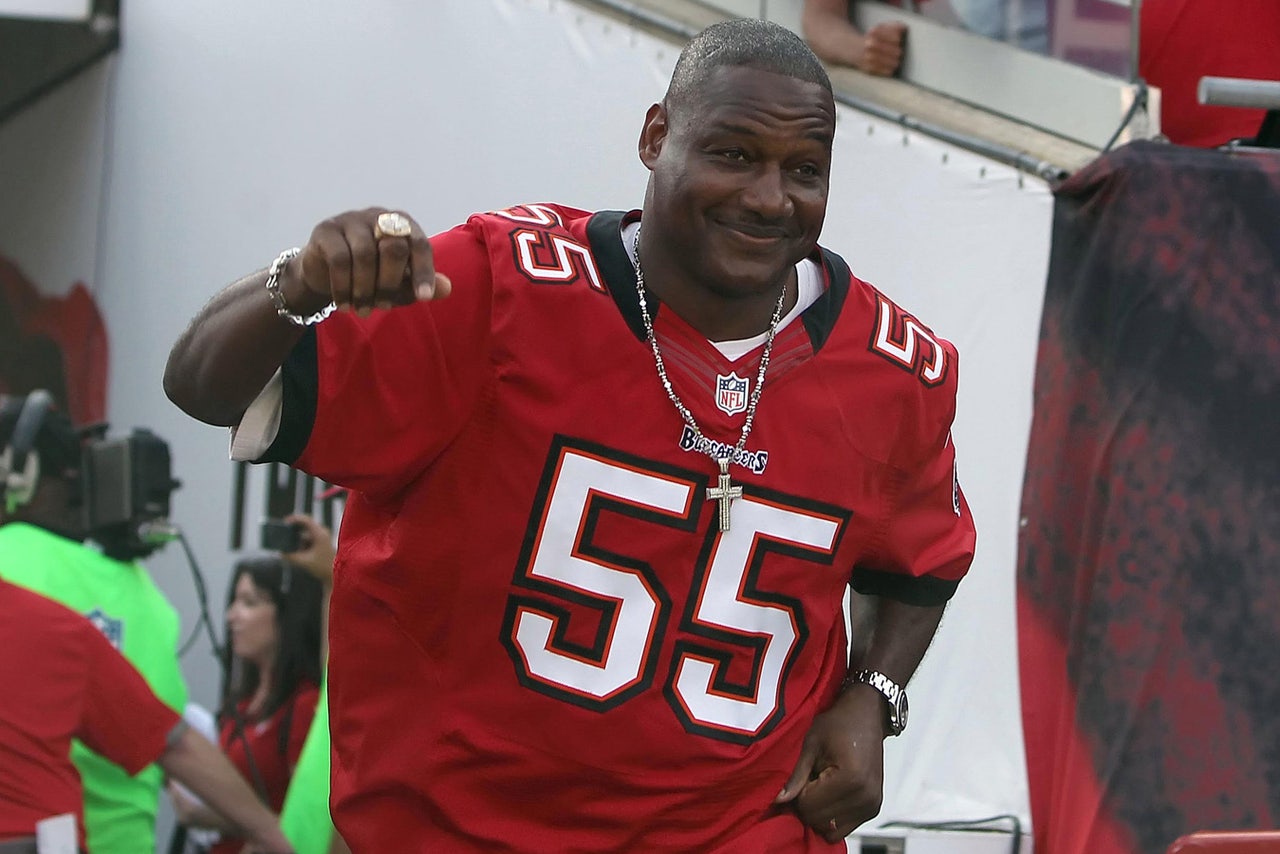 TAMPA, Fla. -- The image is blazed in pewter-and-red minds forever. Derrick Brooks sliding in front of Rich Gannon's pass and racing 44 yards for a touchdown at Qualcomm Stadium, the linebacker's right index finger raised in the chilled air, a perfect picture on a signature day in the Tampa Bay Buccaneers' proudest night.
A Bucs rout over the Oakland Raiders in Super Bowl XXXVII was long clinched by then. Still, Brooks' curtain call late in the fourth quarter on that mild evening in January 2003 near the Pacific Ocean was fitting, the cork popped on the party in Florida's Bay Area those many miles away.
A transformation in which Brooks served as an engine, at last, was complete. No more frustration in Philadelphia. No more wondering why a remarkable renaissance in Tampa Bay couldn't capture the ultimate goal with the new Bucs hoisting the Lombardi Trophy. No more gaping hole within Brooks' growing resume as Tampa Bay's tenderhearted legend.
The man, a champion off the field to many, finally earned the title on it as well.
The victory lap ends Saturday. Brooks, the greatest Buc ever, will become the third Tampa Bay player inducted into the Pro Football Hall of Fame, joining Lee Roy Selmon and former teammate Warren Sapp. Most likely, this is the last chance for a while in Canton's hallowed halls to recall the group that, as Sapp once said, transformed Tampa from a place where "careers came to die" into a destination for champions.
Brooks, to little surprise, has a proper goal in mind for his speech to an eager national audience. He's always aware, forever thinking about a larger landscape.
"I'd like to try to keep the same mindset of this as a speech that is going to go out and touch others," he said.
Brooks has done so for many. That's why the build-up to this induction feels different than Sapp's from a year ago. Sapp, a seven-time Pro Bowl player, was an undeniable talent at defensive tackle, someone who became the mouthpiece of those dominant Bucs defenses in the late 1990s and early 2000s.
Still, there was an undertone as he prepared to slip on that gold jacket and join the game's greats last year. He's 100 percent fire, and at times, those within his path are burned. Some hard feelings remain.
Brooks lives as the opposite. He's part football legend, part philanthropic heavyweight. His on-field resume is sterling: The 11 Pro Bowls; the nine All-Pro mentions; the 2,198 tackles; the 224 games played between 1995 and 2008 without missing one.
But a larger value is found in his off-the-field gifts. He has inspired thousands of kids through his charter school, Brooks-DeBartolo Collegiate High School, and his Brooks Bunch college program remains a connection to many.
Brooks credits his mother, Geraldine, and his grandmother, Martha, as his early inspirations as a giver growing up in Pensacola, Florida, those sparkling Sunday afternoons under coaches Tony Dungy and Jon Gruden far away. He recalls running errands for others at Martha's wishes if those acquaintances were unable to help themselves.
Both women molded a man whose influence extends beyond what he did wearing jersey No. 55.
"I don't know if it was necessarily a rope being thrown back or a lesson in grabbing my own rope and doing something with it," Brooks said of his early influences. "I would give credit to my grandmother, Martha Brooks, and her way of helping others was through cooking. And her environment that she created for us was there were no strangers. She never saw anyone as a stranger.
"In a small way, that was my humble beginnings to a bigger picture of setting my attitude of trying to do something to make life better for someone else."
Certainly, Brooks made life better for those who follow the Bucs. It's no coincidence that his approval of coach Lovie Smith's hire in January had the feel of a major campaign endorsement during election season. If Brooks was confident that his old linebackers coach would restore order at One Buc Place and make Tampa Bay relevant again in the NFC South, then it must be so. The Bucs got this one right.
That's the thing about legends. They may walk from the arena that made them famous -- Brooks has served as the president of the AFL's Tampa Bay Storm since April 2011 and appears on track for an NFL front-office job one day -- but their influence lives. That night, with Brooks racing down the sideline in San Diego, seems long ago. But everything about the Bucs' strategy in their transformation after moving beyond Greg Schiano and Mark Dominik has been done with recapturing the old magic, that classic momentum, in mind.
"Derrick wasn't a Hall of Famer right away," Smith said. "In 1996, Derrick wasn't picked as a Hall of Famer then. They weren't talking about us as a great defense then. But things can come around fairly quick."
The victory lap will take on a new meaning come Sunday morning. After months of interviews, preparation and plans made as part of the Pro Football Hall of Fame's Class of 2014, Brooks can use his elevated platform to deepen his legacy.
His work remains undone, in the Tampa Bay region and elsewhere. The giver never rests.
"I think from his standpoint, he gets it," said Pete Fierle, a long-time Pro Football Hall of Fame spokesman who has worked with Brooks in recent months to prepare for the induction. "He understands what this honor means. And that's something I think every year that's fun for me, personally, and for us at the Hall of Fame, when you really start to see it sink in.
"The advice his fellow Hall of Famers have told him is 'enjoy the moment.' It will happen so quickly. As the weekend unfolds, it's just such a special time. Really savor the moment and savor what it means."
Usually, it's difficult for Brooks to savor any moment. He has said that he rarely took time to enjoy the fruits of his NFL career while he lived the chaos. His vision was sharp, and it forever pointed in one direction: Ahead.
Saturday marks a rare chance to savor a genuine glance back.
More than 11 years ago in San Diego, he galloped toward the end zone as a face of a franchise's recovery. Saturday, when he steps behind a microphone in northeast Ohio among his game's greats, he'll represent renaissance and so much more. The depth to his character stands as his greatest legacy.
"Players play the game, the system doesn't," he said. "The system puts you in a position to play the game. So I like to think I set the standard when it got to the 4-3 defense for a bunch of years, to the tune of a lot of teams tried to emulate what we did and how we played throughout my career."
Emulating how he lives beyond the field would be wise, too.
You can follow Andrew Astleford on Twitter @aastleford or email him at aastleford@gmail.com.
---