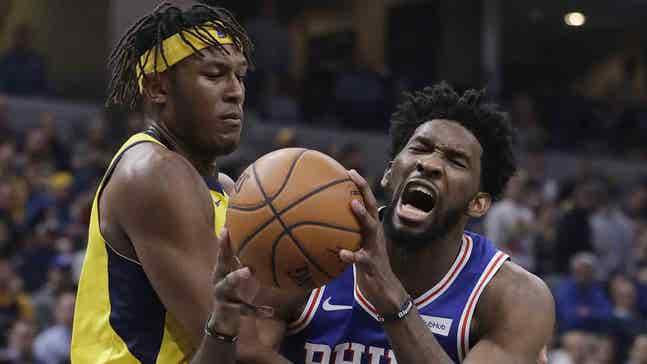 76ers pull away late as Pacers lose 100-94
Published
Nov. 8, 2018 12:11 a.m. ET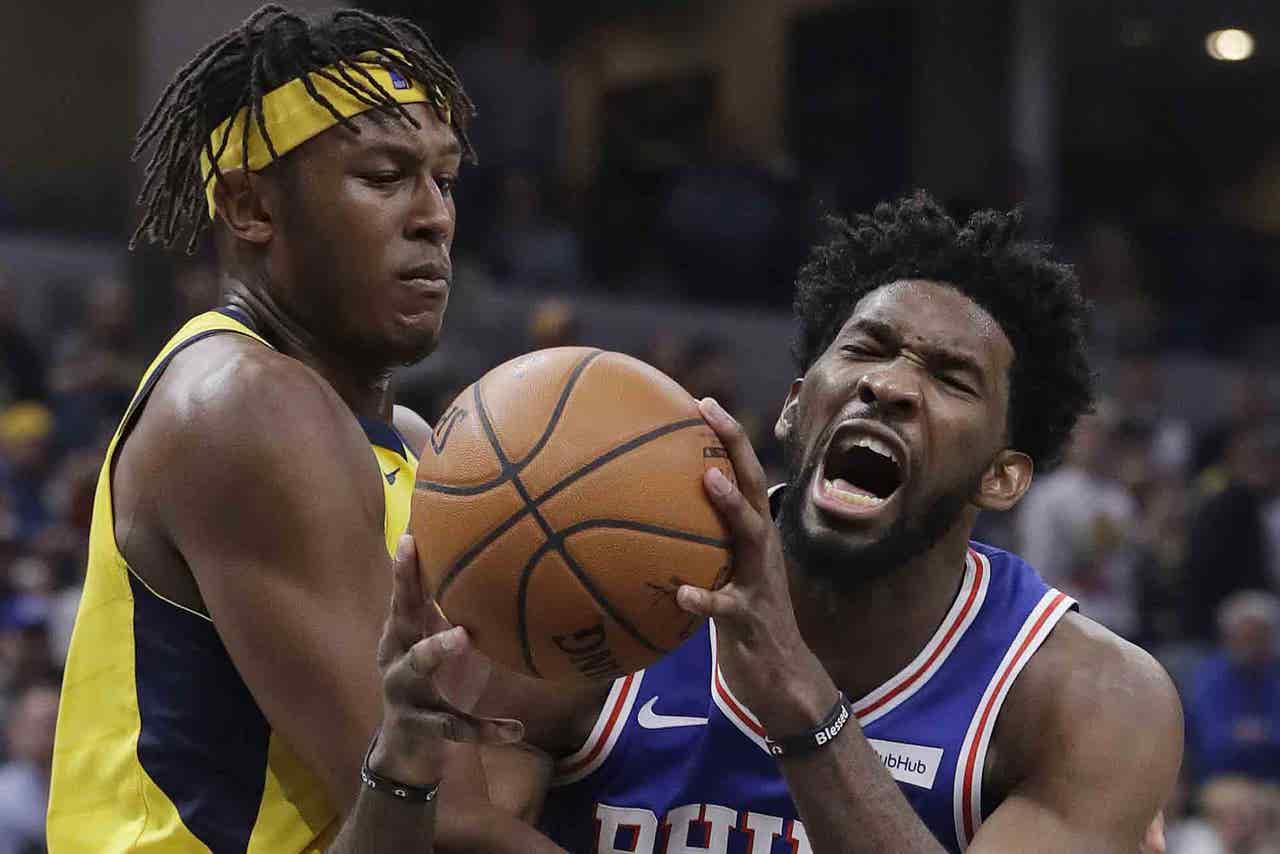 INDIANAPOLIS — The Philadelphia 76ers finally found a solution to their road woes Wednesday night.

Start fast and finish strong.

Joel Embiid scored 20 points and grabbed 10 rebounds and Ben Simmons flirted with a triple-double, leading the 76ers past Indiana 100-94 for their first non-home court victory this season.

"I'm excited that we got our first road win this year," coach Brent Brown said. "We were pleased to get a win, especially after a performance we wanted to forget (at Brooklyn)."

The splits coming into the game were astonishing.

Despite going 6-0 at home, the 76ers were 0-5 on the road, losing by an average of 15.2 points. And they had lost eight straight at Indiana, dating to a victory on April 17, 2013.

So just three nights after an inexplicable 25-point loss at Brooklyn, Embiid, Simmons and their teammates felt right at home in one of coach Brent Brown's favorite NBA arenas.

Embiid collected his league-high 11th double-double on what he called an off night. Simmons had 16 points, 10 rebounds and eight assists and Dario Saric scored a season-high 18 points by going 4 for 6 on 3-pointers.

And they did it by simply sticking to the plan.

They quickly jumped to a 19-9 lead, weathered Indiana's rally, then regained control by closing the third quarter on a 6-1 flurry and opened the fourth with a decisive 16-7 run. When it ended on Simmons' breakaway layup with 6:04 to play, Philadelphia led 94-77.

"We were just overthinking things," Simmons said. "We were putting too much pressure on ourselves. We finally put it together."

The victory spoiled Victor Oladipo's best night of the season.

He scored 24 points in the first half on 10 of 16 shooting and finished with a season-high 36 points. He also had seven assists, six rebounds and three blocks.

But Oladipo and Domantas Sabonis, who had 16 points and 11 rebounds, needed more help from their supporting cast to avoid losing their second straight home game. And when they didn't get it, the 76ers took advantage.

"We just didn't hit shots tonight, honestly," Oladipo said. "I think we just need to loosen up a little bit and go back to playing free basketball."

https://twitter.com/FSIndiana/status/1060379855668146176

TIP-INS

76ers: Had lost their last two to the Pacers. ... Robert Covington had 13 points, Landry Shamet had 12 and J.J. Redick scored 10. ... Redick has scored in double figures in 21 consecutive games since March 26. ... Philadelphia made 18 of 22 free throws but had only four offensive rebounds. ... Saric also had seven rebounds while Embiid had three blocks.

Pacers: Have lost consecutive home games for the first time this season. ... Indiana is 5-2 against the Eastern Conference and 3-1 against Atlantic Division opponents. ... Oladipo extended his career-best streak of consecutive 20-point games to 11. ... Sabonis has scored 1,002 points since joining the Pacers last season. ... Indiana was 12 of 17 from the free-throw line and 8 of 31 on 3-pointers. ... the only other player in double figures was Bojan Bogdanovic with 13.

THEY SAID IT

76ers: "I was bad today," Embiid said, noting he had five turnovers. "I thought the whole game was bad. I wasn't myself but my teammates picked it up for me. That was a good sight to see."

Pacers: "We're playing good enough defense, keeping teams at or under 100," forward Thaddeus Young said. "But in this league today, if you only score 98 or 94 points, it's going to be hard to win games. We're seeing it's very, very tough for us to win the game only scoring in the 90s."

UP NEXT

76ers: Will attempt to keep their perfect home record intact Friday against Charlotte.

Pacers: Hope to win their second straight at Miami on Friday after ending a six-game losing streak there last season.
---
---