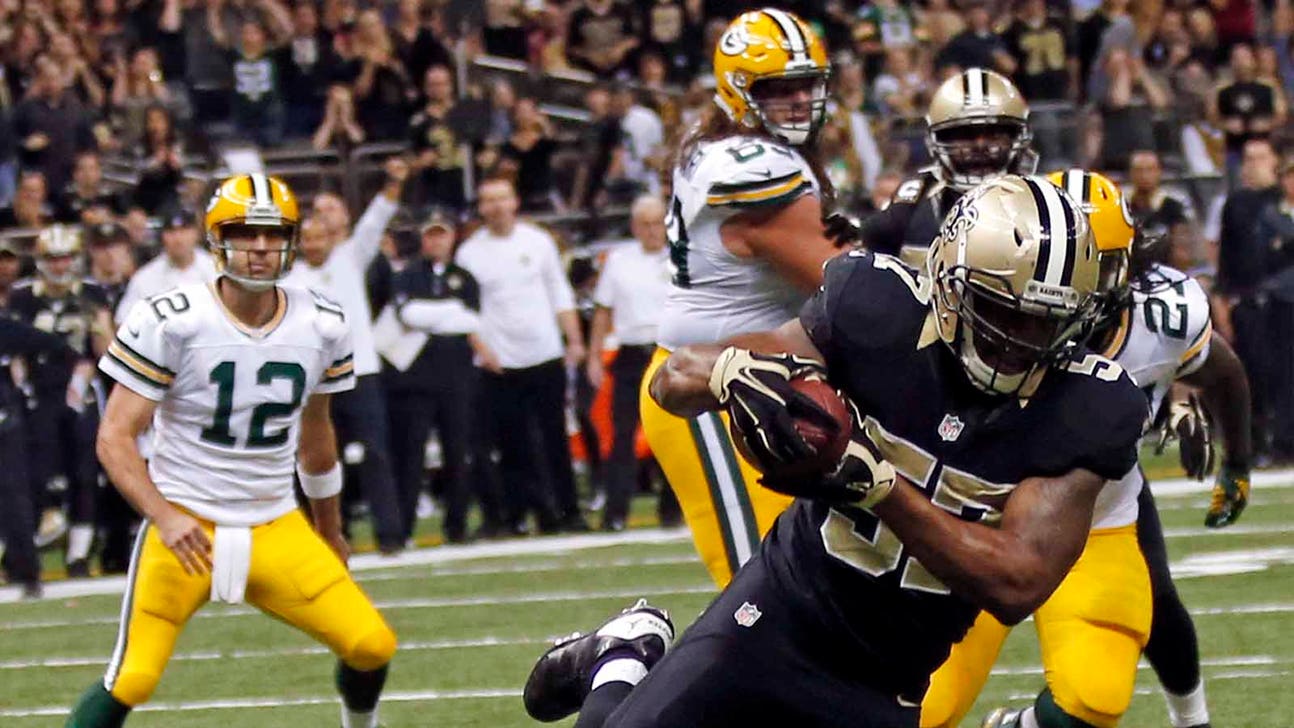 5 things we learned: Packers at Saints
Published
Oct. 27, 2014 1:15 a.m. ET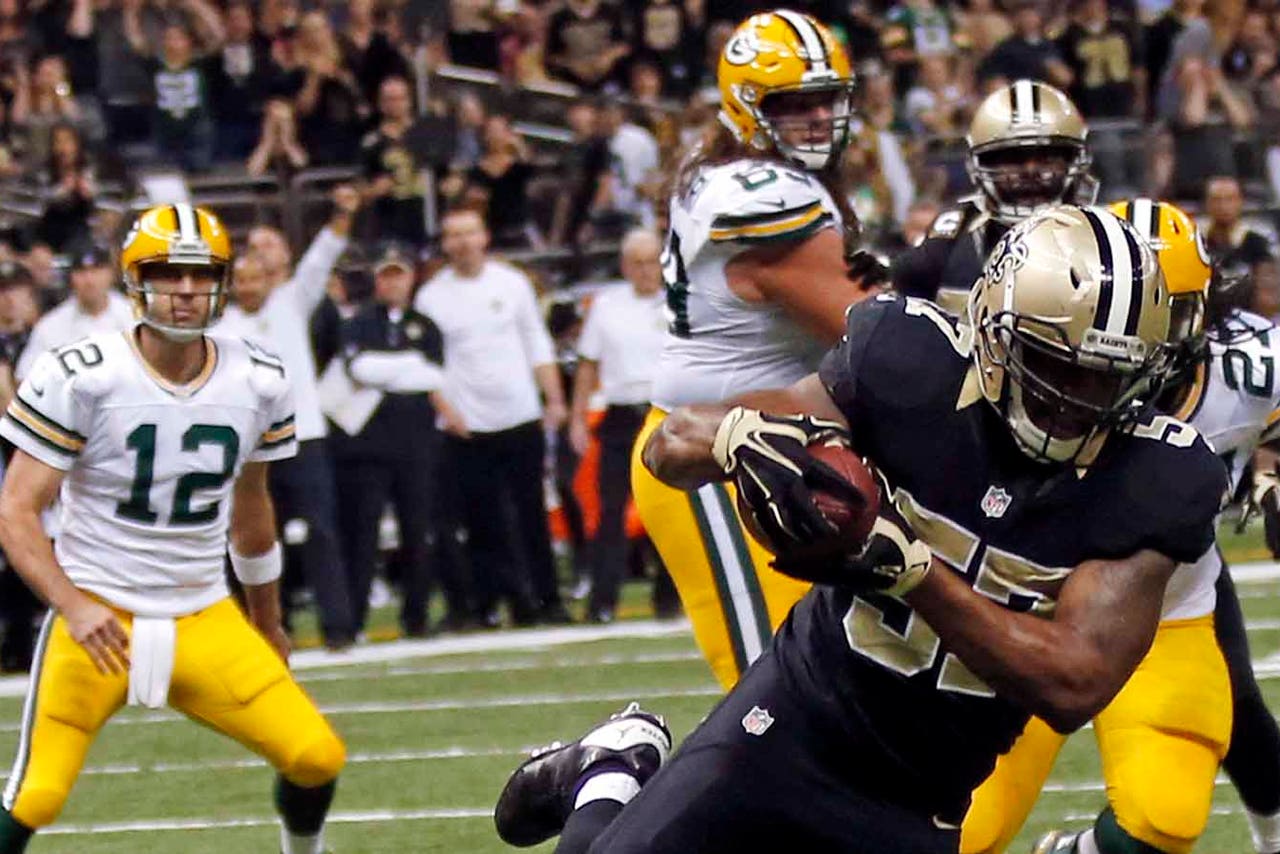 Five things we learned from the Green Bay Packers' 44-23 loss to the New Orleans Saints in Week 8 ...
Aaron Rodgers went 212 consecutive passing attempts without an interception. That streak ended Sunday night in New Orleans when a pass to Andrew Quarless was deflected off the tight end's hands and fell into the arms of Saints linebacker David Hawthorne. It also ended Rodgers' stretch of touchdowns without an interception at 19.
That interception happened three plays after Rodgers scrambled for seven yards and came back to the huddle holding his left hamstring. It was the beginning of what became a very un-Rodgers-like game from that point on, as the injury was clearly hampering him.
Rodgers wasn't moving well and stopped trying to extend plays with his feet. He didn't seem able to step into his throws the same way. Unable to do that, Rodgers wasn't the unstoppable quarterback that he had been for the past month. Though there were many other factors involved, Rodgers' injury turned what was a 16-16 game in the third quarter to a 44-23 blowout loss.
Rodgers threw a second interception two drives later. Like his first interception of the season (Week 1 in Seattle) and the one earlier in this game, it went off a receiver's hands. This time, it was Davante Adams, who didn't seem to continue running his route all the way through. Rodgers said after the game that he missed his spot on the pass to Adams. It's fair to wonder if a full-health Rodgers doesn't find a way to complete that pass.
The only good news for the Packers moving forward is that Rodgers said in his post-game press conference that he won't miss any time due to the hamstring injury. It certainly helps that it's now Green Bay's bye week.
Passing plays of 45 yards and 50 yards by Drew Brees are a fairly good indication that he got whatever he wanted downfield on Green Bay's defense. The 45-yarder set the Saints up with the ball at the 4-yard line, scoring a touchdown on the next play to tie the game at 7. The 50-yarder gave New Orleans a 23-16 lead.
Davon House was in coverage on the 45-yard pass to Kenny Stills, while it was Tramon Williams and Micah Hyde who gave up the 50-yard completion to rookie Brandin Cooks. Add in a 22-yard touchdown pass to Jimmy Graham (with Williams on him) and that's 117 passing yards on three plays, directly resulting in two touchdowns and leading to another touchdown on the other. A pass interference penalty on Davon House may have been a questionable call, but that gave the Saints an additional 34 yards.
The absences of Morgan Burnett and Sam Shields played a big role in this. It's difficult for a defense to be down two of its starters in the secondary. When the opposing quarterback is as good as Brees, it shouldn't be much of a surprise that it was exploited.
The Packers came into this game having allowed the lowest opposing quarterback passer rating in the league. It was a significant point of pride for defensive coordinator Dom Capers. Well, that number just went way up as Brees finished with a 138.4 passer rating.
Green Bay's defense has felt at different points this season that it didn't deserve to be ranked last (or, more recently, second-to-last) in the league in stopping the run. Capers had been happy for the most part with the way his group shut down several of the running backs they encountered through seven games.
Well, the Packers defense that showed up in New Orleans looked like one deserving to be where they rank in the stat column against the run.
Mark Ingram rushed for 172 yards on 24 carries (7.2) with one touchdown and ran all over Green Bay's defense. Ingram only saw that much action due to injuries to Khiry Robinson and Pierre Thomas, but the Packers helped him look like an All-Pro. Ingram only had one game with 100-plus rushing yards in his four-year career before Sunday night.
Once all Week 8 games are tallied, Green Bay will likely find itself right back to being the No. 32 team in the NFL in rushing defense.
Green Bay's offense has made the most of its red-zone appearances this season. The Packers ranked third in the NFL by converting more than 70 percent into touchdowns. That's why it was uncharacteristic that Green Bay's first three drives that got into the red zone resulted in two field goals and an interception.
The Packers had first-and-goal from the 3-yard line in the first quarter, but a run for no gain followed by an incomplete pass was concluded with a sack. The Rodgers interception off Quarless' hands was a third-and-goal play from the 5-yard line.
Green Bay later scored a touchdown within the red zone on a 14-yard scramble by Rodgers, but even with those points the Packers still trailed by 14 with just five minutes remaining in the game.
If Green Bay had gotten into the end zone on its second drive rather than settling for the field goal, it could have shifted the game. The interception on the pass to Quarless really changed momentum, as a 16-16 game would have at least been a 19-16 Packers lead. Instead, Green Bay remained with 16 points while the Saints capitalized on the turnover and scored a go-ahead touchdown four plays later.
Don't blame Eddie Lacy or Randall Cobb for this Packers loss. Both offensive players performed like stars in this game. Cobb had five receptions for 126 yards, also hauling in his ninth touchdown of the season. Lacy was dominant as a receiver, catching eight passes for 123 yards.
Cobb got going early. On Green Bay's opening drive, he caught a pass from Rodgers 34 yards downfield and turned it into a 70-yard touchdown. Cobb added a 27-yard reception later, 20 of those yards coming after the catch. His final reception of the night was for 20 yards, with 11 of it being YAC.
In Week 7 against Carolina, the Packers coaching staff had Lacy's number of broken tackles "in the teens." It might not have been quite that high in New Orleans, but Lacy was running over and through Saints defenders on a regular basis. His most notable play was catching a screen pass and running it 70 yards. It will be that play -- and other receptions -- that Lacy will be remembered for in this game, but he also averaged 4.5 yards per carry and ran the ball well.
Follow Paul Imig on Twitter
---