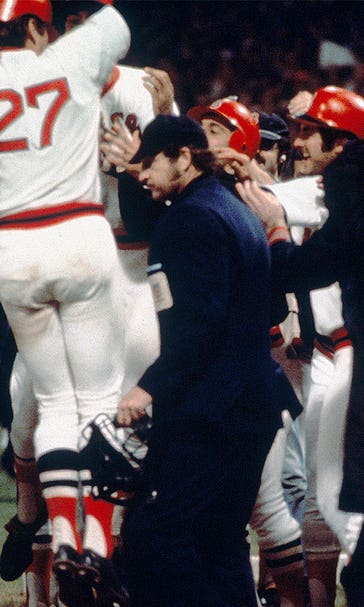 1975 World Series: An eyewitness history
October 28, 2015

Maybe the 1975 World Series wasn't the greatest World Series, and it's theoretically possible that its sixth game wasn't the greatest World Series game. But in terms of the tremendously interesting players on both teams and the dramatic nature of nearly every game, it's hard to beat this one. Below, an account of the entire World Series, culled largely from the accounts of the men who played, managed, and coached in it...
THE REDS BEFORE THE WORLD SERIES
The Cincinnati Reds hadn't won the World Series since 1940, but otherwise the 1970s had already been pretty good to them.
In 1970, Sparky Anderson's first year as manager, his Reds set a franchise record with 102 wins before losing to Baltimore in the World Series. They played poorly (for them) in 1971, but returned to the World Series in '72, this time losing to the A's. In '73 they fell just short of another National League flag, falling to the Mets in the playoffs. In 1974, the Reds won 98 games, but that was only good enough for second place and a cup of coffee, as the Dodgers won 102.
So, entering the '75 season the Reds were probably favorites in the National League West , or at least co-favorites. Still, they seemed to have one obvious weakness: third base.
In '74, Dan Driessen had played a lot of third, but his fielding was considered abominable and in fact he wouldn't play even one more inning of third base in his entire career (which lasted quite a while longer). So the Reds opened '75 with John Vukovich at third base.  He actually got off to a good start, batting .294 with a few doubles in the Reds' first eight games. But in their ninth game, Sparky sent up Driessen to pinch-hit for Vukovich in thesecond inning of a game against the Dodgers, which resulted in a row in the manager's office.
Vukovich kept his job for another week or so, but went 2 for 11 and Sparky benched him. For the next week or so, Sparky played utility infielders at third. Then, a history-making brainstorm.
Sparky Anderson: I was searching in my mind on how to get more offense. This was before the shift of Pete Rose from left field came up. By the way, that was the best hunch I ever had. It was on a Friday night, May 2, the night before the Kentucky Derby. I remember this small detail because the boys got up their customary Derby pool that night.
When I came out of the clubhouse, there was Pete with a new mitt on, fielding grounders at first base. I asked him what it was all about.
"I'm breakin' in this first baseman's mitt for [daughter] Fawn," he said.
Pete explained that Chuck Harmon, a onetime Red third baseman who was a sporting goods company representative at the time, with headquarters in Cincinnati, had brought him the mitt to give to Fawn.
"Pete, you look pretty good around this bag," I said. "How do you think you'd do at the other corner?"
"Are you serious, Sparky?"
I said I was.
"I'll do anything to help the ball club," Pete said. "I'll sure try."
"Don't say anything about this to anybody. You're my third baseman tomorrow."
Some years later, Rose remembered things somewhat differently, with no mention of his daughter's stiff new glove; instead he was just fooling around with a borrowed mitt. Which resulted in this exchange...
Pete Rose: I haven't played thirty games at third in my life.
Anderson: I'm not telling you, Pete. I'm asking.
In Rose's account, he merely nodded and headed for the locker room, leading reporters to wonder if he might be calling his agent to ask for an immediate bonus for switching positions.
Rose: I was not going to the telephone. I was going to the equipment man to get a cup. Sure I'd play third. Sparky's reasoning was right. But I didn't intend for third base to turn me into a soprano.
So Rose played over at third base on the 3rd of May, but there are some misconceptions about what happened next. While the Reds did win Rose's first four games at third, next they lost seven of nine, including six straight. After which the Reds were just 18-19, and five-and-a-half games out of first place.
But then they took off, with an almost unbelievable 90-35 record the rest of the season.
The other misconception involves the so-called Great Eight lineup. You might think the Great Eight – Rose, Joe Morgan, Johnny Bench, Tony Perez, Dave Concepcion, George Foster, Ken Griffey (Sr.) and Cesar Geronimo – was created when Rose shifted to third base, allowing Foster to play almost every day in left field.
But that's not really what happened. Those eight weren't all in the same lineup until May 9. And because of injuries and Sparky Anderson's doubts about Griffey's ability to hit left-handed pitching, it wasn't until the middle of June that the Great Eight coalesced, but between injuries and Sparky's desire to get some at-bats for Driessen, the Great Eight would actually appear in the lineup 24 times all season.
Sparky knew what he had, though, and the Great Eight would start all 10 of the Reds' postseason games. In fact, over the course of 1975 and '76, including postseason games, the Great Eight were together in 87 games ... and the Reds won a whopping 69 of them, for a .793 winning percentage.
The Reds won 108 regular-season games, then topped the Pirates in a quick National League Championship Series. They'd finished the season first in runs, walks, and stolen bases; second in batting average; and third in home runs.
This is what the Reds' upstart World Series opponents were up against.
THE RED SOX BEFORE THE WORLD SERIES
Heading into 1975, the Boston Red Sox were in a completely different situation. Of course they hadn't won a World Series since 1918. They did come very close in 1967, bowing to the Cardinals in seven games. In the succeeding years, the Red Sox were consistently good but never great.
That changed in 1975. With a 23-13 record in one-run games, the Red Sox won 95 games and held off the perennially competitive Orioles for the American League East title, then swept the Oakland A's – who'd won the last three World Series – in the ALCS.
In truth, the Red Sox weren't that much better in '75 than they'd been in '74. But they sure looked better, thanks largely to rookie outfielders Jim Rice and Fred Lynn – the "Gold Dust Twins" – with the latter ultimately becoming the first Rookie of the Year who also garnered Most Valuable Player laurels.
Unfortunately, Rice wouldn't play in the postseason at all; on the 21st of September, Rice's hand was broken by a Vern Ruhle pitch, knocking him out for the duration.
Rice's absence didn't leave the Red Sox as short-handed as you might guess. They had plenty of potent bats on the bench with Bernie Carbo, Cecil Cooper, and Juan Beniquez, and the entire World Series would be played without designated hitters. In the event, veteran Carl Yastrzremski started all seven games at first base or in left field, with the other three getting starts as well. Rice would be missed, though, as Cooper and Beniquez combined for 27 at-bats, two singles, and zero runs scored.
GAME 1
It was an odd year, which meant the World Series would open in the American League champs' home: Fenway Park, even then an ancient anachronism.
Joe Morgan: Because I had never seen it before, the first view of Fenway was a shock and a delight. The exterior of the building and then the underground passageways, through the stadium to the locker room, were dingy and grimy. But then, almost because of the age and decrepitude of the place, you became aware of those who made this trip before you. Legends and shadows follow you everywhere. This was a place I knew even without knowing it -- so many great ones had been here, had stood on this or that part of the field: There was Babe Ruth and Jimmie Foxx and Tris Speaker and Bobby Doerr and, most of all, Ted Williams.
One of the first things I noticed about the playing field was not the Green Monster or the hand-operated scoreboard, but the infield. Before I did anything else, I walked out, felt the ground under my feet, let the texture of the dirt become familiar to me. I was struck by how smooth the infield was. It was perfect. I had played on hundreds of infields in my life, and this was the very best. It was almost magical. How was it possible to build such a space, such a small corner of the land in this way?
During and before Game 1, the big story was Red Sox starting pitcher Luis Tiant, the veteran workhorse who'd won 60 games over the previous three regular seasons.
Tiant's father, Luis Sr., had pitched during most of the 1930s, in both his native Cuba and in America's Negro National League. But while the younger Tiant would not return to his home in Cuba after 1961, the elder remained, and after nearly a dozen seasons Señor Tiant still had never seen his son pitch in the major leagues.
But in May of 1975, U.S. Senator George McGovern (South Dakota) had visited Cuba with a letter from Senator Edward Brooke, asking the Cuban government for permission for Luis Tiant's parents to visit their son in the States. Less than 24 hours after receiving Brooke's letter, Fidel Castro told McGovern that Tiant's parents had already been advised "that they can go to Boston and stay as long as they wish."
But it wasn't until late August that they arrived in Boston, by way of Mexico City. And on the 26th, Señor Tiant threw out the first pitch at Fenway before a game against the White Sox ... and then a second pitch, because he judged the first not good enough for a long-ago pitching star who could still throw pretty good.
So by the time the World Series rolled around, the fans in Boston were well-familiar with the Tiant family's story. Señor brought a huge noisemaker to Game 1, and NBC's national broadcast frequently focused on him when Luis got a big out.
Tiant got a lot of big outs in Game 1, and as stylishly as anyone could get them.
Ken Griffey Sr.: He was a man of many deliveries. He might throw overhand on one pitch, sidearm on the next pitch, and underhand on the next pitch. He might spin it, he might sink it, he might float it, and always he would surprise you. Hitting against him was like eating soup with a fork.
Roger Angell: Tiant's repertoire begins with an exaggerated mid-windup pivot, during which he turns his back on the batter and seems to examine the infield directly behind the mound for signs of crabgrass. With men on bases, his stretch consists of a succession of minute downward waggles and pauses of the glove, and a menacing sidewise, slit-eyed, Valentino-like gaze over his shoulder at the base runner. The full flower of his art, however, comes during the actual delivery, which is executed with a perfect variety show of accompanying  gestures and impersonations.
Pete Rose: I don't give a shit about that. Hell, his head could fall off while he's pitching, it doesn't mean anything to me. I'm looking at the ball.
In the fourth, Tiant worked around a balk, which drew protest in no small part because it was called by a National League umpire; no American League umpire had done such a thing since the 1960s.
Otherwise, he was generally untroubled. But so was Cincinnati starter Don Gullett, who matched zeros with Tiant. Until, that is, the seventh.
Sparky Anderson: The first six innings belonged to the pitchers and the fielders. There was great defense on both sides. But our side made a terrible mistake as Tiant led off in the seventh… Gullett threw Tiant an off-speed pitch, a fork ball; that was a mistake. Tiant, a man who had been to bat only once in three years, singled past Rose. That started an avalanche. Before the inning was over, the Red Sox had six runs.
Meanwhile, Tiant just kept rolling along.
Pete Rose: Our reports told us that 80 percent of his pitches were fastballs. We even saw films of him blowing them past Bando and Jackson. So that's what we were looking for. I couldn't believe what I saw. We haven't got anybody in the National League like that, nobody who throws spinning high curveballs that take two minutes to come down!
The Red Sox scored all six of their runs in that seventh inning, and the Reds didn't score any runs at all, with Tiant finishing the shutout with three routine outs in the ninth.
GAME 2
Tiant had been the easy choice for Game 1, but what about Game 2? Manager Darrell Johnson's No. 2 starter during the season, Rick Wise, had pitched in Game 3 of the ALCS five days earlier and seemed the obvious choice. But instead Johnson went with born lefty – both as a pitcher and a thinker – Bill Lee, and then-coach Don Zimmer has taken all the credit for that one...
Don Zimmer: At the Monday workout before the Series got underway, I was standing in the outfield at Fenway while our guys were taking batting practice. I had something on my mind and Darrell must have sensed that as he strolled over to me.
"What are you thinking," he asked.
"Well," I said, "I know Bill Lee hasn't pitched well the second half of the season (he hadn't started in three weeks and hadn't won since August 24), but I've just got a hunch about him. I saw a lot of this Cincinnati team when I was in the National League, and they're pretty much a free-swinging team. I think a lefty like Lee who throws all that off-speed stuff and keeps the ball down might give them some trouble, especially in this ballpark with the grass. I'd recommend pitching him in the second game."
Darrell looked at me as if I was crazy. For the moment, I thought he was going to tell me to go to the clubhouse and take a cold shower.
"I just have a feeling Lee might pitch well here," I insisted.
He said he'd think about it before he had our meeting with the coaches. After the meeting, Darrell told the media he'd decided to pitch Tiant in Game 1 and Lee in Game 2. The Lee part of the announcement drew howls of disbelief from the media who thought Darrell was showing desperation before the Series even began."
Lee had run his record to 17-9 on the 24th of August, but hurt his elbow while taking batting practice and (indeed) wouldn't win again for the rest of the season, and he didn't pitch in the ALCS. He was ready for the World Series, though. And somehow not overly intimidated by the Reds.
Bill "Spaceman" Lee: According to our scouts, the best strategy to use against the Reds was to start the game with the bases loaded, five runs in, and their pitcher at the plate. Then you had a chance.
The Reds should have had Jack Webb as a manager. I had never seen a team so well-schooled in basics as they were. They were the third most fundamentally sound team I had ever seen. Only the USC Trojans of 1968 and any one of the Taiwanese Little League champions would rate higher. The Reds were a team that took its personality from one individual: Pete Rose. Pete and his club were always battling you. Rose is extremely carnivorous, an obvious flesh-eater. Meat diets tend to bring out one's competitive nature, while robbing him of the ability to show compassion for his fellow human beings. Carnivores are not concerned with problems outside of baseball. All they care about is scoring the winning run and having the opposing shortstop placed on the dinner menu.
The Red Sox went ahead 1-0 in the bottom of the second when Carlton Fisk's two-out single plated Yastrzemski. But there were missed chances, as the Sox got five runners aboard in the first two innings but scored just the once. The Reds tied the game with a run in the fourth. But the Sox went back ahead in the sixth with an unearned run, and it was still 2-1 after the seventh inning when heavy rains stopped the game.
Bill Lee: During that delay, unbeknownst to yours truly, Johnny Bench was being interviewed for television in the Reds clubhouse. When asked what he'd be looking to do against me when play resumed, John replied that he was going to try to hit me to the opposite field. He had been trying to pull me all afternoon, and I had gotten him out by pitching him away. Bench was now telling sixty-five million Americans that he was going to take the ball to right, and not one of them thought to call me with a warning. Did that piss me off later! I don't watch much TV, and when Bench and I faced each other after the rains let up, I was unaware of his strategy. John led off the ninth with the score still 2-1. My first pitch to him was a sinker low and away that he hammered to right for a double.
The pitch wasn't that low, but it was away and Bench did drive it toward the right-field corner for a double. And with that, Darrell Johnson replaced Lee on the mound with Dick Drago. He got the next two guys out before Dave Concepcion hit a high bouncer up the middle that didn't escape the middle but was plenty enough for a game-tying single. After Concepcion stole second – the Sox would later maintain he should have been called out, but replays were highly inconclusive – he came around to score on Ken Griffey's double to the gap in left-center, making it 3-2.
That's how it ended, as Reds relief ace Rawly Eastwick set the Sox down 1-2-3 in the bottom of the ninth.
Bill Lee: At the press conference afterward, a writer asked me to sum up the Series so far. I told him it was tied.
And so everybody picked up and moved to Cincinnati for the next three games.
GAME 3
Cincinnati's Riverfront Stadium – still practically brand-new, with green carpeting on the field instead of Mother Nature's finest grass – could hardly have been more unlike Fenway Park. "Synthetic baseball," Peter Gammons called it. "Steely and sparkly and aseptic."
Boston took an early lead on Fisk's solo homer, but Johnny Bench made it 2-1 in the fourth with a two-run homer off Rick Wise. In the fifth, the Dave Concepcion and Cesar Geronimo hit consecutive homers off Wise, who departed after Rose's one-out triple. Rose would score on a sacrifice fly, and the Sox were down 5-1.
They battled back, though, and in the ninth inning Darrell Evans hit a dramatic two-run homer off Eastwick that tied the contest at 5 apiece. Nobody else scored in regulation, which set up one of the most controversial moments in World Series history.
After a quiet top of the 10th, Geronimo led off the bottom of the frame with a single. With the pitcher due up next, Sparky Anderson sent up little-used Ed Armbrister to bunt. Which he did. And all that happened next was a controversy that will live as long as the memories do...
Afterward, some of the reactions from the home team were a bit overheated.
Carl Yastrzemski: Baseball owes it to the fans to have only the best umpires in the Series. Maybe we ought to rotate the teams, too. I think this is a disgrace.
Dick Drago: Gutless. The umpires are gutless. It's terrible to have people who don't give a damn ruining something sixty million people are watching.
Carlton Fisk: Armbrister came up under me as I was going for the ball. I felt like I was hit by a linebacker.
It's a damn shame to lose a ball game like that. One call from an umpire can change the complexion of the whole Series. If I don't think I've got a legitimate complaint, I'm not the kind who will beef and moan and make a show.
Sparky Anderson: I suppose Darrell Johnson and Fisk and the other Red Sox always will believe that Armbrister should have been called for interference. In the same circumstances, if a similar call had gone against us, I suppose I'd have cried, too.
But this much I know: We have a videotape machine ... so we checked the videotape. As we saw it, and I honestly don't think we were prejudiced, Armbrister hesitated so he would not bump into Fisk when he fielded the bunt. Fisk easily could have tagged Eddie when they bumped, but he didn't. And although Carlton was later quoted as saying the shortstop (Burleson) should have caught the ball, when Fisk threw to second, the videotape showed it was simply a high throw.
The next day I watched Joe Garagiola's pregame show on NBC. The scene was replayed from several different camera placements. Again I could see there was no interference on the runner's part. Garagiola, an old catcher, suggested the viewers make their own judgements.
Joe Morgan: No one will settle the argument but to me there really was no argument. If you run that play back on video, you will see that Ed clearly tried to get out of the way. He bunted the ball and then actually backed up a step to avoid being called out for interference. Fisk fielded the ball and threw before Armbrister moved past him – and that's what the ump saw. He made the right call: No interference.
Rick Wise: I've looked at the play a hundred times. I don't know why interference wasn't called, and I never will.
Pete Rose: It looked to me that Fisk just ran into Armbrister and that's not interference.
Umpire Larry Barnett: If I had to do it all over again, I would do it all over again. I know that I am right. There was a collision. I was quoted as saying there was no intentional interference on the play, but I did not say that. I said there was a collision. I would certainly say that my decision was justified by the way Fisk is pushing Armbrister away from him.
Bill Lee: There were three outs on that play, and none got called.
Out one. Interference at home. Armbrister should have been called out and Geronimo sent back to first.
Out two. When Fisk came up with the ball, he actually tagged Armbrister. I saw it.
Out three. After Geronimo overslid third base, Rico Petrocelli tagged him. But the ump there had come home. Nobody called the play.
Well, they're still arguing about this one, 40 years on. But the interference is highly arguable, Fisk didn't come close to tagging Armbrister, and if you watch the play again you'll see there was an umpire about three feet away from third base. It's possible that he blew the call, but not for lack of proximity.
You might cite the vagueness of the rule, but it actually does look like Armbrister was trying to stay out of Fisk's way, and it's also apparent that the contact between them was fairly minor. Bottom line, Fisk just made a really lousy throw, and maybe shouldn't have thrown to second base at all. Although with Armbrister delayed, even a late throw to second, if accurate, would have allowed time for a relay to first base in time to retire Armbrister. In which case the rest of the inning probably looks quite different.
But with Geronimo on third and Armbrister on second, Roger Moret took over on the mound and walked Pete Rose intentionally. Griffey was due up next, but Sparky Anderson – and Griffey remained bitter about this, nearly 40 years later – replaced him with pinch-hitter Merv Rettenmund, who struck out.
That brought up Joe Morgan with the bases loaded and two outs, and he laced Moret's 1-2 pitch well over Lynn's head in center field for a long, long game-winning single.
GAMES 4 & 5
Luis Tiant started Game 4 but wasn't nearly as sharp as he'd been in the opener. Somehow he pitched a complete game, despite giving up nine hits and four walks. The Reds nicked Tiant for two runs in the first inning and two more in the fourth, but the Red Sox had scored five in the top of the fourth. The Reds' bullpen held from there, but so did Tiant.
Still, there would be great drama in the ninth. Cesar Geronimo led off with a single, and Armbrister – no controversy this time! – bunted him to second base. Rose drew a walk. Tiant kept pitching.
Sparky Anderson: Up came Griffey, and the count went to 3-and-2. On the next pitch, Ken really unloaded into center field. Lynn ran after it, right to the wall, 404 feet away. At the last instant, he threw his gloved arm up (the right one) and grabbed it. That was some kind of catch. We didn't get the tying run.
Fred Lynn: Was I nervous? When I got to the ball, my arm had trouble doing up.
Unaccountably, Geronimo hadn't tagged up and advanced to third base. But it didn't matter, as Tiant retired Joe Morgan on a pop fly for the last out. The Red Sox had evened the Series. Tiant had thrown 163 pitches.
Luis Tiant: I don't care if I throw 3,000. I throw enough to get those guys, right?
Game 5 would be Tony Pérez's game. He'd gone 0 for 14 in the first four games of the Series, so Sparky Anderson dropped him from fourth in the lineup to fifth. He responded with a solo homer in the fourth that tied the game 1-1, and a three-run blast in the sixth that made it 5-1. The Red Sox rallied with two outs in the ninth, but Rawly Eastwick came into the game and struck out Rico Petrocelli with two runners aboard, sealing the Reds' 6-2 victory. Everybody headed back to Boston, where they would ... wait.
INTERLUDE
The Series was set to resume in Boston on Saturday the 18th.
It rained on the 18th. Rained a lot.
Larry Barnett received another death threat, this time via telegram.
It rained on the 19th. Rained a lot.
The Reds worked out in the Tufts University field house.
It rained on the 20th. Not as much, but the 20th was a Monday and it was rumored that Commissioner Bowie Kuhn didn't want Game 6 competing for television viewers with the New York (football) Giants and the Buffalo Bills over on ABC. So they didn't play on the 20th, either.
Finally the World Series resumed after four whole days off...
GAME 6
All those days off were considered a boon for the Red Sox, who could now start Luis Tiant for the third time in the Series. Sparky Anderson went with the well-rested Gary Nolan, who'd started Game 3 a week earlier, and thrown only 40 pitches in four innings (despite pitching well).
In the bottom of the first, Nolan got two quick outs, but almost as quickly gave up consecutive singles to Yastrzemski and Fisk, followed by Fred Lynn's long homer over the bullpen in right-center.
Nolan actually looked great in the second inning, but was lifted anyway for a pinch-hitter in the third. The Sox loaded the bases in the bottom of the inning but didn't score.
Meanwhile, Tiant seemed to be cruising until the fifth, when Ken Griffey's two-run triple was the big hit in a three-run rally that tied the game. Tiant got into more trouble in the sixth, but escaped. There was more trouble again in the seventh – with Tiant clearly off his game – and this time he didn't escape, with George Foster's two-run double making the score 5-3. In eighth, with Tiant still pitching, Cesar Geronimo led off with a homer to make it 6-3, and it seemed very much as if the Red Sox' dream was almost impossible.
Except Tiant got out of the inning with the score still 6-3. And Fred Lynn led off the bottom of the eighth with a single and Rico Petrocelli walked.
Sparky Anderson, who would set a record by using eight pitchers in the game, summoned Rawly Eastwick from the bullpen, and Eastwick retired Dwight Evans and Rick Burleson. With the pitcher due next, Johnson tabbed Bernie Carbo, who'd hit a pinch-hit homer in Game 3.
Carl Yastrzemski: To take Bernie seriously, you had to get over some of his quirks, such as traveling with a toy stuffed gorilla. He was a hotheaded kid who always started the season well, but then tailed off. This was as tail end of the season as you could get.
Bill Lee: Carbo was the greatest clutch hitter I ever saw. He could come off the bench and deliver in a clutch situation. He had nerves of steel. Nothing bothered him. I've seen him come out of a dead sleep and hit.
Joe Morgan: When Bernie Carbo came up in the bottom of the eighth with two men on and two out, I still thought we were going to make it. Eastwick got two strikes on Carbo, and made him look bad in doing it. Then he threw him a pitch that, from where I stood, looked unhittable. It was a sharp-breaking slider, down and in, and Carbo swung at it awkwardly. It was a funny swing, the kind a batter makes when he is completely fooled. Carbo barely touched the ball—it was just a tick—but he fouled it off.
Ken Griffey: Bernie took one of the worst swings I have ever seen a big leaguer take.
Morgan: When Eastwick came back with a fastball...
Bernie Carbo: I wasn't looking to hit a home run. I wasn't thinking home run. There were two runners on. I worked the count to 3 and 2.
What happened was, he threw me a slider, and I thought it was going to be a fastball. I went out to get it, and I saw it was going to be a slider, and I fouled it off. At the same time, the umpire called it a ball. Johnny Bench turned around at the umpire and said, "That was a strike. That pitch was a strike. The ball had two inches of the plate."
I stepped out of the box. I figured, "He's going to be thinking I'm going to be looking slider, so instead I'm going to be looking fastball."
Eastwick got the fastball up and away, where I was looking. I knew I would be swinging. I wasn't going to be taking. I knew I would commit myself to where it would be difficult to stop my swing. I got the pitch, and I hit it.
Don Zimmer: Coaching at third base, I'll never forget Pete Rose, playing third for the Reds and shouting over to me after Carbo's homer: "Win or lose, Popeye, we're in the greatest game ever played." He was like a little kid in a candy store.
As he rounded third base, Carbo yelled at his old teammate Rose, "Pete, don't you wish you were that strong!"
Eastwick did strike out the slumping Cecil Cooper to end the inning, and on they went to the ninth.
Boston fireman Dick Drago got Morgan, Perez, and Bench in the top of the inning. In the bottom, with Eastwick still pitching, Denny Doyle led off with a walk and Yaz pushed him to third with a base hit. First-and-third and nobody out. Back against the wall, Sparky replaced Eastwick with Will McEnaney, who intentionally walked Fisk to load the bases. Coming up: Fred Lynn, Rico Petrocelli, and Dwight Evans.
Lynn lifted McEnaney's first pitch to left field, right next to the stands and not very deep at all, where George Foster set up camp...
Zimmer: As Foster came in to make the catch, I started down the line and yelled to Doyle to tag up. But as soon as I realized it was too shallow to score him, I knew he was going to have to hold. I was stunned when I turned and saw Doyle already breaking for home.
"No!" I screamed. "No! No! No!"
Instead of heeding my cry, he kept running for home and was thrown out easily. Again, Rose hollered over to me, "How many times do you have to tell a guy not to go?"
Doyle later explained that he thought I was yelling "Go!" to which I said to myself, "What about when I was next to him and said, 'You can't go nowhere'?"
The play was actually closer than people remember, as it took a pretty good throw to get him. If Foster's throw had been a little worse and Doyle's slide a little better, Zimmer might have been given the keys to the city.
Anyway, McEnaney got Petrocelli on a grounder for the third out, and on to the 10th they went.
The 10th was relatively uneventful, but the top of the 11th was not. Rose led off and Drago plunked him. Griffey bunted, but it was a bad bunt and Fisk threw to second to force Rose. That brought up Morgan...
Joe Morgan: I got the pitch I wanted from the Red Sox reliever, Dick Drago, and I hit the ball hard toward right ... because of the topspin on the ball, I kept watching Dwight Evans: and he didn't seem to be giving up. I said to myself, Whoa, where does he think he's going, he can't get to that.But he kept going back, back, back, and then he leaped – and caught the ball. I couldn't believe it: and neither, apparently, did anyone else watching the game. It was one of the great catches ever – and what was more, because Evans was a supremely intelligent player, he remained in the game all the while. As soon as he made the catch, he wheeled away from the grandstand, remembering that was only the second out in the inning, and threw to first base – knowing that the runner, like everyone else, had thought the ball was out. This great catch was now turned into an even more impressive inning-ending double play.
Sparky Anderson: I said that this was the best catch I'd ever seen an outfielder make. I still think so. We threatened in the 12th as the game crept past midnight with not a soul leaving the park. We had two on with one out, but Rick Wise came in for one of his rare relief jobs and kept us from scoring.
In the bottom of the 12th, Fisk led off against Pat Darcy, who had pitched the 10th and 11th to become the record-setting eighth Reds pitcher in the game. They didn't call Sparky Anderson "Captain Hook" for nothing.
Clay Kirby was still in the bullpen, but Sparky didn't trust him for anything but garbage relief.
So Pat Darcy would just have to do for a while.
His first pitch to Carlton Fisk was a high fastball, well out of the zone. His second was a low fastball...
Carlton Fisk: When I hit it, I knew it was long enough. I knew it was high enough. But I didn't know if it was gonna stay fair...
Zimmer: I see that home run over and over in my dreams. It was – and still is – a beautiful sight.
Peter Gammons: And all of a sudden the ball was there, like the Mystic River Bridge, suspended out in the black of the morning.
When it finally crashed off the mesh attached to the left field foul pole, one step after another the reaction unfurled: from Carlton Fisk's convulsive leap to John Kiley's booming of the "Hallelujah Chorus" to the wearing off of the numbness to the outcry that echoed across the cold New England morning.
At 12:34 a.m., in the 12th inning, Fisk's histrionic home run brought a 7-6 end to a game that will be the pride of historians in the year 2525, a game won and lost what seemed like a dozen times, and a game that brings back summertime one more day. For the seventh game of the World Series.
Roger Angell: It is foolish and childish, on the face of it, to affiliate ourselves with anything so insignificant and patently contrived and commercially exploitative as a professional sports team, and the amused superiority and icy scorn that the non-fan directs at the sports nut (I know this look—I know it by heart) is understandable and almost unanswerable. Almost. What is left out of this calculation, it seems to me, is the business of caring—caring deeply and passionately, really caring—which is a capacity or an emotion that has almost gone out of our lives. And so it seems possible that we have come to a time when it no longer matters so much what the caring is about, how frail or foolish is the object of that concern, as long as the feeling itself can be saved. Naïveté—the infantile and ignoble joy that sends a grown man or woman to dancing and shouting with joy in the middle of the night over the haphazardous flight of a distant ball—seems a small price to pay for such a gift.
Columnist Ray Fitzgerald: Call it off. Call off the seventh game off. Let the World Series end this way.
GAME 7
Don Gullett (who'd nearly gone the distance in Game 5) started for the Reds against Bill Lee (who thought he should have started Game 6).
In the bottom of the third, the Red Sox went ahead 3-0 in bizarre fashion, thanks to four walks and two singles with Gullett still striking out the side.
It was still 3-0 in the sixth when Pete Rose led off with a single. After Morgan made an out, Johnny Bench hit a double-play grounder to shortstop Rick Burleson, who made the short toss to second baseman Denny Doyle. But with Rose coming in hard, Doyle's throw sailed into the dugout, the inning still alive.
Lee's second pitch to Tony Pérez was a big looping curve, which went by different names but most colorfully was called his "Leephus" pitch.
Carl Yastrzemski: In a meeting with Lee before the game, he had been told, "Don't throw off-speed to Perez. He'll cream it." But Bill did things his own way. He had a pitch he called "the bloop" and he threw it just then.
Joe Morgan: Their scouting report should have told them that slow curves were the Big Dog's meat.
Bill Lee: I had been having good success with Tony, throwing him my slow, arching curveball, so I thought it would be a good idea to throw it to him again. Unfortunately, so did Tony, who timed it beautifully. He counted the seams of the ball as it floated up to the plate, checked to see if Lee MacPhail's signature was on it, signed his own name to it, and then jumped all over it. He hit the ball over the left-field screen and several small buildings.
Lee escaped that inning. But in the seventh, he was forced to retire with a broken blister on his finger and a runner aboard: Ken Griffey, who'd walked and would eventually steal second, then score the tying run on Rose's single to center.
It was still 3-3 when Griffey led off the top of the ninth with another walk, lefty Jim Burton pitching for Boston. Griffey moved up on Cesar Geronimo's sacrifice bunt, then again on Dan Driessen's grounder. With two outs, Burton worked carefully to Rose and walked him, bringing up Joe Morgan.

Morgan: This kid Burton was ready. If he was a rookie, he never showed it. His best pitch was a hard, late-breaking slider which was really difficult to pick up. With the count 2 and 1, I lined a breaking ball inches foul down the left-field line. Then, with the count 2 and 2, Burton threw me a really tough, late-breaking slider which I went for and got up in the air.
Yastrzemski: Burton got two strikes on him and Morgan obviously wasn't crazy about it. But he swung and he broke the damn bat...
Morgan: I knew I did not get good wood on the ball. I could feel the dead heaviness of the ball against the bat. I saw a blur of white heading toward center field, and as I ran I watched it hit the ground. The Red Sox fans fell silent, and a cheer burst out from our side of the field.
After a pitching change, Bench walked but Pérez flew out to end the rally. The Red Sox were down to their last three outs. Sparky Anderson brought in McEnaney, who retired pinch-hitters Juan Beniquez and Bob Montgomery. Next up: Longtime superstar Carl Yastrzemski. He hadn't come up with any memorable hits in the Series, but his seven runs scored led both teams.
Yastrzemski: I was thinking, "Home run." I wanted to tie the game. He was a left-handed sidearmer with a sinkerball. I thought, "Wait until the last possible second before swinging." You've got to do that with a sidearming left-hander. You have a tendency to open too quickly to pull the ball. I waited. He did make a little mistake. He kind of got it up. But I just got under the ball. I dropped a little too quickly, and instead of driving it, I got underneath it, hit the ball to center field, got it close to the warning track. Geronimo caught it. If I didn't drop quite as much, I might have hit it out. But I probably thought wrong in going for the homer.
And so Game 7 and the World Series ended, with Carlton Fisk on deck and the Reds celebrating on the field. Well, except for the Red with white hair.
Sparky Anderson: I guess it was pretty noticeable that the manager wasn't out there to join them. I watched that last fly ball settle in Geronimo's glove and realized that after six years I had a World Championship. Then I trotted to the runway leading to our clubhouse and waited for the guys. I was weak. I was drained. I couldn't have run on the field if my life depended on it.
Don Zimmer: Somebody always has to lose, but as our owner Tom Yawkey said afterward, there were no losers in this World Series. He backed that up by giving us all World Series rings. The only thing that separated our rings from the ones the Reds got for winning the Series was the diamond in the middle.
1976, ETC.
In '76, with largely the same cast of characters, the Reds just kept rolling along. Again they finished well ahead of the second-place Dodgers, and again they swept their LCS opponents (this time, the Phillies). But their path to the championship was significantly easier, as they swept the Yankees in a World Series that included just one close game.
The future didn't go nearly so well for the Boston Red Sox. Their failure to follow up their '75 success – in fact, the Sox wouldn't reach the postseason again until 1986 – was almost universally blamed on the advent of free agency, and general dissension among the players.
But the truth is that the Red Sox were very good in 1975, and remained very good through 1979. Their disappointing 83-79 record in 1976 was due largely to their poor (22-29) record in one-run games, and from '77 through '79 they averaged 96 wins per season. Granted, playing in the same league with the expansion Blue Jays and Mariners helped. But they also had the misfortune of playing in the same division as the Yankees and the Orioles. And so it would be another 11 long years before the Red Sox returned to the postseason ... only to suffer another crushing World Series loss to another superb team.
The sources for this story include Sparky Anderson's The Main Spark, Joe Morgan's Joe Morgan: A Baseball Life, Ken Griffey Sr.'s Big Red: Baseball, Fatherhood, and My Life in the Big Red Machine; Bill Lee's The Wrong Stuff; Don Zimmer's Zim; Luis Tiant's El Tiante; Carl Yastrzemski's Yaz: Baseball, the Wall, and Me; Joe Posnanski's Machine; and Doug Wilson's Pudge: The Biography of Carlton Fisk.
---
---