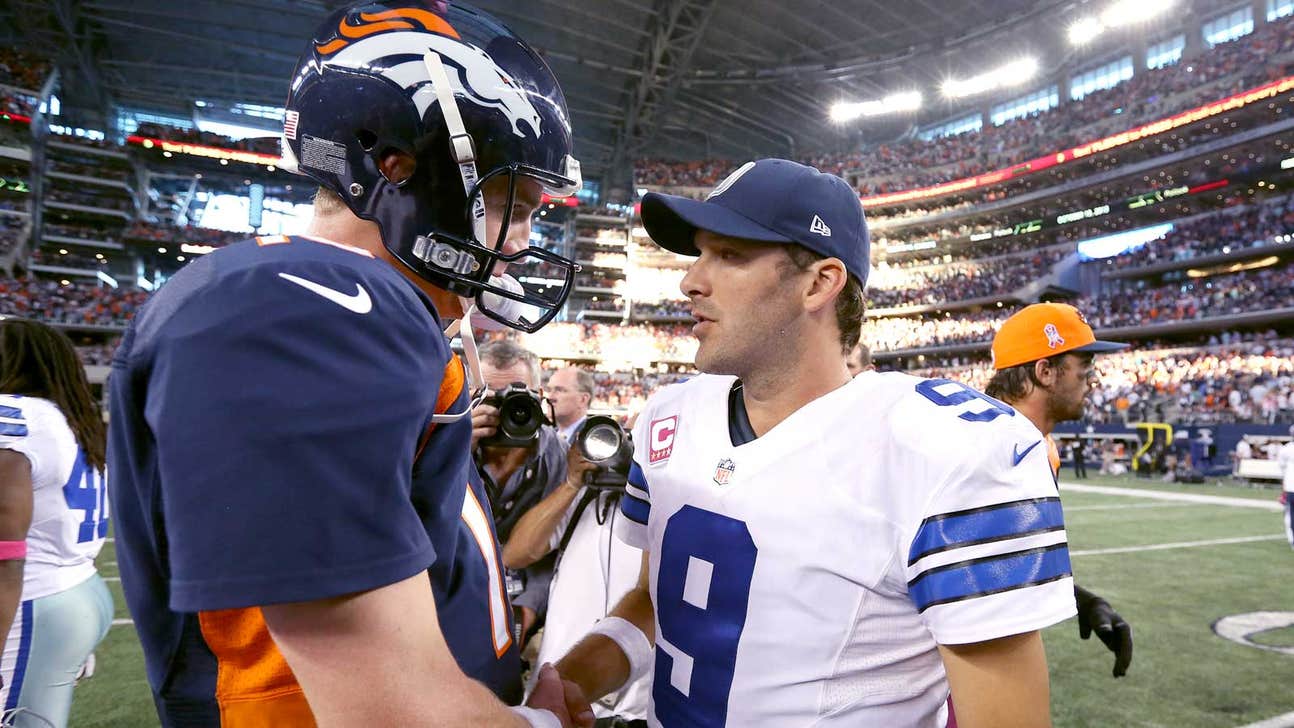 '13 Rewind: Week 5 The Unforgettable Day With Denver
Updated
Mar. 4, 2020 2:35 p.m. ET

Throughout the first few weeks in August, we will carefully review the 2013 season week by week. I do this as a matter of habit during every training camp because the offseason allows too many things to fall from my memory banks and I think as I get older, that issue becomes bigger. But, since I write about this team daily and I forget most of the details, I thought perhaps you would like to take this trip as well. Some of you will, I assume most of you will pass on this endeavor, but the blog space is free so don't say that I didn't offer. 



Here is Week 5 - Manning Versus Romo:



October 7, 2013 - The Morning After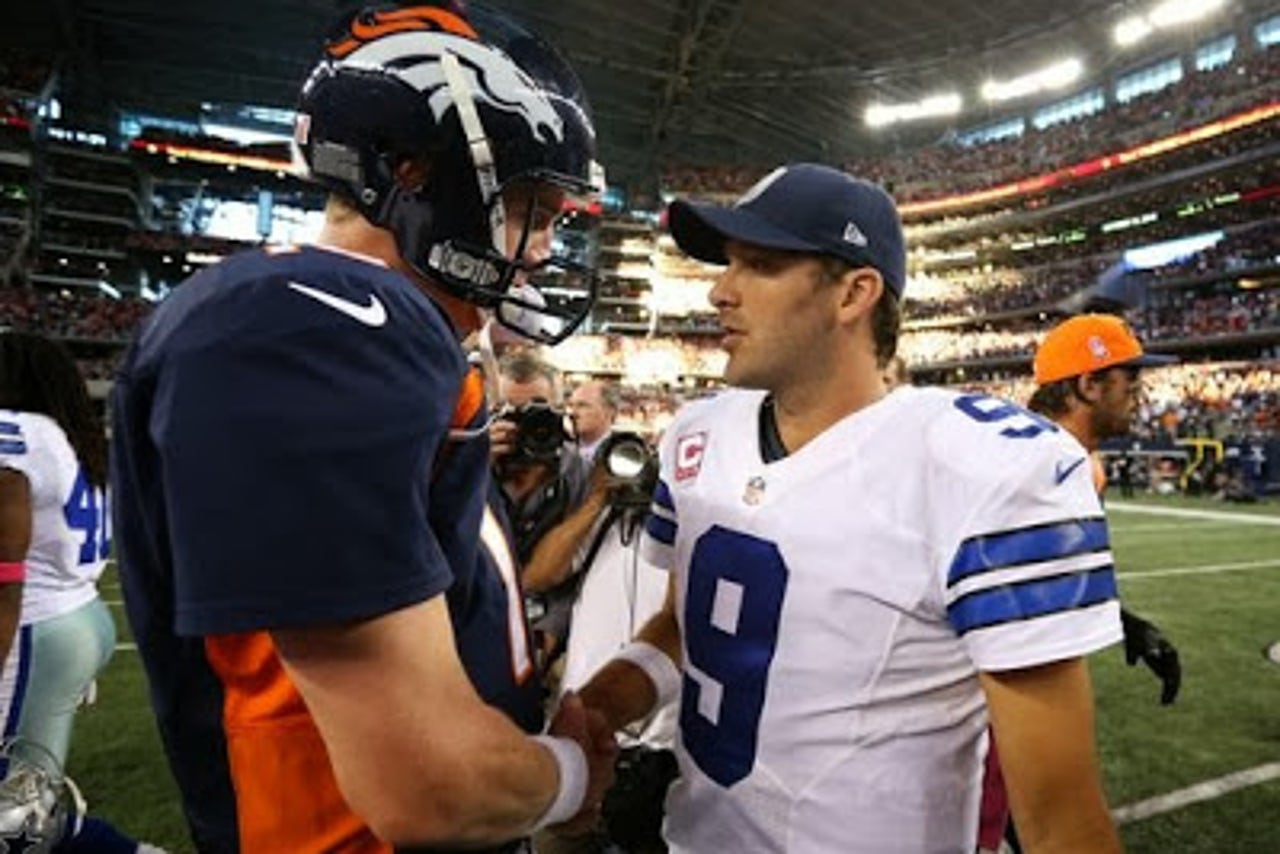 There may never be a more absurdly amazing game ever played in that sun-drenched, indoor stadium than the one that was witnessed on October 6, 2013.



It will be measured as a simple loss for many, in a season where they have now lost 3 out of 5 out of the gate, and are on their way to what could be another season that finishes at the break-even record of 8-8.



But, those people would be missing the many elements of one of the most unique sporting events most of us will ever witness.



All losses are not created equal, nor are their effects equally felt.  There are, contrary to the win-demanding portion of the fan base that still believes Dallas to be a favorite to win the Super Bowl every season, defeats that can offer hope for what lies ahead.



And I believe that October 6, 2013 - otherwise known as the day Peyton Manning and Tony Romo put on a show for the ages - is a game in which this Dallas team may have learned their true identity moving forward.



More on that in a moment, but first, let's discuss the unique and fantastic characteristics of this 3 hour and 13 minute football masterpiece.



It featured 48 Dallas points, which accounted for the 2nd highest score ever by a losing team - in the history of football.  If you consider how many games have been played in the history of the sport, the fact that only once has a team exceeded the Dallas production from yesterday and still lost, you likely have to appreciate the shootout in Arlington.



As far as Cowboys' history goes, the team has scored 39 points or more 48 times in their franchise history - going back to 1960.  And, again, yesterday was the first time that of those 48 instances in which they did not win the game.  47-1 is now the record for those occasions.



Manning and Romo each accounted for 5 Touchdowns, with a combined passing line of 58 completions on just 78 attempts, for 920 yards, with 9 TD passes and 2 INTs.  This combined passer rating of 141 is just short of perfect, but only by an eyelash.  Manning also ran for a TD and the two teams in 22 drives combined for 1 punt.



It was not exactly the smash-mouth football that some of us desire, but rather an arena-football style of offense where the defense looked several letter grades below the offenses.  This is, in some ways, a perfect description of the modern game, where we know that points attract audiences and therefore do everything possible to aid that cause.  But, this was well above that.  This was arguably the greatest QB of the generation being met volley for volley by one who on his day can sling the ball with just about anyone.  And both Manning and Romo stood tall in the middle of the stadium in this instant classic.



In the end, Romo finally cracked and threw a pass he could not afford to throw on a cross to Gavin Escobar that was intercepted by Broncos linebacker Danny Trevathan.  Replays show that he had no ability to step into the throw as his protection was collapsing, and although it was 2nd and long, he should have taken the dump down to DeMarco Murray rather than trying to thread a needle.  He knew that punting it back to Denver is likely conceding the contest, and he tried to do something he had done all day - make something out of nothing.  But, in the end, he brought defeat on too easily as Denver took over in field goal range and Dallas would never touch the ball again.



And for many who already have written their narratives before the game, this defeat - like so many before it - fall squarely on the fact that they have a choke-artist, 2nd-hand Quarterback.  He did yesterday what he has done so many times before, which is to come up short when it matters most.



Those people are certainly welcome to their silly opinion, but perhaps on this day they should stand down, and wait for a more appropriate opportunity where facts won't dispute their story-line so easily.



Nobody would dispute that ultimately he finished 2nd on this day.  But, how did he finish 2nd and who did he finish 2nd to?  If someone considers that for one minute, they likely arrive at the conclusion that this was a game where neither QB was going to really have much to feel badly about.  Two worthy adversaries that battled with the whole football world watching, and in the end, one broke serve to determine the winner.



So, if I may work in golf analogies (which always seems appropriate when discussing certain NFL QBs), you can shoot a 63 and the fact that you are playing against Tiger Woods in his prime and he shoots a 62 to beat you doesn't mean that you are a choke artist and can never do anything right.  It means that you played your butt off, maybe had the performance of your career, and just got beat by a living legend showing why he is known as such.



To the rest of the readers who understand what has already been said, let's move on to more topics this day, as in the realities of the Cowboys defense in 2013.  Obviously, in 2 weeks of playing against savvy, NFL veteran QBs, we can see while very few opponents will resemble Peyton Manning each week, but also very few will resemble Sam Bradford.  Now that the tape of the last 2 weeks is out for all to see and I imagine smart coaches like Mike Shanahan and Chip Kelly are going to have some ideas about how to attack the myriad of issues that appear to be springing up on the defense.



They simply were unable to trouble Philip Rivers or Peyton Manning with any level of consistent pressure and in 85 pass attempts only found 1 sack.  That, after finding 13 sacks in the first 140 pass attempts (sack every 10.7 passes) in the 3 games to begin the season.  Yes, they get rid of the ball quickly, but they are also racking up 9.6 yards per attempt, so you can see how this is damaging every single thing the defense wants to accomplish.



There are some promising pieces on this defense, and I am confident that they are doing the best with what they have, but at some point I imagine that we have to look at the personnel that is available, rather than finding another defensive coordinator to blame.  It appears that Rob Ryan and Wade Phillips have been able to regain their reputations with the first job they took after leaving Dallas.



But, with regards to the positives from yesterday that I think might set this team on their way in the next stretch of games, I am very interested in the offense's ability to see what they are capable of.  Much of last week, we investigated the way the Cowboys see their offense and concluded a few things.  1) That their overall disposition entering the game seems to depend on their best guess about how many points they might need to win the game.  This means that they do not always enter the game in full attack mode.  They often play games on the road with careful caution, and home games with their mind on attacking.  This is unlike the true elite offenses in the league who plan on trying to get 5 touchdowns every time they step on the field, and will certainly not limit themselves in doing so.  And, 2) That Sunday we would see the Cowboys attacking to the fullest of their potential.  As I noted on Friday in this very space:




this Sunday they are at home and likely have believed all week that they only way to deal with Denver is to score 35 points.  I expect the Cowboys offense to throw every trick in the book out there to manufacture offense because they know 17 won't win.  They will throw deep passes and play with their aggressive meter maxed.  But, that might only serve to frustrate those who believe, as I do, that they have 2 different play books, based on the QB and the HC deciding when they can play carefully or aggressively.


Again, this stuff is sometimes easy to predict.  It doesn't take a genius to know that Garrett and Romo have been doing this, and if any lesson was learned yesterday, it should be that the best part of this football team has to be where their investments are placed.  They showed us on draft day that they didn't want to fix the defense.  Instead, the first 3 premium picks all went to make their $100 million QB more comfortable.  More weapons and more protection were the biggest changes from the 2012 version to the 2013 model.



Then, what frustrated most observers was that Romo stopped rolling the dice.  Through 4 games, he had his highest QB rating of his career, but his lowest yards per attempt.  The throws were safe and proper, rather than aggressive and scary for the opponent.  Why pay a QB that amount of money to do his best Alex Smith impression?  Romo may not be Manning, but he can sure find players all over the field and keep plays alive.  If the Cowboys are going to maximize their resources, they need yesterday's offense and yesterday's version of Romo.



The number of plays he made by halftime yesterday exceeded the number of plays he made in the first month of the season.  He was looking to attack Denver and they obliged him.  He has weapons everywhere and we saw yesterday that even Terrence Williams and Cole Beasley are both useful players who can create matchup problems as well.



This is the way the game needs to be called here.  Sure, you have to know when to go into safe mode, but you cannot enter games like that.  Playing it too safe allows mediocre offenses with mediocre QBs to stay in games with you, when they shouldn't be able to do so.  Romo is going to throw mistake passes, but gambling on a no-name defense to carry you is silly.  Romo demonstrated yesterday that this offense has a chance to be very dangerous if they simply decide to attack.  And there is no other way for them to get to 10 wins than to do that immediately.



Tony became a household name because he was gun-slinging and could defy the Xs and Os on a given play by making something happen.  Nobody denies that sometimes those impulse decisions end in flames, but until this organization can address its shortcomings, they require someone to try to make up the differences on Sundays.  And the only way to do that is to take this weapon-filled offense and to trust it's big-time QB to either succeed or like yesterday, get shot down in a blaze of glory.



I wonder if Jason Garrett, Bill Callahan, and Romo agree with this conclusion.  Most coaches say that you find your identity in the first 8 games of the season.  If that is the case, then we have 3 more weeks or so to see if the team realizes that the defense is going to only be capable of so much.  They want to apply pressure with the front 4, but are trying to do so with DeMarcus Ware, Jason Hatcher, and a band of retreads.  This leaves all the pass defenders exposed in unfavorable situations for too long.  The entire scheme is based on pressure, and the Cowboys have 1 sack in 85 attempts.



This screams that the offense has to take the posture of out-scoring its opponent from week to week.  This is done in many NFL cities with elite offenses, where they assume it will take 28-31 points to win when they take the field.  They don't expect their defense to do much more than try to get a few takeaways at the right moments.  And they pay their QB an absurd amount of money (over $1 million for each start) because he is the great equalizer.  Is Dallas able to figure this out?



So, can you learn from a loss?  Can you take from your experience and stumble upon a solution for the bigger picture?  Can a team figure out its identity, even when the public is depressed and mad at the singular reason they were still in the game to begin with?



Let's hope so.



=====



Additional blogs from that game:



Decoding Callahan - Week 5 - The Offensive Record Books



Kiffin Report - Week 5 - Trying to deal with Peyton Manning



Xs and Os - Week 5 - The Denver Broncos Pick Plays



Tomorrow: The Redskins Game In Arlington
---