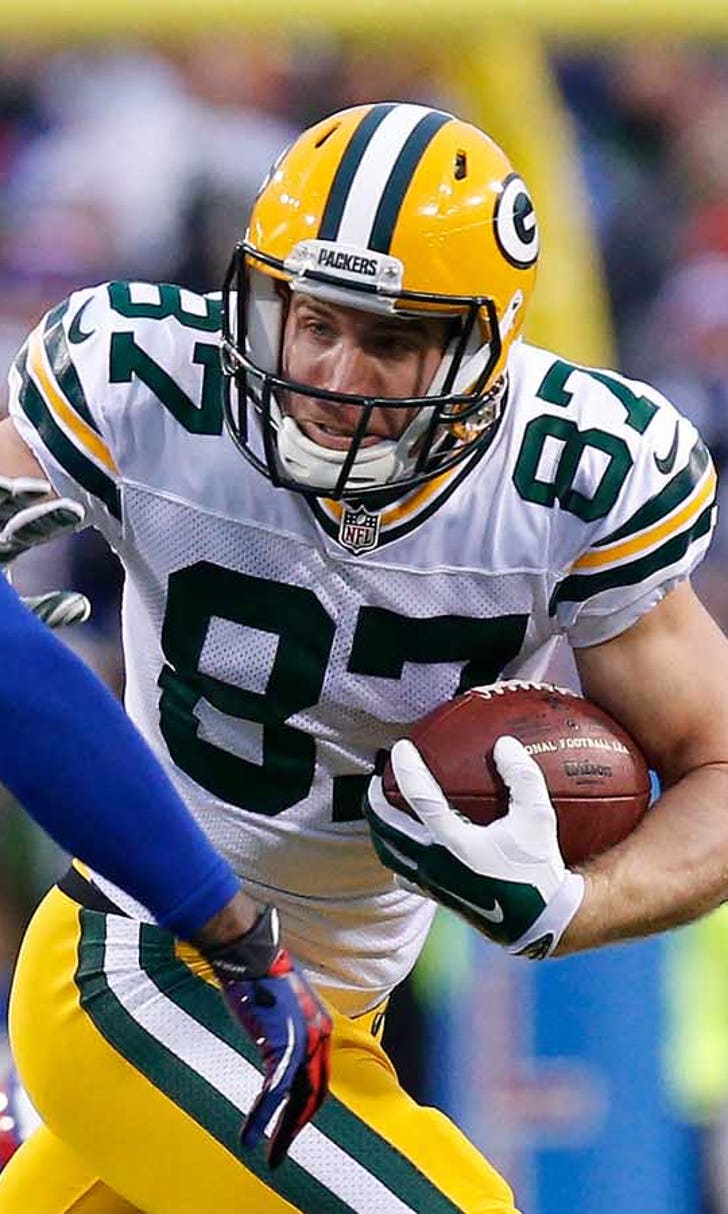 10 things you didn't know about Packers' Jordy Nelson
BY foxsports • December 18, 2014
You know the story, the football folktale about the Midwestern farm boy who overcame being perpetually overlooked, underrated and, of course, white, to become one of the best wide receivers in the NFL and among the greatest in Green Bay Packers history, and who still returns to Kansas every offseason to till the land.
You know that because Nelson's narrative has become one of the biggest stories in the league this season. The seventh-year wide receiver, who's in the top five in the NFL in yards and touchdowns and leads the Packers in every statistical receiving category, was even featured on the Dec.1 cover of Sports Illustrated, which detailed his farm-to-fable rise and how he married his small-town high school sweetheart and overcame racial stereotypes about white wide receivers.
So you know all that. But there's still a lot you probably didn't know about the player who wears the green-and-gold No. 87 jersey and is scaling the Packers' record books.
Here are 10 things you didn't know about Jordy Nelson.
1. He's always been fast
Maybe there's something to growing up on vast acreage and working outside all day that imbues a guy with farm-fleet feet. Or maybe Nelson just learned to be the furthest one away, the fastest, when it came time to artificially inseminate the cattle. Whatever the reason, even from an early age, Nelson was fast. Like, fastest-kid-in-the-country fast. At the age of 10, Nelson won the national AAU championship in the 400 meters. In high school, he won state track titles in the 100-, 200- and 400-meter races, as well as the long jump. So don't be so surprised the next time you see him dusting some defensive back on a 65-yard touchdown reception.
2. The kid could hoop, too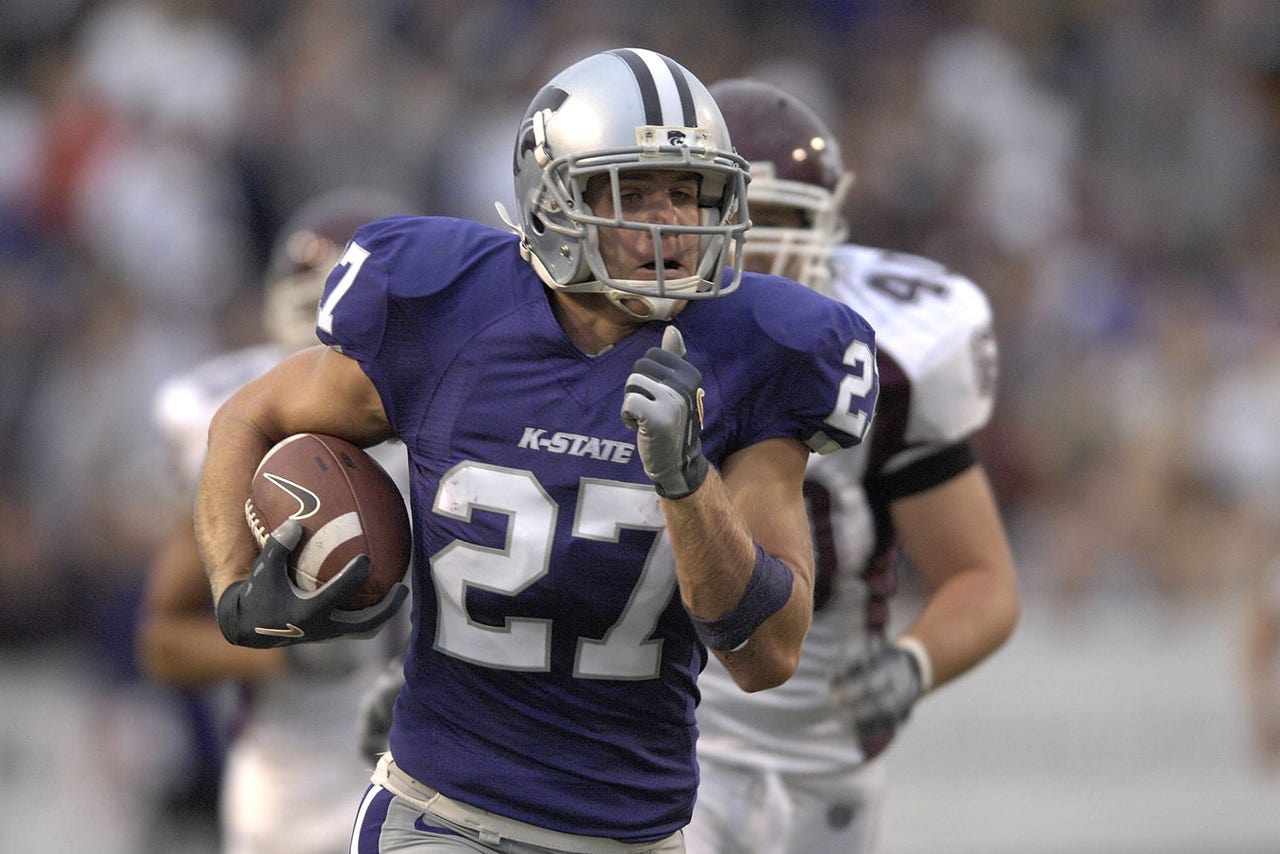 As you can imagine, Nelson starred on the football and track teams in high school. On the gridiron at Division-3A Riley County, Nelson was a star quarterback and defensive back, passing for eight touchdowns and running for 25 more scores as a senior. On his 100- and 200-meter state track titles, he set division records. But Nelson was actually even more decorated on the basketball court. He was second-team All-State (all divisions) in football, but was first-team All-State across all divisions in hoops and was named the Manhattan Mercury's Flint Hills Player of the Year. Nelson averaged 17.2 points on 58-percent shooting as a senior and set school career records for blocks (161), steals (225) and assists (325).
3. He's only been playing wide receiver for nine years
A quarterback and defensive back in high school, Nelson received zero Division I scholarship offers and decided to walk on at nearby Kansas State, where he'd watched games for years with his family, which had season tickets. Nelson came in as a strong safety, redshirted his first year and didn't see the field in his freshman season. His third year of college, at age 20, he was asked to switch to wide receiver because Kansas State had endured an exodus of wideouts the previous season. He liked catching balls and running away from tacklers, and got the hang of it all pretty quickly. During his first season as a wide receiver, in 2005, he set a school record by catching a touchdown pass in each of the first seven games. He led the team in catches (45), yards (669) and touchdowns (8).
4. He had a senior season for the ages
In 2007, Nelson exploded into a first-team All-American and finished second only to Biletnikoff winner Michael Crabtree (Texas Tech) in both catches (122) and receiving yards (1,606), establishing himself as one of the country's top receivers. He shattered school and Big 12 Conference season records in receptions, yards and touchdowns. He not only found the end zone as a wideout, but also scored twice on five punt returns and even relived his quarterbacking glory days with two passing touchdowns. He left Kansas State holding 11 different receiving records, is second in school history in catches (206) and yards (2,822) and third in touchdown receptions (20).
5. He's a darling, both in the community and with the media
Nelson is beloved in the Green Bay community, where he and wife Emily are very involved. In 2009 and 2012, Nelson traveled around Wisconsin as a member of the Packers' annual Tailgate Tour, making scheduled and surprise visits to various towns. He hosted the Jordy Nelson Charity Softball Game at Fox Cities Stadium in June 2014, with proceeds benefiting Young Life, an organization that he and his wife have been involved with for years. He's received the Nice Guy Award at an area sports awards banquet and participated in numerous Packers celebrity softball games, bowling matches and golf tournaments. Back home, Nelson and his wife started the Nelson Family Community Foundation in 2014, which benefits families in need in his community in Kansas.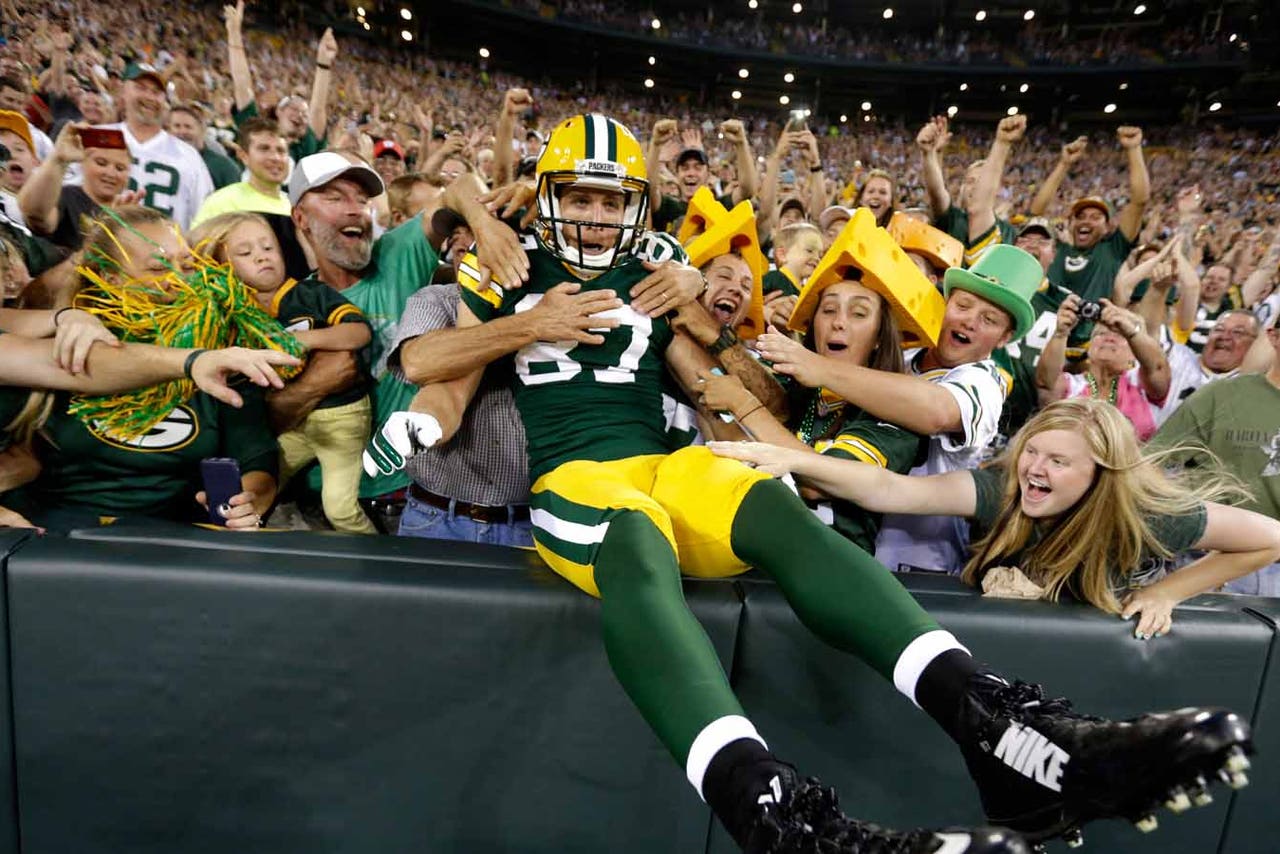 Nelson is also a media favorite, thanks to his friendliness, willingness to speak and propensity to provide thoughtful, honest answers. "Jordy is not at all like that of a star player," said FOX Sports Wisconsin Packers beat writer Paul Imig said of his availability and insight. "What you most realize when you've just finished talking with him -- whether in group or a side session one-on-one -- is that, besides giving you good, honest answers, you end up learning a lot talking to him. Nothing about it is cliche, nothing is misleading. Not only does he spend the time to work with the reporter, but you come out of it having learned a lot. That's rare for a professional athlete and especially rare for what you might call a star player."
6. He was one of the best picks in the 2008 draft
One of nine receivers drafted in the second round and one of 35 wideouts drafted overall in 2008, he was the Packers' first selection that year. They dealt their first-rounder (No. 30) to the Jets for second- and fourth-round picks. At No. 30 the Jets took tight end Dustin Keller, who has half of Nelson's total yards and less than half his career touchdowns and is now out of the league. Two wide receivers were chosen before Nelson, Donnie Avery by the Rams at No. 33 and Devin Thomas by the Redskins at No 34. Avery has less than half Nelson's career yards and one-third his touchdowns, and Thomas has been out of the NFL for three years. The only one of that year's 35 drafted receivers to rival Nelson's numbers is the Redskins' DeSean Jackson, who bests Nelson's receptions and yards, but lags well behind him in touchdowns. In his class, Nelson is third in catches, second in yards and first in scores.
7. He's a big, big-play guy
Nelson led the league last year in receptions of at least 25 yards, hauling in 19. He's tied for first among active players with four touchdown catches of at least 80 yards (80 in 2010, 93 and 84 in 2011 and 80 this season). For comparison's sake, his draft classmate Jackson, lauded as one of the most dangerous playmakers in the NFL, only has two career touchdown receptions of at least 80 yards.
8. He's becoming one of the all-time Packers greats
Nelson is very quickly moving up Green Bay's impressive -- and long -- all-time receiving lists. At 29, he's currently ninth in team history for receiving yards (5,910) and eighth in touchdowns (48, with one more he'll tie James Lofton and with two more he'll tie Max McGee for sixth). He's one of only three Packers with 15-plus touchdown catches in a season, with 15 in 2011 (Don Hutson had 17 in 1942 and Sterling Sharpe had 18 in 1994). After signing a four-year, $39 million contract extension over the summer, he figures to climb the green-and-gold annals quite a bit before he exchanges the jersey for overalls.
9. He really likes Leaping
Of Nelson's 48 career touchdowns, 29 of them (60 percent) have come at home. This season, nine of his 12 scores have resulted in a Lambeau Leap in the end-zone seats. In 2011, his breakout year, he caught a touchdown pass in all eight home games, becoming the first NFL player to do so since the league went to a 16-game schedule in 1978. Nelson has said that he loves doing the Lambeau Leap -- that it's a culmination of the excitement of scoring and even its own jolt of adrenaline, jumping into the arms of adoring fans, many of whom literally drop everything to embrace him. Nelson said he sometimes comes out of the stands smelling like beer - though once he noted that, on a particularly cold day, at least the beer was frozen and couldn't spill onto him.
10. He's a truck guy, and he prefers Chevrolet
The first car Nelson had growing up was an old, two-door Chevy Blazer that he shared with his brother, who eventually passed it on to him. Early in his career, he drove a Chevy Tahoe but said he missed not having a big enough truck bed to haul things like a snow blower he'd bought. As a Chevy spokesman with a car deal, the truck he drives now, a Chevy Silverado, he drives for free. That $39 million payday was nice, but when it comes to vehicles, all Nelson cares about is payload.
Follow James Carlton on Twitter
---